What is an E-commerce Web Design Service?
Our e-commerce web designing service or ecommerce website development services will enable you to have a custom ecommerce website to win the ecommerce platform of the contemporary world. There are many ecommerce web development design templates available on the Internet for web developers. We bet that you can get started with your commerce site or ecommerce store within suitable ecommerce solutions in minutes with those without being any web developers or taking help from any ecommerce web design companies.
It has been said that if you are not on the Internet, you do not exist. As the online marketplace continues to dominate the buying world, this adage becomes more applicable by the day. For retailers, this means that if you do not have an ecommerce site or custom ecommerce website yet, you can be restricting yourself from meeting full-service revenue targets and realizing your full potential. You can hire ecommerce web design companies for your ecommerce website development. We have unique and specialized ecommerce solutions and services as a custom ecommerce website company also a web design agency with a full-service guarantee.
Simply put, it is the process of setting up a full-service online store for your company to offer products or services digitally to fill their shopping carts to specific customers. You must plan, develop, and arrange your information and products for successful presentation on the Internet to create ecommerce designs for taking a large part of the whole ecommerce platform. The ecommerce platform push has already begun, as more businesses and consumers resort to online retailers to make purchases to fill up their shopping carts with their needs. Walmart's internet sales will have climbed by 97 percent by 2020. Amazon's sales and profit increased by 40% in the second quarter.
It is not just the prominent brands profiting from the increased demand for online shopping or overloading their shopping carts. Smaller shops, such as Howards Storage World and B-Wear Sportswear, are reporting double-digit and even triple-digit increases in ecommerce site income year over year.
Other than that, what do these ecommerce lab businesses have in common? Renowned companies have taken their clean, modern ecommerce website design services with client conversion in mind.
Here's how you can join the expanding list of businesses that consistently meet — and even surpass — their annual ecommerce platform goals. But just like you, hundreds (if not thousands) of other people are also using the same ecommerce designs template as you. That way, you will never be able to have a distinguished user experience brand of your own. Your e-commerce website design and development will never get the recognition you want without a custom ecommerce website design. Your visitors will not get the perfect user experience for the shopping adventure to fill up the shopping carts from your ecommerce store that they get from the brand's ecommerce store in the whole ecommerce platform.
Why eCommerce Website Design & Development Services?
If you have a brick-and-mortar but do not have an e-commerce shop, you will miss many opportunities. Your e-commerce shop will help you save your customers' time. It also reduces other constraints for sale.
Our ecommerce web design services ensure that your e-commerce shop has a user-friendly design. Not only that, but our design of your e-commerce shop will represent your brand just the way you want. So that you can stand out from your competitors.
We consider several factors while designing an online store to grow your business. Our concentration is not only to get you a brandable e-commerce shop. But an e-commerce shop that generates massive revenue for your business.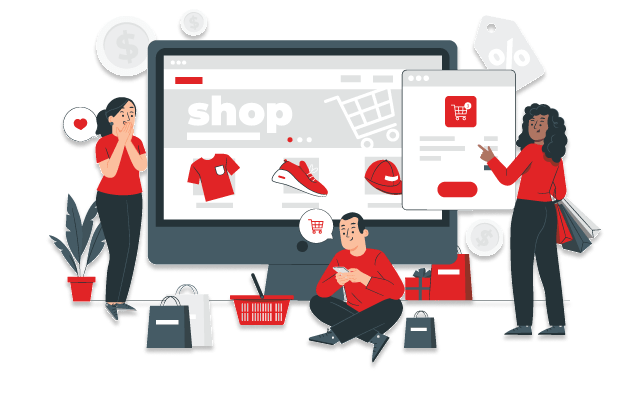 We follow all the best practices of website designing. Our design is immaculate. It does not have any junk codes at the back end. So that there is no bloating on the website that causes it to slow down. Do you want to know how it works? Let us give you an overview.
Whatever type of eCommerce site you want to construct, the first thing you'll need is an eCommerce platform to guide you through the e-commerce website development process. You can contact your e-commerce website design company for it.
On the market, there are three primary types of eCommerce platforms e-commerce website development :
Open-source.
SaaS.
Commerce without a leader.
Each one comes with a set of tools for setting up an online store, services including a page builder, a checkout page, payment gateway connections, and more. The levels of variation between those eCommerce platforms are:
Customization.
Performance.
A set of built-in features.
Flexibility.
Open source platforms are like a blank canvas that can be transformed into an eCommerce website with enough time and effort. However, because you're starting from scratch, you'll need a coder and a designer on hand. Doing it on your own is complicated, confusing, and time-consuming without a professional e-commerce web design company. You can take help from website design companies, especially e-commerce website design companies. They give multiple types of services, including the option of open source.
SaaS platforms provide an eCommerce shop design experience right out of the box. A drag-and-drop visual editor can create a business in a few hours, but the cost is limited customization and the inability to add bespoke features. They offer customizable services, including adding a shopping cart and others. So you can ask your e-commerce website design company to use this platform for your e-commerce website development.
With a robust commerce engine on the backend, headless commerce solutions are created with flexibility in mind, allowing you to create differentiated shopping experiences wherever. Unlike other eCommerce platforms, headless commerce separates the frontend and backend, allowing you to switch venues at any time. On the other hand, a more intricate process necessitates using different systems. So for eCommerce website development, this is popular among website design companies.
You can select from the following options:
BigCommerce is an example of headless commerce and an open SaaS platform.
Firstly, for example, Shopify has a headless commerce service, but it comes with strict API call per second constraints.
Squarespace and Wix are two examples of SaaS website builders.
Magento, which lacks a native theme editor, and WooCommerce, essentially an eCommerce plugin, are examples of open-source systems.
Finally, you will not be limited in your ability to construct beautiful and unique websites with such eCommerce solutions, and you won't have to build core commerce features from the ground up.
Whatever store builder you choose to use to get started, make sure it offers the following features:
The success of an eCommerce website depends on its ability to respond to mobile devices. More than 46% of consumers use their cellphones to complete their entire purchasing process (from research to purchase), with nearly 75% admitting to abandoning sites that aren't compatible with mobile devices. A flexible eCommerce site can ensure that visitors using various devices have an equally positive on-site user experience – with no design limitations. So do not forget to ask your e-commerce website design company to make e-commerce stores mobile-friendly while e-commerce websites.
BigCommerce is a famous eCommerce website design company for creating a beautiful eCommerce store optimized for mobile devices to enhance mobile sales with minimal effort. Users benefit from our platform in the following ways:
Themes that are well optimized and compatible with mobile devices.
Images have been resized and served in a mobile-friendly format.
Pages for mobile devices that are optimized for better performance and interaction.
2. Possibilities for customization
The concept of "beauty" is highly subjective. Website design companies suggest different ideas. One e-commerce web design company is finding something beautiful, and another e-commerce website design company may not. When it comes to online design, however, "good looks" usually refers to a user-friendly layout, aesthetically pleasing typography and iconography, sharp images, and other on-site design aspects that set your store apart from the competition.
Some like to put a shopping cart on the right, as the shopping cart stays in the upper right on most sites. But many developers are putting the shopping cart on the left nowadays. Not only shopping carts, but the same also goes for others.
If your eCommerce shop lacks customization tools and attractive ready-to-use templates, you'll be forced to follow in the footsteps of hundreds of other companies, with little room to demonstrate how your brand stands out.
Organizations can use BigCommerce for:
Page Builder, our user-friendly visual editor, allows them to customize their website thoroughly.
Responsive layouts can help you increase mobile sales.
Using modern development tools, you can build your site in half the time.
Provide a unique and enjoyable buying experience.
Connect with a global network of website design professionals.
3. An easy-to-navigate website
All U.I. elements that visitors can utilize to get specific information on your website are navigation. Header navigation menus, product category pages, filters, on-site search, and footers are examples of these. Assume your ability to construct custom navigation pathways is limited by an eCommerce platform. In that situation, you'll have a beautiful but broken website that few customers would want to use, and your conversion rate will suffer as a result.
A well-designed, easy-to-navigate website can be the difference between a customer exploring and paying. We have the best service, including intuitive website design and development; customers can check on any device without interruptions. We make a once complicated process simple by streamlining the online purchase experience. We believe quality ensures the most crucial element to be the best e-commerce web design company.
Delight encourages customers to finish their purchase and then go shopping again. What fires that sense of awe and propels a brand to new heights? The best marketing tools in the world will be useless if your website fails to meet its expectations.
We also make sure that designing is correct. So that your e-commerce website can be done search engine optimization SEO, it will help you get a lot of traffic and sales from the search engines. It is one of the fundamental pillars of digital marketing to grow your brand.
UX is critical in ensuring that your website is functional and intuitive, dependable, user-friendly, and simple to browse. While many other e-commerce web design companies ignore them, we prioritize this as the best e-commerce website design company. These features make interaction with the site more pleasurable and surfing a more enjoyable experience.
Consider increased conversions, repeat purchases, raving reviews, and word-of-mouth referrals. These are important and can differentiate a company's growth and downfall.
What criteria do you use to see if your eCommerce platform is user-friendly? Take a look at some of the websites that have been created using BigCommerce's platform. Specifically:
Your e-commerce web design company should Examine the most fundamental U.I. elements. Look over the site to see whether you like the navigation, the layouts, and all of the design components that are intuitive and appealing.
Your e-commerce website design company should Examine the possibilities for customization. As your operations grow, the more elements you can change, the more distinctive UX you'll be able to build. Remember that what appears to be a good starter technique for a small store can quickly become a money-sucking burden for larger businesses. As your objectives shift, be sure you can toss and add alternative design pieces.
Your e-commerce website design company should analyze the site's performance. The time it takes for a page to load and the overall speed of your website can improve or degrade your user experience. Sluggish pages, glitching design components, and slow-loading product videos are frequently the result of an eCommerce platform's CMS/CDN and hosting provider.
BigCommerce's eCommerce platform takes all of this into account, allowing businesses to create a website that provides a compelling — and ultimately rewarding — customer experience.
Do you need to get your company online quickly?
Create, run, and scale the internet business of your dreams. Begin your risk-free trial today!
In our service, B2C and B2B Ecommerce Sites Have Different Designs.
To create a high-performing website, you must first determine your target audience and how best to contact them. You can ask your e-commerce web design company to design and develop. Ecommerce websites for business-to-business (B2B) and business-to-consumer (B2C) have the same goal: to make transactions. However, the methods used to achieve that purpose are considerably different.
Brand awareness is the most crucial factor for B2C businesses. A robust online presence and a recognized brand (consider this when choosing your domain name) equal a more significant part of the total addressable market.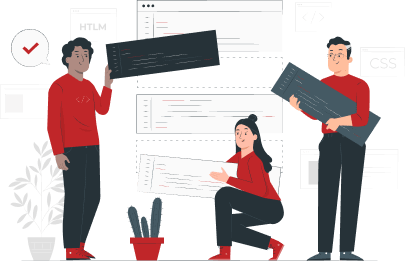 Lead creation is a significant priority for B2B companies. B2B brands must maintain a consistent pipeline of warm leads due to their specialty market and lengthier purchasing cycles.
You may not do website design and development on your own. But you should know how to do website design and development properly to check the website design and development. Let's look at what this entails in terms of design.
Customer intent differences
A necessity motivates both B2B and B2C purchases. However, the underlying motivations for those needs are distinct. How your e-commerce website development will be done depends on it because e-commerce website development varies according to it.
Business goals drive B2B customer intent, supported by a collection of other individuals (stakeholders, teams, consumers, and end-users).
Product research schedules are longer
The product list of requirements for evaluating items is more complex when numerous individuals are to please. That's why B2B e-commerce sites focus on converting top-of-the-funnel (TOFU) and middle-of-the-funnel (M.O.F.U.) visitors to prospects, then converting them to customers through a combination of online (email marketing, eBooks, social media, online demos) and offline sales (phone consultations, in-person demos, etc.) strategies.
B2C shoppers respond to pressing demand
While most people search around, comparing product features and prices, they spend less time at each point of the sales cycle. Unlike B2B buyers, who devote more time to data-driven product research and contemplation, B2C buyers are more likely to act on impulse, making them more susceptible to a variety of cognitive triggers activated by our bias:
Website Design Chart
1. Think with Google as your source.
B2C retailers' conversion rate optimization strategies take advantage of these design biases to influence purchase decisions.
2. The purchasing procedure.
The B2B buying process now includes more participants, including end-users and purchasing agents/decision-makers. An eCommerce website must inform, promote, and explain how your items can meet the organization's demands through content, interactive on-site features, and accompanying marketing assets. Remember that your ultimate goal is to generate leads, not make a quick sale.
The goal of our ecommerce web design services
Our primary objective is to help you reach your business goals through commerce designs in your e-commerce shop. Through our e-commerce website design service, you will be assured that you will be getting sales from your shop.
It might sound astonishing to you, but hundreds of e-commerce shops generate no sales. They do not have revenue of even a single penny. It is mainly because of the website design and development of their shop.
We will create immersive ecommerce designs for your shop that will complement e-commerce SEO so that you can quickly turn your visitors into customers and give them the best user experience ever.
Subscribe to our newsletter for social resources
Join our newsletter! People who subscribe to our newsletter get freshly brewed content to help their business grow digitally.
We at Reinforce Lab care and respect your privacy. We will never share any of your information. By joining our mailing list, you signup to get our blog updates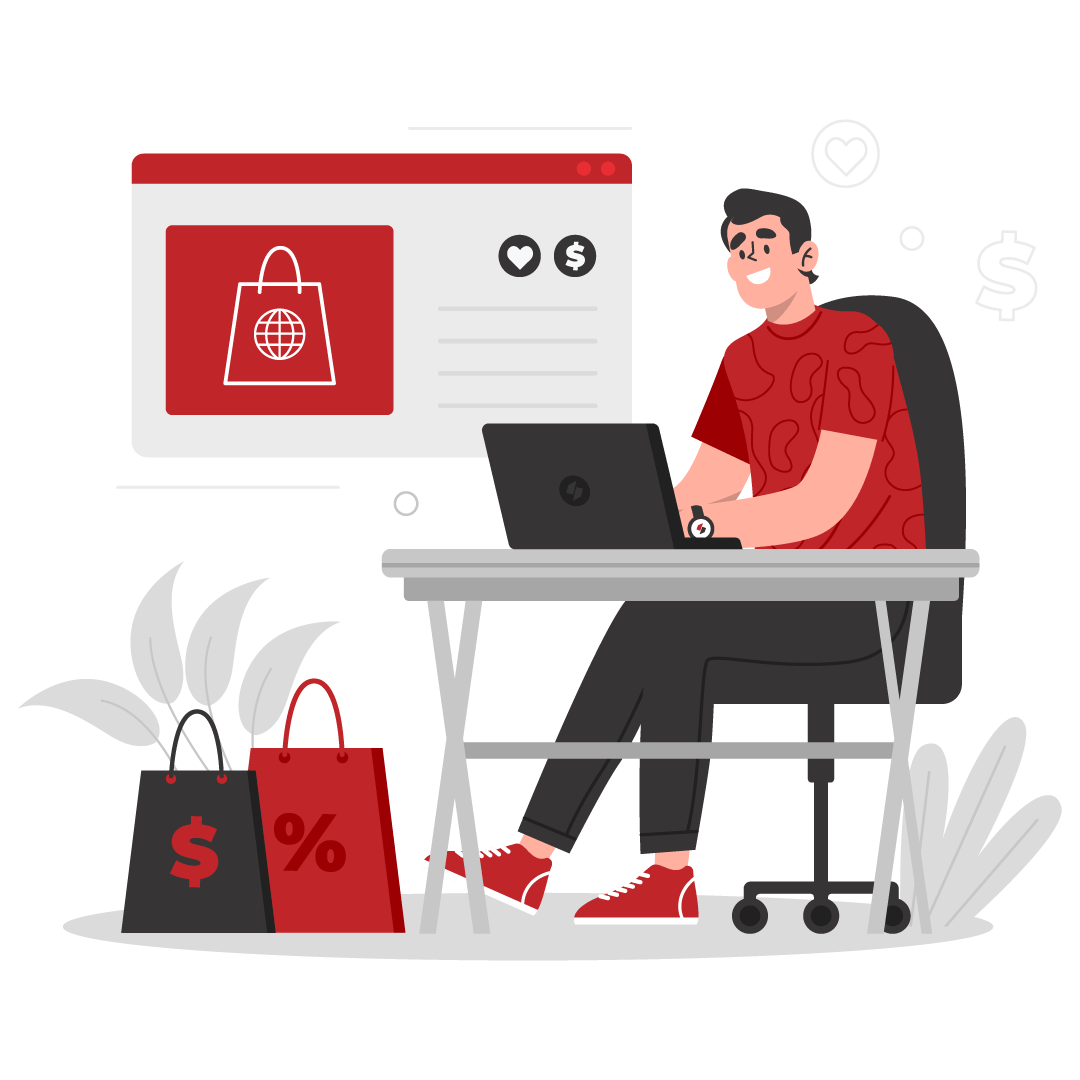 Key to Successful eCommerce Website Design and Development Services
First, we will do a thorough full service analysis of your competitors in yours. We will see what is working in your industry and what is failing. Then we will create a report on it to assist us in building a design for your e-commerce website.
As ecommerce web design companies, we will then use our report to build design mock-ups. Every part of the website design and development that works in your industry will be improvised to maximize the effectiveness of your online store.
You are free to choose from the mockups and suggest the changes we need as a web design agency to make to the mock-up designs. So that the final design and development services can be something that totally works in your industry and also represents your brand at its core,
After as an ecommerce web design company, once our web developers are done with the ecommerce website development and designing your ecommerce site or shop, we will show it to you again. It is just to make sure that it is perfect for your eye.
Unique Ecommerce Website Design Service
As one of the best ecommerce web design companies, we follow all the best practices of ecommerce web development as well as website designing. Our design is immaculate with our web developers, and it does not have any junk codes at the back end, so there is no bloating on the website that causes it to slow down.
We also make sure that designing is correct. So that your e-commerce website can be done search engine optimization SEO, it will help you get a lot of traffic and sales from the search engines. It is one of the fundamental pillars of digital marketing to grow your brand.
We not only provide e-commerce web designing services as any web design agency. Our service list also includes SEO, Social Media Marketing, P.P.C. Management, and many others. We provide a complete suite from designing your e-commerce website to growing it into a recognized brand in your industry with the most suitable ecommerce solutions.
As one of the most trusted ecommerce website development, we have years of experience in full-service ecommerce web development and designing e-commerce websites with the WordPress content management system and obviously with our professional web developers. Our team of expert web developers has been doing it for years and knows all the ins and outs of the platform. You are assured to be in safe hands when you take our ecommerce website development services
As a perfect web design agency, we will help you get the most suitable ecommerce solutions to reach your business goals with your E-commerce Website, obviously with our full-service ecommerce web development that will impact increasing user experience as well. Get in touch with the finest ecommerce web design companies of Bangladesh!