When you use search engines like Google or Bing you see search results based on your search query. However, all of these search results are not organic. There are mainly organic or paid search listings on the search results. These ad spend or ads campaigns can be expensive to run.
Each click on your ad spend can cost you a lot of money. This is a pay-per-click (PPC) model of advertising. This type of advertising is a highly effective form of search marketing. PPC advertising is also one of the fastest ways to burn up your marketing budget if you do not do it correctly. Managing your advertising campaigns on search engines is a PPC management service.
Why PPC Campaign Services?
Our PPC campaign management service ensures that you do not waste your marketing budget unnecessarily on PPC campaigns. Our team of PPC managers is an expert ad driving the highest possible ROI from your search marketing campaigns
Google Ads are effective, impactful. To get fast results, google ads are best and PPC is Google's advertising solution. You get a turnkey solution to designing, managing, and optimizing your PPC strategy when you choose our PPC management services for your online ad management solution. Plus, you will be working with a digital marketing business with over 25 years of pay-per-click campaign management experience.
PPC is one of the fastest ways to get highly targeted traffic to your landing pages. Unlike search engine optimization, you do not have to wait long for your pages to show up on search engines. Instead, you can simply rank high at the top for a PPC ad.
Many small businesses make the mistake of getting into PPC without any experience in digital marketing. PPC can be highly effective if you can direct the right traffic to your optimized landing page.
Let's go through each one in more detail if you are still not convinced.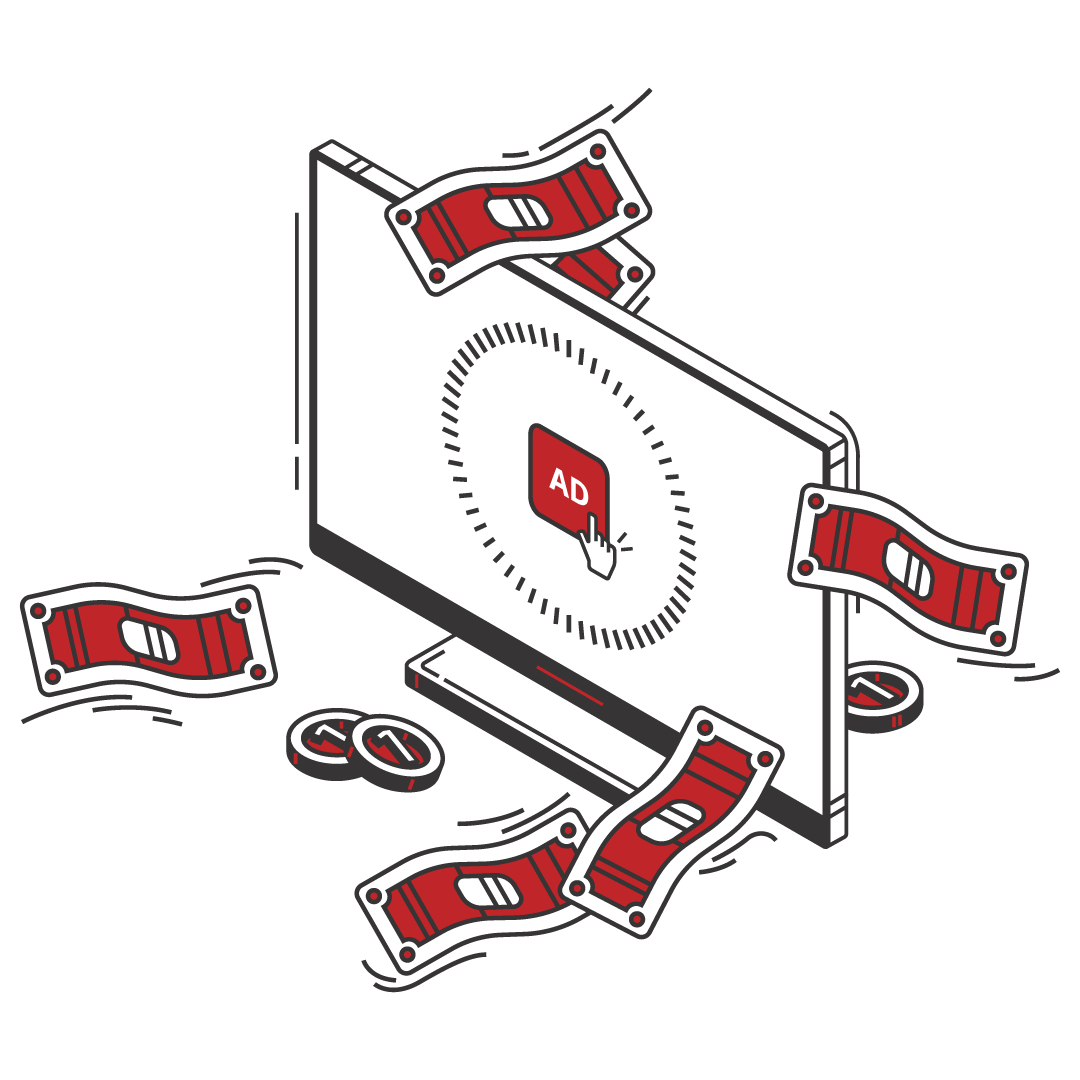 1. It Is A Cost-effective Method of Marketing

PPC is one of the most cost-effective methods of marketing your company. You might wonder why. Here's what you need to know.
You pay for the space your ad takes up in a newspaper, on television, or a billboard when you advertise. A two-inch square in a local magazine or newspaper will cost you practically an arm and a leg, and billboards can cost thousands of dollars.
PPC is similar to placing an ad in a newspaper or magazine, except that your ad appears in search engines. Many people assume that you have to pay for that real estate in search engine results, but that's one of the most significant advantages of PPC: you don't!
Rather than paying for the area your ad occupies in search results pages, you only pay Google when someone clicks on it.
Because you only pay Google when there is a severe possibility of earning a transaction, PPC management costs are meager. We say the real potential for a sale is because PPC ads are so well-targeted that customers who click on them are usually ready to buy something.
PPC visitors are 50% more likely to purchase visitors who come to your site naturally. That is only the first benefit of this web marketing technique.
2. It Provides Quick Results

If you need another reason to use a paid search or PPC campaign and bid management, the time it takes to get results is impressive.
Because advertising for your targeted keywords begins to appear as soon as you place bid management on that term and have a high-quality score, it is not unreasonable to expect increased traffic to your website within the first week of launching your PPC campaign.
Other long-term techniques, such as SEO (search engine optimization) or email marketing, can take a few months to see results – but the results are incredible and well worth the wait.
On the other hand, PPC is the method for you if you are searching for quick results. Ensure that you evaluate your PPC campaign and bid management regularly to ensure that it functions effectively. Check out our foolproof approach to PPC audits as well.
3. It Is Simple To Keep Track of Results.
One of the most critical aspects of any marketing is tracking results. You will not know what elements are succeeding and failing until you can dive into your ad spend campaign's data.
When you can readily follow the results of a campaign, it will become clear which aspects of the campaign need to be changed to achieve more outstanding results.
A/B tests, for example, are a terrific method to see how users react to your adverts. Choose a variable to test and create two similar ads for that variable.
A/B tests, for example, are a terrific method to see how users react to your adverts. Choose a variable to test and create two similar ads for that variable.
4. It Is Also Hyper-Targeted.
The fourth advantage of PPC advertisements is that they may be hyper-targeted.
Many marketing methods, including PPC, allow you to employ targeting to reach your most qualified clients. PPC is, in reality, one of the most focused tactics accessible.
Your advertising allows you to target a specific audience with content that is most relevant to them.
However, it can also be the fastest way to burn up your cash. So, getting yourself PPC campaign management services can help you to save a lot of money and also generate maximum revenue with the highest ROI.
Goal of our PPC Management Services
Our PPC campaign management services can revamp your internet marketing strategy. As we target the right keywords which are going to bring you the targeted customers to your landing page.
All of our research to find the right keywords for your PPC campaigns are data-driven. Our team uses the best tools out there to find out the exact date of the keyword metrics.
We are passionate to drive your business maximum profit from your PPC advertisements. Our team of experts will ensure that you get the maximum ROI. So that your marketing budget is not wasted on meaningless PPC campaign services.
Below are a few other advantages of choosing a PPC management service agency.
If you do not want someone to be literate in all things PPC, do not hire them.
Are you an expert in PPC? There is a lot to learn about PPC if you have never studied it before. It is critical to get incredibly aware of PPC, how it works, and the various methods that make up a campaign if you want it to be effective.
It is a challenging task to master PPC if you have never studied it before, especially if you are running your firm.
Another alternative is to train someone on your team to be PPC literate — but this isn't the ideal solution if you do not want to lose a single person.
You may avoid having to learn or teach someone in PPC by hiring a PPC management service, and you can leave it to the pros!
It helps you save time.
It saves you a lot of time to engage a PPC agency.
Remember how we said you could become an expert? That takes time, and if you or one of your employees intends to do so which paid search they should select or work for, it will consume a significant amount of time.
Not to add, you must constantly monitor your PPC campaign; otherwise, you will likely notice no results.
It is challenging to keep track of a campaign every day while running a business, so why not employ someone to handle it for you?
You receive precisely what you are looking for.
An agency will understand if you want to build PPC advertising, target certain keywords, target specific demographics, and start a remarketing campaign.
A PPC services provider will be able to give you precisely what you need in terms of a PPC campaign, and they will make sure you get results.
Not all PPC agencies are created equal. It is critical to remember to do your homework to verify that the agency you choose offers all of the strategy alternatives you want in your campaign.
They are professionals. PPC agencies employ professionals that are specialists in their field. They would not be working for an agency if they were not!
They have put in thousands of hours of training and genuinely understand the ins and outs of running a good PPC campaign.
Why take chances when it comes to a strategy that might quickly boost your company's success? Hire a professional to complete the task for you!
We will make sure that all of your campaigns work together to produce results, and you will be involved at every step.
Reinforce Lab is here for you if you are seeking a PPC advertising services agency that gets results.
Subscribe to our newsletter for social resources
Join our newsletter! People who subscribe to our newsletter get freshly brewed content to help their business grow digitally.
We at Reinforce Lab care and respect your privacy. We will never share any of your information. By joining our mailing list, you signup to get our blog updates
Key to Successful PPC Management Services
The first step to creating a successful ad campaign on Google Adwords for PPC ads is to research your competitors. We are going to do exactly that. As we will do a complete analysis of the keywords that your competitors are going for. So that we can understand what is working for them and what is not.
Then we will create ads for your PPC ad campaigns targeting the keywords that are going to drive you the most profit at the highest ROI. Our team of experts will create ad copy. We will also create a landing page design for maximum conversion from your ads.
We are going to make reports about your ads at intervals. It is to let you know about the ad campaigns. So that you can understand how much ROI you have for each click on your ads.
Generally, with time, we will optimize your ads as we get more data by running ads. You can be assured to generate more profits at a higher ROI with time by using our PPC management services.
Unique PPC Management Services
We are knowledgeable about PPC campaigns and also other parts of digital marketing. Our agency does not only provide a PPC campaign management service. But we also provide complete SEO services, social media marketing, website design, and more.
So we actually know what goes on at the back end of every ad campaign. Also, the effects that it may have on your overall digital marketing strategy.
Pay-per-click management pricing that is open and transparent
We believe that to have a great relationship with our clients, we must be open and honest about everything, including our pay-per-click management cost. As a PPC agency, we make our cost info transparent, with no hidden charge.
We want you to know right away if our paid search services or any other services related to PPC are a suitable fit for you based on the cost of PPC management and see a breakdown of what's included in each plan.
This also serves as a starting point for discussing the budget and the features of each of our proposals. We make your objectives our objectives.
At Reinforce Lab, we do not only run google ads or social campaigns. Our clients are treated like family. We understand that our services can make or ruin a business in some circumstances, and we do not take that lightly.
To achieve the best outcomes for your company, we make your objectives our objectives, and we do everything we can to ensure that your campaign exceeds your expectations. We are happy when you are happy.
We help you save time.
Reinforce Lab can assist you if you are seeking one of the unique pay-per-click businesses to manage your campaign for you. We will not just assist you in writing ad text and then leaving; we will be there for you every step of the way including keyword research.
You will be assigned a dedicated campaign manager who will listen to your requirements, devise a strategy, and keep you informed about the campaign's progress.
We will create your campaign and strategy, undertake comprehensive keyword research and selection, and even conduct industry analysis to ensure we're reaching the proper individuals. We will use the best keyword research tools and manual processes.
We will write all of the copy for your ad campaign, test how well it performs, and continue to build and adjust the keywords part of it.
When it comes to your PPC campaign, we've got it handled. We provide detailed ROI reporting. We previously discussed the necessity of evaluating your ad results to ensure that you are generating as many conversions and visitors as possible. Do not worry, and we will handle it for you as well.
We track your campaigns' performance A/B test landing pages and verify that your keywords efficiently generate leads.
Every step of the way, we will let you know how your campaign is doing and give informed recommendations on how to proceed. Each campaign is custom-made for you. We understand that every business is unique, implying that every firm has unique requirements.
This means that each campaign is handcrafted to contain the features that you care about the most. We provide three plans: a basic plan, an aggressive plan, and a market leader plan, allowing you to select the PPC management pricing range and strategy offering that best suits your company.
We are knowledgeable about PPC campaigns and also other parts of digital marketing. Our agency does not only provide a PPC campaign management service. But we also provide complete SEO services, social media marketing, website design, and more. So we actually know what goes on at the back end of every ad campaign. Also, the effects that it may have on your overall digital marketing strategy.
We are very much experienced in running PPC ad campaigns because we have been doing it for a long time. Our proven track record shows that we were able to drive targeted traffic for maximum conversion to our clients. Your PPC campaigns are going to be in safer hands with our PPC campaign management services.
We can help you to reach the maximum ROI for your business through PPC. Reach out to us to get a free quote on PPC management.
Distribution Only
Already have a Press Release written? We can distribute it for you!
Press Release Editing

Professional Editing

Up to 3 Links / 3 Keywords

Approval Before Distribution

Press Release Distribution

Distributed to 300+ Authority News Outlets

Diversified White-Hat Links

DA 10-90+
Writing & Distribution
Need a Press Release written and distributed? We'll do both for you!
Press Release Writing

Professionally Written (500 Words)

Up to 3 Links / 3 Keywords

Approval Before Distribution

High Quality Distribution

Distributed to 300+ Authority News Outlets

Diversified White-Hat Links

DA 10-90+