Connect with Your Customers
Social Media Management Service
Build a real connection with your customers through social media. It will
make your audience care about your products and services.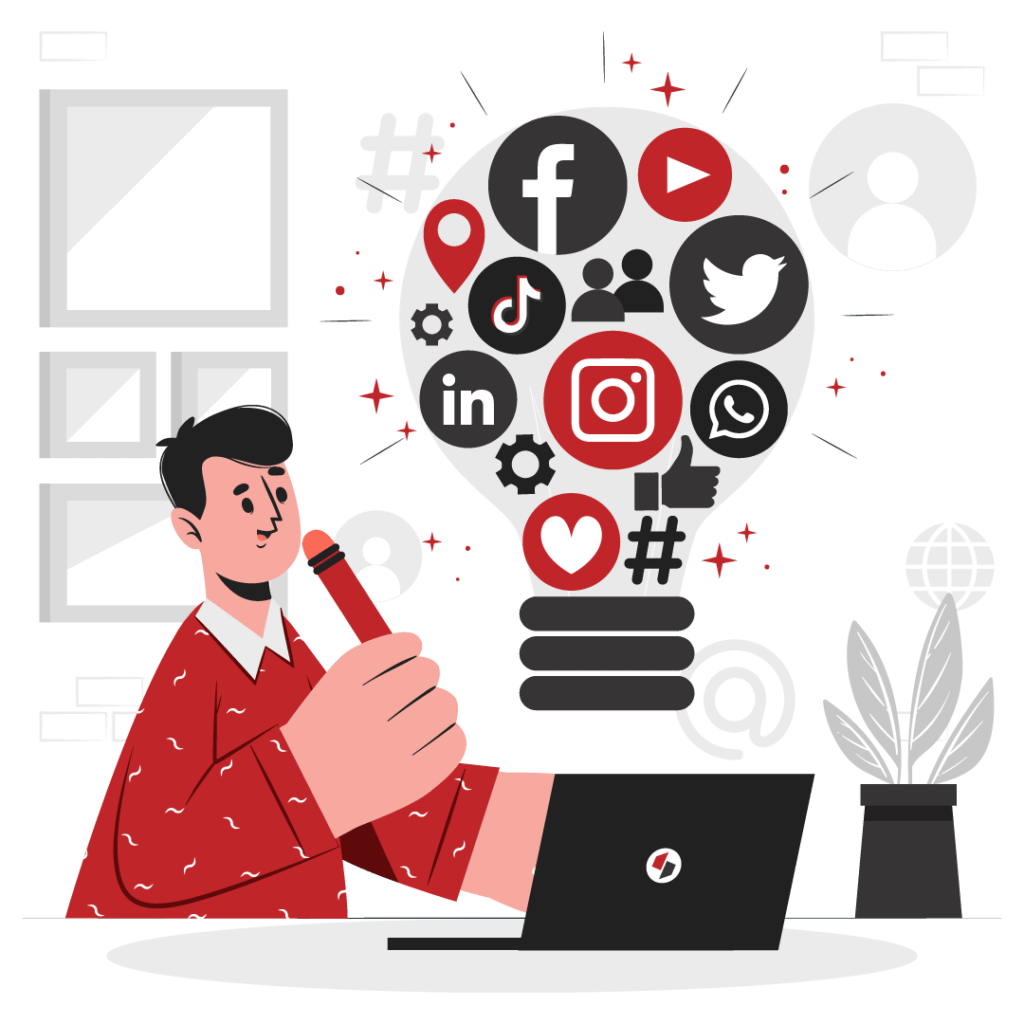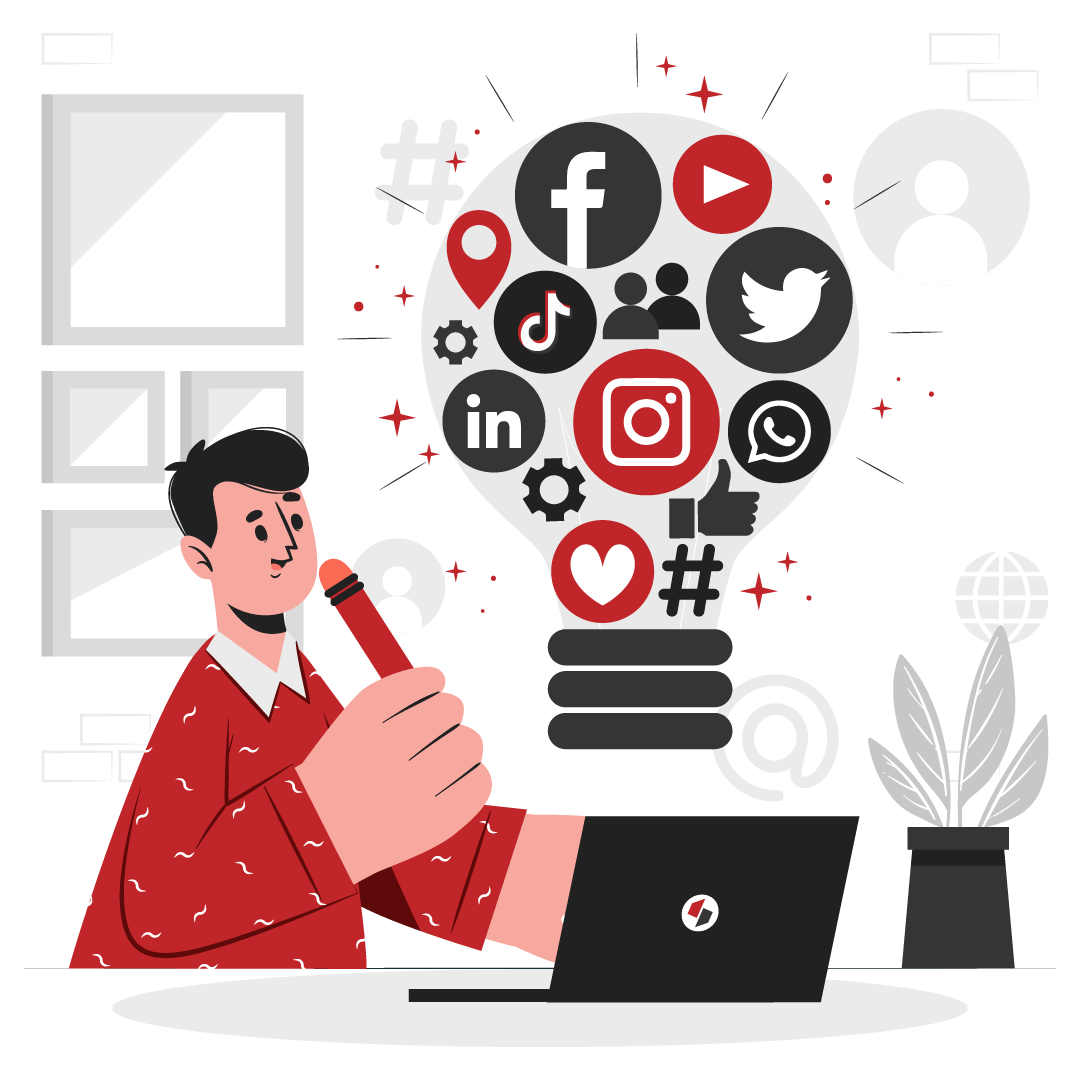 What is Social Media Management Service?
Social media management services from a social media management company make it easy for you to take care of your social media accounts. When you run social media accounts of your brand you have to nurture your target audience on social media. If there are no interactions between you and your audience, your brand's social profiles will never grow.
Our social media management services includes analyzing social media audiences and developing a strategy tailored to them, creating and distributing blog posts for social media profiles, monitoring online conversations, collaborating with influencers, providing community service, and monitoring, measuring, and reporting on social media performance and ROI.These responsibilities, previously disregarded by corporations, have now been placed at the forefront of marketing strategy. As a social media advertising agency and service provider, we are capable of creating social media management campaigns as well as marketing campaigns with most suitable social media advertising strategies that will surely help small business owners to get more customers from social media marketing efforts.
And why should our social media content service you take? Because if you could handle your social media posts in social networks in an organized and efficient manner with proper marketing efforts, then social media will consume a lot of money as well as it will not be possible to save time to do other work that any small business owners need to do actually .
Our social media management services will help you massively impact your audience on social media channels like by doing Facebook marketing, Instagram marketing or Linekin marketing whatever you want! We can create social media management campaigns and strategies that help you get more customers by giving them the best customer service ever from your social media.
Subscribe to our newsletter for social resources
Join our newsletter! People who subscribe to our newsletter get freshly brewed content to help their business grow digitally.
We at Reinforce Lab care and respect your privacy. We will never share any of your information. By joining our mailing list, you signup to get our blog updates
Why Social Media Management Service?
Social media platforms are one of the main channels to reach your new potential clients as it is a primary part of digital marketing strategies. However, if you want to get clients from social media your brand needs to be active on social profiles with suitable content creation or you can say unique social media content. You can forget about building your brand awareness on social media if your brand's social profiles are not active even if you gave so much marketing efforts on it. It is social media, so you have to be social there with your distinctive social media posts.
The social network has immense commercial possibilities. From brand awareness to increased store visits, brands can use social media platforms to achieve their objectives at any level of the marketing funnel obviously with relevant content creation. This, however, will necessitate the formation of competent social network teams. The more goals you want to accomplish with social media marketing or maybe with Facebook marketing, the more people you will need to devote to it with their genuine marketing efforts. Complex social media team structures will arise as a result of this demand.
No matter If anyone there are small business owners or have a large corporation, they might even have multiple teams working on different strategies in various locations and areas worldwide to achieve different objectives.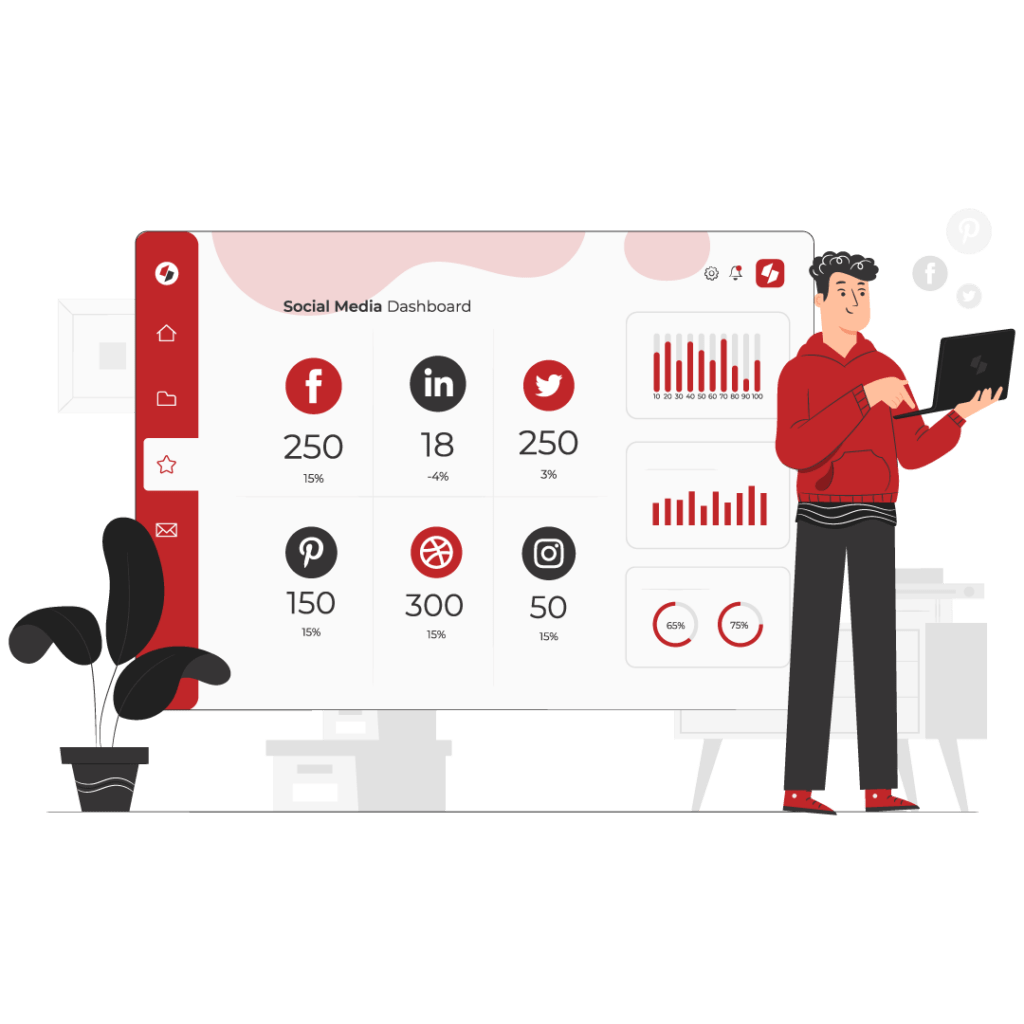 How can you as an owner ensure that everyone is working together to make the most of social media content on social networks? Building an effective social media management procedure with maintaining a content calendar is the answer.
Being active on social media can take a considerable chunk of your precious time. But you can save time to take care of your customers or other sectors of your own business with proper social media content management. We can help you to do exactly that.
As a social media management agency, we will manage your social media profiles with a suitable content calendar for content creation of your social media posts. In fact we can go for marketing campaigns with perfect social media advertising strategy that will go with your business. We will create engagement on your social profiles and influence your audience to interact more with your brand by save time of yours. With our social media management services, you will end up with a meaningful bond with your audience on social media.
Goal of Social Media Management Services
We aim to get your target audience to follow and interact with your brand on social media through social media management. As a result, your brand's message will only reach the people who have the chance of becoming your customers in the future. It will save you a lot of marketing resources in social media campaigns.
You will feel the organic growth of your brand on social media as we use organic and natural strategies that enhance the boost of your social profiles.
We support no grey tactics for short-term growth as we believe that you are doing your business for long-term growth in your industry. Where do you begin with social media management?
Don't worry if you do not know where to start regarding social media management. Because we are adequately providing Social media management service. We accomplish three crucial things to get off on the proper foot:
Audit your social media network's presence.
Select the appropriate social network channels.
Examine your intended audience.
Do you want to know why we choose these three activities to highlight?
Because completing them will offer you essential information that will help you focus your social media marketing efforts. As a consequence, you will be able to save time and focus your resources on techniques that work while reducing the number of strategies that do not.
Let's look at each duty in more detail:
Step 1: We will conduct a social media audit, as it is a great idea.
As a social media management agency, our social media audit can help you improve your social media management in the following ways:
The audit will give you a clear picture of the effectiveness of the strategy.
With social media content audit you can figure out where resources are being squandered.
Via social media advertising audit you can see which social media platforms are effective.
It will demonstrate how social media affects search engine rankings with marketing campaigns.
So, how should you go about performing a social media health check?
You can Maintain a list of all of your company's social media accounts, including those from different locations and sub-brands.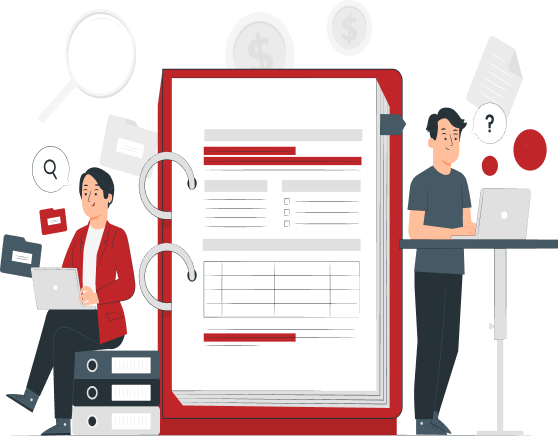 Step 2: We use social media analytics, examine key performance indicators such as follower growth on social pages, engagement of audience (including regular engagement rates for some months), content publishing frequently, following engaging blog posts formats, top-performing posts, traffic sources, community sentiment, question response rate, average response time, audience interests, demographics, and behaviors.
Step 3: We compile all data into a tidy social media audit template.
Step 4: We analyze the data of social media presence and search for places where you can make improvements. If you detect a drop in engagement, it could be due to poor blog posts quality, incorrect targeting, or fluctuating publishing frequency.
That's precisely the kind of data you'll need to identify flaws in your plan. You can then take the initial steps toward correcting problems and improving the efficiency of your social media management activities and social media presence.
As business owners or any small business owners, should select the appropriate social media channels or hire an agency.
Another critical aspect of efficient social media management is choosing the right platform.
After conducting a social media audit, we believe that you will discover that some sites don't work for your brand. It would help if you learned about the work required to achieve the desired results in that scenario.
A lot relies on who your audience is and where they are located. If you discover after your study that your target audience is mainly on Twitter, but your presence on the platform isn't robust, you should try to improve. You could want to try a different channel of social media presence if your results aren't as good as you'd like and your audience has moved on. So, before we do, we think about the following questions:
Subscribe to our newsletter for social resources
Join our newsletter! People who subscribe to our newsletter get freshly brewed content to help their business grow digitally.
We at Reinforce Lab care and respect your privacy. We will never share any of your information. By joining our mailing list, you signup to get our blog updates
Will the platform help you to reach your company objectives? Or how much money will business owners require to meet goals?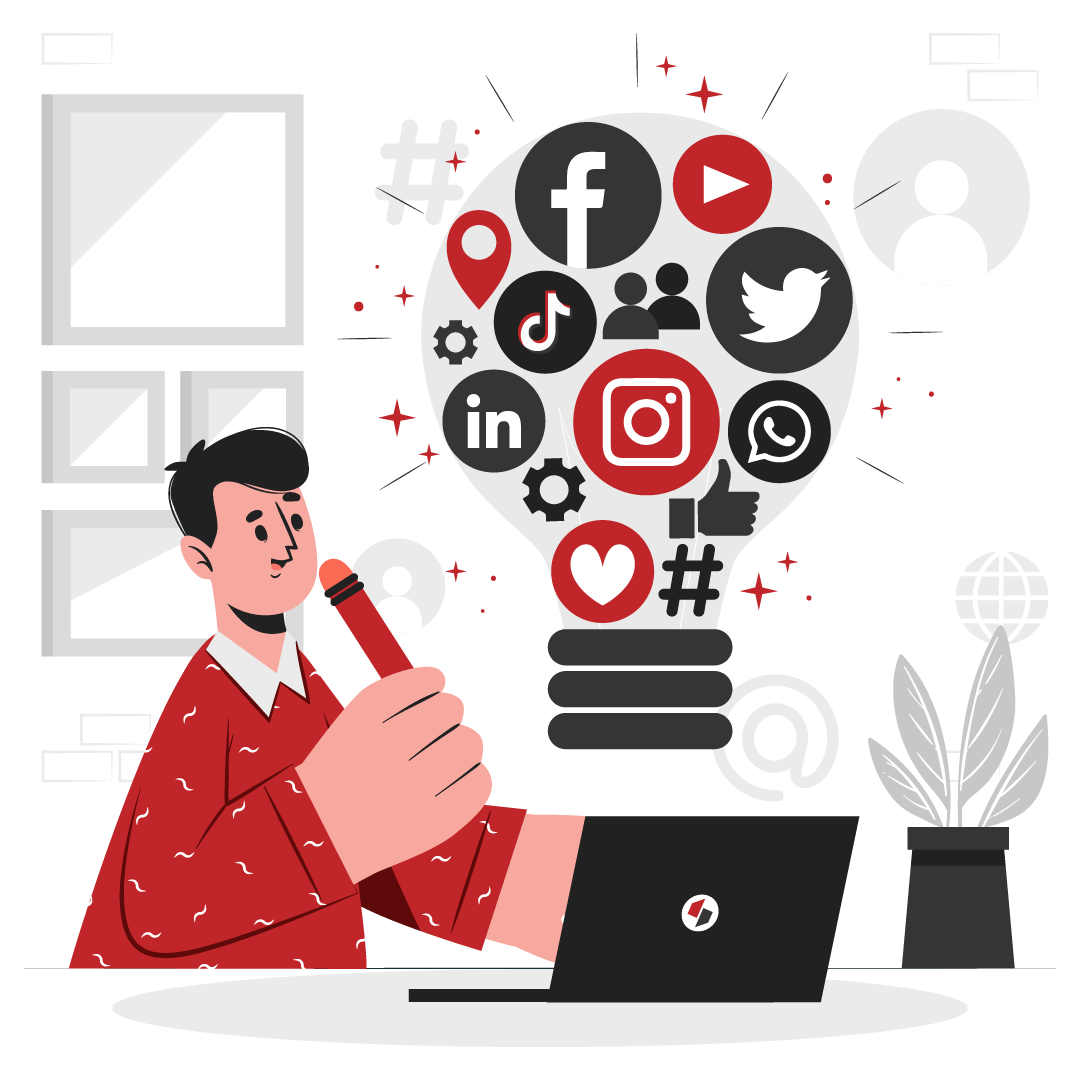 Key to Successful Social Media Management
First, we are going to analyze your social profiles. We will check the followers of your social profiles. Because we need to know what type of people from which demographics are following your brand. It is done to get a clear idea about the current stage of your brand on social media.
Then we will create a strategy that is best for your growth on social media. It will be totally based on your brand's needs.
You can be assured that the social media management strategy will be better than your competitor's. As we will do a competitor analysis before creating a strategy for you.
We use the best social media management tools out there to analyze your social profiles. So that we can get an in-depth understanding of the growth.
At a fixed interval we will provide you with social media reports that you can check. So that you can also understand and be relieved of your brand's growth.
Unique Social Media Management Service
We follow the tested and the best social media management practices for your social media community management so that you can achieve maximum growth and build meaningful bonds with your audience on social media.
The social media giants keep changing social media algorithms to keep their users safe and enhance user experience. So, what worked for social growth a year ago will not be as effective right now.
That is why we keep ourselves updated with the trend. So that when you subscribe to our social media management service, you get the optimum results. How do we keep track of and assess your buyer personas?
Step 1: We research your target audience's demographics. To construct a more realistic image of your audience, we use the data sources listed in the preceding section. The more information you have, the more precise a picture you can create. In an ideal world, you'd use software to collect data from a variety of audience sources, saving you time and effort. Some audience data will not be available in the platform or even Google Analytics native analytics. We consider doing surveys or market research if you need precise responses to specific questions, such as a person's preferred trip destination.
Step 2: We Compile your social media networks audience information in social media content. After pulling the data, it will most likely be disorganized and difficult to interpret. To gain a complete picture of your social media community, we gather all of the data and evaluate it in one place.
Step 3: We create personas for your target audience and accordingly show your social media presence with unique social media posts. Your social media audience can be diverse: distinct demographics, geographies, behaviors, and interests are shared by different groups. So we grasp your brand personality by segmenting your audience based on these qualities. Consequently, you'll be able to generate customized content that drives engagement and effectively nurtures your group through the marketing funnel.
Step 4: We review your audience personas regularly. Conducting a single community analysis and relying on the results for years isn't adequate. As your audience is constantly changing – new people may start following your page, and your "old" followers may become interested in different types of content. To spot these tendencies and respond quickly, we analyze your target personas regularly. After completing your audience persona analysis, we plan where your content creation strategy should go.
However, selecting material forms and themes isn't the only consideration. We confront the task of producing large volumes of material rapidly as your company grows. To deal with this problem, we create a well-designed content process with a suitable content calendar so that we can generate marketing campaigns properly.
Here's how we organize your social media content generating operations effectivel:
Step 1: We add a social media calendar or content calendar to your Google Calendar with a single click to keep track of our content creation. It covers the entire year's worth of national holidays and all within all social media posts.
Step 2: We assign roles and duties to the team. As an agency, this step is essential to increasing efficiency especially for providing best customer service. We have the following roles on your team to develop content efficiently with marketing efforts:
Social Media Manager – responsible for developing a social media content strategy, maintaining an editorial calendar as well as content calendar, allocating content promotion funds, and tracking KPIs.
Social media Content creator – responsible for brainstorming relevant content creation ideas, writing engaging posts, and optimizing them for various platforms.
Social media Content editor – This person is responsible for interacting with everyone involved in content development within the firm and reviewing and approving pieces for publication. We have a well-structured approval process in place. It's easy to get bogged down by unclear procedures when we have so much stuff to create. We manage all of your content in one place to ensure that no post gets lost in the shuffle.
Step 3: We use data from your social media audience personas to your advantage. We also pay attention to their passions and the people they follow on social media. This data helps us concentrate on developing customized content, making this aspect of social media management much more productive. We keep in mind that the more personalized your social media material is, the better it will achieve your business goals.
We follow these Step-by-step directions on customizing your social media marketing operations:
We gather content creation ideas by researching the competitors, using social listening to watch and participate in online discussions, analyzing your personas' pages with analytics, and selecting intriguing articles.
We estimate the amount of content you'll need to create. We do not write too little and lose your audience's attention, nor do we want to publish too much and appear spammy. Knowing how many posts we need to produce daily or weekly might help us better manage time and resources. Kinds of the content we suggest to post:
Facebook marketing: times a day on Facebook
Instagram marketing – enough to post once or twice a day
Twitter marketing— enough to post several times per day
LinkedIn marketing- sufficient to publish five times each week
We Use the various online content creation tools we described earlier to create excellent content. We pay attention to the formats that are most appropriate for each platform.
We provide a comprehensive solution to increase your content creation and work efficiently. We manage all of your social media posts material for each day, week, or month using tools manually.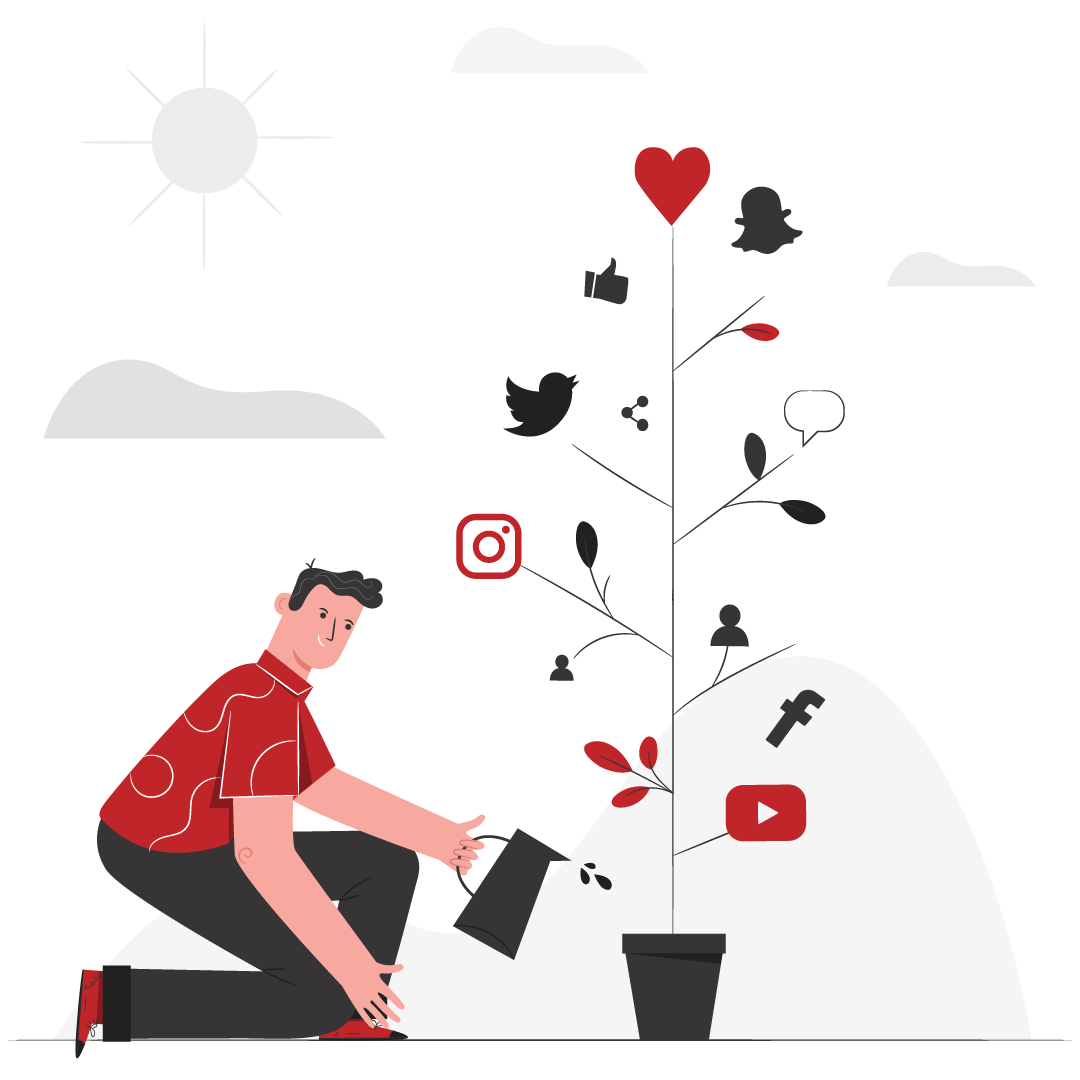 We manage social media accounts on various platforms. Your brand needs to be on platforms from which you can get customers. However, being on all social media platforms it can be through Facebook marketing or Linkedin marketing whatever but it will surely boost your brand with our proper marketing efforts.
Our social media services include the management of all the major social media platforms. Facebook, Twitter, Instagram, Pinterest, and LinkedIn are the social media platforms we manage as a social media management agency and obviously save time of yours.
We have over a decade of experience in managing social media profiles. Our team of experts has been doing it for years. They are seasoned at creating effective social media management strategies for execution.
Reach out to us & get the best social media management service that your brand deserves for effective growth.