What is Social Media Management Service?
Social media management services from a social media management company make it easy for you to take care of your social media accounts. When you run social media accounts of your brand you have to nurture your target audience on social media. If there are no interactions between you and your audience, your brand's social profiles will never grow.
Our social media management services includes analyzing social media audiences and developing a strategy tailored to them, creating and distributing blog posts for social media profiles, monitoring online conversations, collaborating with influencers, providing community service, and monitoring, measuring, and reporting on social media performance and ROI.These responsibilities, previously disregarded by corporations, have now been placed at the forefront of marketing strategy. As a social media advertising agency and service provider, we are capable of creating social media management campaigns as well as marketing campaigns with most suitable social media advertising strategies that will surely help small business owners to get more customers from social media marketing efforts.
And why should our social media content service you take? Because if you could handle your social media posts in social networks in an organized and efficient manner with proper marketing efforts, then social media will consume a lot of money as well as it will not be possible to save time to do other work that any small business owners need to do actually .
Our social media management services will help you massively impact your audience on social media channels like by doing Facebook marketing, Instagram marketing or Linekin marketing whatever you want! We can create social media management campaigns and strategies that help you get more customers by giving them the best customer service ever from your social media.
Goal of Social Media Management Services
We aim to get your target audience to follow and interact with your brand on social media through social media management. As a result, your brand's message will only reach the people who have the chance of becoming your customers in the future. It will save you a lot of marketing resources in social media campaigns.
You will feel the organic growth of your brand on social media as we use organic and natural strategies that enhance the boost of your social profiles.
We support no grey tactics for short-term growth as we believe that you are doing your business for long-term growth in your industry. Where do you begin with social media management?
Don't worry if you do not know where to start regarding social media management. Because we are adequately providing Social media management service. We accomplish three crucial things to get off on the proper foot:
Audit your social media network's presence.
Select the appropriate social network channels.
Examine your intended audience.
Do you want to know why we choose these three activities to highlight?
Because completing them will offer you essential information that will help you focus your social media marketing efforts. As a consequence, you will be able to save time and focus your resources on techniques that work while reducing the number of strategies that do not.
Let's look at each duty in more detail:
Step 1: We will conduct a social media audit, as it is a great idea.
As a social media management agency, our social media audit can help you improve your social media management in the following ways:
The audit will give you a clear picture of the effectiveness of the strategy.
With social media content audit you can figure out where resources are being squandered.
Via social media advertising audit you can see which social media platforms are effective.
It will demonstrate how social media affects search engine rankings with marketing campaigns.
So, how should you go about performing a social media health check?
You can Maintain a list of all of your company's social media accounts, including those from different locations and sub-brands.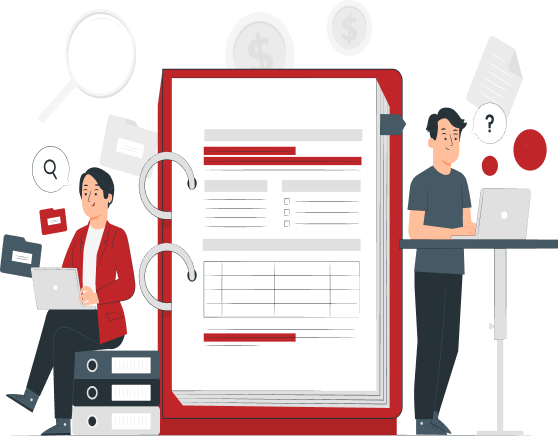 Step 2: We use social media analytics, examine key performance indicators such as follower growth on social pages, engagement of audience (including regular engagement rates for some months), content publishing frequently, following engaging blog posts formats, top-performing posts, traffic sources, community sentiment, question response rate, average response time, audience interests, demographics, and behaviors.
Step 3: We compile all data into a tidy social media audit template.
Step 4: We analyze the data of social media presence and search for places where you can make improvements. If you detect a drop in engagement, it could be due to poor blog posts quality, incorrect targeting, or fluctuating publishing frequency.
That's precisely the kind of data you'll need to identify flaws in your plan. You can then take the initial steps toward correcting problems and improving the efficiency of your social media management activities and social media presence.
As business owners or any small business owners, should select the appropriate social media channels or hire an agency.
Another critical aspect of efficient social media management is choosing the right platform.
After conducting a social media audit, we believe that you will discover that some sites don't work for your brand. It would help if you learned about the work required to achieve the desired results in that scenario.
A lot relies on who your audience is and where they are located. If you discover after your study that your target audience is mainly on Twitter, but your presence on the platform isn't robust, you should try to improve. You could want to try a different channel of social media presence if your results aren't as good as you'd like and your audience has moved on. So, before we do, we think about the following questions:
Will the platform help you to reach your company objectives?
Or how much money will business owners require to meet goals?

We examine your intended audience and analyze your social media community to make suitable social media content for them. Which is crucial for effectively managing social media.
Analyzing the followers has numerous advantages, like improving customer interactions, providing more relevant content, and increasing social media conversions.
Get all the digital marketing, search engine optimization, content marketing, social media tips, news, and insights directly in your inbox.
Subscribe to our newsletter for social resources
Join our newsletter! People who subscribe to our newsletter get freshly brewed content to help their business grow digitally.
We at Reinforce Lab care and respect your privacy. We will never share any of your information. By joining our mailing list, you signup to get our blog updates