Professional Technical SEO Services
Professional Technical SEO Services
Our technical SEO service can make your website's presence more intense than your competitors. So try our technical SEO audit service now!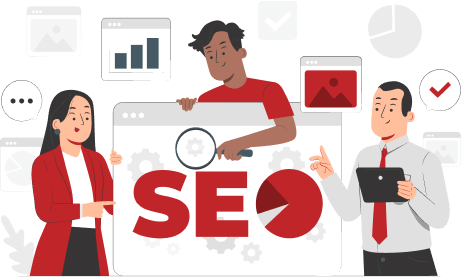 Our content marketing service has a variety of initiatives to help you take your company to the next level. Leverage our services to maintain a dominant position in your niche sector.
Blog Writing
Our blog writing service is here to manage your blog post writing tasks and ensure all your blogs efficiently reach your target audience.
View Details
Website Copywriting
Our Website Copywriting Services can drive your desired website traffic and build brand awareness to help your business grow faster.
View Details
SEO Content Writing
Our SEO content writing services can make your SEO content creation more accessible to search engine crawlers and rank them on Google.
View Details
SEO Link Building
Our service provides long-term, sustainable, high-quality link building, and we put a lot of time and attention into it. So try us to see the best result.
View Details
On Page SEO
Our on page SEO services can help your business website dominate Google's first page, which ultimately helps to grow your business faster.
View Details

Professional Technical SEO
Our Technical SEO services can boost your website's organic ranks faster than your competitors. So try our services for your Technical SEO services now.
View Details

Expert Off Page SEO
If you are searching for expert off page SEO services within your budget then, you can definitely rely on us. As we apply the best off page SEO techniques for best results.
View Details
Professional Technical SEO Services
Technical SEO services from any professional technical SEO company include a wide variety of tasks to fix the most frequent and detrimental flaws in a website to prevent any harmful effects on its search engine rankings. To boost your website's organic ranks, you should use technical SEO services that make your site easier to crawl and index by search engines. For that reason, one of the best technical SEO agencies, Reinforce Lab, is here to ensure your business is getting the best technical SEO services, including technical SEO audit services.
In case you're confused about what is technical SEO example? Then a prime example can be the creation of an XML sitemap which is a part of technical SEO—getting your website set up correctly. Hence, every page works as it should is a crucial first step in developing a technical SEO plan. For Google and other search engines, read this file and better understand your site. You must have an SEO technical audit service to earn a better position in digital marketing.
Technical SEO enhances your website's technical aspects, such as loading speed and error messages. However, search engine optimization often focuses on blog postings to boost page content. And if you're thinking about what's the difference between SEO And Technical SEO? Then it is the primary distinction between the two varieties of search engine optimization. However, both SEO methods will help your site rank better in Google's search results.
Subscribe to our newsletter for social resources
Join our newsletter! People who subscribe to our newsletter get freshly brewed content to help their business grow digitally.
We at Reinforce Lab care and respect your privacy. We will never share any of your information. By joining our mailing list, you signup to get our blog updates
What Is Technical SEO And How We Refer?
Site and server improvements that improve your site's user experience and make it easier to index by search engines are collectively referred to as "technical SEO," They have a direct bearing on your site's potential to attract organic traffic. To sum up what is meant by "Technical SEO," I would say that it is the process of enhancing your website and server so that search engine spiders can more easily explore and index your content (to help improve organic rankings). To make you clear, let's get to know about –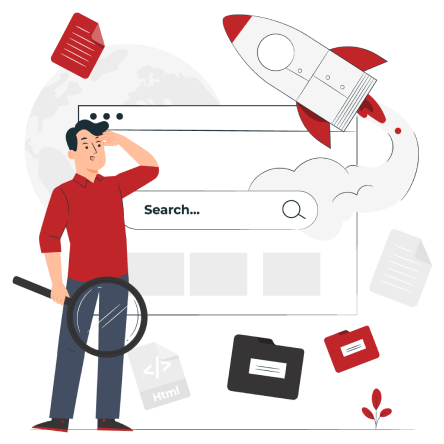 What Is Technical SEO And How We Refer?
For assurance that the providers of SEO expert services are adhering to industry standards, it is wise to do a technical SEO audit of your website.
All of these vital technical optimization tasks may be completed quickly and efficiently with the use of a technical SEO checklist. Consequently, before beginning any excellent technical SEO consultancy services, a technical SEO Audit Service is necessary, lest issues go undetected. Simply said, the nitty-gritty of your site's construction bears most directly on your site's position in search engine results (think Google or Bing). Therefore, it is essential to do a technical SEO audit service and adhere to checklists before beginning the actual service delivery. So, our best SEO firm provides its tech audit service with technical SEO audit services.
What Is Technical SEO And How We Refer?
Any best Technical Search Engine Optimization Agencies try to follow their customized checklist for SEO Technical Audit to provide the best off-page SEO services, on-page SEO services, and technical SEO services. The content and structure of a website are analyzed and ranked based on technical factors among the many items on the technical audit checklist. Your rankings might go up or down depending on how well you implement technical SEO. Following this checklist will make it much easier to address technical SEO issues.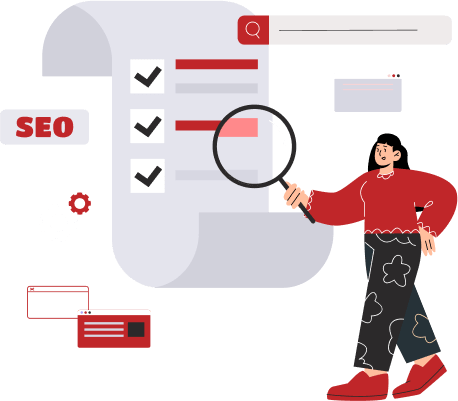 Dominantly which domain do you want to use?
Making sure robots.txt is optimized.
Changing the layout and menus on your website.
Verifying and Improving Your URL Architecture
Including breadcrumb navigation in your articles and pages.
Making sure breadcrumbs have schema markup.
Making use of structured data on your home page.
Updating your articles using structured data
Including structured data on other pages (based on their type)
Verify that you're using canonical URLs.
Revamping your error page
Providing an optimized XML sitemap to search engines like Google and Bing.
Initiating a secure HTTPS connection
Ensuring that your site is quick to load and make any necessary adjustments.
Making sure your website is accessible on mobile devices.
Verifying your page numbers and language selections.
Creating a Google Search Console account and add your website.
Making sure search engines can do crawling and indexing your site
A general SEO Audit, which involves many more checks than technical SEO, may be performed by any reputable Technical SEO Specialist or consultant to determine how well-optimized your website is.
Importance of Technical SEO Audit
As a professional technical SEO company, we know how the perfect technical SEO services can make your business perform better than competitors. So this part is especially for you to understand why you need any technical search engine optimization agencies to ensure your company is getting exposure to the best professional SEO audit services from our expert technical SEO consultants.
Assist in Constructing Ideal Content SEO Strategies
Knowing your total performance is necessary for a content strategy to be effective. What you aim to accomplish with your company and how you plan to get there should make up your strategy. You need to implement an effective search engine optimization (SEO) plan to increase your site's exposure and traffic.
Facilitate Gaining Insight Into Your Rivals
If you study your rivals, you can learn how to outperform them. To succeed where others have failed, you need to identify their strengths and weaknesses and use that knowledge to your advantage. That, along with suggestions for improving upon what you currently have, is what you can expect from competent technical SEO audit services.
Determine Serious Website-Related Technical Problems
An audit should flag several technical concerns for you, including crawl failures, on-page difficulties, redundant backlinks, and slow page load times. A technical audit may uncover errors in your system before they cause problems or a drop in visibility. The first step in fixing these problems is to recognize if there are any. Additionally, it may shed light on the problems plaguing your site and provide solutions to any issues it may have.
Through a comprehensive technical SEO audit, you can make sure that elements outside your control, such as page load time, server configuration, and external links to your website, are not undermining your efforts. Indeed, this is the case. To fully understand your site, you need the expertise of an SEO expert, which you may get via a technical SEO audit.
Provides Clarification on Major Problem Areas
Use a search engine optimization check to learn the terms and permutations your potential consumers use to find you online. Knowing this allows you to fill in the blanks in your SEO strategy with carefully crafted and optimized content.
Enhance the Quality of Service Provided to Users
Technical SEO is an excellent method for bringing in-depth knowledge and expertise to website audits, spotting any significant grounds for concern, and pinpointing opportunities to enhance the site's architecture and page content to boost search engine rankings. Insights gained from a thorough SEO audit may provide light on potential issues.
Best Practices of Technical Search Engine Optimization
While most site visitors won't notice a difference, a few tweaks might significantly impact a website's discoverability in search engines and revenue. Now, then, are some guidelines for effectively using technical SEO:
Preparing the optimal website layout
Both human visitors and search engines must have a smooth experience navigating your website. So, one of the recommended procedures is to organize the site in a way that makes sense.
Checking if every page can be crawled
Content that search engines are unable to crawl cannot be indexed; thus, it is crucial to verify the coverage report in the search dashboard for any warnings. Our top-tier SEO technical team can definitely help you out with that.
Establishing whether or not online pages may be indexed
The two most crucial and one-of-a-kind features to test are an indexing and crawling. Web pages that search engines like Google and Bing have no trouble crawling aren't always indexed. If the page's robots meta tag or robots-tag contains the word "noindex," indexing will be completely disabled. As a result, we will handle it for you with the help of our technical SEO professionals.
Conducting a thorough analysis of the site's technical SEO
Websites that have undergone an audit and passed (Semrush, Screaming Frog, Dareboost, SpyFu). Understanding the nature of the website's faults and warnings requires a thorough technical assessment. Our technical SEO audit services would greatly benefit your site's health if such issues were resolved.
Incorporating Schema Markup
Using schema, you can tell search engines exactly what to look for on your website. The schema defines the types of web pages, such as a product page or video page. You may use tools like Google's Structured Data Testing Tool and the schema markup generator on tech SEO sites to create a schema.
Currently focusing on optimizing the speed with which things can be done
Because waiting for a search engine results page (SERP) to load might be frustrating, you should work to decrease that time. The likelihood of a high bounce rate rises as page load times lengthen. We will analyze your website's loading speed using industry-standard tools like Website grader, Google PageSpeed Insights, GTMetrix, and others.
To create internal linkages
With this, readers can quickly go from one article to the next. They also contribute to a page's visibility in search engines. Our technical SEO agency will ensure a successful outcome for your company.
Tossing in a few breadcrumbs
Breadcrumbs are navigational hints that reveal to site visitors how far they have traveled from the homepage and at what point in the site's structure they now find themselves. You may usually locate breadcrumbs towards the top of the page; if not, they will be near the bottom, just next to the navigation bar.
There may be improved performance by using just HTTPS versions
Most browsers have included support for the safer HTTPS protocol. The moment has come to switch over to the secure HTTPS version of your website if you haven't already.
Checking if the site can be seen easily on mobile devices
In other words, optimize your site so that mobile users have a pleasant experience. You don't have to worry about keeping up with the latest and most excellent SEO best practices since we cover them as part of our technical SEO services.
Subscribe to our newsletter for social resources
Join our newsletter! People who subscribe to our newsletter get freshly brewed content to help their business grow digitally.
We at Reinforce Lab care and respect your privacy. We will never share any of your information. By joining our mailing list, you signup to get our blog updates
Why Our Technical SEO Company Services?
You can Buy SEO Services from our Reinforce Lab for your technical SEO Services as our expert SEO services provider knows how to rank on Google's first page perfectly, so without any doubt, you can trust us. Here are out of 200 factors, some of our professional technical SEO services example is given so that you can understand easily what our technical SEO services include for your business –
Our Technical SEO Company will Start with In-depth Technical SEO Audit Service for Your Site
The Best SEO Agency In The World will conduct a full SEO audit to find and repair your website's technical problems. Mobile performance, internal link structure, page speed, XML sitemap, indexation, crawl problems, robots.txt, and site architecture are all included in the audit. Based on the data collected by the analytics system, we formulate immediate and long-term plans to enhance your website's user experience and search engine rankings.
We will Activate the Secure Socket Layer for Your Site
The task of search engines is simplified by providing them with an XML sitemap, which contains a list of all your site's pages. In addition to the content of each page, the file also stores metadata such as the date and time of any updates or changes made to the page. So that Google can recognize your site for the value it provides, a technical SEO expert can help you develop an ideal XML sitemap.
Best Technical SEO Agencies will Find Broken Links, Images and Replace Them
If your website has broken links or pictures that indicate a terrible user experience to Google, it will severely affect your rank in search engine results pages (SERPs). This is a vital aspect of the technical problem and may be solved by any expert technical SEO service provider like us. So don't ignore this critical issue and contact our technical SEO company to get the best result.
Technical SEO Audit Services Will Repair Duplicate Content Also Duplicate Pages
Users may get confused by too much identical material. At the same time, search engine algorithms may be tricked into false positives by deliberately posting similar articles to boost their ranks artificially. Therefore, no matter how much high-quality content you produce, your site will ultimately not get sufficient traffic, and the results of technical SEO will be inaccurate. This way, local SEO services and franchise SEO services can be done perfectly with our best technical SEO agency.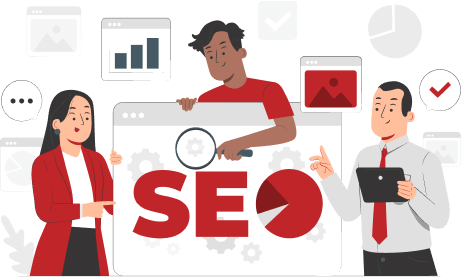 Our Technical SEO Company will Improve your page SEO by Increasing the Site's Speed
Search engines favor sites that load fast; hence page speed is a factor in SEO. Fast hosting and DNS ('domain name system') providers are just two options to increase your site's performance. Keeping the number of 'HTTP requests' (made by your website) to a minimum can help your company's website load faster. Your site speed may be increased with the help of top-notch technical SEO services in a short period.
Finally, Our Technical SEO Audit Agency will Optimize Your Website
There are often many little tweaks that might have a significant impact when it comes to technical SEO. The content, images, meta tags, internal linking, design, server performance, title tags, IP addresses, and other technical aspects of a website may all be optimized to improve search engine rankings. With our mobile first indexing function and indexable pages, the results your audience receives from their mobile will be quicker. In addition, our technical SEO services will also crawl your site for as many pages as you need. After completing all of these steps, your site will no doubt be optimized.
Our sophisticated SEO strategies will get you to the top of search results for the keywords that matter in your business. We, Reinforce Lab, the professional technical SEO services company, can help you to rank on Google within your expectations. All you have to do is GET IN TOUCH!
Frequently asked questions
SEO audit tools help you save time and effort throughout the auditing process. These can automate many of the checks in an SEO audit, saving you time and effort.
Technical SEO consulting services typically cost between $1,000 to $3,000 per month; however, this rate fluctuates significantly in the business. It is crucial to ask for an estimate since the cost may vary widely (often between $3,000 and $5,000 for more complex websites).
Search engine optimization, or SEO, is one of the most challenging subfields in digital marketing. However, search engine optimization is not always complicated; it is often time intensive.
Crawling, indexing, rendering, site structure, page speed, broken links, structured data, mobile-friendly design, HTTPS, duplicate content, URL structure, hreflang, 301 redirects, 404 errors, robots.txt file, and XML sitemap optimization are all types of technical SEO.
Titles, meta descriptions, headers, the website's current visibility, quality, and more are routinely analyzed during an SEO audit. An excellent technical SEO audit should take between 15 and 20 hours. This is very dependent on the scope and intricacy of the website.