Dental SEO: How to Get More Patients with SEO for Dentists

23

min read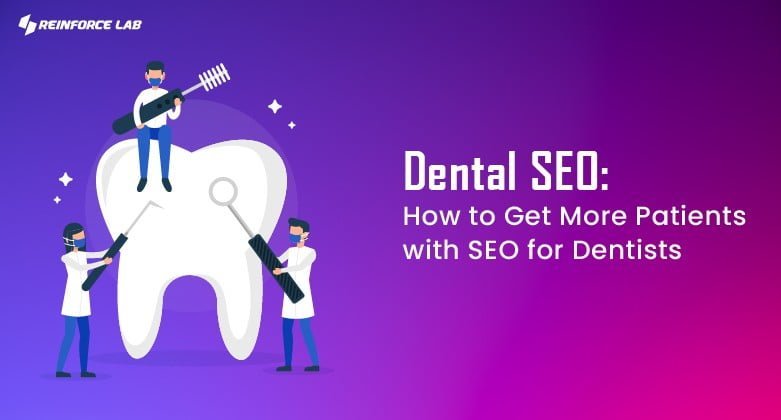 As a dentist, you might want to enhance the appearance of your patients' smiles. But, for many dentists, attracting potential patients and growing their practice can be a challenge. Nowadays, for the dental industry to get new patients and maintain existing ones, SEO for dentists is extremely important.
But what's the secret sauce?
How to optimize your website to rank higher on search engine results?
Well, the key is …
With the proper dental SEO(search engine optimization) marketing, you can boost your brand visibility and increase traffic faster.
The higher you rank on a search engine result page (SERP), the more likely prospects will see you and click through to your site.
So, If you have not started SEO for your Dental services yet, it's high time you start planning for that.
Today in this blog, I will discuss the necessity of SEO for dentists and give you actionable tips on optimizing your dental SEO company practice website and your overall online presence.
By the end of this guide, you will be able to
Understand Dental SEO and why it matters
Learn how a dentist can rank #1 in search engine results
Optimize a dental website with proper dental SEO company practices
Increase SEO traffic with local SEO for dentists
Get actionable tips to attract more traffic to your website
Help you Find the Best Dental SEO companies for your dental office websites
So, let's dive into it.
What is SEO for Dentists?
Before learning how to optimize SEO for Dentists or do comprehensive digital marketing in dentistry, you need to know the definition of dentist SEO.
SEO is making your dental practice appear higher in search engine results.
This can be done by optimizing your website and content to rank higher in SERPs without paying for ads.
This can be helpful for those who are:
General dentists
Orthodontists
Pediatric dentists
Periodontists
Prosthodontist
Oral surgeons
Endodontists
Dentist SEO marketing (search engine optimization) is the most effective way of surprisingly improving your website ranking.
With proper strategy, make your dental practice more visible on search engines, drive more traffic to your website, and get more new patients to your door.
For example, when a potential patient searches in search engines such as Google, Bing, and Yahoo.
And types "kids dentist near me", "dentist for kids near me", or any other combination of local search terms related to kids.
An SEO strategy is what helps your practice appear in the top search results.
According to a recent publication, The Morrisville Dentist, a new practice that opened in 2018, overgrew with the help of SEO.
Within the first few months, the website recorded a 392% increase in organic traffic. And a 300% increase in new patient acquisition.
Therefore, if you want to be found online by potential patients, an SEO dental marketing strategy is a must for your dental practice.
Local SEO for Dentists: Why does it matters?
Keeping up with the ever-changing trends in digital marketing is crucial for success in the dental industry.
As SEO is a constantly evolving field, failing to adapt to new marketing strategies can pose a challenge in competing for online visibility.
The only way to stay ahead of your opponents is SEO marketing.
Dental SEO company practice is something many dentists and dental practice owners worry about.
However, it feels like a concerning topic for dentists who wants to focus more on providing high-quality patient services but not becoming dental SEO expert.
But there's a lot more to unpack!
In 2022, dentists can no longer afford to skip SEO.
A dental SEO strategy is necessary to grow your practice and keep new patients rolling in.
That's precisely why we wrote this Simple guide — we want to bring clarity, drive success for dentists in every aspect, and better position you to succeed in the rankings.
According to SEO That Works, dental-related searches on Google have increased by around 25% year-on-year.
So as a dentist, there is no better way to blend in with technological advancement than working with dental marketing SEO.
It's also wise to remember that your competitors are already investing in dental search engine optimization (SEO).
Their practice already benefits from SEO's exposure by attracting local patients.
SEO might be your only chance to get in front of patients who turn to the Internet to research dentists in their area.
This means more people looking for a local dentist are more likely to find your website.
If your competitors aren't already investing in SEO for their practices, this is an excellent opportunity for you to get in front of them.
In time, you will attract more patients to your practice before they miss out.
Let us look at some of the main reasons.
Benefits Of Applying Dental Search Engine Optimization on Your Website
Having a strong online presence is essential for success. And one of the most effective ways to achieve this is through dentist search engine optimization (SEO).
By optimizing your website for search engines like Google, you can increase your visibility and reach more potential patients.
With the right SEO strategy in place, you can rank higher in search engine results pages, attract more traffic to your website and ultimately, generate more leads and conversions.
But the benefits of SEO go beyond just increasing your online visibility. By implementing SEO best practices, you can also improve the user experience on your website, establish your authority and expertise in the dental industry, and build trust and credibility with potential patients.
So if you're ready to take your dental practice to the next level, it's time to invest in dentist search engine optimization.
Let's explore some of the key benefits and see how SEO can help you achieve your business goals.
1. Building Trust and Credibility
The credibility of a dentist is to assure patients by offering the finest services and treatments.
Still, SEO is always a significant factor there (A dentist's credibility comes from giving patients peace of mind by giving them the best services and care, but SEO is always a big part of that.).
For maintaining a proper dental SEO company practice Make sure the website is user-friendly and convenient to navigate and deliver high-quality images.
All of this builds trust with the people who matter most – the patients and their families!
2. Generate more traffic at an exponential rate
A lack of credibility in your business can prevent you from getting appointments and attracting new patients.
But that's not all; most of your upcoming patients will click on the first five results on Google.
That's why a precisely- drafted SEO master plan can help you get additional traffic.
3. Winning Over Competitors'
Thirdly, you will stand out among your competitors. In the crowded dental field, you have plenty of room to shine.
Optimizing your website lets you stay ahead of the competition and on top of the tournament.
4. Center of Expertise
Your website can also serve as a hub of information for potential and current dental patients.
This makes it easier for people to find your website by doing a naked web search.
5. Offering a Better User Experience
A well-designed and easy-to-navigate website is a surefire way to attract people to your dental practice.
More importantly, a user-friendly website lets potential patients know you're the right dentist.
So go ahead and create an SEO-friendly dental office website with the help of any dental SEO company.
Try to take advantage of the latest SEO techniques and get the recognition you deserve.
How can a dentist rank #1 in search engine results?
According to Research Gate, 77% of all online health inquiries start with a search engine.
If your dental practice's site achieves this ranking, more website traffic, more potential patients, and greater credibility are on your way.
And it would be best if you took advantage of playing the Trump card to gain more qualified patients using a proper SEO strategy.
Marketers need to know where their target audience lies and how to reach them.
SEO is no exception. By highlighting the needs of dental patients, you get their attention.
This attention raises your rankings, and the cycle continues.
When using an SEO marketing campaign, there are many components to ranking #1 in search engine results.
Most of them are tricky to do well:
Keeping up with Google's continuous algorithm changes
Taking in the latest optimization and web technologies
Testing content marketing plans, identifying trends, and analyzing results
Developing dentistry-specific SEO strategies that are both popular, realistic, and manageable
Finding the proper dental keywords for a specific target audience. As prospective patients often look for dentists, they seek specific services, such as teeth whitening and bridges.
Analyzing the competitor and creating a strategy to defeat them in the search results
To attract your target dental patients, create quality content. And show how your service solves their existing issues.
Successfully implement those plans.
Additionally, several vital factors boost dental website rankings, such as Website load speed, Mobile optimization, and Keyword optimization.
Also, correct site metadata, Publishing relevant and custom content, Offsite and onsite link structure, Social signals,
Even Google My Business optimization, and many more.
The bottom line is that search engine optimization takes time and collective effort and is often complicated.
But you have to wait for your website's popularity ranking.
There is no definitive playbook.
And there are no magic ranking rules or secret recipes.
The most efficient way to rank in search engine results requires A/B testing, insightful analysis, and creativity.
Local SEO for Dentists: How to Optimize a Dental SEO for Marketing?
Local SEO is the industry standard for optimizing a brand's online presence for location-specific services.
For example, Any time a patient searches with "near me" in the query, it's a location-specific search.
Local SEO can help you build up your dentistry practice's online visibility in the local market so that you're the first thing they find and choose.
With local SEO, you're competing with other local dental practices.
But the competition is limited in the region. However, you don't need to worry, as you're not competing with the entire Internet.
You have a better online presence than the other dental professionals near you or in the region.
There are a few basics to learn before you.
There are a few basics to learn before you get too deep into your strategy:
Local Dental SEO Marketing Basics
SEO tactics can be broken down into three basic categories:
On-page SEO: your website's content, basic HTML, and website architecture.
Technical SEO: your webpages load time, speed, mobile-friendliness
Off-page SEO: domains linking to your website, social media, and reviews (not on your website).
On-page SEO for Dentists
On-page SEO can be broadly divided into three basic categories: Content, HTML, and website architecture. We'll look at each individually.
To get more new patients, make your dental practice visible on search engines and attract more traffic to your website.
But what's the strategy?
In the next few steps, you will learn how to craft an actionable on-page SEO strategy for dentists.
Step 1: E-A-T
E-A-T, which stands for Expertise, Authoritativeness, and Trustworthiness, is not an update or an algorithm. It's a principle.
Expertise: How much experience and knowledge do you have on the topic?
Authority: Are influencers who serve the same audience linking to your content because it provides value?
Trust: Are you protecting user information, providing accurate information, and being ethical?
Google has been judging websites, content expertise, and authority for a long time.
Step 2: Keyword
In search engines, people use keywords to find what they're looking for.
They are crucial because if your website contains relevant keywords, it has the potential to show up during these searches.
For example, if you search for "how to do SEO" in Google, the Michigan Tech website appears at the top of search engines' results:
Step 3: SEO Writing
You can also play a crucial role in optimizing your content's search results–helping people find, read, and cite your work.
This involves researching keywords, writing high-quality content that matches user intent, and optimizing your headers for easy page crawling.
Here are some of the key conclusions:
Prioritize readability: Your content or blog posts should be easily scannable, so users can quickly find the information they're looking for.
Avoid Keyword Stuffing: This technique was used by black hat SEO professionals to manipulate the system; Google takes a dim view of sites that overuse keywords. And, if you're caught doing this, your page could be penalized.
Chunk sentences and paragraphs: If you've ever clicked on a webpage with an unbroken wall of text, you know how difficult it is to read lengthy pieces of copy. Avoid driving users away by keeping your sentences and paragraphs long.
Use subheadings: Subheads stand out because of their size, removing distractions for readers viewing your content. Apply the proper subheadings to your content to direct readers down the page.
Use bulleted lists: This may sound comprehensive, but bulleted lists are a convenient way to break data down into digestible segments.
Step 4: Visual Contents
Visuals make content more intriguing and engaging by helping people understand your content better.
You can also boost SEO efforts by using visual content to make your website more visible and accessible to readers.
Visual elements like videos, memes, diagrams, GIFs, screenshots, photography, or images are the building blocks that enable visual content marketing and power your efforts.
For example, someone looking for dental services will be impressed if you display your dental portfolio on the website.
If you can provide the correct details in the proper context, that will make it much easier to trigger a quick decision from the patient.
Step 5: Title Tags
A title tag is a website element that denotes the title of a web page. Title tags are shown in a couple of key locations.
For example, when you search on Google, you will find a list of results in blue text. Those are known as title tags.
Step 6: Meta Description
A meta description is a summary of your page that appears in search engine results below the title/URL of your page.
The description doesn't directly factor into your search engine results page(SERP) rank but influences whether a user clicks on the link.
Step 7: Image optimization
Optimizing images speeds up page loading times, boosts a website's SEO ranking, and enhances user experience.
You should choose SEO-friendly ALT tags, select the correct image format, reduce the file size so that the images load quickly, and ensure whether or not the images are mobile-friendly.
Step 8: Geotagging (For Local Search)
In SEO, keyword geotagging simply means placing the name of your target location in your keywords.
The geotag in the keyword can be placed wherever you want as long as it fits the context of the keyword. It can be a specific city, town, country, etc.
Be sure to include the name of your target location in your keywords and put them in your content wherever they fit.
Step 9: Site Speed
Speed is a crucial performance factor for your business.
As a direct ranking factor, the speed of your website influences how it will rank on Google.
Plus, page speed can also affect SEO due to bounce rates and session times.
Moreover, If your website loads too slowly, potential visitors might abandon it in the first few seconds, affecting your conversion rate.
There are several steps you can take, including:
Enabling compression.
Reducing redirects.
Optimizing images.
Leveraging browser caches.
Step 10: Responsive Design
When a website is responsive, the layout and content respond or adapt based on screen size, platform, and orientation.
This is because a responsive website automatically changes to fit the device you're reading it on.
Responsive web design is divided into three main components: the media query, the web browser, and the responsive web interface itself.
Step 11: URL Structure
URLs that are simple, easy to read, and include keywords that describe the content on a web page are SEO-friendly.
For example, if you're searching for information about "Best Dental Treatments near me," a URL like https://singingdentist.com/best-dental-treatments/ will help you decide to click on that link.
A URL like https://www.singingdentist.com/index.php?id_wca=470&clcp27sap does not clearly explain what the destination page is about and is not friendly.
Step 12: Links
In search engine optimization (SEO), links are used as a signal to Google that your site is a valuable resource.
Therefore, sites with more backlinks tend to earn higher rankings.
There are several types of link-building strategies you need to know about SEO:
Internal links – or ones that direct to another page on your website like this one.
Outbound links – also known as external links- point to a site on a different domain, like this one pointing to Google's SEO page.
Inbound links – sometimes called backlinks- links from other websites pointing to your page.
Of the three, inbound links are by far the most influential.
They provide the most significant SEO benefit but are also the hardest to obtain.
Off-page SEO for Dentists
Off-page SEO matters because a website lacking citations from other sites resembles a site that's not worth crawling and indexing.
A dentist's off-page SEO is essential to local SEO success.
Google searches the web far and wide to find your business information. These include:
Name
Address
Phone number
These critical data bits are known in the SEO world as NAP.
You might be the one to have uploaded them to the internet through your Google Business Profile (GBP).
Optimizing your GBP profile is one of the most effective ways to boost your off-page SEO. But there are a few other ways to help boost your rank:
Step 1: Backlink
A backlink is when someone links from their website to a different domain.
They're a social signal to search engines that your website is worth checking out.
It's like an informal vote of confidence—from the correct domains, or it's not about the quantity but the quality of your backlink profile.
A proper mix of backlinks from relevant websites can help you rank higher over time.
However, a spammed website and paid promotions can hurt your site's search engine rankings.
Google can penalize your site at times. In a worst-case scenario, they might erase you from the SERPs altogether.
Step 2: Social media
Social media is another way to help your off-page SEO and promote your website in SERPs. And that could lead to backlinks.
Step 3: Reviews and Recommendations
According to Backlinko, 76% of consumers trust online reviews as much as they trust recommendations.
Potential patients decide whether or not to try out your service based on your reviews.
It shouldn't shock you that Google also cares about your reviews.
In other words, a local ranking factor could help your chances of getting into the local pack SERP feature.
Technical SEO for Dentists
Now that you've crafted valuable content on the foundation of solid off-page SEO for your dental website.
It is essential to make sure it's readable by humans and search engines too!
Technical SEO refers to website and server optimizations that help search engine spiders crawl and index your site more effectively (to help improve organic rankings).
Here's a quick guide to what matters for technical SEO:
Loading speed
Mobile-friendliness
Site architecture (breadcrumbs, no orphan pages)
Structured data or schema
Lack of unexpected visual shifts
Slow initial response time
Clean code (including hreflang tags, canonical tags, and meta tags)
It's safe to say that most dentists aren't also experts in coding.
So, you may want to hand off these tasks to a dental SEO agency because a minor error could result in a big headache.
Finally Tracking Your Results
Ideally, you want to put your SEO strategy in place before you start the campaign.
Without tracking the results, there's no way to know if your SEO efforts are really working.
Fortunately, you can use SEO software to save hours of effort and generate accurate reports with a click.
Here are a few sneak peeks at some SEO tools:
1. Ahrefs: SEO Keyword Tool
Ahrefs is one of the most recommended SEO tools online. It's only second to Google when it comes to being the largest website crawler.
The tool highlights what parts of your website need improvements to rank better in search engines.
From keyword research to Backlink Analysis, this tool is invaluable.
2. SEMRush: Marketing SEO Tools
Position tracking lets you see what keywords you're ranking for and where they sit on the SERP.
It's easy to track when you need to optimize for a keyword or when you don't.
You can also see when your content appears in the SERPs.
Bonus Tips: The right way to make dentistry rank higher on SERPs
Boosting your dental practice's search engine rankings can be a challenging task. However, there are effective strategies that can help your dentistry rank higher on search engine results pages (SERPs).
So, let's checkout the actionable tips to rank higher on SERPs.
Tips 1: Keyword research for dentists
As you can see, keyword research is essential if you want to make your dental services more visible online and grow traffic.
We could write an entire guide for dentists on how to do keyword research, but for now, here are the 4 tips for selecting your initial keywords:
Use a keyword planning tool
Look at what keywords your competitors are focusing on by using one of the tools above
Compile a list of the services you offer
Use suggested search (auto-complete) in search engines
Tips 2: Backlink for dentists
If another website links to yours, you must ensure those links aren't broken.
Therefore a broken link leads to a page with a 404 message.
Use a broken link checker to investigate. If the report identifies broken links, work with your developer or designer to fix them.
If the broken links are coming from another site, ask them to fix them.
Tips 3: Trick for finding out where your site ranks
Measuring the results of your efforts is an integral part of dental SEO strategy.
So, you should start seeing whether your site ranks higher on Google.
In this step, I will show you how to track your results quickly.
Open a new incognito or private browser window
Type in the keyword or search phrase you want to rank for
Browse the results until you find your site
Still, if you haven't found your site on the first search engine results, you would benefit from search engine optimization services!
How Much Does Dental SEO Service Cost?
Whether you've been online for a while or have recently launched a website to act as your real-world business, you might be interested in discovering the advantages of SEO for dentists.
And when it comes to figuring out how much to spend on SEO services, you need to compare shops, arrange for consultations, read reviews, and think about what you're getting for the money.
Each dental practice will require a different set of SEO services, but there are several affordable SEO packages to fit your budget.
However, it would help if you always considered your ROI rather than your expenses.
A dental website's SEO costs vary depending on various factors, but the average cost is $1000 to $5000 per month when hired externally.
If you're looking to partner with a consultant or dental SEO expert, the average rate is $100 to $300 per hour.
But, if you can achieve results similar to what we've seen, that investment could easily be worth it.
So there's no shame in hiring external help. But it's unnecessary if you have the time to do it yourself.
Wrapping Up! – Dental SEO: How to Get More Patients with SEO for Dentists
SEO for dentist is booming right now. And having a better understanding of why SEO is essential and what is involved in this strategy can help attract more patients to your dental practice.
But while understanding the basics of search engine optimization, implementing a strategy is something many dentists struggle with.
We get you right there! Optimizing your online presence takes a comprehensive, detail-oriented approach that requires a lot of time and someone who knows what they're doing.
Your primary focus should be on what you do best — providing excellent patient care. We're here to handle all the SEO stuff.
We at Reinforce Lab Inc use our years of experience to keep your practice competitive.
This ensures that new patients can easily find you online.
We specialize in working with dentists worldwide and the specific SEO strategies that work best for the dental industry.
This could be a game-changer for attracting more potential patients and increasing your dental practice.
If you want to learn more about dental SEO services, book an appointment. We'd love to help you out.
FAQs
1. What is Dental SEO Marketing?
Dental SEO marketing is the marketing strategy and tactics dental practices and dental clinics use to attract and retain new patients and increase brand awareness via SERPs.
The main goal is to get potential patients to make a phone call or book an online appointment.
2. How does dental SEO work?
SEO for dentists involves optimizing your website for search engines and users, which increases the site's visibility in relevant and organic search results.
Optimizations include on-page, off-page, and technical tactics, like updating title tags, attracting backlinks, and improving page speed.
3. How long does dental search engine optimization take?
From our experience, SEO for dentists will see an increase in traffic and customers within 4-6 months.
However, continued work will be required to maintain traffic levels. You may see faster results with a more established and older website.
4. How much does SEO for dentists cost?
Prices for dental website SEO depend on several factors, but the average cost is $1000 to $5000 per month.
If you're looking to partner with a consultant or SEO expert, the average rate is $100 to $300 per hour.
5. How do you calculate the ROI for dental SEO?
The basic ROI formula for dental marketing is:
ROI = (Total monthly revenue generated – monthly marketing investment)/monthly marketing investment.
You can break the revenue into (number of new patients) x (average patient spend).
For example, in May, your clinic generated $10,000 in revenue. You invested $1,000 in marketing.
The ROI for May= (10,000 – 1,000)/1,000 = 9 or 900%. That's a high marketing ROI.
The key problem with the basic ROI formula is that not all of your practice's revenue depends on your direct marketing efforts.
Some of it could come from word-of-mouth marketing, which is organic.
The advanced ROI formula for dental marketing is:
ROI = (Sales growth – organic sales growth – marketing expenses)/marketing expenses
To determine what part of revenue directly depends on your marketing efforts, you can compare months you paid for marketing with months you didn't.
6. How SEO marketing can increase the traffic to your Dentistry website?
One element of SEO is incorporating relevant, high-intent keywords on your website.
These are keywords your patients use when searching for a new practice in Google or another search engine.
If you think about it, those keywords can tell you much about what your prospective patients care about.
If you found this post informative and acquired new knowledge, don't keep it to yourself. Share it with your friends and family so they can also benefit from the same insights. Remember, sharing is caring!
You May Also Like
Maxilin Catherine Gomes is an undergraduate business student who enjoys experimenting with the world of marketing via her proficiency in SEO. She doesn't have to put in any additional work to conduct relevant topic research, analyze traffic and search rankings, or discover the most popular visited websites for her articles since she enjoys doing so. She has spent the past decade devouring thrillers, romances, and detective books. For her, the best thing to do is to learn something new. She believes that everything in the world works together to help you reach your goals.