Writesonic Review: How to Use Writesonic AI Writer to Generate Better Content

21

min read
If you want to rule the field of content marketing and rock the stage, an AI content generator is a must for you.
To pick the best writing tool, you need to learn about AI writer and their usage. That is why I am sharing this writesonic review, where I will tell you what writesonic is and how to write articles in writesonic.
Using AI content generators can help you get over writer's block. Writing content for websites, social media posts, articles, and blogs daily is not an easy task.
You need to research, think, and then write about the topic. So, it takes time to create quality content.
Here quality content means generating unique and useful content. The content must be helpful for your users.
However, the most common problem in this sector is the time limit. because writing is not something that you can finish overnight.
So, creating content on a regular basis is quite tough. AI takes that tough part of your job and helps you create excellent content within a few minutes.
Today in this blog, I will talk about an AI writing tool that is writesonic. I will explain all the important parts of this tool, and also I will share how to use this ai writer for free.
So, without wasting time, Let's start with the introduction of Writesonic AI Writer.
What is Writesonic?
Writesonic is an AI writing tool of content automation platform that allows you to generate unlimited content and save time & effort in the process.
A blog writer may speed up your writing process with 65+ tools, including AI Content Writer, Article Writer 3.0, Facebook advertisements, landing pages, Quora answers, Twitter tweets, and Instagram captions.
The developers trained the AI model and developed these features with thousands of real-life examples from leading companies.
With the help of writesonic, article generation has become so easy. You don't need to worry about the tone of voice, language, or spelling mistakes.
Many think AI tool-generated content can't help users as it will not sound realistic.
But trust me, your job life will become much easier, and you won't find a scope to complain.
You don't need to believe all I am saying here right now. Just keep reading; you will understand on your own.
I will teach how to write an article with writesonic later in this writesonic review blog.
Features of a Writesonic AI Writer
An AI content writing tool is a must for you if you're a power blogger or content creator who needs a lot of content in a short time.
Here I am sharing some basic and common features of a typical AI writing tool:
Generate Content Ideas
Long-Form Content
Content Management
Customizable Rules
Customizable Templates
Email Marketing
For eCommerce
Grammar Check
Keyword Research Tools
Language Detection
Multi-Language
Natural Language Processing
Plagiarism Detection
Surfer SEO Integration
Publish Scheduling
Revision History
Rich Text Editor
SEO Management
Social Media Integration
Social Promotion
When the situation requires producing a lot of content quickly, then an ai content generator tool can significantly reduce the time it takes to complete one thoroughly researched article from beginning to end.
Writesonic Alternatives You Must Know
Knowing about the writesonic alternatives is as important as knowing about the topic you are writing on.
As you know what is writesonic, I will now tell you the alternatives so that you can also look for any other content-generating tool if you need it.
It will also help you choose a suitable ai writing tool for producing content.
Writesonic Alternatives Includes: 
It is an AI software that generates articles automatically. To save you time writing, Jasper AI generates material using artificial intelligence and natural language processing.
offers a wide variety of content frameworks, including AIDA, and produces 100% original content. assists in creating larger articles and uses Material Improver to enhance current content.
Rytr is an AI that assists in producing plagiarism-free content for a variety of purposes, including blog entries, social network posts, and advertisements. It supports numerous languages and can even write music lyrics.
it is pretty good at creating short content like social media posts and emails.
You can create human-like text quickly with Copy.ai. Their objective is to create software that allows business owners, marketers, and copywriters to create a captivating copy using artificial intelligence and machine learning algorithms.
It has a Google Chrome extension and plagiarism checker.
Frase uses search results to assist in finding and classifying content opportunities.
Extremely easy to use, SEO optimized, and great for structuring and researching content
The main reason for sharing these tools' information is to help you understand this writesonic review better rather than to confuse you.
So, without causing any further confusion and making this blog boring let's see the benefits of the writesonic ai writing tool.
Writesonic AI Writers for AI article writing: What makes it unique?
Writesonic strives to provide copy that captivates readers, increases sales and draws customers to your website.
There are two content generator options available. One set of templates is designed specifically for copywriters, including options for creating sales emails, landing pages, and product descriptions while checking for readability and grammar.

Advantages of using Writesonic:
There are several advantages of using Writesonic, including:
With Writesonic's AI-powered writing assistant, users can quickly and easily generate high-quality written content, saving time compared to writing content manually.
By automating the writing process, Writesonic can increase productivity, allowing users to focus on other tasks while the platform creates content for them.
Writesonic's AI algorithms are designed to generate high-quality content that is grammatically correct, engaging, and relevant to the intended audience, improving the overall quality of the content.
Users can customize the content generated by Writesonic to their specific needs, including the tone, length, and style of the writing.
By suggesting relevant keywords and phrases to include in the content, Writesonic can help optimize content for search engine rankings, increasing the visibility of the content to potential readers.
Multiple language support
Writesonic supports multiple languages, allowing users to create content in the language of their choice.
Writesonic can integrate with various platforms, including WordPress, Shopify, and social media platforms like Facebook and Twitter, to make it easy for users to publish their content.
The platform is easy to use, with a clean and intuitive interface that makes it easy to navigate and use the various features.
Using Writesonic can be more cost-effective than hiring a professional writer or agency to create content, making it an attractive option for businesses and individuals with limited budgets.
Overall, Writesonic offers a range of benefits that can help users generate high-quality written content quickly and efficiently, ultimately saving time and increasing productivity.
If you are a content writer or your job is to generate text that is creative, SEO-Optimized, and relevant, then you should try this tool.
This is an AI tool that is widely used in the content marketing sector.
So, if you want to know more about this tool and how to write an article with writesonic, then check out the next section.
Writesonic Pricing: How much does Writesonic AI content writer charge?
Writesonic has a convenient pay-as-you-go system. But not all the plans are suitable for all types of writing.
For example, if you are a writer and have to use a ai content generator several times a month, then you should choose the $45-per-month plan.
For the majority of bloggers and content producers, it offers limitless generations to a single user, which is fantastic.
If you have additional team members, then make sure to sign up for the correct plan accordingly.
So, in this section of the writesonic review, I am sharing all the plans with their prices so that you can easily select one.
Types Of Writesonic Plans With Renewal Prices
Before choosing the plan, you must choose the content category you want. On that basis, the pricing will be determined.
Four types of content:
Premium 
Good
Average 
Economy 
The only difference between these categories is word length. Under these four category, there are three options for each.
These options are set to make it easy for you to select the content length and quality.
The three options are –
Free trial – 70+ AI Templates, 25+ Languages, 1-Click WordPress Export, Zapier Integration, Browser extensions, AI Article Writer, Sonic Editor.
Long-form – Complete Article Rewriter, Bulk Processing, Surfer Integration, Priority access to new features, Priority support.
Custom plan – Unlimited words and users, Custom AI development, Invoicing options, Dedicated account manager, and Premium support.
This decision is not final. Across all plans, you can alter the quality at any moment.
Your word count will be adjusted appropriately. For instance, 100 Premium words equate to:
250 words of high quality; 500 words of average quality; 750 words of low quality
For instance, the $19 Long-form plan gives you 12000 Premium quality words, 30000 Good quality words, 60000 Average quality words, or 90000 Economy level words.
As a result, you will receive 7.5 times as many words if you move from Premium to Economic quality.
Writesonic also has ai that writes stories, you can use writesonic as a free ai story generator with a free trial option for a certain period of time.
Let's see how to write an article with writesonic.
Writesonic AI Writer: How to Use Writesonic to generate Powerful Content? 
Writesonic has taken content writing to the next level with its upgraded features and options.
It is not only easy to use, it is also affordable. So, if you are a content writer, then you should use this tool at least once in a lifetime.
I can assure you, you will not regret. Now you must be thinking how you are gonna use writesonic.
Don't worry that is why I am sharing the steps of using writesonic.
Learn writesonic AI: How Writesonic Works?
Writesonic offers a couple of different ways to write an article. These are described below: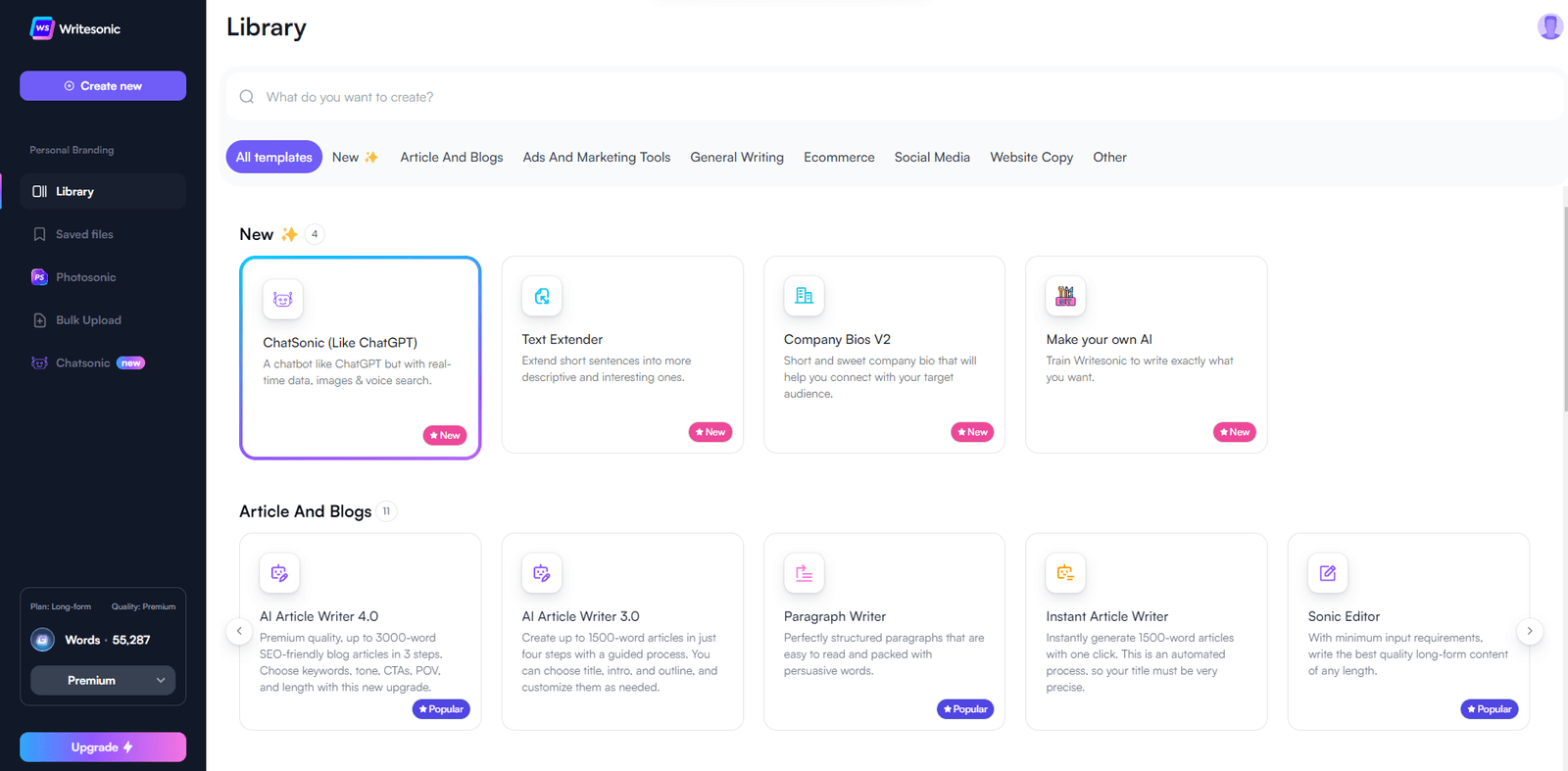 1. AI Article Intros
Generating curiosity through introduction is no easy task and so writesonic decided to make it simple for you. Use the AI Article Intros generator to create attention-grabbing introductions for your blog posts and articles in seconds.
Enter your topic. Anything you want to talk or write about.
Select your language. Choose the number of outputs you need.
Hit Generate Intros.
Tips for using AI Article Intros Generator: Write your topic directly. Generate, mix & match all the results to create better ideas.
2. AI Article Writer 4.0
Start by logging in and then clicking the correct project type: AI Article Writer 4.0. This will take you to the structured article writer window which is really intuitive and self-explanatory. This tool helps you write an article in 4 steps:
Step 1: Choose a title
You give it a topic in the first step and then generate ideas which are potential titles for your article. Each generation gives you multiple options you can choose from. If you do not like any of the options, you can regenerate ideas.
When you finally come across an idea/title you like, click it, and then click the button that says Next Step.
Step 2: Choose an Introduction
In the next stage, click Generate Intros. Just like the previous stage, you'll be presented with a few options for an introduction to your article. Choose the one you like the most and then click Next Step. If, however, you don't like any of the options on your first try, click Generate Intros again for additional options.
Step 3: Create an Outline
In the previous step, you chose an introduction and clicked Next Step. In this one, you have to choose an outline. Just like the previous steps, you'll need to click Generate Outlines to be presented with multiple options. Then you have to choose the one you like. If you don't like any of them, you can generate more outlines.
Step 4: Write the Article
In this stage, you'll see a list of all the section headers. Before you write the article, you'll have the option to edit one of the headers, delete them entirely by clicking the trash-can icon next to a header, or add new headers to your list by clicking the plus sign.
Pro Tip: I often like to manually add a new section called Conclusion to this list before hitting the Write an Article button. Writesonic is smart enough to know what that means, so it will write a conclusion of your article. 
When you're happy with your section headers, click Write an Article.
Read through the article that Writesonic writes for you, and as always, if you're not happy, write again!
Once you have an article you like, you can copy and paste it to a document.
Alternatively, you can click the Download button above the newly generated article to save a copy in Microsoft Word format.
Here one thing you have to keep in mind that the content generator will generate the amount of words that you have selected earlier.
You can change that from the left side options. So, what do you thank? Creating content writesonic is super easy!
However, if you still didn't understand how to use this you can check their writesonic tutorial videos as well.
3. Long-Form Writing Assistant (GPT-3)
This editor has all the text editing options of any editor (headers, lists, links, etc.), and what's more, it's fully integrated with Grammarly! Basically, you can use this as your go-to blog post or article writer/editor, only, now with the helping hand of an AI writer to assist you with the process.
You start by writing the first few sentences (to train the AI so it knows your topic, your voice, etc.), then you generate piece by piece. Each generation, depending on your subscription plan, can create as much as 120 to 200 words, max. You just have to keep clicking the "Write with AI" button until you have a full article.
You can also delete and type your own versions as you go. This helps guide the AI assistant so I recommend doing it often in the writing process.
4. Landing Page Copy
Great copy can transform your conversion, and now, with Writesonic, you can generate landing page copy that can increase your subscriptions or sales.
To start off, choose the Landing Pages card from your dashboard. Then, on the next page, fill out all the required information:
Product/Service name
Product/Service description
Feature/Benefit (x3)
And then, click the Generate Landing Pages button.
None of the input above needs to be perfect; just the gist of things. If you've made a product or service, you should already know what it is and what it does. Just let the AI writing assistant know what they are, and it will generate catchy headlines and copy for you.
And, as per usual, if you do not like it on the first try, you can always regenerate a new landing page.

What else Can You Write with Writesonic AI Writer?
Writesonic can generate a wide range of written content, including but not limited to:
Users can generate blog post ideas and even full blog posts with the help of Writesonic. The platform can help users choose a topic, suggest an introduction, and even generate the content for the entire post.
Writesonic can help users create compelling social media updates for platforms such as Facebook, Twitter, LinkedIn, and Instagram. The platform can generate text for posts, captions, and even hashtags.
Writesonic can generate product descriptions that are engaging, informative, and tailored to the target audience. This can be useful for e-commerce businesses or anyone selling products online.
Writesonic can help users generate attention-grabbing email subject lines that are more likely to be opened and read by the recipient.
Writesonic can generate ad copy for various types of ads, including display ads, social media ads, and Google Ads. The platform can suggest text for headlines, descriptions, and call-to-action buttons.
Writesonic can help users generate scripts for video content, such as YouTube videos or product demos. The platform can suggest talking points and even generate a full script.
Writesonic can generate copy for landing pages, which are used to convert visitors into leads or customers. The platform can suggest text for headlines, subheadings, and body copy.
And much more…
Overall, Writesonic is a versatile writing assistant that can help users generate a variety of written content quickly and efficiently.
Now, head on to your dashboard to keep exploring!
Tips and Tricks for Making Better Articles in Writesonic AI Content Generator
This ai content generator is for you if you're a power blogger or content generator who has to produce a lot of content quickly.
You can produce as many blogs, stories, and articles as you need using a writesonic blog, story generator ai free and other options.
Though this tool is very easy to use, some tricks can help you create better content.
Here are some tips and tricks for making better articles in Writesonic:
Before you start writing an article in Writesonic, it's essential to know who your target audience is. This will help you choose the right tone and language to use in your writing.
Writesonic offers a range of pre-written templates that can help you get started with your article. Be sure to choose a template that matches the type of content you're writing, such as a blog post or product description.
While Writesonic can generate high-quality content for you, it's essential to customize it to your specific needs. This might include adjusting the tone of the writing, adding or removing information, and making other changes as needed.
A well-structured article is essential for engaging readers and conveying your message effectively. Use subheadings, bullet points, and other formatting tools to make your article easy to read and navigate.
Adding visuals to your article, such as images or infographics, can help break up the text and make it more engaging for readers.
Even with the help of Writesonic, it's essential to edit and proofread your article carefully to ensure it's error-free and easy to read.
Optimize for SEO
If you're writing an article for your website or blog, be sure to optimize it for search engine rankings. Use relevant keywords and phrases in the text, title, and meta description, and ensure the article is formatted correctly for SEO.
By following these tips and tricks, you can create high-quality articles in Writesonic that are engaging, informative, and tailored to your specific needs.
These are some of the tips that you can follow to generate quality content.
You can check writesonic review blogs online there, you may also get some other tips.
Authors Note: Writesonic Review
Writesonic can assist you if you experience writer's block or are unsure how to organize your blog posts or landing pages.
Even if you choose not to make a whole blog or article post, this ai content generator can still generate a number of headings and display some fundamental structural flows to help you develop your own voice.
I was happy with the outcomes after investing a lot of time in evaluating the software and seeing what it could do. Even though the outcomes needed editing, crafting my own material saved me time.
The best part of this software is its user-friendly interface. One can easily understand the method of using this tool within a very short time.
Besides, they have also writesonic tutorial videos on their website, you can check them out.
If you are too tired to read this whole blog and want to know the summary, then the next section is for you; that is our writesonic review wrapping up.
Wrapping Up! – How to Use Writesonic AI that Writes for You 
Writesonic stands out from the rest when it comes to content creation and writing services. They offer a unique set of features that make us a one-stop-shop for all your content needs.
From their experienced writers to quality assurance process, they ensure that all content is up to the highest standards. Writesonic also offer a wide range of services, from copywriting and blogging to web design and editing.
With Writesonic, you can rest assured that your content will be of the highest quality and delivered on time.
Our team of writers come from a variety of backgrounds, so you know you're getting content that reflects your brand and speaks to your target audience.
They offer a range of other services, including SEO optimization and keyword research. So whether you're a small business or a large corporation, Writesonic has the perfect solution for all your content needs.
With just a few lines of introduction text, Writesonic—one of the greatest AI article generator tools—generates original material.
Even the headlines are created by the copywriting program using creativity and artificial intelligence.
Once satisfied with the editable outline, Writesonic will produce the remainder of the article.
So, if you are a business owner and want quality content on your website that attracts traffic, or if you are a blog writer and want to amaze your readers with your unique and creative piece of content, then you can give it a try.
FAQs
1. Does Writesonic offer a free trial?
Ans: Yes, Writesonic offers a free trial that allows users to test out the platform and its features.
During the trial, users can create up to three pieces of content and explore the various templates and features available. The trial is a great way to get a feel for the platform and determine whether it's the right fit for your needs.
2. Is Writesonic worth it?
Ans: Yes. If you are struggling with creating slandered and useful content, then, of course, you can use a writesonic AI generated tool.
For more details, you can read out my writesonic review section.
3. How do I Export content from writesonic?
Ans: To export content from Writesonic, follow these steps:
Open the article you want to export in Writesonic.
Click on the "Export" button located on the top right-hand corner of the screen.
Choose the format you want to export the content to, such as PDF or Word.
Select any additional options you may want, such as including images or formatting.
Click the "Export" button to download the file to your device.
Once the file has been downloaded, you can open it in the appropriate program and make any additional edits or changes as needed. This process makes it easy to use the content generated by Writesonic in a variety of formats and applications.
4. How do I use Writesonic AI?
Ans: You can have a look in the how to write an article with writesonic section of my blog, or you can also check their tutorials.
5. Which tone of voice is best to use?
Ans: The tone of voice you should use in Writesonic depends on the specific context and purpose of the content you are creating. The platform offers a variety of tone options, such as professional, friendly, persuasive, and informative, that can be used depending on the type of content you are generating.
In general, it's important to consider the audience you are writing for and what tone will best resonate with them. For example, if you're creating content for a B2B audience, a professional tone may be more appropriate.
6. Is Writesonic plagiarism free?
Ans: Yes! They generate blog using Article Writer on Writesonic and then took it to Copyscape to check for plagiarism.
And the results were 100% UNIQUE.
Naurin Azad is an SEO content writer. She has a strong desire to assist others and hopes that her content will benefit users. Naurin enjoys discovering new information and taking unusual routes. She enjoys learning about new topics, studying them, and engaging in conversation with others. She also enjoys experimenting with search engine results pages. She believes that whatever you achieve in life is a direct outcome of your efforts.