10 Different Types of Facebook Ads for 2023

14

min read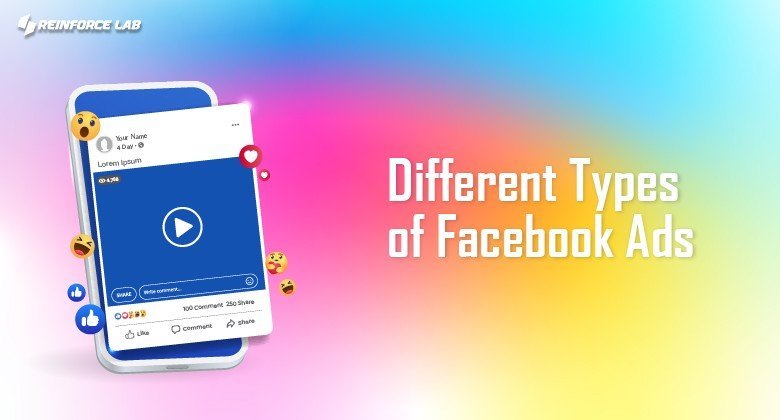 Do you know why people are so ready to spend money on different types of Facebook ads these days? Or how much do they pay for this?
Well, here I am with my different types of advertising on Facebook to answer all your questions.
I hope you will learn a great deal from this blog.
We all experience numerous Facebook ad types examples at the time using the platform.
Some Facebook ads types are ignorable some are not, some are catchy some are boring.
It depends on the business type and the message they want to deliver to the audience.
Now how creatively and cleverly provide the massage that is a challenge.
After reading this blog, you will be confident enough to take the challenge and be the winner.
There are different types of Facebook advertising.
Business owners and online marketers always try to find the most effective and trendy way of advertising their products or services.
According to KlintBoost, there are 8 million active advertisers across all Facebook (Meta) platforms.
They know the importance of Facebook ads.
Facebook is the easiest and most available one from a social media platform to reach out to people.
Research shows that Facebook is the world's third-most visited website.
There is no way to deny that this platform can be the best to get your target audience.
So, instead of wasting time, jump to today's first topic.
Later, I'll help you figure out which Facebook ads type will be best for your business.
Basic knowledge of Facebook Ads Types
Facebook ads are a part of online marketing strategy.
It is a paid post that helps businesses to introduce their goods to Facebook users.
These types of ads are usually made based on the Facebook user's demography, interests, location, targeted audience's age, etc.
These types of Facebook ads are a little different from other posts. If you carefully observe, you will find the label "sponsored" on these posts.
Many features are also included in Facebook ads, like a call to action, product category, links, and others.
Company owners set a budget and bid for the thousand impressions the ad receives on Facebook.
Different companies implement different types of Facebook ad campaigns for their goods.
Image ads, Video ads, collection ads, lead ads, and slideshow ads are some of the types of Facebook ads that you may apply for your business.
However, while researching Facebook ad type examples, you may find it challenging to find out which type of Facebook ads will be best for you, as there are so many options.
You may also need to change ad format regarding your product or service.
To handle this challenge in a better way, I am providing Facebook ad types examples with their good and bad sides. I hope it'll be helpful to you.
10 Different Types of Facebook Ads for 2023
Facebook is the most commonly used platform of all time. It is hard to find a person who does not know about Facebook.
As people are already spending a significant amount of their time on Facebook, it is the best way of marketing if you want to raise your brand awareness and increase your product or service's popularity.
Worldwide Facebook has more than 1.62 billion daily active users. [ SocialShepherd ]
You can not ignore this platform with massive users for marketing if you want to introduce your company to a new audience.
This is why Facebook advertisers are always ready to spend their money on different types of Facebook advertising so that they can reach them and
maintain a connection with these users and it helps them to enhance their brand popularity.
Facebook advertising has a wide range of targeting tools and campaigns.
Because of this, all kinds of businesses use Facebook marketing.
However, there are so many choices that it can be challenging to pick the best one.
Not every sort of Facebook advertisement will work for your organization. Here are some examples of Facebook advertising to assist you.
10 Different types of Facebook ads-
1. Image Ads
Image ad is the eldest and basic ad format of Facebook ads.
People use this type of Facebook ad to promote products or brands using one image.
Advertisers also put text on the image. If your product or business has solid visual content that can be expressed in just one picture, then definitely go with this type of Facebook ad.
If you can create creative and high quality images, then Facebook image ads will be the simplest way to show your service through a successful display.
You may think about which businesses are best for this Facebook ads type.
This ad type on Facebook is best for food marketing, beauty products, offers, etc.
Now let's discuss the problems of this type of ad. As you only have one picture to deliver your message, it will be difficult to show multiple products and their features in a single picture.
Facebook image ads may not work well for this type of business.
2. Video Ads
Facebook Video ads are a little different from image ads. Facebook advertisers showcase their products and services through long and short videos to the users.
These types of Facebook advertising are more suitable for tutorials, product-using instructions, demos, etc.
People search for product tutorials and instructions when they face problems while using that product.
So, Facebook video ads are pretty helpful in this manner. However, making these video ads as short as possible is wise.
Because short videos are more engaging and helpful at the same time, people also like watching videos as they find them entertaining.
So, if you are confident about your video content, go for it.
The problem with Facebook video ads is this is time-consuming to make and sometimes also costly.
You must ensure that you are prepared and have a good team for this job.
3. Carousel
A carousel Ad is a way of showing various types of products and services one by one to the users.
Each image in the carousel can link to a landing page that has been built specifically for that service.
Users can scroll through up to ten images or videos in carousel advertisements on Facebook. Each has a unique title, summary, or link.
These Facebook ads are suitable for guiding users through a process or showing a series of related products by dividing them into carousel sections.
Many e-commerce websites are applying Facebook carousel ads to show their variety of products and to promote their brands.
According to research collected from Buffer, these ads can also drive up to 10 times more traffic to advertisers' websites than static sponsored posts on Facebook.
So, If you want to enhance your sales and increase brand popularity then this can be the most effective way of advertising your products.
4. Facebook Stories Ads
Facebook Stories ads are those reals that we see above our news feeds.
These are mobile-friendly full screen vertical video format that allows you to maximize screen real estate without expecting viewers to turn their screens.
Stories can be made up with Images, videos, and even carousels.
It gives us scopes for showing more creative freedom than regular Facebook image or video ads.
Businesses can play around with emojis, stickers, filters, video effects, and even augmented reality.
The issue with this type of ad is you'll need to generate unique material specifically for Facebook stories because they demand a different formatting style than video or image advertising.
There is also another bad thing about this ad.
These stories do not appear in the news feed section, so they will not show up to the users until they click on the stories section.
5. Collection Ads
A Facebook collection ad is a way of letting people move from discovery to purchase smoothly.
Types of ads on Facebook resemble online stores in that they feature a primary image of the product along with four other photos that visitors can tap
through.
They can purchase right there on the platform if they choose to.
Additionally, Facebook allows businesses to decide which items from their catalog are displayed for each user.
Collection ads are an excellent choice for large businesses that sell various products and services.
I think this ad type is unsuitable for smaller companies with limited product offerings.
Though collection ads are not as popular as other ads on Facebook, they can be very effective if used correctly.
6. Slideshow Ads
Slideshow ads are like billboards that move quickly and can give an entertaining ad experience.
Slideshows are less expensive than making videos and have a short loading time that allows you to hold the interest of viewers who prefer not to wait for
videos.
You select this ad type if you wish to create adverts rapidly.
To make your ad stand out, Facebook offers you the option of using free video editing software and stock photos.
If you want to simplify a slightly more complicated process, slide shows are also a terrific option.
You can use quickly changing images to convey a tale or sequence, similar to carousels.
7. Instant Experience Ads
The combination of photos, videos, carousels, links, and other media makes up instant experiences ads on Facebook, formerly known as canvas.
This kind of advertisement enables the viewers to enjoy a rich content in full-screen mode.
Many of the features are included in Instant Experiences.
Through Facebook instant experience ads, people may explore lifestyle imagery with tagged items, view captivating movies and photos, swipe through carousels, tilt
to the pan, and more, all within a single advertisement.
The photos and videos you produced for other Facebook ad types can frequently be reused and repurposed by the Instant Experiences package.
This is a fantastic approach to maximize the return on your Facebook ad creative spend.
8. Event Responses
With the help of Facebook Event Response ads, you can create events, target your desired audience straight from your Facebook event page, and advertise them using photos or videos.
Event response advertising assists you in increasing event awareness, inviting your target audience, providing them with an easy way to sign up for the event, and monitoring the number of people who have accepted your invitation.
Both desktop and mobile users can see this advertisement on their Facebook page or news feed.
If a person wants to go or is interested in the event, they will click on the CTA "interested" or "going."
The organizers link their event website with the invitation through this call to action.
Additionally, the ads look more like a boosted post than a standard ad because they are promoted from the event page, which increases clickthrough
rates.
9. Lead Ads
If you are looking to grow your email list and want to make connections with more potential clients, then you should go with Facebook lead ads.
These ads appear in the Facebook news feed with a headline and a picture.
People click on the post if they are interested.
They are then sent to a form where they must enter the necessary data.
They can exit the lead ad after submitting the form and return to their Facebook surfing. Facebook will integrate with your CRM for a beautiful user experience, and your leads will be suitable where you need them.
However, the problem with this type of ad format is this a mobile user-based ad.
That means these ads are designed specifically for mobile users.
10. Post Engagements
Post engagement is the key to successful social media marketing.
If you post on Facebook regularly, then you probably know this.
If you regularly post content on your Facebook page, you probably know that some content performs better than others.
With Facebook post engagement ads, you can draw more traffic to individual posts and increase their original reach.
This helps you generate more activity on your posts and helps you get more organic followers quickly by showing them the kinds of posts they'll see more of if they follow you. But this is not that easy.
At first look, sharing material and interacting with a network's audience may seem like simple tasks.
Still, as your company expands, it gets harder to develop fresh, imaginative post ideas constantly.
After seeing all these Facebook ad types examples, you might get nervous about which types of Facebook advertising should be followed or which should
not.
Don't worry. I will also discuss that.
Which Type Of Facebook Ads Do You Need for the Best Results?
As I said earlier, there are different types of Facebook advertising, but all may not be suitable for your business.
To solve this problem, you need first to settle down some matters.
Here I will tell some essential points that will help you to choose the best type of Facebook ads for your business.
Build a Facebook business page if you do not have any yet.
Set Facebook ads manager for managing campaigns.
Set a budget.
Choose your business goal.
Give an appropriate name to your Facebook ad campaign.
Set the Schedule for different types of advertising on Facebook.
Identify your target audience.
Choose your Facebook ad placements.
Be careful while sharing brand information.
Observe other companies and brands' Facebook ad type examples.
Except following these steps, you should also be aware of some words that you have to avoid if you want your Facebook ads in the Facebook ad type
examples.
Words To Avoid in Facebook Ads
Facebook has pretty straightforward ad policies regarding what you can and can't advertise.
There are several exceptions you should be aware of. Like, you can't sell anything that is intended to hurt other people, nor you can't give any
cryptocurrency ads on Facebook. For example, no tobacco or tobacco-related products, sex-related products, etc.
If you sell them, make sure your targeted user's age is above 18. So, at the time of choosing and creating Facebook ad posts, make sure you do not create any
adult post or advertising any product that is harmful to people on Facebook.
Wrapping Up- Different Types of Advertising on Facebook
If you are a business owner and want to increase your brand popularity, then Facebook ads are a must for you.
No doubt, Facebook is the most significant social media site and provides some of the most comprehensive targeting possibilities for advertisers.
Facebook advertising is still a crucial channel to consider despite its declining returns, soaring prices, and complex targeting options.
It serves as a fantastic distribution platform and cutting-edge marketplace for all sizes of e-commerce companies.
That is why I have written this "Different Types of Advertising on Facebook" so you can learn the importance more deeply.
FAQs
What Are The Different Types Of Facebook Ads?
There are many ad types on Facebook. You can take any of the ad types for your business. I have discussed the ad
classes in the blog so you can check out the Facebook ad types examples.
What Type Of Facebook Ad Is Most Effective?
There is no fixed way of finding the most effective Facebook ad or no limited best Days to Run Facebook Ads. You have to see it by research.
How Many Types Of Facebook Ads Are There?
There are many types of Facebook ads. You can take any of the ad types Facebook for your business.
I have discussed the Facebook ad types in the blog, so you can check out the Facebook ad types examples from there.
What Are The Types Of Facebook Ads?
There are many types of Facebook ads. You can take any of the ad types for your business.
I have discussed the Facebook ad types in the blog, so you can check out the Facebook ad types examples from there.
You may also Like-
If you think this post was exciting & you have gained some knowledge, don't keep this accomplishment only with you. Allow your friends & family to stay the same intellect as you. In short, sharing is caring. 
Naurin Azad is an SEO content writer. She has a strong desire to assist others and hopes that her content will benefit users. Naurin enjoys discovering new information and taking unusual routes. She enjoys learning about new topics, studying them, and engaging in conversation with others. She also enjoys experimenting with search engine results pages. She believes that whatever you achieve in life is a direct outcome of your efforts.