10 Successful Digital Marketing Campaign Examples 2023

17

min read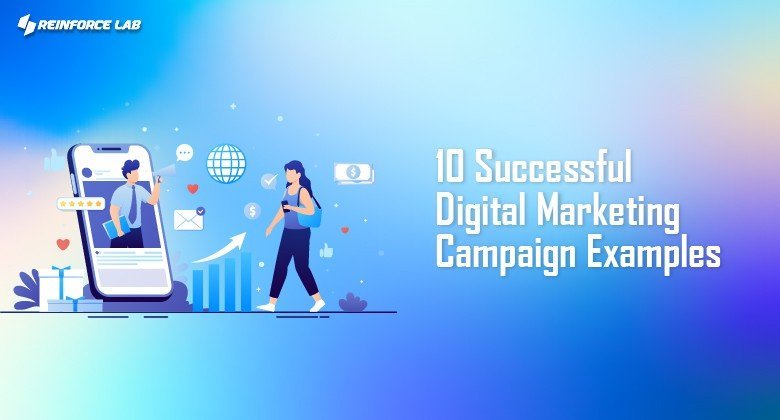 What could be more efficient than studying successful digital marketing campaign examples to learn about digital marketing strategies?
So, to clear up any uncertainty or queries, you have to study marketing campaigns and their advantages. Below are 10 Successful Digital Marketing Campaign Examples.
A business owner or digital marketer may find it challenging to predict which digital marketing initiatives will be successful for their company.
Because the world of digital marketing is constantly changing.
It frequently undergoes alteration. The digital marketing industry is designed to grow and remain relevant over time.
So, marketers have to regularly research unique digital ad examples.
You might need to review your plans to make sure they remain effective.
So, you have to be very careful and up-to-date while designing the marketing plan.
The entire marketing plan cannot be created overnight.
You should look at the digital marketing campaign examples from successful and leading companies in the digital marketing field.
Analyze their successful digital marketing campaigns. Find out what has worked for them.
Try to generate content that can connect with your customers and boost your brand recognition.
I know this explanation is not good enough. You still have lots of questions in your mind. I can feel that!
The question that would arise first is where can you find the best examples of digital marketing campaigns.
How do you know which digital marketing campaign examples should be followed for your business? Or which campaign will be successful?
There are many questions. But if you know where to search, the solutions may be simple.
In this blog, I will give you the exact answers you are looking for.
I will provide you 10 best digital marketing campaign examples 2023.
But first, let us know about the digital marketing campaigns and digital ads examples of all forms of marketing so that it would get easier for you to understand the digital marketing examples companies.
What Is a Digital Marketing Campaign?
Digital marketing campaigns are designed to make your online presence more visible, optimize your web presence, and promotes a company's brand by
utilizing the internet and other marketing platforms of digital communication to engage with potential customers.
There are numerous ways to conduct digital marketing.
Display ads, paid ad campaigns, search engine marketing, blog posts, and social media posts are some the examples of a marketing campaign.
If you want to maximize the return on your marketing investment, then online marketing campaign examples and digital ads examples can help you greatly.
Because It is the most cost-effective strategy, you can use.
Later in this blog, I will show some examples of digital marketing campaigns.
Many marketing agencies provide digital marketing services to boost various businesses' brands.
Because this marketing technique is very cost-effective.
Some digital marketing services examples that a digital marketing agency provides-
Email Marketing
Influencer Marketing
Social Media Marketing
Users-based Content Marketing
Search Engine Optimization (SEO)
Web Design
PPC (Pay-Per-Click) Advertising
Digital ad campaign examples will help you to understand how can you reach customers where they're browsing online and develop relationships that
lead to purchases.
You can see digital promotion examples. The main goal of these ads is to attract the target audience and turn them into potential ones.
According to startupbonsai, search ads provide an 80% lift in top-of-mind brand awareness among consumers.
But you can see from digital ad examples from leading companies, they are costly.
So. if you are a startup, what you can do is analyze examples of online marketing campaigns, and try to find out the main goal for those campaigns and which steps they follow.
Improvise the campaigns according to your business's requirements and then make a plan.
You may increase brand awareness by engaging clients in a digital environment.
Put your business in front of customers' thoughts when they're ready to buy your product Or service.
As now you know the power of digital marketing campaigns, you must be getting impatient to know how to plan one.
Let's move on to that –
How Do You Plan A Digital Campaign?
Before knowing about planning a digital marketing campaign, you may ask What Is The Goal Of Digital Marketing?
Well, you will get your answer from here.
If you want your startup or business to continue growing, then you must have a digital marketing plan in place.
You might be wondering now what exactly a digital marketing plan entails.
And you can get the answer by studying several successful digital marketing campaign examples.
Digital marketing campaigns should contain the whole marketing plan that involves the target audience, design, activities, and campaign objectives.
Your strategy must be attainable, reasonable, and useful based on your budget, available resources, and goals.
Here I will show the digital marketing campaign steps so that you can make your own for your company.
Digital Marketing Campaign Steps-
Step 1: Build Your Brand
Building your brand is the first step in a digital marketing strategy. Knowing your brand inside and out is important.
Describe what makes your company special. It's necessary to understand what makes your service unique so that you can show it to your audience.
To provide your audience with a better understanding of your brand, create unique selling propositions (USPs).
People are encouraged to buy from you since they know the significant advantages of doing so.
People will buy from you as they become aware of the significant advantages of doing so.
Step 2: Create Buyer Persona  
Creating a buyer's persona means having the proper knowledge about your target audience so that you can make a better digital marketing plan.
You can't create an effective digital marketing plan without knowing who you're trying to reach.
You can collect information like your target audience's location, age, income, interests, etc.
This information will help you to create buyer personas.
Consider some digital ads examples or digital marketing content examples from a firm that makes noodles.
They won't be able to attract customers' attention or win over their trust if they are unaware of their customers' preferences. This will also help you in
generating digital marketing campaign ideas. So, Creating Buyer personas are a must for all type of business.
Step 3: Set Your Goal And Budget
Setting a goal is crucial to determine whether your marketing campaign is working effectively to help your business grow.
Set your business goals to define what you want to achieve. You'll put your digital marketing company plan on the road to success by doing this.
Budgeting for a campaign is another vital step. Before you begin putting your strategies into practice,
you must determine how much money you have to spend on your digital marketing campaign.
You may more effectively allocate your money to the services you require when you have a clear marketing budget.
Step 4: Pick a Digital Marketing method that is Suitable for You
You know who you're trying to reach and your goals, so the next step is to figure out which channels will help you reach them.
I talked earlier about the methods in the "What Is Digital Marketing Campaign?" section.
You can methods from there. When you start to shape your digital marketing plan, you must choose which methods you want to use to reach your
audience.
Step 5: Track Results 
Tracking results is essential in determining whether your business was successful with your efforts.
To make sure you're running the finest campaign, it's crucial to track your outcomes continuously.
You can set key performance indicators (KPIs) to measure the success of your campaign.
If your goals aren't being met, you have the chance to restructure your campaigns to produce better outcomes.
To better reach customers, you can adjust and improve your strategy.
These are the basic steps that you should take to achieve your business goal.
Let's move on to our main topic, which is the top successful digital marketing campaign examples to understand what is needed for a successful digital marketing campaign –
10 Successful Digital Marketing Campaign Examples
Through successful marketing campaigns, a company becomes relevant to its target market.
Before you begin the process of gaining attention for your company, it's important to think about your objectives and purpose so that they can work as the
compass for your entire marketing approach.
Every company that intends to launch a digital marketing campaign must design a successful one in order to achieve success.
Realistic tactics and techniques should be used if you want to get a good ROI.
I have covered the fundamentals already now let's look at some Online Marketing Campaign Examples from real-world digital marketing so that you can find your suitable one.
10 successful digital marketing campaign examples-
1. Attract Your Customer with SEO
SEO or Search Engine Optimization helps you drive more traffic to your website from search engines.
When people search for information related to your products or services, your website appears at the top of the search engine results page (SERP) with the help of SEO.
Example: Canva is an online design tool. It helps people to create innovative logos and social media posts, videos and presentations easily.
It publishes quality content that focuses on keywords associated with its products and target consumers.
Additionally, it loads quickly, is simple to use, and functions well on all devices. These are the key SEO factors for a website.
With the use of SEO, Canva had a 248.51% increase in visitors from January 2020 to 2023.[ According to PWD ]
That is huge! So, if you want to increase online traffic to your website, you must do this.
2. Increase Sales with Social Media Advertising
People use social media more than you think. And they use it for a variety of purposes, also for finding new products or services.
Thus, it is the finest method of displaying your product to customers.
Research shows that 55% of consumers have made a purchase after viewing it on social media.
One excellent example of outbound marketing is social media advertising.
You can reach people in their leisure time way of entertainment.
So, it can be an effective marketing campaign for your business.
Example: You can take Airbnb from examples of online marketing campaigns.
They have done a great digital marketing campaign through multiple channels on social media.
Airbnb is a vacation homes & condo rental company where you can find or advertise for property rent.
They have worked with several well-known names in social media to raise their brand awareness, and I must mention they were quite successful in that.
They generated 45,000 likes in 2015, and recently they have more than 1.3 million followers on Instagram. [ According to Pepper Content ]
3. Create Content for Brand Awareness
Content marketing can help you to engage with your audience and build relationships, and ultimately boost sales.
Quality content draws visitors to your website, boosting web traffic.
And when they visit your website, you can persuade them to register or make a purchase through your website content.
Additionally, content marketing offers a variety of marketing choices.
Such as articles, blog entries, social network postings, online content, UX content, and many others.
You can decide on whichever option is best for your company.
Example: Mint has created one of the most successful digital marketing campaign examples for us.
They have developed original personal finance blogs with
material targeted at the young professional youth of today.
All of their blogging and content marketing initiatives were fruitful and profitable.
By driving more traffic to their app than all other personal finance websites combined, they have propelled their website to the top of the personal finance blogosphere.
4. Create Relationships through Email Marketing
One of the finest ways to nurture leads, share your information, and increase revenue is through email marketing.
Online marketers have conducted studies and discovered that it has the ability to generate the highest ROI.
This is a fantastic approach to developing connections and creating credibility.
Additionally, it's a powerful strategy to increase website traffic.
However, you must first build a list of subscribers. Offer some fantastic offers to entice folks to join your email list.
Example: Neil Patel can be a great example from online marketing campaign examples, who has taken email marketing to the next level.
According to research, over 2.5% of Neil's website traffic comes from email.
5. Use Infographics to engage the Audience
At some point, it gets challenging to communicate with your audience via words.
Sometimes it becomes impossible to engage an audience through words alone.
The finest method of assistance at that time is a visual representation.
Images have a stronger ability to draw attention and clarify concepts than dry instructions or manuals.
More precisely, infographics would be the ideal answer if your organization focuses on assisting your users and you want to make users based context.
Example: You will find lots of Examples of online marketing campaigns that have focused on Infographic marketing. I can share one of them.
Reinforce Lab Ltd, one of the leading digital marketing companies in Bangladesh, has adopted this marketing method for attracting and engaging more
audience.
You can check out this to get ideas about how we've worked with infographics – Content Marketing vs Social Media Marketing: Which One is Best?
And I am glad to share with you that it worked magically great.
6. Utilize Influencer Marketing
Influencer marketing is a form of marketing that can deliver double the ROI than other traditional marketing tactics, but it may not be suitable for all brands.
It is a process of reaching and communicating with customers through people who create a high-impact conversation with them.
In some cases, Influencer marketing is quite beneficial.
Influencers can assist you in closing the gap if you feel disconnected from your customers and are unable to do so.
Because influencers help you to educate your audience about your brand.
They tell them what your business is about and what benefits they can get from your product or services.
According to Bluehostblog, Influencers have a loyal audience that turns to them for direction and advice.
After all, 74% of people turn to social networks for guidance on purchase decisions.
Example: Recently, Nike has created some successful online marketing campaign examples. Influencer marketing is one of them.
Athletes including Michael Jordan, Tiger Woods, and Carli Lloyd were persuaded to post it on their accounts.
With the tagline "If you ever dreamed of playing for millions around the world, now is your chance," they played on the fact that those buying from them
have ambitions to be like the influencers sharing the post in this campaign.
7. Build Brand Identity through a Dynamic Web Design
Your website is like your customer's first point of contact.
What could possibly make it easier to inform people about your product and turn them into
qualified leads and customers? If it is not lucrative enough or hard to use, then all your digital Ad campaign examples will fail to succeed.
Your website should be not only lucrative but also responsive and usable on all devices.
Doing this will be able to increase user experience and ultimately boost your brand.
Example: Let's see some successful digital ad examples. You will find all of them have a website that is dynamic, lucrative, and responsive websites.
They know it very well that this is the key first step to successful digital marketing.
One of the online marketing campaign examples of this type is NetLink.
8. Generate Sales with Affiliate Marketing
Affiliate marketing is now one of the most popular marketing methods in digital marketing campaigns.
You can work with affiliate marketers and give them a commission for each sale or registration they bring in for your company.
It may be an affordable option to reach a huge audience and outsource some of your marketing tasks. Affiliate marketing also involves making money.
Whenever you drive a sale by promoting a company's goods or services. And you get paid for that. That's how easy it is.
This is how many bloggers are making six figures.
Example: Elementor, and Amazon are some of the successful affiliate marketing examples.
Elementor runs affiliate programs for content creators, bloggers, and influencers.
By far, Amazon has the biggest affiliate network for promoting user-based products like household items, tools, books, etc.
9. Go Viral on Social Media Platforms
One of the most effective ways to reach a large audience is through social media marketing.
It's a fantastic approach to developing leads, raising brand awareness, and bringing targeted visitors to your website.
There are two ways you can use social media for marketing: organic and paid.
Organic social media marketing includes free promotional tactics to increase your visibility and engage audiences.
For example, you can use SocialPilot or Hootsuite to schedule your online posts.
Paid uses social media advertising platforms like Facebook Ads.
You can find this type of marketing in many digital ad campaign examples.
Example: The best example of this type of organic digital marketing campaign is Apple.
Apple has once run a campaign where they encouraged their users to share photos that they have taken using the device on social media with the hashtag "#ShotoniPhone" The top images were then displayed on billboards all across the world.
The main purpose behind this campaign was to highlight the iPhone 6 camera performance.
This advertising was really effective. They generated a billion media impressions and sold 231 million iPhones that year. This is huge!
10. Increase Sales with Paid Search
If you run an e-commerce website, then paid search is the best way of increasing sales for your business. why is it so?
Because when it comes to e-commerce sales, you can have a lot of options with paid search.
It takes a long time to attract customers and build awareness through SEO.
On the other hand, Paid search receives a lot of attention and helps move prospects through the sales funnel through social media, Google Ads, and Bing Ads.
Paid search gets you quicker results by instantly targeting the relevant audience.
It can be used for a wide range of objectives, including awareness, subscription sign-ups, and conversions.
Example: Roller Rabbit, a clothing and bedding company, once hired a digital marketing firm to analyze some online marketing campaign examples and
digital ad examples in order to develop an integrated marketing strategy.
The firm researched and made a strategy that targeted high-impact channels, including Facebook, Google Ads, and Microsoft Ads.
With reporting issues fixed and ads in place.
As a result, Roller Rabbit witnessed a 95% boost in income from paid ads and a 176% rise in e-commerce conversion rates.
These are all the successful digital marketing campaign examples that rocked the online marketing world.
So, before starting to design a digital marketing strategy, make sure you have researched well about the ongoing digital marketing trends and strategies.
Wrapping up – 10 Successful Digital Marketing Campaign Examples
In the near future, the digital marketing paradigm will continue to change away from simple, tried-and-true digital tactics and toward creative
experimentation. Unfortunately, not all of the information on digital campaigns that is available may be appropriate for your company's needs.
This suggests that it is important to understand effective strategies in your particular organization and specialty.
By conducting research and creating a comprehensive plan that adheres to your business's marketing objectives, you must perfect your digital marketing
approach. Businesses aiming to reach and appeal to their target consumers across various channels must have a strong digital strategy.
Focus on the following pillars of online marketing to get your campaigns off to a successful start.
You may also like- 
If you think this post was exciting & you have gained some knowledge, don't keep this accomplishment only with you. Allow your friends & family to stay the same intellect as you. In short, sharing is caring.
Naurin Azad is an SEO content writer. She has a strong desire to assist others and hopes that her content will benefit users. Naurin enjoys discovering new information and taking unusual routes. She enjoys learning about new topics, studying them, and engaging in conversation with others. She also enjoys experimenting with search engine results pages. She believes that whatever you achieve in life is a direct outcome of your efforts.