10 Simple Digital Marketing Strategies that You Need to Survive for 2023

10

min read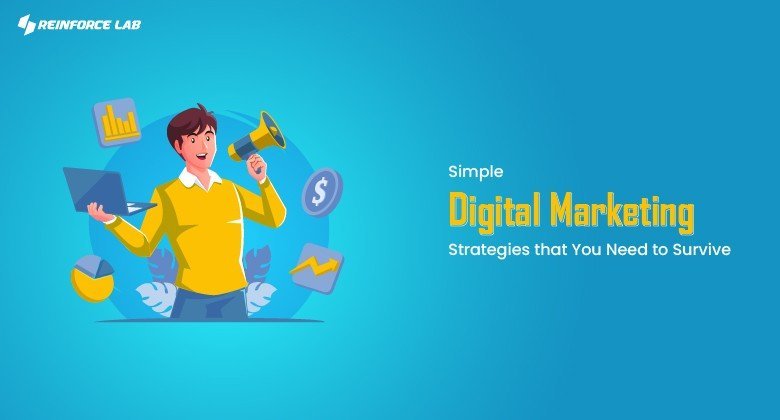 A digital marketing strategy is a plan that details how a company will achieve its marketing objectives.
85% of marketers believe that consumers expect a personalized experience. (Evergage, 2019)
So different online marketing strategies can help your business be ahead of others.
Online marketing strategies vary from business to business, so this will be something amazing when you follow any unique digital advertising approach!
Trust me; if you can give reasonable marketing efforts to your internet marketing strategy, you just do not need to look back again.
Your entire marketing plan goes smoothly with that.
As a marketer, if you are struggling to make marketing strategies for your target audience, then you are at the right place!
Here we will talk about 10 Simple Digital Marketing Strategies that You Need to Survive for 2023.
But before that, let's start with –
What Is Digital Marketing Strategy
A digital marketing strategy is primarily a forward-thinking plan for growing a business using SMART goals.
You can create your marketing plan templates via customized digital strategy making, which can include –
Email Marketing,
Influencer Marketing,
Web Design Marketing,
Social Media Marketing,
P.P.C. Marketing,
Content Marketing,
Also Various Marketing Campaigns
The strategy must have to be your products or services based to match up with customers' needs efficiently.
Why You Need A Digital Marketing Strategy
Strategy creation is an essential need for any digital marketer to run a smooth digital marketing campaign.
A successful digital marketing strategy focuses on generating leads with minimal cost and effort.
Though digital media and marketing strategies have thousands of reasons to be used, here I am mentioning only 5 so that you can easily understand their needs.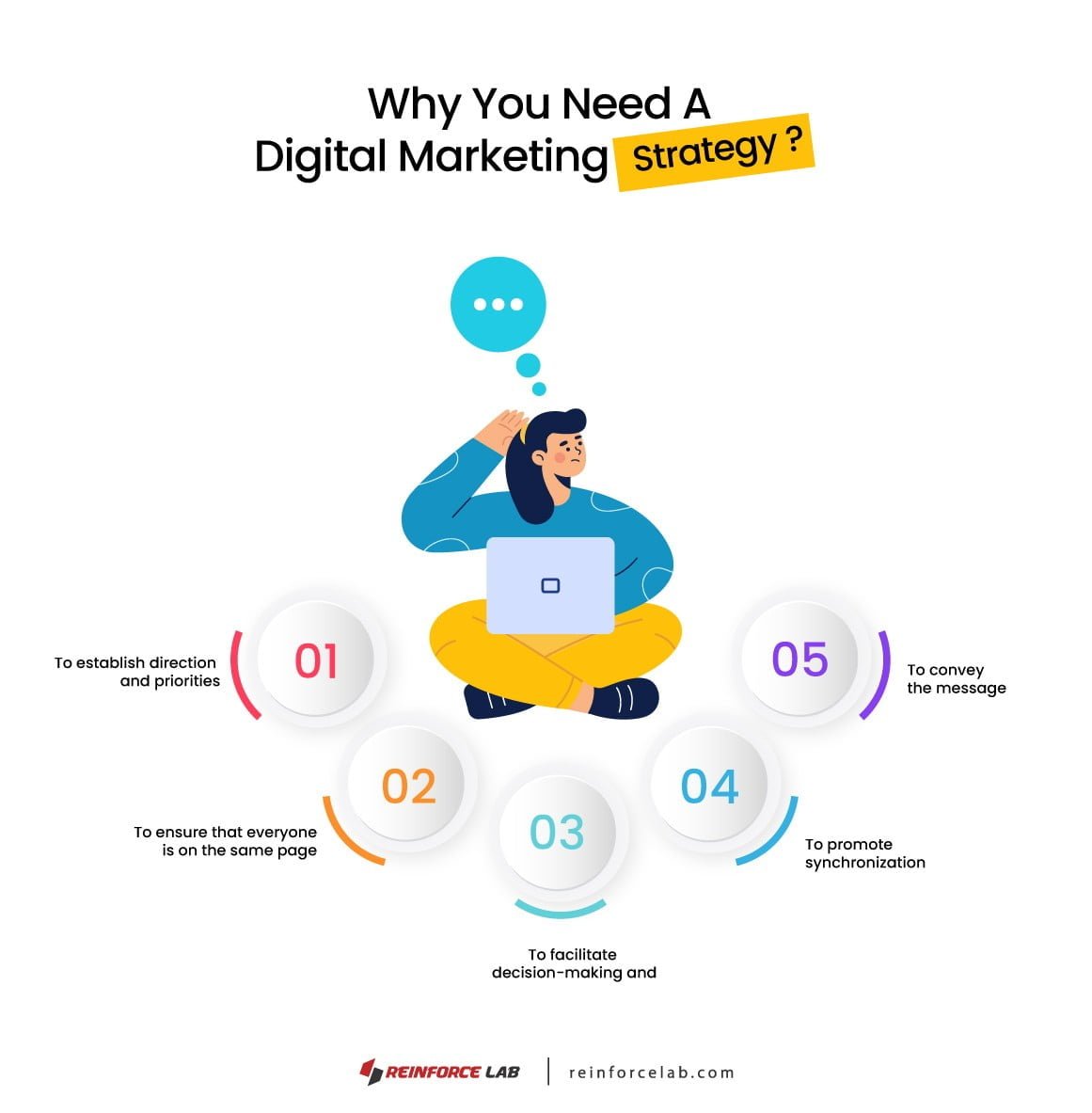 Enough reasons got for diving into the internet marketing plan outline but unfortunately clueless?
Then do not worry at all as now I will discuss –
How to Create A Digital Marketing Strategy
Any online marketing strategy agency survives with its perfect strategy creation, so here are the steps inspired by our experiments for you.
So that you can create a perfect strategy for your business and indeed can modify them if you need.
Construct a Customer Persona
A buyer persona is a detailed description of a person who represents your target market.
This persona is fictitious, but it is based on extensive research of your current or desired audience.
After creating your target audience's persona creation it will be less hard to make a suitable strategy for your business.
Determine Your Goals and Tools
Setting goals can give your strategy a clear direction while also increasing your sales and self-confidence.
It will be much easier to achieve your goals if you can learn how to set SMART goals and set up the necessary tools.
Concentrate on Blog Posts
An average of 30% of bloggers report success, while 38% is well above the benchmark.
One blog post a day can help your clients to remember your business at the same time traffic also drives fast via blog posts.
So try to provide quality blog content to see the magic!
Examine Current Digital Marketing Channels
The promotion of brands to connect with potential customers via the internet and other forms of digital communication
Which also is known as a part of digital marketing strategy.
So, before you dive into something new, look into the existing channels that may be more helpful than the new ones.
Go for Marketing Automation
Marketing automation is a technology that automatically manages marketing processes and multi-functional campaigns across multiple channels.
Automation is used by businesses to automate online marketing campaigns and sales activities in order to increase revenue and maximize efficiency
To get the best result you can also add this up to your strategy.
Get Mobile Optimization Right
Mobile optimization is the process of modifying your website's content
So that visitors who access the site via mobile devices have an experience that is tailored to their device.
Optimized content easily flows between desktop and mobile devices, providing the user with an exceptional experience.
Make it simple for customers to contact you
You must stay in touch with your customers because they are likely to become repeat customers, and repeat customers are critical to business success.
Furthermore, KEEPING a customer is less expensive, and thus more profitable than acquiring a new one.
So, do not forget to make it simple for customers to contact you.
Fix your Content Strategy
Content strategy assists you in defining and prioritizing your marketing goals.
It enables you to plan your work and ensure that all marketing efforts are directed toward a specific goal.
With a documented content strategy, you can ensure that every effort made by your team yields tangible results.
Verify Your Differentiators
A market differentiator is the identification and description of the differences between your product/service and the other products/services in the same market.
If you are the first to market with a brand new product, you will not be alone for long.
So always find out your differentiators to stay above in the market.
Keep Track of Your Procedures
A tracker of your entire procedure provides you with a clear picture of what you're doing, allowing you to be honest with yourself and make wise decisions.
If you don't track your activity, it's easy to overestimate or underestimate how much you're actually moving throughout the day.
Also how that compares to the daily recommendations.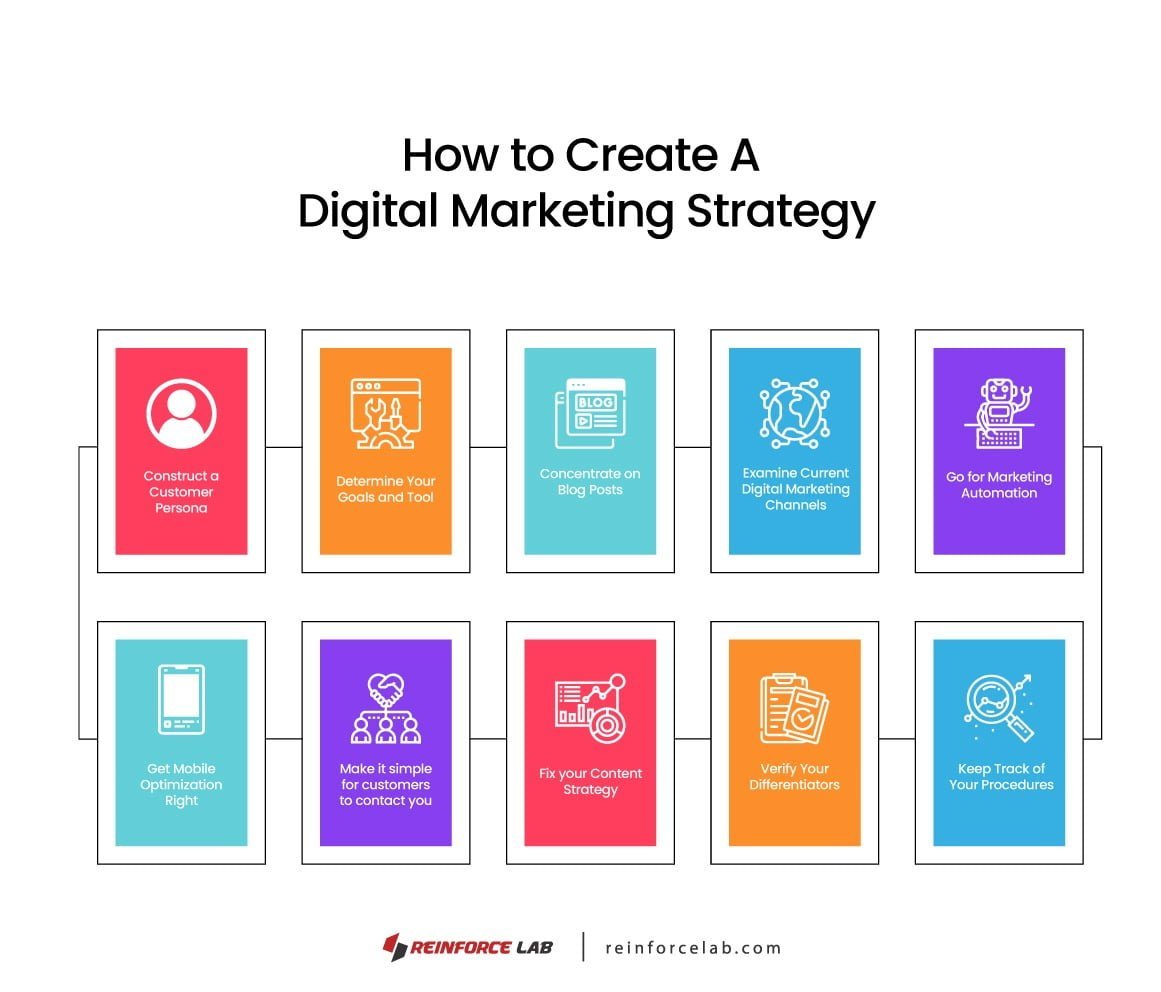 I hope you got enough reasons to go for your strategy creation, no?
So no more side topics, let's dive into our main –
10 Simple Digital Marketing Strategies that You Need to Survive for 2023
So here main I will talk about ten digital marketing strategy examples that thousands of businesses follow so you can!
01. Social Media Platforms Marketing
The most common digital marketing strategy example for any business.
Social media marketing is the use of social media platforms to connect with your target audience.
In order to build your brand, increase sales, and drive traffic to your website.
At the moment, the most popular social media platforms are Facebook, Instagram, Twitter, LinkedIn, Pinterest, YouTube, and Snapchat.
02. Marketing Through Influencers
Most demanding digital marketing strategy example you can say.
Influencer marketing, at its core, is the process of utilizing external content creators, or influencers, to advocate for and engage with your brand's message.
All the influencers present their content to their audiences as part of this.
Increasing brand awareness and assisting in the conversion of their audience into your customers.
03. Email Promotion
Most effective small business digital marketing plan example that businesses can apply to grow faster.
A promotional email is one that is sent to your email list to inform them of new or existing products or services.
Promotional emails are used to spread the word about special deals, limited-time offers, or exclusive content.
An email promotion's utmost goal is to move a potential customer through the sales funnel to a conversion.
04. Marketing with Content
One of the most demanding digital media plan examples can get you the highest traffic.
Content marketing is a marketing strategy that uses relevant articles, videos, and podcasts.
And other media to attract, engage and retain an audience.
This strategy establishes expertise, raises brand awareness, and keeps your company at the top of mind when it comes time to buy what you sell.
05. Marketing through Search Engine Optimization (SEO)
An obvious B2B digital marketing strategy example that any business also can apply for getting the highest possible benefits.
SEO stands for Search Engine Optimization, and it is the process of optimizing a website's technical configuration,
Also, content relevance and link popularity so that its pages are easier to find, more relevant.
And popular with user search queries, and, as a result, search engines rank them higher.
06. Pay-per-click (P.P.C.)
One of the best digital advertising approaches that any business can apply to grow bigger than imagination!
PPC, or pay-per-click, is a type of internet marketing in which advertisers pay a fee each time one of their advertisements is clicked.
Simply put, you only pay for advertising when your ad is clicked on.
It is essentially a method of 'buying' visits to your website in addition to driving organic website traffic.
07. Marketing Through Affiliates
One of the most straightforward digital marketing plan examples that any individual can apply as well.
Affiliate marketing is a type of advertising in which a company pays others (such as bloggers) to promote and sell its products and services.
Marketing with affiliates display advertisements or market products or services on their website, app, or blog.
Leads that convert to sales generate commissions.
08. Marketing via mobile devices
Too many practical digital advertising approach anyone can ask for!
Mobile marketing is a game-changing marketing strategy in the business world.
It introduces a simpler and more effective method of communicating directly with customers and advertising products.
So as a marketer tries to contact users based on their personalities and needs.
09. Marketing via video
You can call it the most challenging digital marketing plan example, but it works best than others for sure.
Video marketing is the use of videos to promote and inform people about your product or service.
It boosts engagement on your digital and social channels and educates your audience.
At the same time, video marketing allows you to reach out to them in a new way.
10. SEO Marketing Using Voice
A tremendous beneficial digital marketing plan example
The process of optimizing your pages to appear in voice searches is known as voice search optimization.
When you optimize for voice search, you are also optimizing for how people conduct verbal searches.
Voice search optimization allows you to have your pages read aloud to you by a voice search device.

Wrapping Up – 10 Simple Digital Marketing Strategies that You Need to Survive for 2023



Now you can imagine how important the different online marketing strategies are, right?
Hopefully, it is a yes.
With these basic ideas and strategies, you can help other folks seeking which approach they can apply for their business.
Even you can inspire your readers to continue returning to your website and obtain more traffic by applying the perfect strategy indeed.
Remember that business owners' main marketing tactic is word of mouth.
If you can spread the word and show your authenticity, you can win the market quickly.
And the suitable digital advertising approach can take your business another level up!
Another thing, creativity lies in you.
Create your digital strategies and ensure that they are all ready for mobile optimization.
But perfection comes from professionals, so go for the best always.
Now, I'd like to hear about online marketing strategies that you have applied or planning to do?
Can you tell me the ways that you have applied?
Could you share your thoughts with us?
Learn more about our  Social Media Marketing Services!
Read more from our blog.
You May Also Like:
If you think this post was interesting & you have gained some knowledge, don't keep this accomplishment only with you. Allow your friends & family to stay the same intellect as you. In short, sharing is caring!