The Anatomy of a Website 2023

12

min read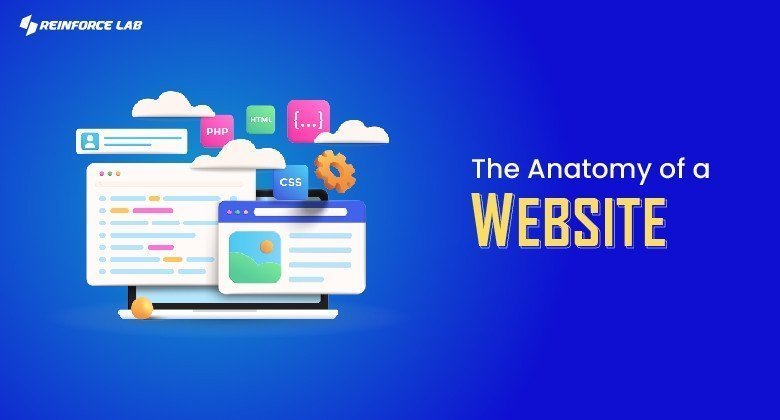 The anatomy of a website design refers to all the complex components of a website.
Interestingly you can relate website structure with the human body.
57% of internet users say they won't recommend a business with a poorly designed website on mobile
So it is necessary to have a maintained web design for sake of customers at least.
As a beginner, you may not clearly understand the anatomy of website design, and it may seem confusing.
A comparison with human anatomy can help you relate to things and seem easier & interesting.
That's why we have come up with the complete anatomy of a website.
Here we will discuss the design, website structure, and detailed components of a particular website.
So first, we will discuss –
What is the Anatomy of A Website Design and Why Do You Need?
The finest web designs contain a variety of traits that, when combined, make using websites easier and more enjoyable.
You will be able to proceed with the anatomy of a website after you have a firm grasp of these features and how to best use them.
It is easier to select what to include on your own site to make it more interesting.
And unique if you have a clear understanding of the structure of other websites and why people like or dislike specific elements of them.
All of these are terms that are often used by webmasters to refer to various components of website pages.
In the vast majority of instances, they are quite conventional; nonetheless, this may vary from one person to the next.
This article on the anatomy of a website design will discuss the many components that make up a website.
As well as their functions and the reasons you need them.
So here we start with the major elements of a website design to maintain,
The Anatomy of A Website Design – 
Among 200 factors here I will talk about 10 major elements that handle the anatomy of a website design.
Page Header
The header is the first thing people see when they arrive at a website.
It used to appear as a thin banner at the very top of the website, and it could be seen on every page.
The header's size has not yet been determined.
In certain cases, site designers use the whole header section above the fold to display animated GIFs and static images.
Some examples of layout components that may be used in headers include the following:
Elements of a brand's identity
Call-to-action button
Links to the website's most core content parts
Access to the several available social networking sites
Information necessary for establishing a connection (telephone number, e-mail address, etc.)
A language switcher is offered if the interface is multilingual
A place to type in a search term
A place where users may sign up for subscriptions.
Connections to the product enable consumers to engage with the product.
Each of the above-mentioned elements is not required to be in the header of one web page.
It would be impossible to read anything on the page's header without having to scroll all the way to the bottom.
Many conflicting demands for a user's attention make it more difficult to concentrate on the most vital tasks.
They choose strategic choices, either from a list or by adding to it in partnership with marketing specialists, based on the design tasks.
CTA Button
Calls to action, also known as CTAs or strategic calls to action, may be helpful throughout the purchasing process.
Which also has a substantial impact on the conversion rates of your website.
Calls to action that are successful are able to grab the attention of site visitors.
With this section, it is possible to convince them to sign up for the service and guide them gracefully and easily through the registration process.
You can include a call-to-action into your post in a straightforward manner by including a link.
That takes readers to further resources that are relevant to the topic at hand.
In spite of the fact that it is only a text link and not a button with a hyperlink, it is capable of performing the same function as a call-to-action button.
Site Structure
It is essential to give some thought to the organization of the material on your website.
Posts and pages on a website usually comprise content on a variety of different topics that are connected to one another.
The method in which information is arranged, linked together, and presented to a user is referred to as the structure of a website.
When it comes to material, there are occasions when less is more.
Websites are an excellent means for providing access to a broad variety of information.
Including archives; nevertheless, there are instances when less is more.
As the size and complexity of your website increase, the process of upgrading files and pages will become more challenging for you.
Customers often have a limited attention span.
As a result, they want websites to provide pertinent information to them in a matter of seconds rather than minutes.
You have an obligation to check that the layout of your website does not prevent people from doing so.
Page Title
It is sometimes referred to as a website title or title tag, and it is the HTML title tag that appears in many places throughout the internet.
The title of a web page conveys to visitors of the website as well as search engines what the page's content is all about.
At the very top of an HTML or XHTML page is where you'll find the head element, which contains the title tag.
The title is the single most important element in drawing a visitor's attention to the top of your page.
Because the vast majority of people who visit websites only spend a few seconds on each page.
The title of your website has to be attention-grabbing while still being relevant if you want to attract visitors.
It is recommended that the page title be written using the H1 element since search engines place a greater emphasis on it while indexing websites.
Breadcrumb Trails
Breadcrumbs, often known as breadcrumb trails, may be helpful navigational aids for users of user interfaces and website visitors.
Users are able to maintain track of their current location inside documents, programs, or websites by using it.
The breadcrumb trail is a helpful navigational feature that can be found on most websites just below the page header.
Its primary purpose is to assist site visitors in navigating the site's content by pointing them in the direction they need to go.
The components of a web page are broken down in the following table.
The visitors should only be allowed to click on the very last link in the breadcrumb trail in order to be brought up to the appropriate information.
The use of breadcrumbs is an integral component of almost any high-quality website.
These minuscule identifiers not only enable site users to know where they are on your website.
But also aid search engines in comprehending the hierarchy of your website's content.
Because of this, it is a good idea to sprinkle these little pieces of advice throughout the text.
Banner Image
When you visit a website, the very first thing that meets your eyes is often a huge picture that is either referred to as a "banner" or a "hero" image.
The header is often positioned at the very top of a website.
However, this position might shift depending on current design trends and the efforts that designers put out to make their websites look more unique.
All of these expressions refer to the large, eye-catching visuals that appear at the very top of a web page.
When you have a large number of them that can be scrolled through by visitors or that fade in and out, you have what is known as a carousel.
To get the most out of it, you should limit its use to the most significant sections of the website, such as the homepage.
Photos are used on the internet for a wide variety of purposes.
Including but not limited to the following: to enhance websites to represent stories, in advertising, display products or services
As independent "a thousand words are worth" meaning-rich tools, and on social networking platforms.
Search Bar
A search bar is a must-have for every successful website, but easy navigation is just part of the puzzle.
If a website has a search tool, 59% of visitors will use it, according to studies.
When a user types their search terms into a search box on a website, they are using on-site search.
Which is sometimes referred to as site search or an internal search engine.
For a person to find what they're looking for on a website, there's no better way than to utilize a site search.
Internal search is a feature that lets a user search the web site's content and displays results that match their search criteria.
As long as it's tuned right, it gives a shortcut to what the user is looking for.
As a result, internal searches assist consumers to save time and effort while also improving the usability and appeal of the digital product.
Search fields, search boxes, and search bars are various terms for the same interactive feature in user interfaces.
That allows users to enter a search query and get the relevant material.
Content Width 
It is possible to make use of your content in order to tell search engines about the contents of your website.
It is essential to bear in mind how search engines interpret your website and whether or not it effectively communicates the aims of your website.
When developing a website, one of the most important considerations to give attention to is the width of the key content.
When there are several narrow columns in a newspaper's layout, it is much simpler for readers to follow the flow of longer passages of text.
We suggest dividing lengthy web pages into columns in order to make the content easier to read for visitors.
Especially who have difficulty following material that is more than 30 words long.
Site Map
If your website has a sitemap, search engines will have an easier time finding, crawling, and indexing all of the pages on your website.
Sitemaps are another tool that assists search engines in determining which pages of your website are most relevant to the customers.
Included in a sitemap are the pages of a website that are considered to be the most important.
By making it easier for search engines to locate and index them.
Users will have an easier time navigating your website as a consequence of the increased grasp of its structure.
That is achieved via the usage of sitemaps.
The site map, which is a list that simply contains text, includes each and every page that can be found on the website.
An updated sitemap is generated and sent to search engines at regular intervals.
Regardless of whether the page in question was added, edited, or deleted from the CMS.
Even though the navigation and structure of your website ought to be evident to any visitors.
Who happens across it by accident, giving a site map is a wonderful approach for ensuring that visitors do not get disoriented and become lost inside it.
The term "footer" refers to the area that may be seen at the very bottom of each and every page of a website, immediately behind the primary content.
If you've ever looked at a printed document, you've undoubtedly seen a design element known as the "footer" that remains the same.
In the page footer, you will often find links to sites that are necessary but not very appealing, such as the site map and contact information.
Visitors are caught in a safety net made out of the footers of websites all across the internet, just in case they try to land on some unforgiving ground.
The purpose of a website footer is to accomplish the aim of adding information as well as options for navigating at the bottom of web pages.
So with this anatomy of a website design ends perfectly.
Wrapping Up – The Anatomy of a Website
Now you can imagine how the anatomy of a website design is, right?
Hopefully, it is a yes.
With these basic elements using ideas, you can help other folks seeking which approach they can apply to their business.
You can even inspire your readers to continue returning to your website and obtain more traffic by applying the perfect use of elements.
Remember that business owners' main marketing tactic is word of mouth.
If you can spread the word and show your authenticity with your website, you can win the market quickly.
Another thing, creativity lies in you.
So create your own business website to ensure that they are all ready for applying to your target audiences.
But perfection comes from professionals, so go for the best always.
Now, I'd like to hear about elements you are planning to apply to your website?
Can you tell me the reason that you have applied?
Could you share your thoughts with us?
Learn more about our Best Digital Marketing Agency in Dhaka Bangladesh
Read more from our Services.
You May Also Like:
If you think this post was exciting & you have gained some knowledge, don't keep this accomplishment only with you. Allow your friends & family to stay the same intellect as you. In short, sharing is caring!