10 Best Ways to Increase Your Conversions with Mobile Optimization 2023

8

min read
To increase your conversions, mobile optimization is an action or process of securing that site visitors who access it via mobile devices have an understanding that is adjusted for the device.
People love to spend more time on mobile devices rather than on others as they can operate mobile phones from anywhere.
So it became a really important issue to make your website a mobile-optimized website to increase your conversion rate.
Statista says, 52.2 percent of all website traffic is generated from mobile phones.
This means almost half of the people who can increase conversions on your site do that from their mobile device.
That is why mobile optimization is important and mobile-friendly SEO became a necessity nowadays.
The best practice for mobile search engine optimization is while optimizing your website immediately jump into search engine optimization for mobile.
As a result, mobile visitors will easily find out how sensible you are from the start when they will found your newly launched site on their phone perfectly!
Got already what I am going to discuss, right?
Here in this article, I will discuss how to improve conversion rate with mobile SEO optimization.
Which I have titled as '10 Best Ways to Increase Your Conversions with Mobile Optimization.'
So let's get started with a Mobile SEO Checklist!
How is your page speed?
Are your site design for desktop users and mobile users the same?
Do you have separate URLs for desktop versions and mobile versions?
What is the load time of your site?
Site optimized for desktops and mobile?
If any of these questions answer you got negative then it will be difficult to increase your website conversion rate.
SEO and mobile devices have become as important as SEO optimization is for desktop versions.
Ignore the fact of optimizing mobile devices can damage your business to get potential customers through your site.
Now let's see some interesting facts that will help you to understand-
Why mobile SEO optimization is important?
Here I have come up with 5 reasons why you should optimize your site for mobile screen size.
1. Mobile searches now outnumber desktop searches.
2. Customers are more likely to buy from mobile-friendly websites.
3. Mobile accounts for more than half of all PPC clicks.
4. Sales of mobiles are increasing.
5. Mobile SEO has a significant impact on local search and voice search.
Got enough ideas for increasing the demand for search engine optimization for mobile?
I know you got it for sure!
So now without any further delay let's dive into our main course which is –
10 Best Ways to Increase Your Conversions with Mobile Optimization
Here I have added the 10 most effective mobile optimization tips so that you can get the proper answer for how to optimize your website for mobile devices!
01. Select Responsive Web Design
Responsive web design (RWD) is a web development technique that generates variability.
The appearance of a website is based on the screen location and orientation of the device used to view it.
Helps in rearranging content and design elements, responsive design employs proportion-based grids.
This is mainly an approach that allows for design across multiple devices like mobile, desktop, tablet, etc.
And proposes that design should respond to user actions based on display size, framework, and orientation.
So if you can make the responsive design for your website then mobile optimization will be automatically done without any extra effort.
02. Ensure that Your Website is Mobile-Friendly
70% of all websites use mobile-first indexing.
So, if you want to rank on Google, your mobile optimization must include making your site mobile-friendly.
Once you make your site mobile-friendly then it will be easier for you to get more audiences.
And why that will happen?
Because there are 3 times more people uses mobile to visit any site.
Now think about what you can do to increase your conversion rate.
03. Enhance the Mobile Site Speed
Site speed is a ranking factor, and it is an even more important ranking factor on a mobile device.
A fast site speed leads to a better user experience, whereas a slow site speed leads to a poor user experience.
So it is one of the most important steps for mobile optimization.
Try to enhance your mobile site speed to get more audiences and raise conversion.
04. Carry out Mobile Technical SEO
The process of ensuring that a website meets the technical requirements of modern search engines.
The goal of improving organic rankings is known as technical SEO.
Crawling, indexing, rendering, and website architecture are all important aspects of technical SEO.
So if you can go for a better technical SEO option with someone professional you can easily optimize for mobile SEO.
05. Make preparations for Voice Search Optimization
The process of improving and streamlining the information on your pages.
So that it appears in voice searches is known as voice search optimization.
The goal of voice search optimization is to optimize your page to answer people's questions when they conduct verbal searches.
Most of the time people use the voice search feature from their phone so you know what you can do now right?
Yes, you are right to start optimizing your site for voice search and get the best result!
06. Create Separate URLs for Mobile Pages and Optimize for Local Searches
If the features you want to provide to your customers on mobile devices differ significantly from those on a desktop.
Then using separate sites is likely to be the most practical option.
This can happen due to the ability to send completely separate HTML, JavaScript, and CSS to phones and PCs.
So if you want to optimize in a better way then this can be the best way trust me!
07. Provide a Consistent Mobile User Experience
The subjective experience that a user has with a mobile app is referred to as mobile UX.
This includes both positive and negative experiences as well as emotions.
UX design is the process of developing a product that is enjoyable to use and provides a meaningful and relevant experience.
Provide quick access to various features so keep in mind that touch screen tap points require a 30×30 pixel space.
Make sure that links are visually distinct and that it is obvious when they have been activated.
08. Ensure a Mobile-First Index
Mobile-first indexing entails indexing and ranking, Google primarily uses the mobile version of the content.
Historically, the index relied heavily on the desktop version of a page's content when determining a page's relevance to a user's query.
For mobile optimization making use of responsive design is by far the most important thing you can do to improve your ranking on the mobile-first index.
Also do not forget to make your content mobile-friendly and develop a mobile-first strategy for that.
09. Optimize for Local Searches
Local SEO enables you to publish critical information about your websites, such as your company's address and phone number, online.
This increases your company's web exposure, which can help it become more well-known among local residents.
So whenever people will search for something from your locality and their mobile you can show up easily.
For that, you must have to be mobile optimized at first and once you are done with local optimization things will be easier.
More local clients more popularity.
10. Optimize Mobile Search Responsive Design
The ability of a website to be functional and aesthetically pleasing on devices of various sizes is referred to as mobile responsiveness.
A responsive website is one that adapts to the size of the device's screen.
Responsive websites respond with the user in mind and improve usability regardless of device.
Design that is mobile-friendly just simply put, a mobile-friendly website works the same way regardless of the device.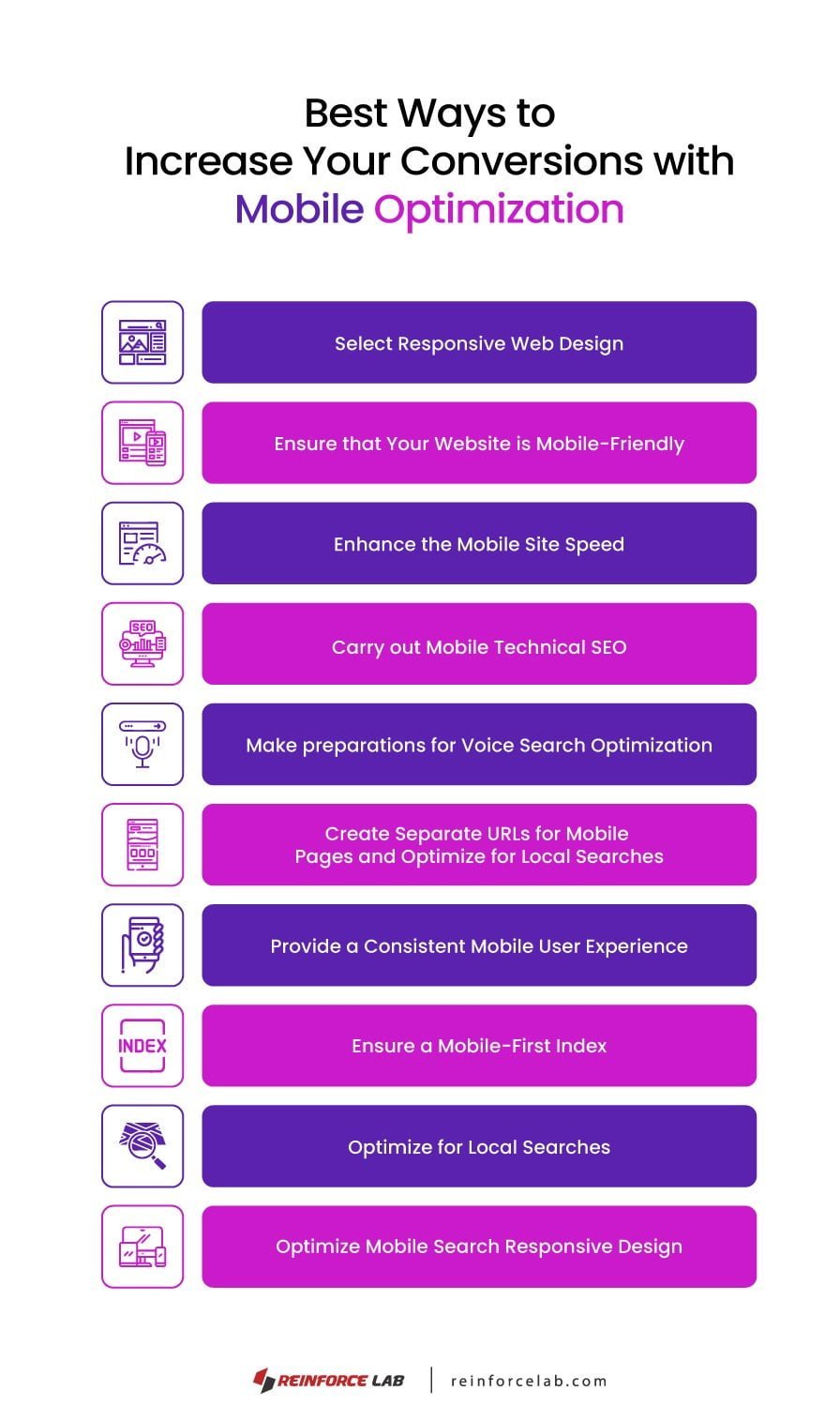 Wrapping Up – 10 Best Ways to Increase Your Conversions with Mobile Optimization
Now you can imagine how important the mobile-optimized website is, right?
Hopefully, it is a yes.
With these basic ideas, you can help other folks seeking how can websites assemble with mobile search engine optimization.
You can inspire your readers to continue returning to your website and obtain more traffic by doing search engine optimization for mobile.
Remember that business owners' main marketing tactic is word of mouth.
If you can spread the word and show your authenticity, you can win the market quickly.
And the marketing concept mobile-friendly website can take your business another level up!
Another thing, creativity lies in you.
Create your content ideas and just ensure that they are all ready for mobile optimization.
But perfection comes from professionals, so go for the best always.
Now, I'd like to hear what you think about how you have made your website mobile SEO optimized?
Can you tell me the ways that you have applied?
Could you share your thoughts with us?
Learn more about our Landing Page
Read more from our blog.
You May Also Like
If you think this post was interesting & you have gained some knowledge don't keep this accomplishment only with you. Allow your friends & family to stay the same intellect as you. In short, sharing is caring!