20 Social Media Content Ideas for Restaurants 2023

12

min read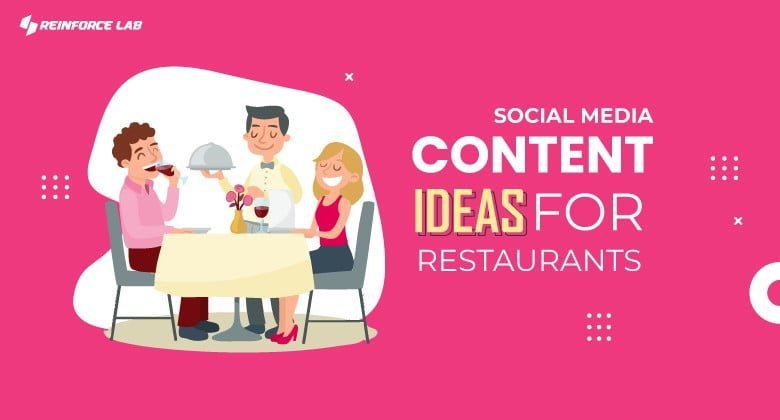 Are you running out of social media content ideas for restaurants or cafes of yours? If you do restaurant marketing done right, you will get amazing results.
Seems like no social media content ideas for restaurants are suitable for your one?
Every idea related to social media content ideas for restaurants appears common for your restaurant?
Then you have come to the right place for sure!
From here, you will get the amazing 20 social media content ideas for restaurants.
That will surely help you to keep your restaurant's social media accounts full of amazing content and engaging posts.
Do you know that?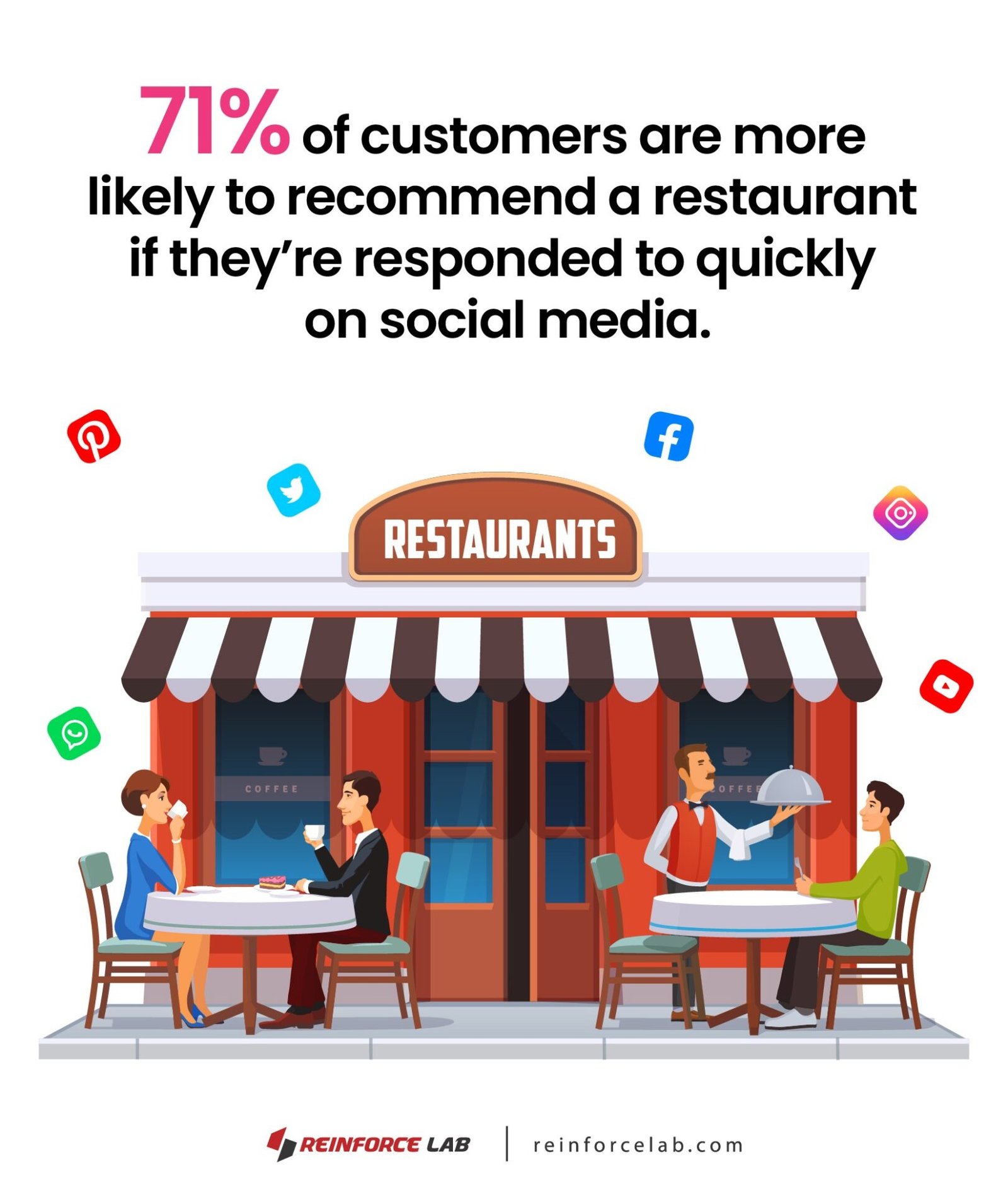 Pretty large amount!
Of all industries, social media marketing, and social WiFi appears to be uniquely tailored toward the restaurant business.
Restaurants are now using social media more than before to attract a huge level of potential customers.
And why they are doing so?
It is because-
Social media content is highly visual;
Contents rely on interaction with your biggest fans to be successful;
It is closely linked to the importance of reviews;
Restaurant's contents rely primarily on short, bite-sized content;
Advertising can be precisely targeted based on audience demographics and behavior.
So you can understand the demand for social presence for any restaurant hopefully.
Now let's dive into our most awaited topic which is-
20 Social Media Content Ideas for Restaurants 2023
Do you know that half of the customers think that if they see material created by users,
their probability would rise by the social media of a company to buy products?
Search the location tag on Instagram for lovely pictures from your customers for pictures taken at your restaurant.
Search your restaurant name by Hashtag as well.
Even though you can search on Facebook or Twitter using the name of the restaurant
And most importantly you need to check out the photographs and messages on your account,
You may share or replace their stunning photos on your page with your original owner with your customer's permission!
02. Host competitions
Competitions have been a key component of effective social media campaigns for a long time.
Competitions on social media may be a wonderful method to boost commitment.
Whether it is a free dinner, a discount, or a book for your city's warmest event.
You may also offer your clients incentives that might help enhance their commitment if they check-in at your restaurant.
Try to pursue such competitive social media content ideas for restaurants, therefore to get the best results.
Customer pictures are an excellent advertising source.
So your consumers need to be encouraged to share as much as possible.
How can you achieve this, however?
Well, it may be one approach to post photographs of your clients on your social media sites.
This great little ego boost might motivate your customers to share it more and more to have your page recognized.
Make sure that you first request permission!
As you may know, fresh waves of components and consumers are produced each season.
Either your current Easter bundle or the Valentines' package.
Do not forget to emphasize these new menu items that give consumers greater hunger with delectable pictures.
Make sure that these goods are seasonal and are just a sense of urgency.
With these sorts of easy-going social media content ideas for restaurants trust me you can simply win the market.
05. Support local causes and promote community activities
This is another astounding social media content idea for restaurants.
Share local happenings that your clients believe will be of concern.
When you have collaborated with a local charité, link your clients to their latest campaign and publish a post.
Post photographs about you and your team if you've taken part in or supported a charitable effort.
Do not hesitate to advocate such things as social assistance, thus making it known to people.
You've ever seen publicity for a restaurant that watered your mouth and made you want to drop your food?
Nothing starves customers and wants to dine like enchanting food photographs in your restaurant.
Due to its simplicity and efficiency, sharing seductive photos of food is one of restaurants' finest social media ideas.
Invoke starvation by posting your food images that seem great.
Learn some basic photography and take photos on your smartphone or ask coworkers to advise a food photographer.
07. Provide food tips and tricks
A wonderful method to engage you by sharing tips and ideas with your clients!
That may be as easy as providing your menu items' greatest meal combination matches.
Alternatively, as the food supply is constantly high, you might offer ideas for enjoying or reheating food packages.
Trust me you can lead the most traffic if you can create these sorts of social media content ideas for restaurants creatively.
So why think so go for it now!
08. Mention your restaurant's health and safety measures
Restaurant customer confidence has fallen owing to the outbreak of COVID-19.
One of the finest social media ideas for restaurants nowadays is to demonstrate to clients how they are secure.
Videos may be created to highlight your security measures COVID-19 in style.
You can only upload photographs of your rules or someone wearing a mask, but remember that the message is far more memorable.
Videos show that customers and employees have to wear masks, and that clients are not allowed to mix with others outside their desks.
And that the restaurant undertakes health controls for its employees.
09. Introduce Your Team Members
Dedicate some blogs to introduce you to the individuals!
Make the most of your personality, abilities, and hobbies!
Adding this human aspect to your social media posts helps you establish customer connections.
By enabling you to understand your shop culture and become acquainted with your staff.
In addition, it is a wonderful method to provide public exposure to individuals behind your business.
It will also improve the likelihood and commitment of brands!
This motivates your staff to share their posts on their social media channels, which subsequently enhances your post's reach.
10. Showcase your signature dishes
Share your favorite signature menu dishes with recommendations.
Each popular meal may be posted with a single photograph, a collage, or even a short movie.
A brief description may also be included to make people know what these foods have to encourage customers to try something new!
If you wish, you may also tell audiences how many authentic recipes your ingredients are and what they are from.
So try out this awesome social media content idea for restaurants and let us know how things going!
Get your restaurant's top-selling meal.
Then don't spend time sharing that item's recipe.
And you're not supposed to be right?
As your clients have shown this meal already so much affection.
You may publish the recipe so that people can replicate their version at home.
And they are more willing to provide you with this kind of suggestion for social media content ideas for restaurants.
Even by asking your clients to mark your work you might make this a fun pastime!
12. Let customers know about delivery options
Nearly half of diners say they've tried a restaurant for the first time because of a social media post. (QSR Magazine)
So you can guess how you can manipulate your customers just only your social media posts!
This concept of content is true of the current condition of COVID-19.
Post your social media and update your consumers often about your delivery or collection choices.
Things change frequently during these times and, regrettably, some companies have closed their doors for good.
Therefore, it is quite vital to make it known to your clients that you are open to business and can provide.
So do not miss to let your customers know about your delivery options.
13. Go for Relevant memes and quotes
Post some light heart deals that match the concept and food of your business.
For instance, post Chinese quotations or puns if you own a Chinese restaurant.
People adore entertainment as well.
Entertain them with a related meme.
Even though memes, you may encourage any fresh offers or discounts.
So keep track of the important trends by spinning your trends!
Client spending increased by 40% or more for restaurant brands that engaged with followers on social media. (Gloria Food)
So do not miss any chances to get engaged with you and your business.
Give your clients an insight into your restaurant or café's behind-the-scenes activities.
Due to issues with the precautions restaurants are taking to ensure health and safety.
When it comes to accepting and delivering orders, COVID-19 is particularly essential.
An easy way of doing this is to share a video or publish a picture of your personnel in their handkerchiefs and masks.
This way your customers will be easily impressed so do not forget to try this social media content idea for restaurants.
15. Show Off Your Restaurant's Best Features
Is there a magnificent structure at your restaurant?
Are you showing any rare paintings or precious antiquities?
Or something that you have is unique to any other restaurant?
Then simply share it.
It is preferable if you can showcase your distinct qualities using pictures.
Use your social media to explain why your restaurant is worth a visit to your consumers.
This kind of social media content idea for restaurants is worth sharing so just go for it!
16. Talk about local procurement and green policy.
57% of social media mentions about restaurants were about quick service venues. (Statista)
Does your restaurant use Eco-friendly practices?
Paper straws, zero-waste cooking, and cleaning with no chemicals are everything you may emphasize in social terms.
Are you supplying food locally?
You may produce a live video or a boomerang on your farm or garden.
You might snap the food producer's photo or video and ask them a few basic questions.
Make sure the configuration of your company page is as essential as having good content.
The notion of social media content has now become quite competitive for restaurants, and it is time to get things started.
You may connect their system to your Facebook or another site if you utilize any supplier to receive orders.
You may still use the default Facebook store button if you don't utilize any delivery partners.
Therefore, use this social media content idea for restaurants and make things easier for your customers.
18. Go live with unique themes
Stream parties, events on the day of games and discuss new live video promotions.
This is also a wonderful opportunity to take your bar behind the scenes.
Create a live question and answer with your chef or a nutritionist who can explain live whether or not your meal is nutritious enough.
Give the chance to ask questions about your quest as well.
This way audiences can interact with you too!
19. Go for creatively post announcements
While advertising is generally the majority of what restaurants publish on social media, attempt unique ways of distinguishing themselves from the pack.
Did you receive an award recently?
Pat on the back of yourself!
You'll love to join your most dedicated followers.
Don't forget to congratulate the latest staff you brought in and share what they do in your restaurant
You're opening a new venue? Create the hype with announcements that you will shortly share the great news.
20. Outreach Food Blogger
One of the least used marketing techniques is to invite a food blogger.
And try to offer them a complimentary dinner or a drink at your restaurant.
Do not forget to review and share their experiences online at your restaurant.
These food bloggers have a strong fan following and this can help your restaurant to grab attention and reach more broadly.
You cannot just ask for an ethically mistaken favorable review, but you may request an objective evaluation in the restaurant.

Wrapping Up – Social Media Content Ideas for Restaurants 
Revise those ideas to create the perfect content for social media content ideas for restaurants using these basic yet powerful suggestions,
With these social media content ideas for restaurants, not just your present customers,
but other folks who could be seeking a new restaurant will earn your confidence very easily.
You can inspire your readers to continue to return to your website and consequently obtain more traffic by creating these kinds of valuable content.
Remember that restaurant business owners' main marketing tactic is word of mouth.
If you can spread the word and show your authenticity you can win the market easily.
Another thing, creativity lies in you.
So you do not need to follow only those ideas for your industry.
Instead, you can create your own social media content ideas and do your restaurant marketing done right, you will get some extraordinary results for your business.
.Now, I would like to hear the best social media content ideas for restaurants that you have used or using for your business.
Do you have any other ideas about; how to promote the social media content ideas for restaurants?
Share your ideas with us!
Read more from our blog.
You May Also Like:
If you think this post was interesting & you have gained some knowledge, don't keep this accomplishment only with you. Allow your friends & family to keep the same intellect as you. In short, sharing is caring!