16 Content Marketing Ideas for Small Business 2023

20

min read
Content marketing ideas for small businesses are the fastest and most successful marketing approach for website traffic and brand recognition with unique small business content creation ideas.
Content ideas for small business is undoubtedly challenging to start a business, but digitally continuing the whole process is more complex.
But when you've decided to start a business yourself, trust me, nothing is impossible for you!
Even if it is about following some specific advertising and marketing ideas for small businesses just can not be difficult.
82% of consumers feel more positive about a business after reading custom content. [Source: content marketing institute]

If you are not satisfied with your small business progress, this content is definitely for you.
We added the best 16 small business content creation ideas to satisfy you.
So let's start with-
What is Content Marketing?
Most people hear content marketing and think of blogs, articles, and social media – but it's more than that!
Content marketing is a long-term marketing technique used to attract, engage, and keep the relationship between business and audience.
Through articles, videos, podcasts, and other relevant material to promote your advertising and marketing ideas for small businesses.
This framework relies upon expertise, boosts brand recognition, and maintains your business in the fourth spot to purchasing what you sell.
Content marketing has shown to be a successful approach as it offers an edge over the competition.
Do you want proof?
Then look at the facts:
According to Content Marketing Institute–
47% of purchasers examine 3-5 pieces of content before entering into contact with a sales agent.


Content marketing companies report growth rates roughly 30% higher than non-using companies.


72% of business-to-business (B2B) marketers claim that content marketing boosts commitment and leads.

Forthwith let's get to grasp-
Why do you need content marketing ideas for small businesses?
There are many reasons you need advertising and marketing ideas for small businesses after physically starting a business, so let's just get in!
Customers Improvement
70% of consumers feel closer to a company due to content marketing. [Content Marketing Institute]

So you will get the chance to acquire more insight when you start making content on behalf of your business.
Customers prefer content rather than anything else in case of trusting a business.
Enhance organic search
60% of consumers enjoy reading relevant content from brands. [V12]

If you start a business and start publishing your company content immediately, clients naturally want to read it more if applicable to their wants.
This way, your small business will get significant organic search results certainly!
Gentle Promotional trick
78% believe that businesses providing custom content are interested in building a good relationship with them.[JumpLead]
You can play a significant role here with your simple content ideas for promoting your small business.
If you can employ mild promoting tactics, people will be more drawn to your business.
Customized Content Impacts
78% of consumers prefer getting to know a company via articles rather than ads. [NeilPatel]
So if you make the article content, it will create more impact than paid google ads.
People always prefer customized content from a business as it distinguishes a brand clearly, so go for it without thinking.
Quality Content Get More Leads
According to 74% of companies surveyed, content marketing has increased their marketing leads, both in quantity and quality. [International Institute of Digital Marketing]
There is no question that people would love to go through your content to produce them with excellent quality.
Content marketing plays the best role in getting a vast number of leads!
Now you know why you need content marketing ideas for your small business.
Let's dive into another significant issue-
Importance of Content Marketing for Small Business
Content Marketing Enhances SEO
The search engine optimization (SEO) facade is built on searching the keyword.
You'll surely get enough conversation if you use the right keywords for your target audience in your content.
This will quickly help you to improve SEO for your small business.
Content Marketing Teaches Your Public
Visitors feel more comfortable when they find confidence in the content they read.
Content marketing is another teaching method as it influences the public after you start a business of your own.
If customers can learn something from your content, they will love your business more.
Content Marketing Provides Greater ROI
The audience will prefer to see more of the contents if they are helpful, informative, and intriguing.
So if your business content ideas are good enough, it will surely get a greater return on investment (ROI).
ROI will help enhance your business's exposure, increase commitment, and eventually, sales!
Content Marketing Helps Establish Your Authority
Content marketing can make your business an ideal and trustworthy entity to consumers.
For this, you have to promote your business in your way, authentically.
By being honest and unique, content marketing can help to establish your authority in the market widely.
Content Marketing Offers the Opportunity to Collaborate with Other Industries
One of the most significant advantages of generating content is collaborating with others.
The partnership with others extends your reach to new audiences, exposing you and your company.
Want to extend your business fast with a content marketing small business application?
This can be the easiest way to do it!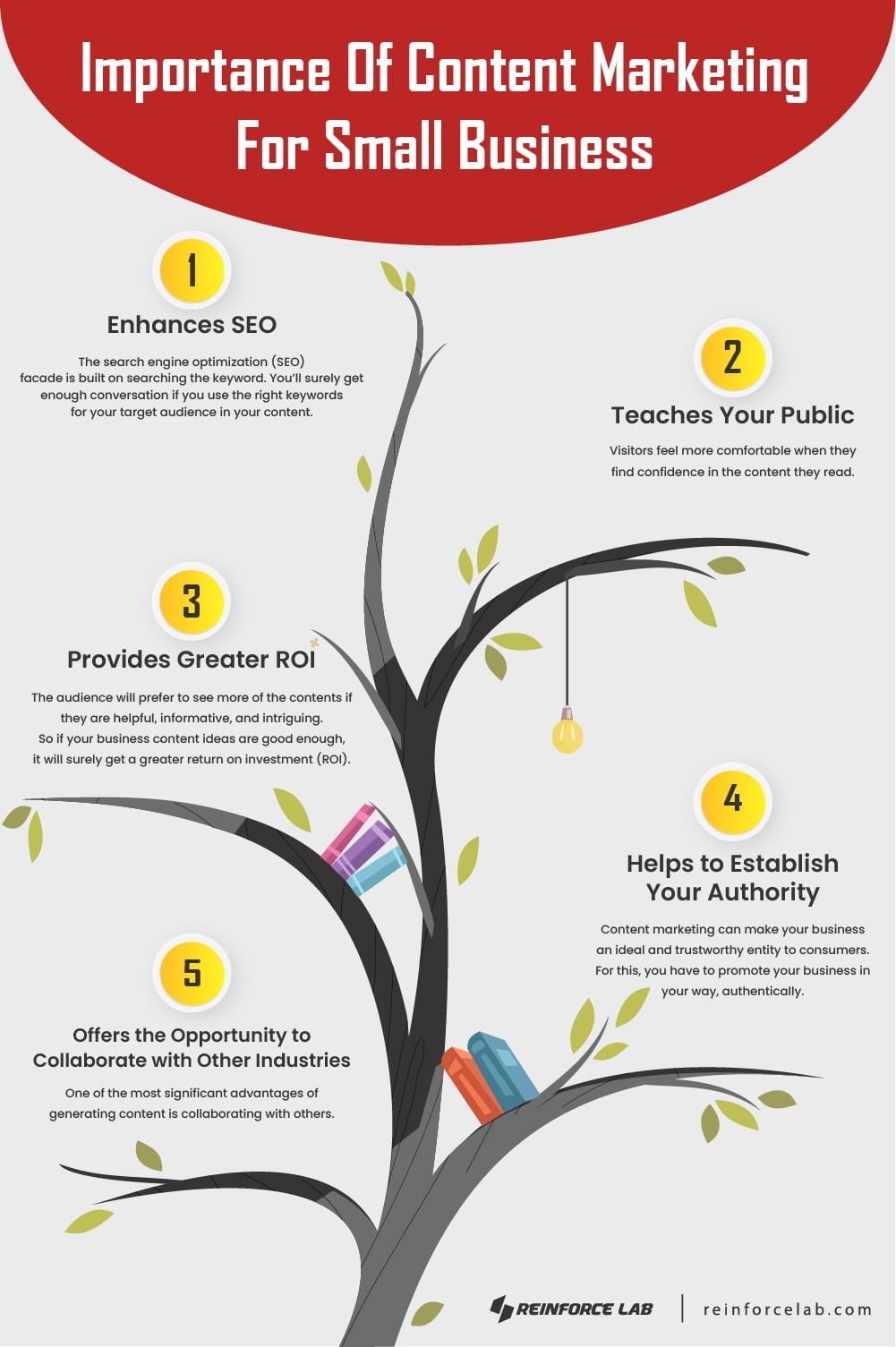 Steps to Create Your Business Content Marketing Strategy –
To create a perfect business content marketing strategy, you need to follow specific steps.
So here I'm adding 10 steps of an effective business content marketing strategy to grow your small business faster.
Obviously, with our advertising and marketing ideas for small businesses!
Set Your Objectives
Without an objective, you can not decide the outcome, right?
So it is the first and most important step to start your strategy.
Define Your Target Market
Setting your niche target market can help you to produce the right type of services.
So it's a must-do step.
Examine Your Competitors
Competitors are always there to take over your market.
So do not give them that chance at all by examining them perfectly.
Make a Content Production Schedule
A production schedule can help you to maintain consistency and track the result before production.
And obviously, all make a solid plan.
Examine Your Existing Content
Existing content can be your greatest asset.
So nurture them by updating and correcting it on a regular basis.
Complete Keyword And Topic Research
Get to know which type of content has the most demand on the market.
And from now start making them without further delay.
Now that you have topics and keywords so do not wait and start making your content with proper editing and formatting.
Then share and obviously promote them.
Create a Social Media Strategy
Social media can provide you with huge traffic so take the opportunity.
And start making your social media strategy for each of your content.
Prepare Your Resources
Now that you have all the major resources combine them and make sure if any of them are missing or not.
If yes find them all and provide them as soon as possible.
Observe and Improve
Now everything is done so monitor on time.
Besides that audit it for improvement.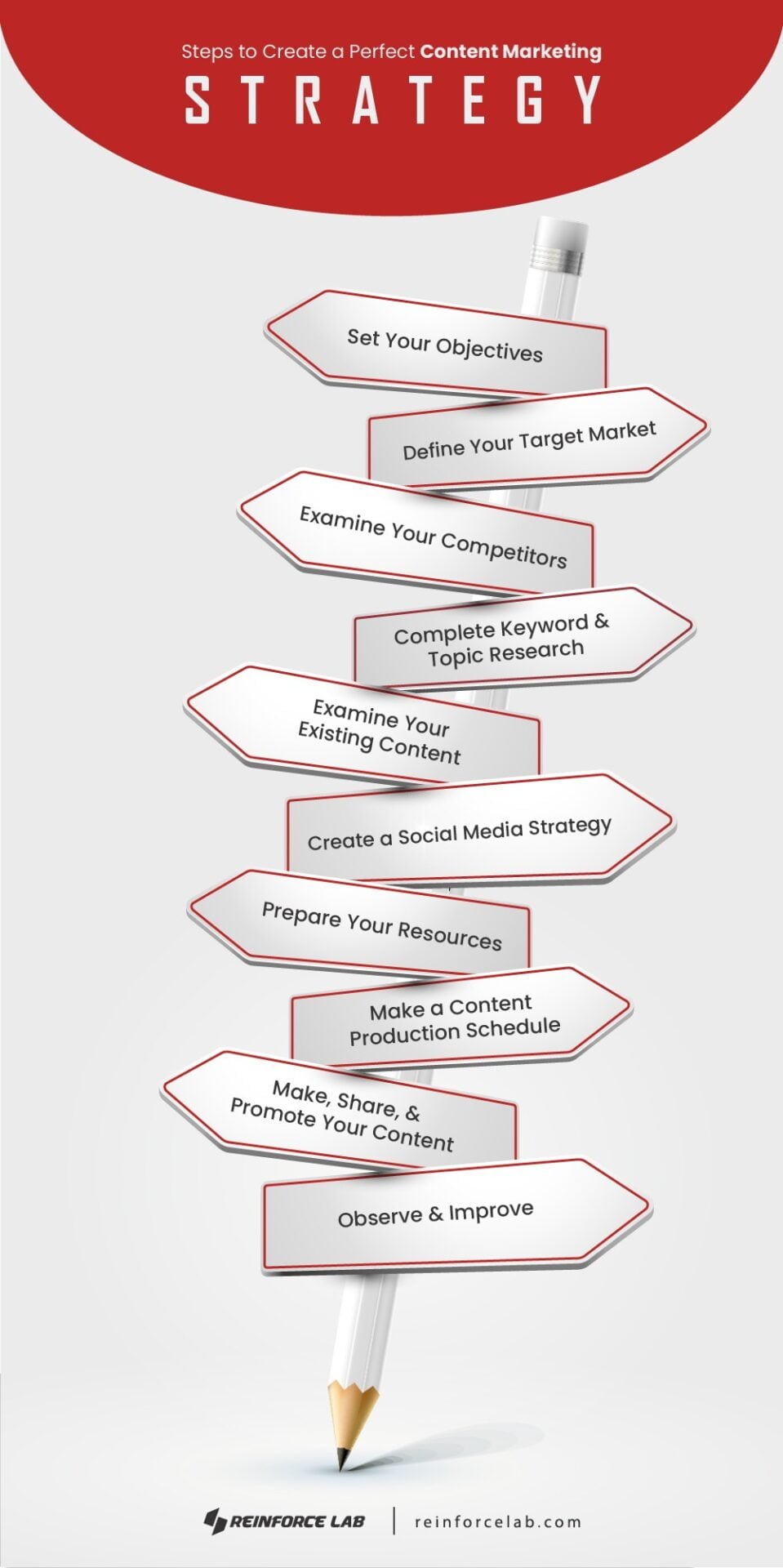 Got enough clear ideas on how to make a business content marketing strategy step by step?
Then moving forward to our next big topic, which is –
Social Media Strategy
A social media content strategy is the planning, creating, and implementation of content on your preferred platforms.
Content marketing works best when you have a solid social media strategy.
As this strategy will allow you to promote your content across multiple channels.
A social media strategy will ensure that your social media efforts are more fruitful and support your overall business goals.
Creating a strategy entails outlining your company's goals so that you can work backward to create posts that reinforce them.
Now let's see how you can apply your social media strategy to promote your content!
How to Create A Social Media Strategy For Business Content Ideas
A suitable social media marketing strategy is your business content marketing strategy needed most.
Whether it's a guest post or live video, a social media strategy can quickly help you to reach a large number of audiences.
So here are demonstrating 7 easy steps to create your social media strategy to promote your business content marketing strategy successfully –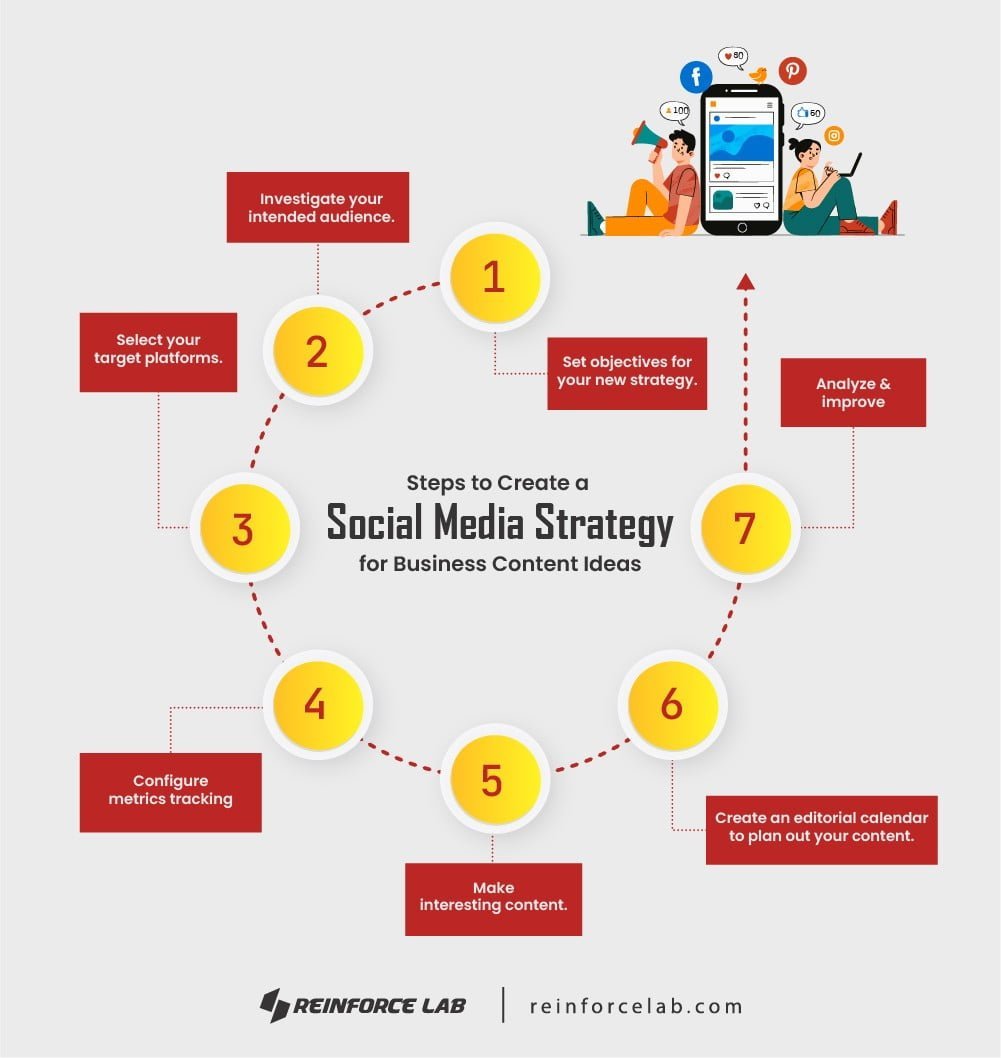 Now let's discuss some best advertising and marketing ideas for small businesses to help you grow big.
16 Content Marketing Ideas for Small Business 2023
To start a business is tough, but making it online with unique content marketing ideas is less challenging than that.
So to make your work more accessible here, I'm adding 16 fantastic content ideas for small businesses only for you!
1. Ask Questions and Give Tips
You are sharing all your thoughts within your content.
But do you think all your sharing concepts are enough for your audience?
Not at all!
So ask questions to your audience, either your product-related or anything casual.
Try to give the answers with at least a tip.
People love free resources, making them happier when it's helpful to them.
Do not miss this opportunity and start making your content with answers and tips.
When individuals start a business, these business ideas in Bangladesh help grow.
Before that, give me a chance to ask you some questions.
When consumers wind that your content is beneficial, they will surely rely on your content and business.
This is one of the most straightforward marketing ideas that can drive your small business into the biggest one.
2. Create Instructional Videos
This is another excellent marketing idea for small businesses.
You can make valuable and insightful videos with proper instructions for your audiences.
Following trendy topics can be a case for making videos on them.
Try to give the instructions with your real-life experiences, and trust me, it will help a lot.
You can use a demonstrative way to make your audience understand more clearly with guest post videos.
Share these varieties of videos on your Youtube channel, which is the best digital media platform for videos.
In this way, you can quickly get more traffic to your content if your business website content ideas are helpful enough.
Hurry up and go for creating instructional videos as one of the helpful business ideas in Bangladesh as soon as possible.
3. Create Infographics
Infographics can catch attention in a short period.
So creating infographics is one of the best online marketing ideas for small businesses.
You can create infographics based on your old blogs.
Also, you can add short infographics within your blog or in your videos.
This will help the audience to get a clear idea about your content.
Try to make your infographics eye-catching but do not use too many colors as it's genuinely offensive.
Basic knowledge of graphic design is a must to create great infographics.
You can also go for infographic web design for your business, as it's uncommon for audiences.
So do not fear and start making your infographics!
Interviews with industry experts may greatly influence your business as it is a perfect marketing idea for small businesses.
People believe experts more, so making them a part of your business can help to drive more customers.
It is one kind of information marketing business idea that provides information directly from trade specialists.
So invite your business field-related experts and conduct interviews as a guest post.
You can also ask them to say something about your business.
This can carry your business to more customers, do you know that?
Yes, people value experts more, and when they see that experts are connected with you, they will trust you more.
Conduct more interviews and share those with all and see the magic.
This sort of content gets vast traffic!
5. Create Interactive Content
Interactive content is where an audience engages actively rather than merely reading, watching, or listening passively.
Interactive content includes quizzes, assessment tools, calculators, configurations, etc.
People do not get a chance to become bored with these content sets as it keeps them engaged.
These are brand new business marketing ideas for content marketing of local businesses.
By creating these contents, you can get the highest possible action.
Which will give your business more leads undoubtedly.
So start brainstorming and find out quizzes, tools, or questions that will easily absorb your audience.
To make your interactive content more interesting for prospective customers.
6. Cross-promote Great Reviews
This is one of the best small business content creation ideas.
Ask your customers for reviews after giving your best services.
Even when people get the best, they automatically try to share all about it.
Collect the best reviews with the help of their email addresses and cross-promote them through your content.
Keep things authentic to achieve your customers' trust.
You can promote reviews while promoting your products as well.
This can be considered a self-made marketing tool.
So get the best reviews from your audience and cross-promote as content material to get the highest reach!
7. Demonstrate New Uses of Your Products
You can consider it a brand new advertising and marketing idea for small businesses.
The business owner typically promotes regular uses of their products.
But you can try something new in this case, even with live videos.
Live videos can reach audiences faster than you can even think of it!
When you decide to start a business online, try to demonstrate unexpected uses of your products to the audience.
People have always liked learning something new, and they can't miss an opportunity to get your products when they have multiple uses.
This can be one of the unique business ideas in Bangladesh.
So show your new uses to all and get the highest traffic!
8. Launch A Podcast
You can admit it is the most trendy small business video idea primarily based on clear business ideas in Bangladesh.
If you want, you can turn your old blog posts into podcasts.
You can launch brand new podcasts and guest posts or share them as live videos.
You can publish your podcasts from your youtube channel.
This will attract another group of customers who like more to know things by videos than reading something.
49% of podcast listening happens at home, and 22% listen to podcasts while driving.
Now you know, turning your blogs into podcasts is not a bad idea, right?
So start making your podcast and share it with your customers as soon as possible!
9. Make Lists
Who does not like to see the lists of something good or bad at a glance?
Everyone does!
It can be a list of benefits or a list of disadvantages.
The choice is yours but try to make lists of something your audience needs right now.
Grab this opportunity and consider it another great advertising and marketing idea for small businesses; moreover, get ready for publishing lists.
Experience everything independently or collect data from reliable sources, then share it with your audiences.
Never miss an opportunity to gain trust from people, and this trick can be the one.
So just go for it with this small business content creation idea!
10. Produce Ebooks
This is one of the most fantastic content marketing ideas for small businesses.
As already mentioned, people love free resources.
So turning your blog posts or video content into ebooks will significantly impact your digital marketing strategy.
You can ask for the email list of your audiences before providing it.
In this way, your email marketing can be done too by applying these sorts of business ideas in Bangladesh.
Also, people who do not have the patience to be online for a long time prefer this content.
You can add ebooks in between your blog content.
People have to go through your content; they will get your shared resources.
Your business will get the highest possible traffic through this idea, so just jump on it!
11. Show off Your Product and Services
You can count it as an essential small business content creation idea.
As an owner of any business, your primary target is to uniquely promote your product and services.
So do it with your creative content of the business ideas and attract your audiences.
This kind of content can work like business cards digitally, and if you try live videos for it, the result can be unbelievable!
Do not hesitate to show off your business via these small business content creation ideas.
Remember that your business is another entity of yours, and its well-being means yours too.
Now show the world your services with the best creative concepts.
Your products are your asset and consumers' need.
So share about your assets with all and see the charm.
You can make history videos or live videos with any of your specific products.
Maybe any of your products are on the best selling list now; show it and share its invention story.
This kind of content can catch the attention easily as you are authentic here with people's needs.
You can share this variety of content as Facebook ads too!
Social media marketing can be done through this sort of content.
You can count it as a unique advertising and marketing idea for small businesses.
Are you thinking again?
Please don't just dive into it and get more leads to your website.
13. Write Blog Posts
Businesses with blogs have 67% more advantages than other businesses in the digital marketing sector.
This can be an excellent opportunity for small business owners.
Start writing blogs, especially about your business-related topics, and share them from your social media platforms.
When you start to teach people, they will ultimately try to build a relationship with your business.
As blogs help a lot to gain trust from audiences quickly.
Try to make your blogs eye-catching and easy to understand.
You can add infographics, pictures, live videos, or ebook links to your blogs.
Blog posts can drive a massive audience, so that it would be constructive for your small business.
Stop thinking and start writing the most wanted content marketing topics for small business content creation to grow with your business!
14. Write Seasonal Blog Content
This can be one of the most beneficial small business content creation ideas.
Is it mandatory to share only about your products, right?
So try to make content on seasonal topics for consumers or seasonal guest posts, which is one of the perfect small business ideas.
Using these business ideas in Bangladesh and worldwide can get loads of leads.
As people, those seeking other business products or services can also get information from your content.
Consumers would start to visit your website or channels more often as your content are not the same subject-based.
People love variety for one thing, so somehow guest posts also work best here.
Do not disappoint them and start writing seasonal blog content.
15. Stay Plugged into Reddit
Reddit is a website where a community of registered users ( Redditors) submits content.
This platform helps a lot in finding out advertising and marketing ideas for small businesses.
So if you want variety in your content creation, you can check this out.
Here you will find a wide variety of content from different businesses.
Marketing campaigns and local events are also included here as great content in these sorts of small business ideas.
Sign up and stay plugged into Reddit to perfectly apply your small business content creation idea.
And yes sharing this free tool with you because we want you to succeed in your small business sector to make it big.
We believe in you!
So let us know when you are getting results from these advertising and marketing ideas for small businesses.
16. Stay Active on Google My Business
Google My Business is one of the best free tools for small businesses to establish digitally in front of the digital world.
You only have to open a profile here without fees for using this tool.
With that profile, you can connect with potential customers, list your products and services, accept orders online, etc.
You can also verify your marketing plan through this tool.
In this way, people will learn about the authenticity of your business and apply one unique content marketing ideas for small businesses.
Even you can get ratings and reviews from consumers and show it to all within your profile.
Google also helps to refer businesses to the potential audience through this tool.
Such a fantastic tool for promoting your small business content creation ideas, right?
Grab the opportunity and make the best use of these advertising and marketing ideas for small businesses.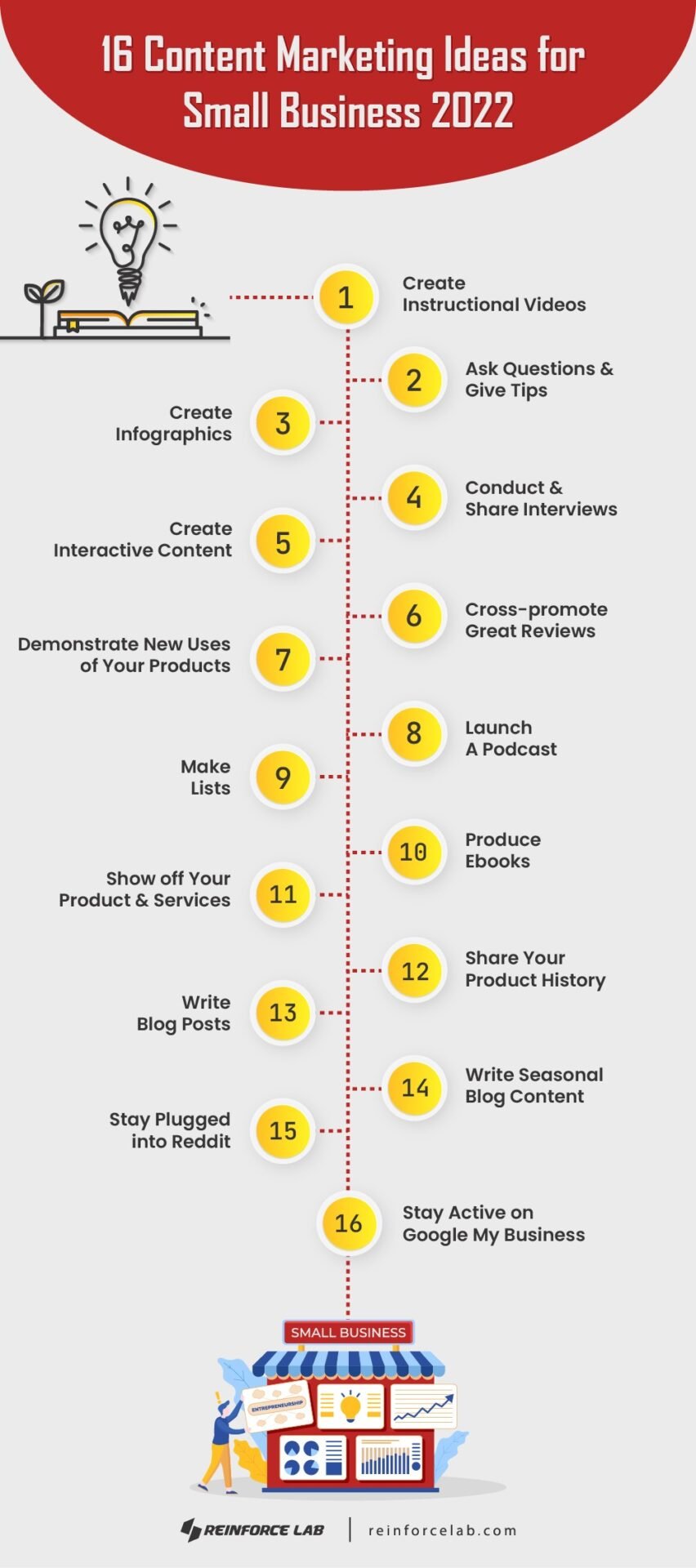 You can go for it to get more ideas for the distinct business sector.
35 Creative Content Marketing Ideas 2023
If you're struggling to find out the most recent creative content marketing ideas, this article will assist you a lot.
10 Content Marketing Ideas for Healthcare
Website and content marketing is a tricky thing for most healthcare businesses.
So, put your website and content marketing to work with some easy tips!
20 Best Content Ideas for Real State
Do you need content marketing ideas for real estate investors to drive traffic to your business's website and get you more leads?
Don't worry; we only made this list of content marketing ideas for your solution!
20 Best Content Marketing Ideas for Restaurants
You need creative small business ideas for your restaurant marketing and keep them coming back for more, right?
So here we are with a fantastic type of content for the restaurant business.
Best Content Marketing Ideas for B2B (Business to Business)
If you're in the B2B world, you may be wondering how you should market your content to appeal to potential customers.
Here is another valuable piece of content for your business to stand out among the crowd with some creative ideas.
Best Content Ideas for Social Media
Are you struggling to think of ideas for your next post on social media?
Creating content for your social channels doesn't have to be complicated –
We're with this content to take your business another level up!
Wrapping Up- Content Marketing Ideas for Small Business
In this idea guide, you have learned several concepts about content marketing ideas for small businesses.
Thriving companies and industry leaders use these small business marketing ideas.
The next time you feel like you're in a rut, you may pass the guide and select any small business ideas that best suit your consumers.
Remember that small business owners' main marketing tactic is word of mouth.
You can quickly win the market if you are authentic and can show it through your content ideas.
Another thing, creativity lies in you.
So you do not need to follow only those small business content creation ideas for your business.
Instead, you can create your small business content creation ideas to make yourself unique from competitors.
I'd like to hear the best advertising and marketing ideas for small businesses that you have used.
Share your small business ideas and advertising and marketing ideas with us!
You May Also Like our Blogs-
If you think this post was exciting & you have gained some knowledge, don't keep this accomplishment only with you. Allow your friends & family to stay the same intellect as you. In short, sharing is caring!
Maxilin Catherine Gomes is an undergraduate business student who enjoys experimenting with the world of marketing via her proficiency in SEO. She doesn't have to put in any additional work to conduct relevant topic research, analyze traffic and search rankings, or discover the most popular visited websites for her articles since she enjoys doing so. She has spent the past decade devouring thrillers, romances, and detective books. For her, the best thing to do is to learn something new. She believes that everything in the world works together to help you reach your goals.
143 Comments