40 Content Marketing Ideas for Social Media 2023

27

min read
Content ideas for social media marketing are the magic shots that encourage people on social platforms to click and act positively.
Social media content marketing ideas focus on the interaction, likes, shares, and retweets and looking for them.
By focusing on quality content, a business may accomplish more.
According to Small Business Trends, 90% of marketers say their social media marketing efforts have increased the exposure of their business, and 75% say they've increased traffic.
Can you guess now how content marketing ideas for social media can help to grow your business?
A little bit, I know, but it is okay.
We will discuss broadly how to manage content ideas for the social media platforms of your business.
So let's get started with-
What is Content Marketing?
Content marketing is basically defined as marketing with various unique content.
It involves creating and distributing digital equipment, such as blog postings, videos, ebooks, technical briefings, and solutions.
Also, a range of other digital materials can be added here for your potential customers.
Content marketing is a long-term experiment rather than a campaign.
Content marketing costs 62% less than traditional marketing and generates about 3 times as many leads. (DemandMetric)
So you can choose content marketing for your business to get the best result undoubtedly.
Diving into our next topic-
What is Social Content Marketing?
The area where content and social media/business intersect is known as social content marketing.
The focus on social content marketing methods and strategies is expanding with an increasingly connected customer and social B2B purchase process.
Social media marketing also referred to as the SMM,
The word does not just mean social sharing or content optimization for social media.
It is a complete collection of creative materials, including articles, blog posts, photographs, videos, etc.
According to Review24, There are more than 3.5 billion active social media users today.
And more than 50 million small businesses use Facebook Pages to connect with customers.
So you can guess the impact of social media content on any business, right?
Social content marketing has a strong connection with the most specific potential or organic customers.
Especially with those who are frequent users of different social media sites.
Why is Content Marketing Important for Social Media?
Supports to Grow Audience and Establish Credibility
When delivered through social media, high-quality material has the best effect.
Your audience will begin to increase like never before once you learn the method.
The standard process involves producing and marketing content via social media platforms on your official website.
Content marketing specialists advise firms to maintain their compliance with their audience's helpful content.
An organic approach can allow you to develop credibility and slow down your audience.
By employing sponsored posts and reaching out to industry influencers, you can boost your social media growth with certainty.
Helps to Hear and Monitor Consumers' Sentiment
Listening to social media is essential to generating fantastic content.
Since it places your finger firmly on your target market pulse and your brand public impression.
You may include it into your content marketing efforts once you know what everyone is talking about.
Take Donald Trump's trend topic, for instance.
You may write about hilarious hairstyles when you're in a hair salon.
A financial company might explain their financial commitments to Trump, or a real estate agent can talk about Trump's real estate holdings.
Likewise, if your target audience queries your brand on social media, make sure these issues are incorporated in future pieces.
Increases Conversion Opportunities and Rates
The only way you can improve conversion rates by retargeting audiences is through content marketing.
You may delve deeply into the information of your visitors by integrating Google Analytics into your website.
The excellent news is that the tracking code of Google Analytics covers the conduct of visitors.
You may generate remarketing lists and use these data to provide prospects.
It mainly juggles with the material they have shown interest in across your social media and your official website.
You can force your company to respond before the prospects start making a purchase choice.
Connects the Audience with a Brand
Content can make people like the brand.
Mainly because they may realize that they share the same values via a good content marketing campaign.
This impact is known as 'brand affinity in marketing.
Once you have succeeded, it becomes the most powerful approach to convince them of the prospects.
You need to produce unique and quality material to make your content marketing approach a brand affinity plan.
One fantastic approach to begin is to communicate and illustrate the organization's values using social media content.
Helps You Become an Authority
You may become an authority to handle specific issues from diverse perspectives and ensure that your audience is relevant, accurate, and new.
And where better than social media to convey your brilliant and honest thoughts.
People like sharing precious stuff.
You may anticipate acquiring advertisements and engage many when you give them to them.
They need not necessarily mean that you must utilize technical language by becoming an authority on a given subject.
Content presented in a style that is easier to comprehend and read is more likely to engage.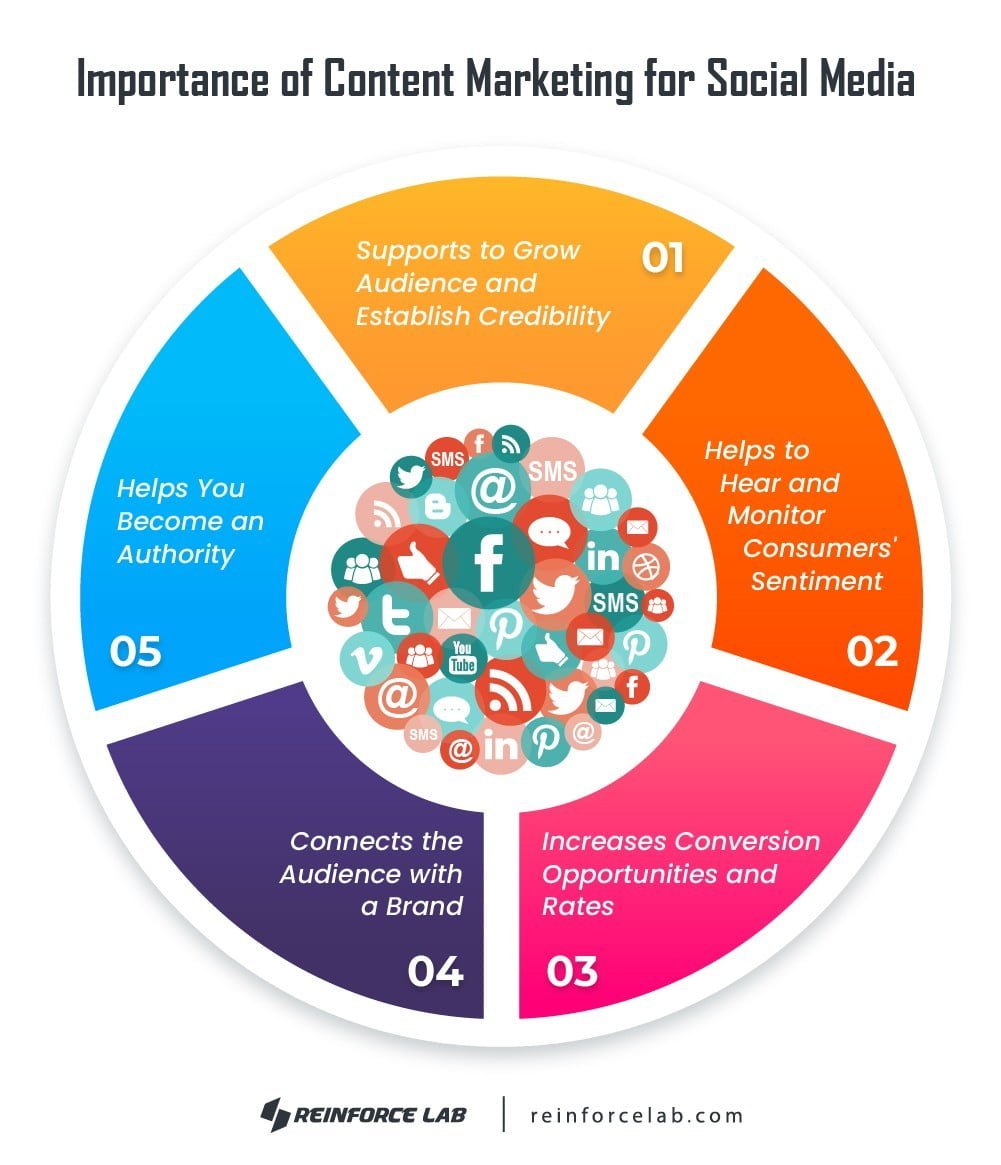 How to Find Content Ideas for Social Media
How to Find Content Ideas for Social Media – Use your analytics
One of the finest methods to discover how your audience enjoys your analytics (or what works for you).
What works and what doesn't work, your social media analytics can tell you.
What you want to do is analyze and re-create your top-level postings.
How to Find Content Ideas for Social Media – Research Competitor Websites
Competitive research can enable your company to picture the industry trends accurately you would otherwise have missed.
It may be an excellent advantage for any organization to recognize patterns and forecast future moves.
This can assist you in better comprehending your consumer conduct and offer a closer picture of your rivals' strategies.
You may adjust your approach to your lost consumers and gain new customers.
Data from competitors' website research may allow you to uncover market deficiencies, such as some locations no rival has been careful about.
You can take the chance to take advantage and fill the gaps and explore a new brand market.
How to Find Content Ideas for Social Media – Learn from your industry peers
Look at your industry's top pages and discover what works for them.
If you've got a comparable target demographic, it's probably going to work for you too.
It will be fantastic to get past your opponents alone.
Are you able to learn from other firms you admire?
They might not be your direct rival because they're in the same place.
Or maybe you resonate with their marketing method.
For instance, I regularly check out HubSpot, MailChimp, and Airbnb's social media pages.
How to Find Content Ideas for Social Media – Use a research tool
How do you accomplish your accomplishments as a marketer?
Of course, by providing awesome content.
The site traffic of content marketers is 7.8-fold more than non-leaders.
Moreover, more excellent conversion rates are driven by better content marketing.
Creating regular content that gives both value and a strong ROI is impossible, with so much and so little time.
But these top 5 free content marketing tools and resources are there to help.
Google Search
Google Trends
SEMRush
Google Analytics
UberSuggest
With these tools, you can find out trendy topics for creating content and get the best results free of cost.
How to Find Content Ideas for Social Media – Create marketing personas
The buyer is a composite depiction of your audience's central section.
You need people to support you in providing the most relevant and valuable content to your audience for content marketing reasons.
Your marketing personas will provide you with suggestions about content and social media sharing.
Without creating marketing personas, you can only think about the material your audience wishes.
This implies you are more likely than the information your audience is actively looking for to generate content around what you know best.
When you perform research and build your marketing individuals, you will better understand the objectives and difficulties.
And obviously the content of your key audience.
Now you already know the basics you need to do for social media content marketing.
Let's dive into our most awaited topic, which is-
40 Content Marketing Ideas for Social Media 2023
01. Develop How-to's & Tutorials
Consider it one of the best video content ideas for social media.
Almost 60% of US internet users selected Facebook to watch videos online in Dec. 2017. [Ignite Visibility]
So you can guess how much these "how-to" videos can trend on Facebook as well as on YouTube.
You may wish to create video tutorials or "how-to" videos and divide things into actionable steps.
By offering visual advice along the way with this sort of video material.
It is pretty common, not to mention, which implies that your content will meet new viewers with this trick.
You don't have to produce films only about your product explicitly!
Instead, create videos on themes you believe people would want to discuss in your product.
It allows you to create more views that you may lead to your items.
02. Use Diagrams or Charts
This is one of the fascinating content ideas for social media marketing.
We like to locate fascinating research on social media and make significant results a diagram.
In this approach, the study's essential findings may be quickly learned from our followers by glancing at the graphic.
The next time you find an interesting study about your industry, see if you can turn some statistics into a chart or graph.
Take it as a bonus tip- Google Sheets is a wonderful tool for creating basic diagrams.
03. Run a Giveaway with Another Brand in Your Industry
We have discussed how gifts may affect your commitment and brand exposure to social media, and Instagram is also another fantastic venue for competitions.
Partner in your industry with another (non-competitive) company to provide your top items with a reward package.
You may conduct a few sorts of competitions.
To acquire user-generated material that you can publish on your profile in the future, I would propose a picture competition.
04. Use Story Feature to Promote Discounts
Instagram drives the most engagement per post compared to any social network.
84 times more than Twitter, 54 times more than Pinterest, and 10 times more than Facebook. [Ignite Visibility]
So using Instagram stories can have a significant impact on your business.
Most businesses love to utilize to extend their marketing approach on Instagram stories.
There are many methods to use your story – one of the greatest ways is to share your followers with you about "flash" promo codes.
You may also be creative — conceal it under a story post or propose to resolve the problem.
Has your business just hit a milestone?
Perhaps you've only reached confident supporters or sales or an anniversary?
Maybe you were awarded or invited to an event of prestige?
Social media updates are an excellent opportunity to celebrate and appreciate your customers.
It demonstrates that you appreciate them and that your success is also a company.
06. Poll Your Audience
Another approach to include your supporters is to do a survey.
There are numerous methods to engage your supporters by using polls.
To involve our supporters, utilize polls to perform (unscientific) client research, and even to give your corporate swags away.
Take a survey asking your supporters what they want you to share with social media.
07. Made Blog Posts with Attractive Stats
A statistic is frequently advised to "hook" your readers to keep them reading. In your opening, it is recommended.
This approach can also be utilized for publications on social media.
If your followers are interested in the statistics (and shocking), they could be more interested in reading their blog article or watching your video.
If you have fascinating data in some of your blog articles, utilize them as your social media posting site and urge your followers to find out more in their bl
08. Make a List in the Title
You may take the list and include it in your subtitle if your blog article offers a list of ideas or suggestions.
Your followers can learn something from your social media post without your entire blog post needing to read it.
These lists help to set the background and inspire the interest of the blog article.
Extract the most important points (or any blog postings with a list) in your recent list to build a listing in your social media posts.
09. Take Advantage of Trending Topics
People like viral content reading.
According to a survey released by CNN in the United States, 62 percent obtain news via social media.
Try it if you haven't tested the media news yet.
You ought to obtain an excellent outcome, I suppose.
10. Feature User-Generated Content
UGC is short for user-generated content, and it is not only an excellent method to fill your feed with stuff that is produced from the community
but also a safe approach to attract new fans, sell and turn your present audience into clients.
Notice – when it comes to finding great content, your audience is a wonderful resource!
Recent results indicate that 90% of customers trust UGC to contribute to their buying decisions.
However, do not only upload any UGC in which you are tagged.
Create your business with a branded hashtag at first.
Repost your hashtag's finest material from followers.
11. Work with Influencers
Nearly a fourth of social media influencers believe Instagram is the top avenue for influencer marketing strategies. [SproutSocial]
Instagram is the influencer's castle – obsessively, its users follow leading 'grammmers' to inspire in fields such as fashion, cuisine, and lifestyle.
Partnering with an influencer widely known in your target market is one of the finest methods to share your brand and product with new prospective buyers.
Send to influencers to share their opinions with their audience and send items to interested parties.
12. Go Live
Whether it's a Facebook or Instagram Live, your audience has an opportunity to connect with and communicate with you on your social media platforms.
Engaging and connecting are both necessary for your social media game to be leveled.
You may have a Q&A with your fans on an Instagram Live, advertise a new product, interview a superfan, an influencer, and more.
MTV used #AloneTogether to do jam sessions with renowned musicians, including Kyle and Tate McRae, during recent weeks.
A nice feature with Instagram Live is that it's possible to store Lives as IGTV videos to live forever.
And these convenient content ideas for social media marketing.
13. Create Tips for sharing
The great content of social media is not only about marketing your goods or services.
The objective is to improve understanding of potential clients' significant issues.
Sharing advice and ideas to help people through these issues is an excellent approach to demonstrate their knowledge and establish better links.
Simply defined, a Meme is a picture that brilliantly illustrates a frequent phenomenon.
Content on social media is frequently used these days.
And because they're amusing and fast to digest, they are popular.
15. Shout about Your Employee's Successes
Why stop at the light of day in the community?
Allow shining for your employees.
Consumers love to see people behind their favorite businesses.
It provides people with an opportunity to relate more personally to the brand.
The ride-sharing firm Uber is another wonderful example.
They do an incredible job in promoting social media for their staff.
Uber has emphasized delivery workers who support their communities during this year's epidemic.
So you can also go for these amazing content Ideas for Social Media.
16. Discuss Industry News
Share essential articles and updates about your sector, besides posting information on your social media account for your organization.
These social media posts work particularly well with Twitter, where people come for news, and LinkedIn.
Where people network and search for industry-specific information.
Find news about your industry's interesting advancements, upcoming conferences, or excellent work by associated groups.
These jobs might increase your social reach and assist your firm's status as a leading manufacturer.
This would be beneficial for your supporters on the social media pros.
Make yourself creative and develop new ways to distribute photographs online.
The pictures in this online store are not meant to appear more straightforward.
Have fun! Have fun, have fun!
Group items together, photograph or dismantle them to present them differently against intriguing backdrops.
Make sure that any product photographs, particularly on visual media such as Instagram, that you publish effortlessly match your brand aesthetic.
The images must mix with your other material yet stick out in the feeds of your fans.
What is better than learning from your own experience and errors?
To learn from someone else. To learn from someone else.
Show your audience how you have achieved a goal, the experiment produced, and the lessons learned.
Or share your customer's or customer's successful aims through your product.
Content Ideas for Social Media Marketing.
19. Make Use of Live Streaming
Be sure to offer live video updates to your social networks in addition to video postings.
According to an inquiry conducted by Vimeo and New York Magazine, four out of five individuals prefer a live brand video over a blog article.
Launching events and press conferences is a wonderful idea.
You may also hold a preview event for future items or do a live presentation of your services with Facebook Live or Twitter Live.
20. Compare Similar Products
Like reviews, comparisons assist your audience in learning about products/services.
As such, they may be an essential element of writing content in social media.
A quick comparison may be posted, or an entire blog article is written and shared.
Content Ideas for B2B Social Media
21. Inspire Your Audience with Quotations
Everyone loves a nice inspiring or motivating phrase.
There are great quotations that match your specialty regardless of your industry.
Make sure that your creation of these visuals fits the rest of your material!
So that you can quickly get your audience's attention and inspire them if they feel low somehow.
This is one of the unique content ideas for social media for your business.
22. Create Your Hashtag
Encourage workers and consumers in their activities to use the branded hashtag.
Think of motivation #Monday, #ThrowbackThursday, and more.
Now, the first two hashtags have been discussed for a time, so the web may inspire you to create content that is aimed at them.
You may post events, milestones, celebrations, or a cherished recollection in your business or your company using hashtags such as #ThrowbackThursday.
If you want to get to grips with today's trends, watch out for Twitter, Google Trends, and Buzzsumo.
And learn what trends are going on in your region or around the world.
23. Hold a Giveaway
Who doesn't like free things?
Contests may be an excellent method to include your fans, followers, and exposure-enhancing public.
Tailwind says it is around 70 percent quicker than accounts that conduct an Instagram contest and giveaway regularly.
The regulations are plain and straightforward.
Not only can you obtain fresh insight into the follower base of fans, but you also may post material that users on your page creation.
24. Go with Instagram Reels
We have got a relatively new Instagram reels feature, but we're fascinated!
Instagram reels are a new way for Instagram users to record 15-second video snippets set to music.
Companies provide another option for brands to generate fun and enjoy Instagram video content.
The popularity of Instagram Reels grows by the second, and several businesses already use it to help expand their public.
Even with some films that have a +5M watch!
So you can easily use it as trendy content marketing ideas for social media sites.
Think up innovative ways of sharing pictures of products.
You don't want to see your pictures on any general internet shop like basic images.
Your pictures should suit your brand esthetics smoothly.
Your product pictures should mix with your other material as your viewers still perform your feed.
Put the various goods together, shoot them in unique environments, make animations for stop movement, and have fun!
TIP: To take amazing product photographs, you don't need to have a crazy budget – you can do it all at home literally.
26. Use Instagram Stories
Instagram stories enable companies to post more organic material than what is published in Instagram feeds.
And you want to be connected and involved in your company with over five hundred million individuals who watch Instagram stories every day!
You can consider it as one of the beneficial content ideas for social media marketing.
Social media consumers demand Instagram Stories to seem as natural as possible,
But using templates to assist in establishing your company's brand-new looks is still sensible.
With Instagram Stories, you may create branded Story Highlights on your profile.
Branded highlights are immediately below your biography so that your most important contents are permanently displayed instead of being buried in your feed.
27. Host Virtual Events
It may not have been on your 2020 bingo card to host a virtual event, but many companies drive a virtual wave.
Webinars, concerts, and much more are organized using social media.
In certain situations, event posters are evident, such as organizing a party or a workshop.
But consider utilizing Facebook event pages more than simply actual meetings.
You may post an event for a webinar on Facebook.
Think about the creation of events such as Twitter chats or the marketing of social media.
Instead of a typical social media post, promoting such things via an event means that everyone who says they are interested or participate will be reminded when it begins.
28. Host an AMA (Ask Me Anything)
The AMA series, or Question Me Anything, was popular on Reddit, providing businesses with a great opportunity to really connect and instruct their fans.
AMA consists of audience questions answered by the expert.
This is a fantastic opportunity to see how important your supporters are while sharing their knowledge and skills in the business.
On Reddit, you don't need to host your AMA.
Twitter, Facebook, and Instagram are all excellent outlets for inquiries on the field.
29. Host a Live Q&A
Twitter owns Periscope – the most popular live-streaming service – therefore, you can include Periscope feeds into your Twitter feed.
In addition to other platforms such as Facebook Live, ensure that you host your live Twitter events and make your other social media more accessible.
The feed algorithm for Twitter also seems to prefer Periscope videos that may give your account a little assistance.
Add to your content strategy some flair by retweeting or refilling the content that users have provided to you on your Twitter account regarding your business or product.
It demonstrates that you are interested in your supporters and fans and helps your brand strengthen.
30. Post Some Interesting Market Data
Share the highlights on social media if your firm has original data that gives vital insights into your business or industry.
The report or article might be posted on LinkedIn to cover its actual results.
Convert intriguing statistics and quotations to visual postings for other websites like Facebook, Twitter, and Instagram.
You can produce intriguing statistical articles with tools like Canva without being a graphical designer.
A video may not appear to be a natural solution for sharing data on individuals but provides the economist with the possibility to communicate statistics dynamically.
31. Announce Discounts at the End of Videos
While video explanations of discounts are fantastic to generate visitors on YouTube to your shop,
after the visits, you may get a step closer by providing coupons or directing them to a reduced URL.
At the start of your movies, including a CTA like "keep an eye for a special deal to finish" – enhances the likelihood of guests looking at your material rather than finding the discount in your description.
Give your fans on social media the impression they are inner companies with an insight into what you come up with.
This may include previews of future software, a few information about a forthcoming event, or product pictures of an item that soon will be launched.
These posts should, of course, be done with care.
Without proper corporate permissions, you don't want to provide anything or create a competitive disadvantage.
However, if they are effectively done, social media previews and teaser postings may generate anticipation.
33. Provide Testimonies of Customers
We are all aware of the strength of consumer reviews.
But did you know that over 95% of customers check internet reviews before shopping?
Use your advantage in these openness statistics and build consumer reviews for your networks.
Feedback and reviews are probably already collected in an email or survey after purchase.
Filter this material and find brilliant testimonials.
Take into account the design of an attractive template and use this for all testimonials.
Again, before utilizing your review or identity in a social media post, receive consumer consent.
The photographs are twisting.
Instead of just presenting your goods in a photo or video, take a look inside your fans so they may not have anything else before purchasing it.
Unboxing videos are a common phrase for the notion seen across YouTube.
You may do them yourself or contact designers who have produced them for reposting with your items.
However, these postings may be as easy as uploading photographs of a few pages within a book cover.
From the #DanceDay to the #InternationalCoffeeDay, many days are great when new material is needed to fill your schedule!
Fun holidays are excellent for the time-shared content of your business, product/service, and industry.
For example, 'Parks & Recreation regularly highlight significant 'social media' occasions.
Such as the National Waffle Day, with relevant and amusing material.
In this way, people can learn something interesting also.
So they will spend some time on your content for sure.
Count it as one of the best content marketing ideas for social media.
While Facebook is not generally the greatest location to share important or compelling information, developing and publishing infographics can avoid this.
Take fascinating facts and transform them into visual information that is readily consumable and shared.
This is a great approach to enlighten clients in a way that isn't overwhelming about your product and industry.
Use this approach carefully so that your clients will be shocked or especially interested in facts you know.
As it is one of the beneficial content ideas for social media undoubtedly.
Has your firm done an intriguing recent study?
Tell your social media followers about your results.
Post statistics you found during your investigation or speak about the results of another person.
When you use this content type, you should have one thing in mind: you always quote your sources.
If you submit statistical information, pay credit to anybody who has carried out the research.
You deserve it, and your material will also be more believable.
Your viewers will know that you don't whip out thin-air figures.
Engage and ask for your views from your audience!
Open-ended questions (questions that cannot be answered by a simple "yes" or "no") can not only provide your audience with greater involvement.
But help your audience to comprehend better.
You may use stickers such as polls and questions from Instagram Stories to gain vital consumer feedback!
By using this sort of feedback from Instagram by asking followers questions.
You can then gather and convert the data into feed content.
Sounds Intelligent, right?!
Count it as one of the valuable content ideas for social media.
39. Introduce Your Team Members
Purchasing products online is, for many consumers, a daunting procedure.
People want to know who you are working with before you even consider visiting a showroom.
To help your staff introduce potential consumers, use your social media channels.
Take a great photo of your team members with textual information.
Which will be entertaining, and welcome to describe their position.
You may also take it one step further and create a video that enables employees to directly present themselves to prospective clients.
These postings should seem warm and accessible, rather than sluggish and hurriedly combined.
The aim is to familiarize your employees with the consumers.
40. Take Questions and Respond with Excitement
Consider it one of the powerful content ideas for social media marketing.
In social media, engagement is crucial, and a straightforward method to do this is to put an open-ended question to your followers.
Which is not replied with a yes or a no.
In a text post, you can post a question, but this will not be that enjoyable.
One approach to asking social media questions is to utilize the Instagram Question Sticker in Instagram Stories.
Some of the answers you receive in stories can then be shared.

Are you confused about how to find content ideas for social media in your hotel sector?
No worries, you will get all the ideas from here!
Need different social media content ideas for your small business?
Hurry up and click here to get your desired content ideas.
Struggling with how to find content ideas for social media for your business?
Here we added amazing content ideas for the social media of your business.
As a realtor struggling to create posts for your social media platforms?
Check this amazing content to get the best ideas!
Worries about content ideas of your niche?
Do not worry, as you'll learn how to find content ideas for social media from here easily.
Need some creative and unique content ideas for social media where church-related posts will be visible?
Click here to get all those exciting content ideas for your potential customers.
As a non-profit business owner thinking about how to find content ideas for social media?
No worries, only for you; we have added unique ideas, so do check this out!
To discover how to find content ideas for social media for your restaurant,
check our content and get the best result!
Are you fighting with your clothing brand content ideas?
You do not need to do it anymore, as you'll get all the answers about finding content ideas for social media.
Wrapping Up- Content Marketing Ideas for Social Media
In this idea guide, you have learned several concepts about content marketing ideas for social media.
These content marketing ideas are used by thriving companies and industry leaders for their social media sites.
The next time you feel like you're in a rut, you may pass the guide and select an idea that best suits your consumers.
Remember that in the case of social media platforms' the primary marketing tactic is creativity and presentation.
If you are artistic and can show it through your content ideas, you can quickly win the market.
Another thing, creativity lies in you.
So you do not need to follow only those ideas for your business's social media sites.
Instead, you can create your ideas for making your content.
Now, I'd like to hear the best marketing content ideas for your social media sites that you have used or using for your business.
Share your advertising and marketing ideas with us!
Learn more about our  Social Media Marketing Service & other services!
You May Also Like
If you think this post was exciting & you have gained some knowledge, don't keep this accomplishment only with you. Allow your friends & family to stay the same intellect as you. In short, sharing is caring!