20 Social Media Content Ideas for Photographers 2023

15

min read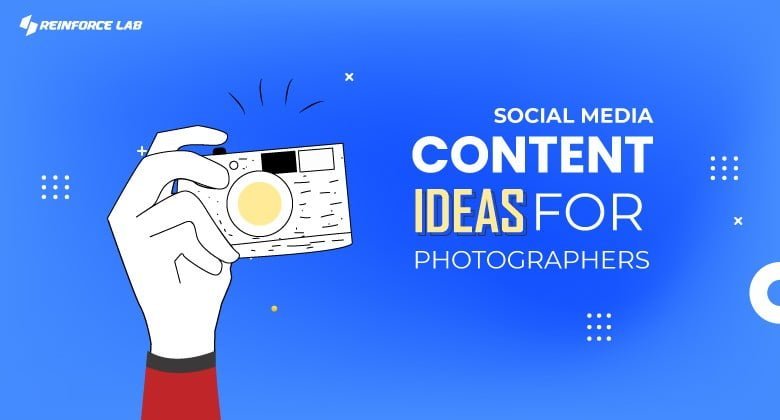 Social Media Content Ideas for Photographers can enable you to make social media platform posts faster and easier.
Quality content on photography work helps to inspire and connect to potential clients.
Social media for photographers is a fantastic tool to develop leads and link themselves with ideal clients.
Ever hear of the phrase, "Being a Photographer is 20% photography & 80% office work." [Modern Market]
And this is hundred times true!
So if you want to showcase your professional photography skill with a perfect social media presence, then you have come to the right place.
Here we will talk about the best 20 social media post ideas for photographers.
So let's start with our first topic, which is-
Why Need Social Media for Photography Business?
There are 5 fundamental reasons why you as a photographer have a significant part of your efforts in marketing social media content photography as Facebook, Twitter, and Instagram post contents:
Create credibility with prospects that you might not know or what you are doing.
Show new and existing customers authority.
Create trust with your prospects and build confidence.
Enter a reason for signing up, contacting, and revisiting the site.
Tell more than your latest pictures.
I hope you have got the ideas about the necessity of social media for the photography business. Now let's dive into our next important topic-
Social Media Strategy for Photographers
Before diving into social media plan for photographers, you need to create strategies.
And it will help you to get your goal established, so let's see the steps of creating. Social Media Strategy for Photographers-
Decide on the kind of account you want to build and stick with it
Adapt Your Strategy for Each Platform
Post only your best work
Schedule how often should you post images
Develop your own tacts before posting
We are done with our basics now let's get into our most awaited topic, which is-
20 Social Media Content Ideas for Photographers 2023
1. Have a High-quality Photograph to Start
As you are working on theme photography, so it is a must to start with high-quality photos.
High-grade beautiful images can easily attract your potential audience.
Also, it helps to make a good image of yourself as a photographer if you can use your clicks.
People would love to hear you more with these sorts of content ideas.
So if you are using social media for the photography business, this is a must-do point.
Remember to start your social media content photography with a high-quality photograph without any second thoughts.
2. Teach How to do something
As a professional photographer, you have enough knowledge.
Then why not share your ideas with others! Pass it to your audiences and see the charm.
People who are struggling to attain photography skills will become your fans in this way quickly.
Share something that people would love to learn.
It will be better if you can make videos on how to do something related to your field and share a sneak peek from your pages.
Trust me, these kinds of social media posts for photographers get huge responses than anything else!
3. Go for A Transformation Story
You can mention the clients with whom you worked who had a specific difficulty.
You should develop different materials with authorization around all of these instances.
Also, each part should preferably have a testimony from the customer highlighted.
You may blend testimonies with a significant change and overload them.
To get the best response, you might tell a narrative, for example – This father trembled a picture shoot from his family (With relevant pictures).
This way, people will quickly get how authentic and creative you are.
Also, how things are transformed by your hands can be interesting to be a part of your work, right?
So apply these fantastic social media post ideas for photographers for your business and see the magic!
Digital editing is one of the most challenging aspects nowadays.
Also, this is called the biggest challenge for any photographer. So distribute this challenging work to your audiences by creating before ad after photos.
At first, keep a raw picture and then the edited one with that. Make it easy for people to compare.
You can go for videos as well if you are comfortable with it. This way, you can provide a glimpse of your expertise to your social media people.
So do not forget to add this fantastic social media plan for photographers to your business profile!
5. List your Website URL on Every Post
Your website should be your virtual portfolio. From where people can quickly get an idea about your professionalism.
So make your website as attractive as possible.
Also, when you post something from your social media pages, give a link to your website.
You can play a trick here by uploading a few pictures from your pages.
You can add the caption that clicks on the website link to see the whole album.
This way, you will also get massive traffic on your website if you are doing quality work.
So try these uncommon social media post ideas for photographers for your business and get the best result!
6. Use Watermarks in your Photos to Protect Them
Do you ever want to see your hard-working is getting recognition but without the name of the photographer?
Never anyone wants it, and do not ever give the opportunity as well.
Use your business or personal watermarks with your photos, especially those that you share from social sites.
This way, if anyone shares your photos, at least you will get recognition.
So do not only focus on sharing high-quality photos but also concentrate on their protection.
Using a watermark also helps to get audiences as people can judge you with your photos.
With the company watermark, they can reach you as well.
So do not forget to apply these techniques as sensible social media content ideas for photographers.
You must be up to date with essential hashtags and current trend subjects if you wish to get involved in the social media culture.
It is a fast, easy, and entertaining way to go.
For this reason, your work should be done to match current events.
This may be an excellent method to bring your image before millions of brand new eyes.
For identifying messages on a specific subject, hashtags are employed.
To view additional pictures within this group, users may click on the hashtag.
This is how the public views your image.
Try conducting searches on Google often, explore feeds from social media and discover what's out there.
8. Be Active in the Relevant Online Communities
Being active in your photography-related communities can bring you the best results!
You can get the latest news or updates on your industry from these communities quickly.
Even you can find like-minded people from here who can help you a lot.
I mean, you can easily collaborate and bring something significant with their help, who knows!
Even you can get massive support for your work as they know how much struggle one photographer has to do for those.
So never miss an opportunity to be active in your relevant online communities.
They can also help you to promote your business.
9. Promote Positivity
Positivity brings the best things.
So your promotion should be positive.
This way, you can easily win hearts as nobody likes negativity.
Promote your works with its positive sites; even if anything negative happens, try to clarify it.
You can clarify with an explanation.
Even if anyone asks you in the comment section with an opposing view, respond politely to how you can show how humble you are, so try to be cheerful always!
10. Do not Spam!
Yes, I know as a photographer you have to click thousand times on the same subject. Hundreds of them can come out good, but does that mean you will share them all?
No way! Do not ever think of it!
Always choose the best 1-2 clicks of the same subject for sharing with your people.
People hate spamming.
So if you do that with your photos, no matter how perfect they are, people will unfollow you, no doubt! In case of wedding or birthday, you can increase the number of sharing photos but also do not make it soooo many!
Just do not spam; it can hamper your business, okay?
Have you got some fantastic testimonials after working for them?
If yes, then do not hesitate to do business on social media by sharing it with all!
With some simple editing, you can share your clients' testimonials from your social media sites.
This helps to get more target audiences.
As people believe more in experiences from experienced ones, so testimonials work here the best. S
haring clients' testimonials is one of the powerful social media post ideas for photographers.
So do not try to hide it within yourself, okay?
Want to itch your social media audiences with something new?
Then go for sharing sneak peeks of any of your upcoming projects.
Keep your audiences in suspense with some amazing seek peeks.
Also, do not forget to give them the reason to share your posts.
This way, people who do not even know you can become interested in what is coming on their way!
So constantly give some hints about your new plans or projects.
13. Offer Freebies on your website
Who does not like free things? Everyone does.
So use it as a technique to get the most traffic! Share freebies on your website and share them with some fantastic visuals from your social platforms.
You can share the editing tools that you used or found helpful as free resources and content.
This way, you can easily impress your audiences.
As they can comfortably rely on you for this sort of help.
So do not be a miser in sharing free resources; trust me, this idea helps a lot in social media for a photography business.
14. Use Calls to Action
Calls to action are used in business as part of a marketing strategy to get your target market to respond by taking action.
So when you post something, never miss adding a CTA button with that. In this way, audiences who want to take your services can reach you easily.
You can add 'send message' or 'call for booking' options as your call to action buttons.
This will save customers time as well as help them to get services as soon as possible.
So do not forget to use CTA with your posts!
As you are a professional you know better ways to book wedding photographers right?
Share away those ways with your audiences on a weekly or monthly basis.
If you are available let others know about it too!
You can mention your rivals here as well, or share in common Facebook groups.
In this way, you guys can collaborate on any mega projects, right?
So never hesitate to mention other professionals from your industry to get amazing results.
People love short and simple tips so impress them with this technique.
Share Tips to book a wedding photographer especially before the wedding season starts.
You can also repost this sort of content by updating it.
16. Make Videos on How to Look Best in Wedding Photos
Who doesn't want to look the best at their wedding?
So take it as an opportunity and start making videos on this unique topic.
As a photographer, you have already covered enough wedding programs I believe.
Start observing your clicks and see which looks are best and photogenic.
Find out tips after your research and share them with your audiences.
This sort of content is really very unique as social media content ideas for photographers.
People would love this, especially those who are getting married soon!
So do not miss this opportunity and start your research now.
17. Give Tips on What Camera is Best to Buy for Beginners
Beginners who are passionate about the photography sector can be your biggest fan if you follow this trick.
You know which camera can be the best for which level of photography.
So share about it with all, especially with beginners as content.
And how you will get to know the number of beginners following you?
First, create a poll with a short teaser so that to wanted to know about this kind of topic will surely respond.
This way it will be easy for you to get ideas about your target audiences.
You will then share your thoughts on this topic within the blog posts.
Trust me with these kinds of social media posts photographers get a huge level of response.
So do not miss this opportunity at all!
18. BTS: Post out of the Frame Content
You can share your BTS after posting your final photos.
Behind the scene helps to give the idea of the whole process of your works.
It also lets your clients know that you're a healthy company and determined to succeed.
Behind the scene, posts can clarify your struggles and authenticity as well.
So post often BTS, especially after a huge project.
This kind of social media content idea for photographers helps to generate more audiences so go for it!
Nowadays, cinematography has become trendy, especially in the case of weddings.
So when you made it share the sneak pick or trailer of your cinematography as a particular content.
This will create a thirst in your audiences to see the whole series.
Then you can ask your client to share the principal cinematography from their social sites.
And you will repost it from your pages.
This way, you will get too many responses.
As your client is also helping to promote you and if they promote it with any nice caption.
Do not forget to reply when you repost it.
This trick helps a lot to grow social media content ideas for photographers' businesses so go, for it now!
20. Provide your Package Details
Clients who are interested in working will want to know about the packages at first that you offers.
Save their time, share your package details before they knock you for that.
You can also include it with your photos.
Even if you are offering any discounts, mention it in your posts.
This way, if people are capable of affording packages, they will reach you easily.
Also, without much more struggle, you are getting your potential customers.
So apply this social media content plan for photographers to your business to get the best result from your unique social media post ideas for photographers!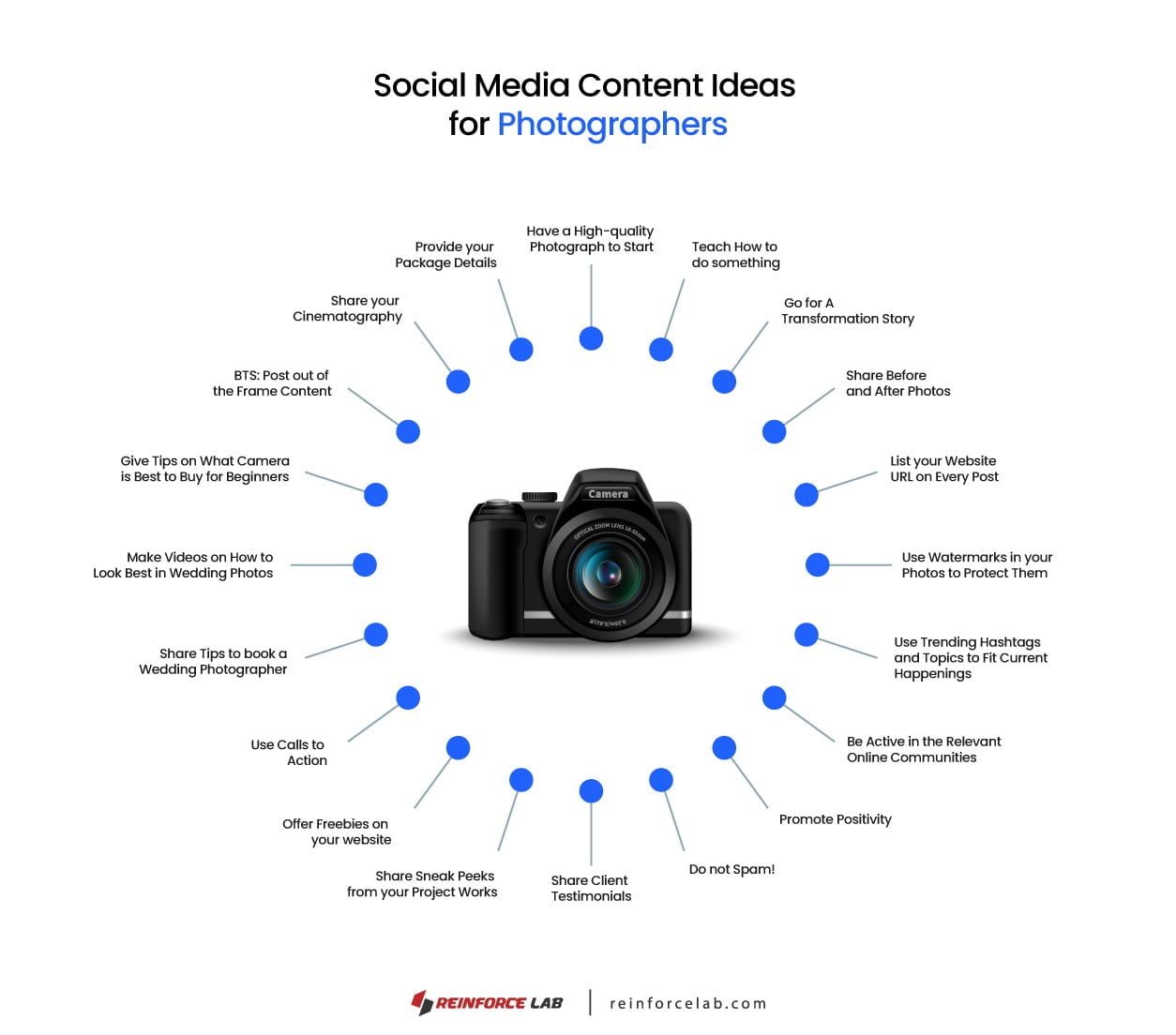 Tools for Photography Content Marketing on Social Media
You can use a scheduling tool for your social media. It will save you massive amounts of time and make your life significantly easier.
There are a lot of tools available for just this, and choosing the right one depends on your situation.
Facebook/Instagram do have their scheduling too you can use, which is called Creator Studio.
This does not have all of the fancy features some of the paid tools have However, it is an excellent option if you are on a budget.
If you opt for a paid scheduling tool, you will get extra things like a grid preview, helpful analytics, and scheduling for all platforms.
Including Pinterest and Twitter, even some of these will give you a 'link in bio' page as well.
These are helpful tools to have if you drive people to a range of different blogs and pages.
However, if you want to drive people to your website, Linktree is a popular tool that creates a simple page with all of your links.
Wrapping Up – Social Media Content Ideas for Photographers 
Revise those content ideas to create the perfect social media content for photography marketing.
By using these basic yet powerful suggestions, these social media content ideas for photographers, not just your present customers.
But other folks who could be seeking a new photographer will earn your confidence very easily from your social media post ideas for photographers.
Quickly inspire your readers to continue to return to the website and consequently obtain more traffic by creating these kinds of content.
Remember that photography agency owners' main marketing tactic is authenticity and creativity.
If you can spread your skills and show your authenticity, you can win the market quickly.
Another thing, creativity lies in you.
So you do not need to follow only those ideas for your photography industry.
Instead, you can create your own social media content ideas.
Now, I'd like to hear the best social media content marketing ideas you used or used for your business.
Do you have any other ideas about; how to promote a hotel on social media?
Please share your thoughts with us!! Read more from our blog.
You May Also Like:
Don't keep this accomplishment only with you if you think this post was exciting and have gained some knowledge. Allow your friends & family to stay intelligent as you. In short, sharing is caring!