Church Marketing Strategies: How To Market a Church 2023

11

min read
Are you looking for Church marketing strategies to do your digital marketing for churches by knowing how to market a Church?
Then you are at the right place for sure!
Church digital marketing will ensure a quality audience for your Church.
Church Marketing is a method that allows leaders of ministries to focus on their people and build a solid community.
In this era of digital marketing how to market a church / how to market your church is a challenging question undoubtedly.
So you can guess that as effective marketing materials church marketing is not that new to all nowadays.
If you are struggling to make church marketing strategies for your church how have come to the right place.
Here we will discuss 10 amazing free marketing ideas for churches that are easily applicable strategies for your church marketing.
So let's get started with-
Why are Church Marketing Strategies Needed?
There is a decrease or plateau in membership in over 80% of churches. (Church Answers)
The ministry does not only focus on fostering your current members' faith.
It will also assist to look for the unseen and finding the road to Christ.
But if they don't know where you are, how can they locate you?
It is frequently not sufficient to have a structure to collect and worship in today's world.
In which schedules and attention are maxed out.
You might share the Gospel with your Community.
When you send a postcard, send a sign, send out your members with inviting cards or door hangers, or publish on social media.
You have seeds of optimism that can come to maturity sometime when new church members are at work.
Ultimately you seed seeds of hope which may be born one day if new members are committed to Christ in your church.
For all these reasons church marketing strategies are pretty much important.
And for successful marketing, creating suitable strategies is a must!
Now let's get into our next important topic which is-
How to Market Your Church?
Marketing a church is not an easy thing but not impossible as well.
If you can do things in a systematic way you can do them easily.
I have added 8 major points on how to market your church with your almost free marketing ideas for churches.
In case you are confused what are the necessary steps to follow then follow these 8 steps to get a better result.
Build a marketing team
Set goals
Define your audience
Set a budget
Establish a brand identity
Craft your message
Identify distribution channels
Monitor and evaluate the results
So we are done with our basics now let's dive into our most awaited topic which is-
Church Marketing Strategies: How To Market a Church 2023
01. Go for Live Streaming: Digital Marketing for Churches
You may utilize living streams of services, even if they cannot attend a service in person, to keep individuals within the community engaged.
It can also attract new visitors to see your offerings and determine whether your community is the perfect one for them.
Social media platforms are used to move your live video to new followers and viewers.
Beyond your existing network via live streaming on your website, Youtube, or "live" on Facebook or other social media sites.
This allows you to gather additional exposure without effort and to expand your follow-up.
Video is first an unbelievably popular type of material, but it has added value as a marketing tool for churches.
So do not miss this amazing strategy of Church digital marketing to get the best returns.
02. Take your Sermons Forever!
In marketing your church, the most typical error is failing to copy sermons.
No video or audio is meant for search engines.
The transcription services make it easy to find your sermons and can boost your Google ranking too!
In this respect, a strong rating will bring more traffic to your website.
Which will improve the chances of new potential members is reached.
So if you are tensed about how to market your church for growth then this can be the best possible idea for marketing your church.
Furthermore, transcripts of the sermons enable individuals to access information on their smartphones or tablets from anywhere.
Sharing this type of strategy of Church digital marketing can lead to more traffic than you can even imagine!
Obviously, you and your team are giving the best effort to make your content acceptable to your followers right?
Then do not forget to make your content shareable as free marketing ideas for churches.
In the case of shareable content, you have to plan something that people can relate to them.
You can share some optimistic Bible verses and add a question with them if they believe it or not.
They would love to comment there and share with others as well these amazing church marketing ideas for marketing your church.
So try to follow this simple but effective marketing strategy for your church and see the result.
Surely the result will surprise you!
04. Create a Website: Digital Marketing for Churches
The heart of the internet presence is a website for the churches.
A website also allows potential new members to learn more about you and to determine if your church is appropriate for them or not.
Create an appealing homepage at first to greet your website visitors.
Add a section on us that describes what your church is doing and why.
If you include a calendar page as marketing materials with your service times and future activities, it is ideal.
Keep your blog for articles or to communicate your church's newest news.
Most essential, the address and telephone number on your contact page
There are several systems such as WordPress, Squarespace, and Wix that can help you construct a professional website quickly.
05. Develop Invite Cards for Church Events
Chruch means full of various events.
Christmas eve, Easter eve, and new year's brink all are really colorful events for any church attendees.
Then why not make invitations for these events eventful as well?
If you want to get the answer to how to market your church for growth then this can help a lot.
Create some virtual invitation cards for your audiences to give them the good news in the best way.
Give the details of worship times and all and share away.
This kind of card can attract people easily so they would love to follow your page to see interesting content.
In fact, they would like to join your church program as well.
So use these amazing digital marketing for churches to reach more people
06. Add a Donation Form to your Website
You can set up an online contribution form if you and your church administration wish.
You are probably left at the table if your church is not a simple way for guests to make an online contribution.
Take a contribution plan, where a brand donation form may be created, recurrent gifts will be accepted.
And donations are made in honor or in remembrance of the person adored.
Some ceremonies enable donors to select which church initiative will benefit their contribution.
This might help you collect money to increase your marketing efforts, particularly for a community event.
For example, generate cash for to festival or carnival at your yearly church.
So use this striking strategy of digital marketing for churches and trust me your church can be different than any others!
You must determine events to accomplish your goal as an obedient member of the church.
Events are an excellent chance for your community to engage beyond your Sunday preaching.
They assist people to connect with you, understand, and engage in your church.
So make a list of upcoming occasions that your church celebrates for promoting events.
Discuss with others too if they can add more events that you are not aware of.
Then share the list of good news with your audiences as visuals as one of the best church marketing ideas.
People love lists and when they saw something like this they can catch it quickly.
So undoubtedly they can make time to attend their suitable programs after promoting events.
And surely you can get the best result with this amazing strategy of digital marketing for churches.
08. Count Down To A Special Event
Who can not be excited about any big church events like Christmas or Easter?
Each and every church members are!
So make them more involved in your posts by creating count-down content.
You can add a GIF or short video clip where it will mention the days remaining for that awaited event.
Sounds interesting right?
Do not be late and start thinking about what content you can add regarding this.
And yes keep this type of content shareable obviously as it is one of the best strategies of digital marketing for churches.
09. Lead your Community to Help a Cause
Churches are hubs in the community and offer community-oriented events.
Find a cause to help the local community.
It can be helping veterans, and spend a party at your park to encourage people to tour, have a barbecue, and support this cause.
You might also volunteer to host a communal car park and collect contribution cash in your parking lot.
This appealed to those who wanted to both sell and buy, and both of them were prospective church owners.
This way your church is getting recognition as well.
So apply these compact and simplistic church marketing ideas and establish your church as the best one!
10. Enhance the Brand of your Church
There is an erroneous and omnipresent idea that everyone's in the church.
Every church has its own personality, similar to each one of us.
A church draws those who want to receive the gospel in a particular and comfortable atmosphere.
Which conforms to their belief systems.
Installation should be made easy and promote who they are, what they believe, and what makes them distinctive.
Rather than try to appeal to everybody.
This way people from other areas can define your church as a brand.
So present your church as the best brand and enhance the brand of your church by relevant posting strategies.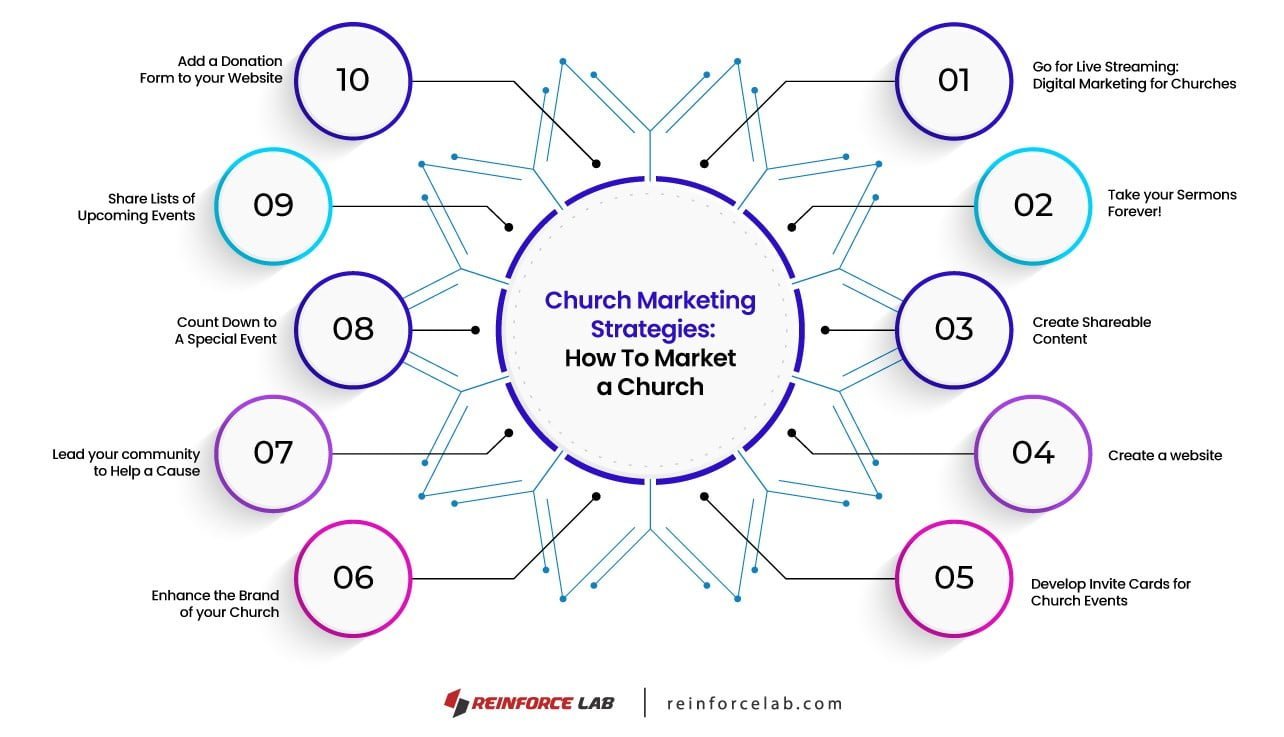 I know you have got enough marketing ideas for your Chuch but there's still some left for you!
So let's get to know about something that you may need –
How to Create Social Media Strategy for Your Church Marketing Plan
A perfect Church social media strategy can help you to stand out from your others and make your church marketing plan more effective.
Also can make your church event promotion plan easier than you can even imagine.
Especially church leaders can follow social media strategy for churches for promoting events on time with proper worship service.
Even when Church needs new recruits like church leaders or worship service providers,
they can post the job descriptions by following the readymade Church social media strategy from their different social media accounts.
From your Instagram or Facebook pages, you can easily get more and more target audiences to make your church marketing plan successful.
So here I'm giving 9 steps so that you can a perfect Church social media strategy for churches marketing plan –
Set Social Media Objectives.
Use a variety of the Church's social media accounts
Current situation of the Church's social media accounts
Set up and maintain a unified presence on social media platforms.
Inquire into the Churches of Others
Develop an appropriate church event promotion plan
Utilize Google Ads Available
Take Your Marketing to the Next Level
Analyze and Adjust. Repeat.
An ideal social media plan for Church can help to get you church marketing solutions most suitably.
So try to focus on Church's online marketing plan before you are ready to apply all your ideas.
How to Market your Church for Growth with Church Marketing Strategies?
Here I'm giving you some pro tips that can easier your marketing for churches and ministries.
So here we go!
Post Daily
Utilize Content Categories
Serve People
Tell Stories
Proactively Engage
Optimize Your Bio
Build a Team
Wrapping Up – Church Marketing Strategies: How To Market a Church



Revise those strategies to create the perfect content for your church marketing using these basic yet powerful suggestions,
With these church marketing strategies, not just your present followers will be impressed but others will be as well!
You can inspire your readers to continue to return to your website and consequently obtain more traffic with all these valuable church marketing ideas.
Another thing, creativity lies in you.
So you do not need to follow only those strategies for your church marketing.
Instead, you can create your own ideas regarding marketing for churches.
Now, I'd like to hear the best Christian church marketing strategies that you have used or using.
Do you have any other ideas about how to market a church with proper marketing services for church?
Share your ideas with us!
In case you are looking for any Church marketing companies to fulfill your parish marketing plan you can visit – Reinforce Lab
Read more from our blog.
You May Also Like:
If you think this post was interesting & you have gained some knowledge don't keep this accomplishment only with you. Allow your friends & family to keep the same intellect as you. In short, sharing is caring!
Maxilin Catherine Gomes is an undergraduate business student who enjoys experimenting with the world of marketing via her proficiency in SEO. She doesn't have to put in any additional work to conduct relevant topic research, analyze traffic and search rankings, or discover the most popular visited websites for her articles since she enjoys doing so. She has spent the past decade devouring thrillers, romances, and detective books. For her, the best thing to do is to learn something new. She believes that everything in the world works together to help you reach your goals.