20 Content Marketing Ideas for Restaurants 2023

24

min read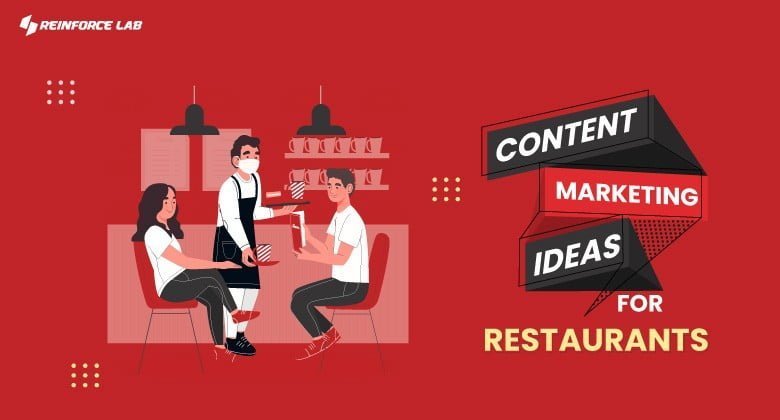 Content Marketing Ideas for Restaurants means being visible online to retain popularity.
At the same time, it also helps to attract new consumers with some unique concepts regarding specific restaurants.
Creative marketing ideas for restaurants may create so many chances for the industry to entertain and drag users.
As well as make a stronger connection, and all these are leading to more significant business.
86% of millennials try a new restaurant after seeing food-related content online. (Content Makreting Institute)
So your content marketing ideas for restaurants' efforts can give you a significant result.
If you can create quality content for your business.
If you are new in this industry or want to work in this sector, no worries!
We made the 20 best restaurant marketing ideas for you to pull your potential customers simply to your business.
Now let's start with-
How To Market A Restaurant
To fulfill your marketing plans for restaurants you need to know how to market the restaurant so here are the steps –
Research, Your Customers
Create A Brand Persona
Create A Unique Selling Proposition
Create or Recreate Your Brand
Choose Your Marketing Platforms
Set Goals and Budget
Start Marketing
Evaluate and Improve
If you can follow these steps correctly, we believe as restaurant owners; you will get enough good results to grow.
Now let's dive into another crucial fact which is-
Why is Content Marketing Important for Restaurants?
1. Marketing content is cheaper than other marketing practices
Content for restaurant marketing plans is relatively affordable.
It is pretty inexpensive to distribute material through your blog and social networks.
All you need is time, creativity, and good writing abilities.
Using this material via inexpensive best restaurant advertising paths such as retargeting may make your content more valuable.
And it is possible to even without breaking the budget.
2. Allows your company to connect to customers genuinely
Creative marketing ideas for restaurants take effort to seek and adapt your services.
To solve the difficulties faced by your clients.
You may engage with them and communicate the ongoing process by local SEO optimization.
Via your e-mails, blog, and social channels, and make sure you listen to your brand.
3. An excellent way for communications, entertainment, and altitude
Increasingly flexible content for restaurant ads offers the chance to communicate often and creatively.
In their everyday lives, it's about being a supporting force.
You may publish updates about your business and neighborhood
Using the multiple flexibilities of social media produces films about what happens behind the scenes.
In a word, whatever lines your brand and get your consumers enthusiastic about your providing
4. It can support the promotion strategy for restaurant of your new services.
Regardless of your method, your content for restaurant marketing allows you to explain your reasoning and thoughts.
This is the ideal opportunity to make them feel entrusted to your continuous endeavors.
And the emotional connection might be even more important than customer pleasure.
In this way, you can easily promote your new services to the audience.
5. Distinguish yourself from competitors
Your business needs to separate from rivals in the competitive digital marketplace.
This is why content for restaurant ads marketing is so important.
Content marketing is an efficient approach for companies to distinguish themselves from other companies in the sector.
And show your company what makes it exceptional!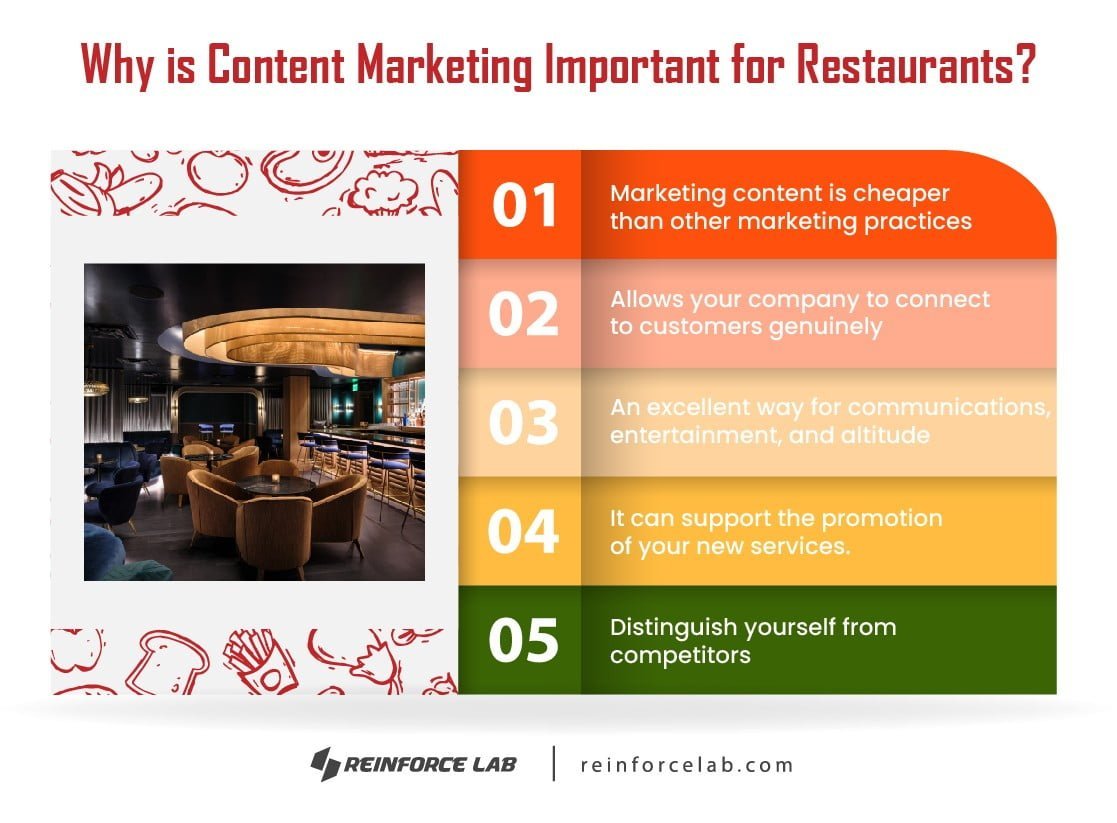 Can you feel now why content marketing is essential for your business?
Definitely, you can!
So now let's see the facts of your target audience for choosing your restaurant-
How People Choose a Restaurant-
Traditionally, five things influence a person's decision when picking a new restaurant to try out.
Those things in no particular order are:
Word of Mouth
Adds/Promotions
Location
Internet Search
Food Quality
I hope you got all the basic ideas for running a restaurant business well!
Now let's get to know about something interesting that may astonish you –
Ways to Use Local SEO to Increase the Numbers of Visit Your Restaurant 
Here I'm adding 7 ways to use local SEO for using the best restaurant marketing tools to increase your customer base.
Define Your Local SEO and Content Marketing Strategies
Local SEO should be optimized for the website and its content.
Utilization of Google Places and Local Google +
Use Social Media to Interact with Customers
Concentrate on High Quality Conversions
Maintain Your Restaurant's Visibility in Search Results
Make use of online citations.
Now get dip into the most wanted part of the content which is, how to market a restaurant with-
20 Content Marketing Ideas for Restaurants 2023
We divided ideas into two parts.
Online ideas for restaurants
Traditional ideas for restaurants.
So let's get started with-
10 Best Restaurant Marketing Ideas Online
Here I have added 10 high quality ideas that you can apply online easily to be on potential customers' mobile devices!
1. Make Mouth Water with Pictures
New York only achieves a 13% booking bump by publishing excellent food photos, increasing sales by 93,436 dollars! (GloriaFood)
And in this way, the primary fast food brands do their marketing.
A picture of a delicious dish gets written in the brain more quickly as words can.
It usually triggers all the centers of pleasure in the brain.
Then why not people will try it?
Surprisingly this is the most appropriate content for restaurant ads marketing.
You will probably have some excellent meals on your menu.
Picture them and publish them on your website, and readers will indeed decide to dine on the spot with you.
And this idea will surely give you a high quality result without any doubt!
As it is one of the most powerful content ideas for restaurants.
2. Create Cooking Lesson Videos
You can consider it the most unique restaurant content marketing example as well as one of the powerful restaurant marketing tools.
While cooking instruction in-house is an excellent promotional technique for restaurants.
You develop a group of supporters each time you upload a new video online when making online cooking videos.
So start making cookery lessons with your best chefs and go viral!
As people just love this sort of authentic and exciting content a lot.
Try to go for local SEO optimization to be available on customers' mobile devices or search results.
And get more online orders and increase the number of visit your restaurant.
3. Blog About Foods
Blogging frequently can increase your lead generation by 89% which ultimately increases the number of visit your restaurant. (Neil Patel)
And it is the most commonly used content marketing idea for restaurants.
The blog post is a strong generator of sales, and you create leads when you start blogging.
If you nurture them, it turns into customers.
This is one of the most effective local marketing ideas for restaurants.
Also a really effective idea of applying your online marketing for restaurants.
For this, you must explore your industry, grasp restaurant trends, and make available online orders option.
In case you want your content relating to fast food to be read, shared, and help clients make purchasing decisions.
Remember to be authentic and original in spite of caring about all negative reviews.
And it is the most effective restaurant marketing ever!
Try to maintain a user-friendly high quality blog design that can be loaded on mobile devices or else focus on user-generated content.
It should be easy for visitors to remark and by local SEO from their mobile devices.
They can follow you straight from your restaurant blog on social networks.
And obviously, share your high quality material to increase the number of visit your restaurant.
Finally, go farther than posting; market it aggressively on social media networks after publishing your helpful material.
4. Engage Local Food Bloggers
On Facebook, Twitter, and Instagram, most of these local food bloggers have established quite considerable support.
They can strengthen your marketing efforts and lead more consumers to your business.
In this internet-driven age, local food bloggers will grasp what you attempt by creating videos to achieve so that they will aid you everywhere.
So how can you get local food bloggers involved?
Well, you may encourage them to tell your website audience about their cooking techniques.
Through this, your local SEO optimization can be done automatically.
Even a few local food bloggers can be hosting an event as keynote speakers in your restaurant.
Which will help you to visit your restaurant more as well as the number of online orders.
Influencer content is one kind of user generated content which people mostly take positively.
And if you take online orders after those bloggers with discounts then trust me you'll be in their search results for sure.
This is the most exciting idea of content marketing for restaurants to get more leads in your local SEO optimization.
Especially for those who use mobile devices for online orders with online advertising.
5. Ensure A Delivery Partner
You have to start establishing a relationship with high quality delivery providers.
As it is one of the strong restaurant marketing tools.
If you want to take orders online from all across the country.
These delivery services might help you reach customers with your items from even search results.
Distance isn't a barrier anymore!
If you wish to concentrate on delivery in your area or surroundings.
Customers often get too busy to go to the restaurant.
Or perhaps a famous person who does not want to find them at your restaurant.
But if you can provide good food to them that can be easily loaded to their mobile devices, they will enjoy it and command more.
Believe it or not but it is undoubtedly a compelling content marketing idea for restaurants.
Which will ultimately lead your restaurant to get more online orders and reservations.
6. Offer Discount & Exclusive Deals
Who does not like to get things at discounts?
Everybody does!
So give your customers this chance to become happiest.
Discount coupons are powerful engagement drivers.
Socially Stacked stated that 42% of customers prefer a coupon code when ordering a product.
Even they love to make content based on any offer or discount which any restaurant can use as user generated content.
You can give free delivery services on any special events or can offer any sort of special deals for your regular customers.
To give them better customer service on any type of special event.
By adding the recent discount offers on the home page of restaurant websites.
Whatever you do make sure that your offer is friendly to mobile devices so that people can find you out easily.
It depends on you but remembers that idea has to increase your brand value and keep the restaurant on search results.
Otherwise, there is no use for it even for online orders with your online advertising.
So go for the best deals your turn your business more prominent and extensive.
7. Establish Email Marketing & Text Marketing Campaign
The greatest investment return from all digital marketing techniques is e-mail marketing.
CampaignMonitor.com states for every $1 spent, it generates $38 in revenue.
The trick is not to send email newsletters to them, not press them, and give them a reason to read.
If you've got a bit more clients "old-styled," you probably still go for the text marketing campaign.
In case you register for your unique SMS offers, you might offer your clients a modest incentive.
You offer your SMS subscribers bargains every week, and you drive consumers back through your doors.
One of the most excellent strategies is to obtain your semi-regular and minimal investment clients and cash flows.
So go for the most efficient content marketing ideas for restaurants without any doubt to increase the number of visit your restaurant!
Customers are the long-term assets of any restaurant business.
So retain them by creating content with this unique trick.
As best restaurant social media campaigns happen this way more often.
Share your present customer's experiences as user generated content through your site or social media platforms.
Use proper hashtags to get the most reach and see the magic!
People love authenticity, and when they see others enjoying your services, they will try it for sure.
Consumers on average spend 5.4 hours per day with user generated content.
So sharing customers' experiences from their sites can to your as user generated content can take your business to another level up.
Ultimately this will grow the number of visit your restaurant.
9. Use Restaurant Tool for Online Booking
The restaurant online reservation tool is a system to handle your orders.
Statistics revealed that over 16,000 restaurants use their customers' online bookings service, particularly in the US. (BBC News)
A guest can reserve a dining room with this tool.
The technology is also used to control traffic, reward consumers, and promote restaurant brand awareness.
And most importantly, encourage people to submit reviews but not negative reviews.
This online booking tool provides all the information clients need.
To make educated purchasing decisions even from their mobile devices.
Especially for special events try to give them better customer service with this idea.
In short, it can enhance the earnings of your restaurant
Then why wait?
Just go for the stablest content marketing concepts for restaurants.
10. Get Your Google My Business Listing Right
Create your account with Google+
What about Google's Google+ if you are already active on Facebook, Twitter, LinkedIn, and Instagram?
Google+ is no other than a social network.
However, having a Google+ account does not imply your local company website is #1.
But if you build your links and add more individuals to your circles, more people will go to your restaurant online or offline.
You gain from Google+ with over 25 million users which enable you to be on search results easily.
You can also go for google my business and google ads to reach more audiences with your restaurant business.
Do not waste time by thinking about what will work.
Just start to work on these marketing ideas and see the magic!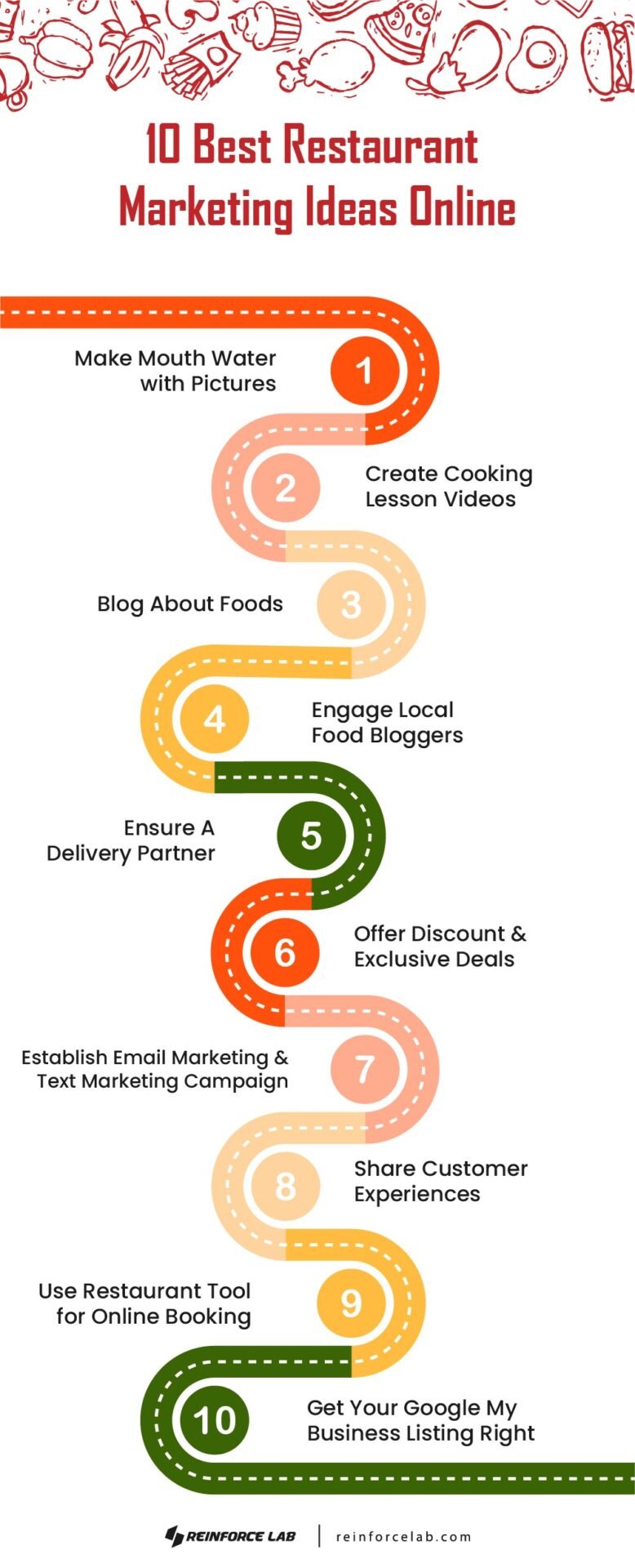 We are done with our 10 best online marketing ideas for restaurants.
Now let's see-
10 Best Offline Marketing Ideas for Restaurants



11. Use A Social WiFi System
This is one of the practical restaurant marketing ideas.
WiFi marketing and analytics are some of the fastest-growing marketing tactics in the restaurant business.
WiFi marketing should be the top priority when determining how you promote a restaurant.
With your current WiFi connection points,
every guest who enters your business with an intelligent device may feel the platform.
This is a massive proportion of your clients.
A complete customer profile with customer data will be established if you log into your WiFi.
And you can also use their information for promotional purposes.
So go and apply the best restaurant marketing plans to get more customers now!
12. Provide Food Truck Services
Go out for your customers instead of waiting for them.
Start to provide the service of fast food trucks.
Your restaurant is mobile and multifaceted with a food truck.
Perhaps you are in a heated competitive location, and this is the only way to move beyond restrictions.
This will also promote your business and reinforce your consumer brand.
Most importantly, the relationship might one day be excellent.
Such that they will come and look for you if you do not go seeking them.
Isn't it wonderful?
So do not sit back, care about negative reviews, and blame the economy, at your restaurant.
Stand up and reach out now with unique restaurant marketing ideas.
13. Hire a Guest Chef and Introduce
You're likely to know a few good cooks around the city.
Why not add one to the advertising of your restaurant?
And you may switch chefs with another restaurant.
So you can quickly double your audience by promoting it across the boards.
Bonus points if you can obtain a chef with an online demonstration.
It is one of the best restaurant strategies to attract customers easily.
So start researching for the best cook to apply the best restaurants' marketing ideas.
14. Pop-up Somewhere Unexpected
Craft, food, and music festivals are all beautiful venues where a tiny pop-up restaurant is available.
This is excellent marketing for restaurants because it is just a short-term expenditure.
Also, you get a whole new audience to taste your cuisine.
In this way, you can get so many customers who can be your regular ones after getting your service.
And if your services are good enough, they will indeed suggest others to try it.
This can help your business to grow more prominent than others.
So search for the events near you and pop up there unexpectedly.
15. Sell Your Ingredients
You are selling food in your restaurant.
But what about selling ingredients that you used to make your foods?
You can also sell them to your customers.
As you buy ingredients in a vast amount, selling them on a retail basis can undoubtedly help you make more profits.
And if your ingredients are good in quality, then your customers will trust your food more and more.
So start selling your ingredients as well.
Put some care into the way your menu items are written, and your sales will increase for sure.
16. Challenge Customers to Eat-off
Challenge your customers and share this on social sites regularly.
This kind of post gets the most view as people love to try and share this sort of content.
Also, in this way, more customers will come to your restaurant to crack this challenge.
If they won, they would share it with others about their victory, and more people would become interested.
This is one of the best ways to promote your restaurant business.
Even you can use this idea as user generated content that you can promote as an authentic one.
Do not forget to maintain good quality in your food items obviously and challenge all!
17. Arrange Loyalty Rewards
Starbucks' loyalty program enables its consumers to pay customizable benefits.
Restaurant loyalty programs may promote repeated sales if done correctly.
Many consumers used to look for points and free meals.
A loyalty program may succeed in many ways, such as just how easy it can be used, has a digital option is comprehensive, and can be supported throughout all accessible channels or through your referral network?
Loyalty award programs can boost your efforts in marketing and sales as well as making a perfect customer base.
Consider it as a unique restaurant promotion idea as it will help you a lot to be on search results with your restaurant.
You may attract new clients simply if the incentives are tailored and effective.
18. Make Your Menu Easy (Really Easy) to Read
Your menu is one kind of identity of your restaurant.
Keep your menu short and simple, most importantly easy to read.
So that people can order it with complete understanding.
In this way, if they got any budget issues, they can at least memorize your menu quickly.
Most importantly, they can come back another day to try it.
19. Do not Offer water
Okay, we're not talking about you being able to provide water!
Just don't set it down on the table automatically.
If your consumers notice more beverages on the menu, they will spend much more on it.
Just like that, at each table, you have made labor cost a profit.
So try your best selling beverages instead of water to get what you know, right?
What are in common with your restaurant ads and business?
Tables, seats, and WiFi seem quite like the right thing?
So why not use your restaurant as a shared workplace if you are not working during the day?
It is both innovative and lucrative in terms of fast food promotion concepts.
Indeed, in 2023 individuals using co-working spaces in the United States will rise to more than 5.1 million. (SmallBizGenius)
You only have to turn on the lights and supply WiFi and make money when you don't eat.
We are done with our best 20 online and offline marketing ideas for restaurants.
And I hope these ideas will help you to grow!
Now let's see some out of syllabus topics as a restaurant owner that you need to know-
Best Effective Restaurant Strategies to Attract Customers-
Content marketing strategy mainly plays a vital role in attracting customers through online platforms.
But good marketing ideas can take your business to another level.
Here adding some strategies to make more audience your restaurant fan with both online and offline ideas.
Promote special offers like LTOs
Limited time offers (LTO), as they are exceptional, are a systematic strategy to draw the attention of loyal customers.
If one day a week you decide to offer free meals, you build it up as something so singular
that crowds can draw on that day, and new customers desire to try it.
Leverage off-peak hours
During the time gap between peak hours, it might be challenging to develop new earning methods.
One method to maintain business stability is variable pricing that fits your declining demand.
In tiny, joyful hours, children can enjoy free food and live entertainment in idle periods.
Consider giving a unique, discounted menu item, only accessible at the slowest periods of your business, to take the trend.
Send Birthday E-mails
This is a beautiful chance to bring more guests to your business.
Send your customers an e-mail with a free offer during their birthday.
It's a great local marketing strategy to remind you of your restaurant and even invite your friends who never tasted cuisine.
Leave Smart Flyers
A tiny, targeted flyer with an introductory message and promotion strategy for restaurant is a "smart flyer" to attract more people to your business.
Make sure you have a minimum of a month to make certain people find the time to use it.
It's up to you what you give.
Professionalize your restaurant strategy with a clever flayer idea, and you'll realize the advantages.
Be Visible on Social Media
Social media are one of restaurant owners' most potent marketing tools since your consumers hang out.
When you consider where to dine, your restaurant must be on your consumers' minds.
Social media allow you to talk to your consumers and bring them to your business.
Pretty simple strategies, right?
But trust me, these are effective if you can follow them correctly.
Now let's see some other trendy strategies that can take your business another level up!
Local Marketing Strategy for Restaurants During Pandemic
Optimize the menu
Restaurants have to seek new ways of generating income in a very local dining industry.
Optimizing menus nowadays is one approach to meet the customer's demands better.
Accessible technology solutions like Agnoris may enable restaurants to determine
which menu modifications affect most delivery quantities and profitability.
In most cases, the best restaurant marketing campaigns happen this way.
Stay tuned to what clients want, but do not be afraid to innovate in delivering and presenting your food items.
Optimize inventory
On the balance sheet of any restaurant, food costs may be the most expensive variable costs.
Therefore food costs must be lowered wherever feasible –
whether by discounting suppliers' large orders or focusing on cheaper goods.
Taking is easy: it's just not enough to utilize the same menu, methods, or ingredients that worked for the dinner
and expect it to be carried out in a society that focuses on the taking and delivery.
Focus on social media branding
As individuals spend their time online today, social media is the best way to reach restaurants and bring new businesses.
An additional advantage is the free presence of social media, and the entire task for users is
to build up and engage with a community with accurate and relevant material.
Social media platforms like Buffer, Later, or Hootsuite assist evaluate high-performance hashtags.
At the same time, enable users to pre-program content.
So focus on social media branding to get more potential customers.
Communicate takeout or delivery solutions effectively
"Restaurants near me" have been the most common search for "near me" for the previous five years.
However, consumers' behavior has altered, with interest in "food supply" questions.
Especially in the previous three weeks increased by 100%.
Information about your alternative dining alternatives helps clients and staff.
To stay safe during suggested periods of social separation.
Solutions such as local campaigns might help you adapt your message to include places where dine-outs are available.
Reassure strict restaurant safety and sanitation measures
The customers must be reassured that they recognize safety issues and take essential efforts to deal with the current situation.
The last thing you want to worry about is food alternatives during this challenging time.
You help you remember and appreciate by easing these worries
with appropriate communication and safe, easy decisions.
If you want to get more ideas for the distinct business sector, you can go for-.
35 Creative Content Marketing Ideas 2023
If you're struggling to find out the most recent creative content marketing ideas, this article will assist you a lot.
16 Content Marketing Ideas for Small Business
If you're a small business owner struggling to find content marketing ideas, this article will assist you a lot.
10 Content Marketing Ideas for Healthcare
Website and content marketing is a tricky thing for most healthcare businesses.
So, put your website and content marketing to work with some easy tips from here!
20 Best Content Ideas for Real State
Do you need content marketing ideas for real estate investors
to drive traffic to your business's website and get you more leads?
Don't worry; we only made this list of content marketing ideas for your solution!
Best Content Marketing Ideas for B2B (Business to Business)
If you're in the B2B world, you may be wondering how you should market your content in such a way
that will appeal to potential customers.
Here is another valuable piece of content for your business to stand out among the crowd with some creative ideas.
Best Content Ideas for Social Media
Are you struggling to think of ideas for your next post on social media?
Creating content for your social channels doesn't have to be complicated –
Here, we're with this content to take your business another level up!
Wrapping Up – Content Marketing Ideas for Restaurants 
Revise those ideas to create the perfect content for restaurant marketing strategy examples using these basic yet powerful suggestions.
With these marketing concepts, not just your present customers but other folks who could be seeking a new restaurant will earn your confidence very quickly.
Even as a local business owner you will get the best responses than you can even imagine.
You can get the best result by following those offline restaurant marketing ideas and trends, no doubt!
Also, you can inspire your readers to continue returning to your website and obtain more traffic
by creating this valuable content.
Remember that restaurant owners' main marketing tactic is word of mouth.
If you can spread the word and show your authenticity,
you can easily win the restaurant market.
Another thing, creativity lies in you.
So you do not need to follow only those ideas for your restaurant industry.
Instead, you can create your restaurant marketing services plan.
Now, I would like to hear the unique restaurant marketing ideas you have used or used for your business.
Please share your ideas with us!
Key Takeaways for Restaurant Marketing Strategy Examples: 
Make Mouth Water with Pictures
Create Cooking Lesson Videos
Blog About Foods
Engage Local Food Bloggers
Ensure A Delivery Partner
Offer Discount & Exclusive Deals
Establish Email & Text Marketing Campaign
Share Customer Experiences
Use Restaurant Tool for Online Booking
Get Your Google My Business Listing Right
Use A Social WiFi System
Provide Food Truck Services
Hire Guest Chef and Introduce
Pop-up Somewhere Unexpected
Sell Your Ingredients
Challenge Customers to Eat-off
Arrange Loyalty Rewards
Make Your Menu Easy (Really Easy) to Read
Do not Offer water
Use as Shared Office Space
You May Also Like:
If you think this post was exciting & you have gained some knowledge, don't keep this accomplishment only with you. Allow your friends & family to stay the same intellect as you. In short, sharing is caring!