10 Best Blog Promotion Ideas to Promote Your Blog Flawlessly 2023

16

min read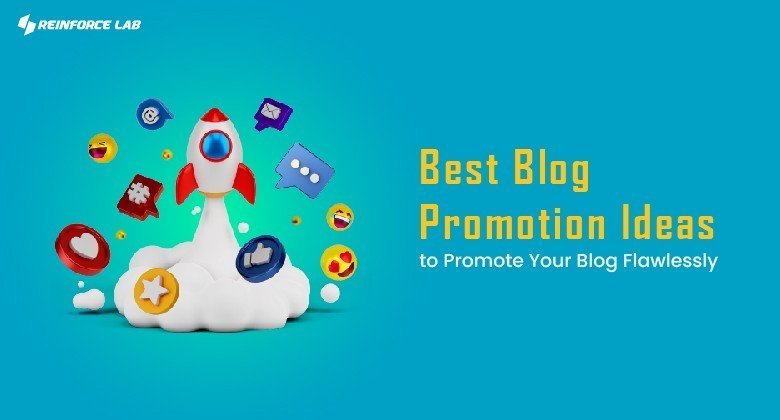 Blog promotion has now become a crucial part for every marketer as businesses are now applying various Content Promotion Strategies to compete in the digital world.
Marketers who prioritize blogging are 13x more likely to have a positive ROI on their efforts.
So it is important to promote your blog in order to drive traffic to your blog also to build relationships with customers directly. 
Starting a blog might not be that much tough but without proper content promotion tactics, it is impossible to get traffic to your blog.
With suitable blog promotion techniques or blog promotion services, you can advertise your blog to your target audience flawlessly.
So do not only think about how to write perfect content with a suitable strategy instead think about how to market your blog on time. 
To help you in this case, let's start our article on – Best Ways to Promote Your Blog Flawlessly with a topic you need to know –
Why do you need to Know How To Promote Your Blog for Blog Promotion?
Whether you think about how to promote your blog for Free or paid before that you must be thinking even why you need to know this, right?
So to answer this question here are the answers –
Creating and promoting a blog helps your audience to keep your target audience up to date on your company's progress.
Supports for increasing traffic and establishing a lengthy tail.
If you know h

ow to promote blogs it c

an assist enhance internal linking.
Via blog promotion it is easy to gather feedback from your clients.
Understanding the best way to promote blog posts can assist you in building your email database
With blog content, gaining social visibility is considerably easier.
So for all these reasons you need to know h

ow to promote your blog perfectly.
Got enough ideas on why do you need to know about blog promotion?
Then moving on to this –
How to Make a Blog Promotion Strategy for Blog Promotion
A blog marketing strategy is how you distribute and promote your blog's content.
So here I have added basic content promotion strategies for you so that you can at least relieve about blog promotion techniques.
You can create your own type of content promotion strategies which are totally up to you.
I am just adding 9 steps to help you in content promotion tactics creation, so here you go –
Choose a blog theme and a purpose for it.
Create a blog and host it.
Construct a blog design.
Make a decision on who will write and administer your blog.
Decide how often you'll share blog entries.
Create material that is both interesting and valuable.
Include call-to-actions.
Start your blog.
Keep track of and assess the success of your blog.
Hopefully, this procedure will help you at least little enough to make any content promotion strategies.
So let's dive into our next topic which is –
Where To Promote Blog for Perfect Blog Promotion
You can use so many platforms to promote blogs that you publish.
But the main fact is you have to use a suitable one that really can represent the topic of your title or blog.
Then it will be much easier for you to promote content flawlessly.
Here I'm discussing the top 4 best platforms that will help you to promote your blogs –
Email
Marketers who used email campaigns noted as much as a 760% increase in revenue.
So you can undoubtedly rely on this platform to share your blogs to get the best result.
Twitter
82% of B2B content marketers used Twitter for organic content marketing in the last 12 months.
You can promote your blog with different URLs from the same content if you know the perfect way of promoting via Twitter.
Medium
Every month, Medium readers spend 4.5 million hours on the website.
So consider publishing the entire blog on it the way as there will be greater participation for sure.
Pingler
Pingler is a relatively new method of integrating your blog material over the web and disseminating it for all to enjoy.
It has over 80 servers to which your blog articles will be sent.
So without further delay let's get into our main topic which is –
10 Best Ways to Promote Your Blog Flawlessly
Here I will talk about the 10 most effective ways that can help you to post your blog content most perfectly than you can even imagine.
So let's start with –
01. You might repurpose your content
With a simple update and a quick promotion, that with repurposing the same content one old post saw a 111.37% increase in organic traffic.
Repurposing content may assist you to reinforce your existing knowledge.
Add to it, and will become more knowledgeable about what you do.
Furthermore, repurposing helps you to become acquainted with many types of content and channels.
Allowing you to become a more adaptable marketer for your company.
The most significant advantage of reusing material is that it makes content much simpler to scale.
In other words, you don't even have to write every post, film every video, and create every infographic from scratch.
Instead, you may utilize new material as the foundation for blogs, videos, social media postings, webinars, and other forms of content.
02. Create links to your website
58.1% of SEOs believe that backlinks have a big impact on search engine rankings (uSERP State of Link Building).
Link development is an essential component of SEO services, as well as effectively promoting blogs.
As it assists search engines in discovering new web pages and determining which pages should rank higher in the SERPs.
Link building is still one of the most effective blog promotion tactics for increasing site visibility when combined with SEO optimization.
When determining a site's credibility, search engines continue to consider high-quality backlinks.
Investing in a link-building campaign, on the other hand, may provide you with more ranking and conversion opportunities for your business blogs.
The content of a page causes someone to speak up, it indicates authority, credibility, and/or trustworthiness.
As a result, links on pages act as votes of trust, credibility, and authority.
The more links a page receives, the more votes it receives, which can improve its ranking.
03. Optimization of content (OnPage SEO)
You can consider it one of the best content promotion strategies for your personalized content promotional activities.
Content optimization is one of the best processes for ensuring that content is written in such a way that it reaches the widest possible target audience.
The process of optimizing content includes ensuring that related keywords are present, as well as adding meta and title tags and relevant links.
Content is critical for SEO because, without it, search engines will not be able to properly index your pages and help you rank.
SEO content increases your blog's visibility on search engines, which drives traffic to your website and encourages people to buy your products/services.
You can improve your results by –
refining your buyer persona,
researching the best target keywords,
writing better content,
promoting it to the right channels,
and finally tracking and measuring progress.
This way your content can be optimized without any second thought.
And once your blog is optimized means nothing can stop you from promoting it flawlessly.
04. To track marketing efforts, create a UTM link
To monitor and measure the effectiveness of their digital marketing campaigns, successful marketers use a variety of tools, including Urchin Tracking Module (UTM) codes.
UTMs are snippets of code attached to the end of a URL that is used to pinpoint specific sources of traffic to a website.
A UTM code is a text snippet that can be appended to the end of a URL.
So you can keep track of a source's medium, medium's name, and campaign name.
When you add a UTM tag to a URL, Google Analytics will tell you where your visitors are coming from and which campaign referred them to your site.
UTM parameters are simply short pieces of code that can be added to links
As an example, consider the links you share in your blog posts.
They contain information about the placement and purpose of the link, making it easier to track people clicking and traffic from a specific blog post or campaign.
According to the most recent Social Network statistics, there will be 3.78 billion social media users worldwide in 2021. (Statista, 2020).
As a result, sharing your blog post on social media will always be one of the most effective ways to promote your content.
Take the time to cultivate a strong social media presence, and avoid posting swipe-up links to your content on a daily basis.
It also assists you in determining what your audience wants to know from you and what they are interested in.
When you know what type of content people are clicking on and responding to the most.
You will be better prepared to create even better content to expand your consumer base.
Even a website promoting socially aware viral content can give you the best result even than you can imagine.
So try to make those sorts of content promotion strategies that may go viral obviously in a positive sense.
06. Determine the Appropriate Content-Length
There are numerous excellent articles available that provide insight into the "ideal" length of a blog post or piece of content.
According to Forbes, in order to meet SEO best practices, content should be at least 300 words long.
According to Search Engine Journal, a 2016 study found that the average word count for top-ranking results is around 1,900 words.
Some writers believe that 1,500-2,000 words are a good starting point.
Content with at least this many words is more likely to include the right SEO keywords at the right density and frequency.
Making it easier for a search engine crawler to correctly classify and index the content.
For one thing, long-form content is more useful and comprehensive than short-form content,
And the more useful and comprehensive it is, the more value it provides.
So, in order to properly promote a blog, it is necessary to determine the appropriate length of the content.
Obviously, all you need to include in your blog is information that you believe will be useful to your readers.
Never write meaningless things just to increase the word count of your article or else it can be impossible for you to rank.
07. Select appropriate platforms for content delivery
The distribution of content is an important piece of the content marketing puzzle.
It is also essential for increasing brand awareness, gaining loyal followers, and encouraging your readers to click, act, and become customers.
Choosing the best channel(s) for content marketing is critical.
But it is also critical in capturing people's attention and, ultimately, creating brand awareness, building trust, and driving sales.
You can share your content from any platform at random, but it is not always appropriate for content sharing.
For example, while you can use Instagram to upload photos and videos, it is never a good idea to sharing content like blog posts or articles here.
Because audiences in this area dislike seeing this type of content from here.
As a result, a suitable platform for content delivery must be chosen with these kinds of content promotion strategies.
08. Make eye-catching visuals, charts, and images
The human brain processes visual images 60,000 times faster than text.
Web visitors scan written content and only read about 20% of it.
Within 50 milliseconds, people form an opinion about your content.
Posts using visual communication receive 650% more engagement than text-only posts.
Visuals facilitate communication and have the potential to reach a larger global audience.
Images transcend linguistic boundaries and can convey the distinctiveness of a product or service.
Images make the intangible visible by creating a visual representation of service or object that is otherwise intangible.
Because visuals are processed so quickly, they elicit a faster and more powerful response than words.
Visuals assist your audience in engaging with the content, and the emotional reactions your visuals elicit result in increased information retention.
So you undoubtedly can achieve the attention of your target audiences by creating eye-catching visuals, charts, and images.
Which will ultimately help you to post your blogs more flawlessly with the massive responses to this sorts of content promotion strategies.
So just go for it from today!
09. Post at the Appropriate Time
This is another most effective blog promotion strategy to promote your blog flawlessly.
Peak blogging hours appear to be between 9 a.m. and 5 p.m.
This coincides with when most corporate publishers are at work.
During nonpeak evening hours, shareability remains relatively high, while the overall number of published posts decreases.
Most experts agree that blogging two to four times per week is the most effective way to increase the reach of your content.
This equates to eleven to sixteen posts per month, depending on how rigid you are about the times per week you post new content.
Blogging allows you to demonstrate and share your knowledge.
And by blogging on a small number of related topics on a regular basis, you can establish yourself as an expert in your field.
People are more likely to buy your services when you've already shown them you know what you're talking about!
So do not miss this amazing blog promotion strategy to get the best result.
10. Respond to Each and Every Comment
Commenters leave comments on your blog always expect a response from the author.
So, whenever you receive a genuine comment, it's a good idea to respond to all of the comments that require an answer.
It will not only increase engagement, but it will also help to add more useful information to your post.
If you carefully read this blog, you will find an appropriate response to all published comments.
Responding to reviews, both positive and negative, demonstrates to customers that you read the comments on your page and care about what is said.
This is critical in social media management if you want to keep or increase the number of followers, engagement, SEO boosts, or customer interaction.
Here's a more general rule: respond if you have something to say to them. It's fine to respond to some but not to others.
Few people will be upset if you do not respond to their comments.
And just because you don't respond does not imply that their comment was unimportant.
However, responding to their emails can help you promote your blog more effectively.
So, in order to achieve the best results, try out this amazing blog promotion strategy.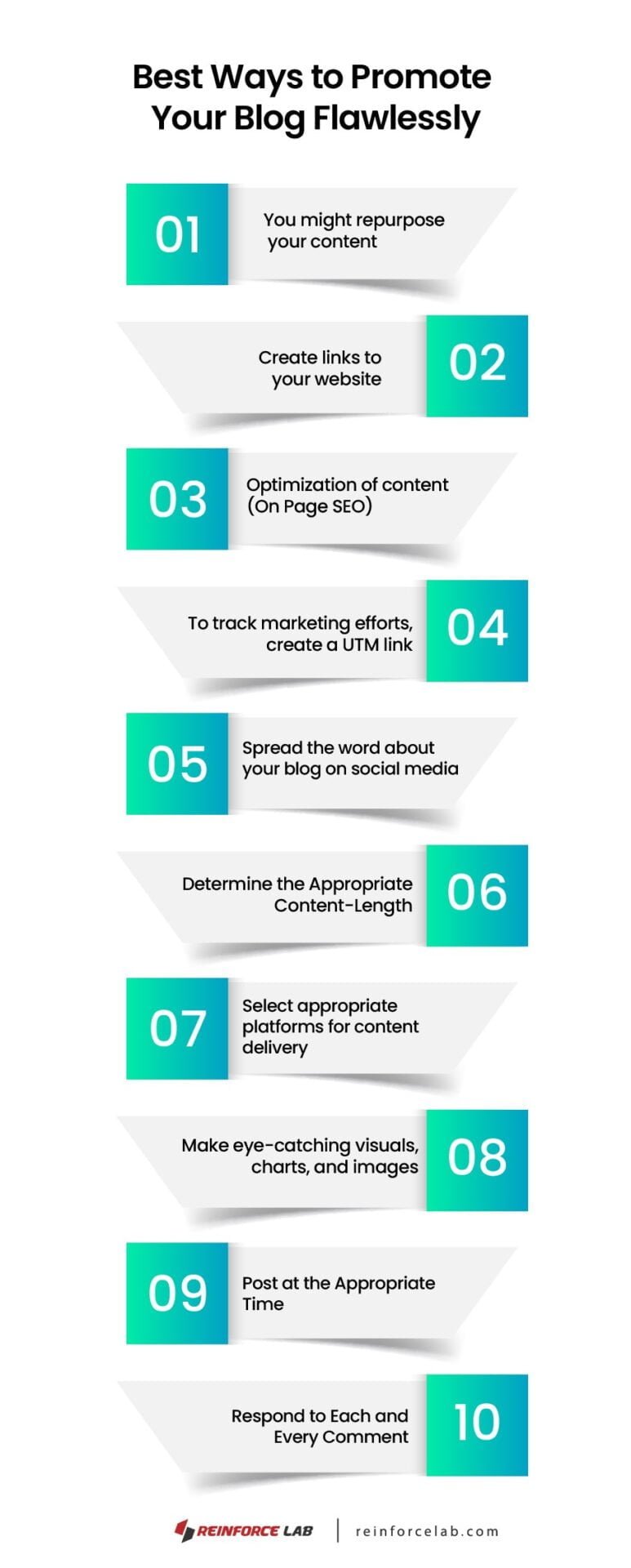 Bonus Content Marketing Promotional Ideas to Promote Your Content 
There are other best ways to promote your blog to more target audiences.
Let's get to know about some of the content promotion strategies here to flawlessly promote your blog content –
Make Use of SEO Tools
Do More and More Keyword Research
Try to Use Subreddits 
Make Use of Heatmaps
Use Flipboard to Publish Flip posts
Make contact with influencers
Increase Social Shares
Try to Develop Guest Blogging or Guest Posting
Answer questions on Quora
Join Relevant Facebook Groups
Effective use of Email Marketing
Increase Numbers of Email Subscribers
If you can follow all those tactics then nothing can beat you to grow with your blog site.
So besides those mentioned tactics try to follow all these as well.
Now let's see something interesting that might help you a lot actually!
Software for monitoring your current Content Promotion Plan
In this section, I will mention about 3 most used software that any expert blogger uses for their blog-related activities.
So let's start!
UberSuggest
Ubersuggest is a free online tool that will assist you in developing keyword ideas to improve and expand your content marketing strategy.
Whether you're writing blog posts or attempting to replicate your competitor's success, UberSuggest has the tools to assist you.
Ubersuggest went from being a laughingstock to one of the best value SEO tools available today.
It has a good keyword database, the link data is clearly usable, and the competitor research is really good.
So, for researching keywords, coming up with content ideas, and tracking performance, Ubersuggest is one of the most dependable tools for any blogger.
Trello
Trello is a visual project management tool that allows your team to manage any type of project, workflow, or task tracking.
Files, checklists, and even automation can be added: Customize everything to fit the way your team works best.
It's an excellent tool for managing and collaborating with colleagues on work projects and tasks.
Trello's Kanban boards are aesthetically pleasing organizational tools.
Each card can hold a lot of information, and it lets you know who is working on what at any given time.
As a result, you can easily use this tool to work more efficiently on any specific topic.
Google Analytics
Google Analytics is one of the best and most powerful tools for tracking and analyzing website traffic.
It provides you with a wealth of information about who is visiting your site, what they are looking for, and how they got there.
Google Analytics provides you with the data you need to help you shape your business's success strategy.
Also revealing information about visitors to your site that you probably didn't know before.
As a result, you may be compelled to create case studies based on the information obtained from this tool.
Whether you have an eCommerce site or an informational site, you want to understand your visitors' behavior in order to provide better results.
Wrapping Up – Best Ways to Promote Your Blog Flawlessly



Now you can imagine how much blog promotion strategy is, right?
Especially for successfully applying your content promotion strategies?
Hopefully, it is a yes.
With these types of basic blog promotion strategy and techniques, you can help other folks seeking which approach they can apply for their business that wants to grow online.
Even you can inspire your readers to continue returning to your website and obtain more traffic by applying the perfect blog promotion strategies.
Remember that business owners' main marketing tactic is word of mouth.
If you can spread the word and show your authenticity, you can win the market as a brand easily.
And any suitable digital marketing agency can take your business another level up!
Another thing, creativity lies in you.
Create your strategies and ensure that they are all SEO optimized by any professional blogger.
But perfection comes from professionals, so go for the best always.
Now, I'd like to hear about the ideas or strategies that you have applied to your blog site?
Can you tell me the ways that you have applied?
Could you share your thoughts with us?
Learn more about our  Social Media Marketing Services!
Read more from our blog.
You May Also Like:
If you think this post was interesting & you have gained some knowledge, don't keep this accomplishment only with you. Allow your friends & family to stay the same intellect as you. In short, sharing is caring
Maxilin Catherine Gomes is an undergraduate business student who enjoys experimenting with the world of marketing via her proficiency in SEO. She doesn't have to put in any additional work to conduct relevant topic research, analyze traffic and search rankings, or discover the most popular visited websites for her articles since she enjoys doing so. She has spent the past decade devouring thrillers, romances, and detective books. For her, the best thing to do is to learn something new. She believes that everything in the world works together to help you reach your goals.