The Ultimate Guide to Branding Businesses on TikTok 2023

12

min read
Do you know nowadays how businesses on TikTok are doing? Or is really TikTok marketing mind-blowing enough for any brand?
The answer may surprise you but the thing is yes, big brands on TikTok are just getting more fabulous results than you can even imagine!
So if you are still thinking like should my business be on TikTok? or maybe how to do marketing on TikTok? then do not worry at all.
It is because here I will touch on every attribute that you need to know for setting any sorts of businesses on Tiktok.
By following this guide trust me you can easily understand the value of TikTok also why you should go for TikTok with your business.
So let's start with –
Tiktok Definition
TikTok is a social video-sharing app for computers and smartphones that allows users to create, share, and discover short videos.
Users can also add text, filters, and songs, making creative, lip-synced live performances particularly prevalent.
Audiences can scroll out via a newsfeed, respond to content, and use hashtags to explore.
Tiktok is owned by ByteDance, the media application that was created as Duoyin in China in September 2016.
Then published as TikTok in the international market one year afterward.
It is the most popular brief video channel in Asia, the United States, and other parts of the world.
In 2018, the app grew in popularity and became the most downloaded app in the United States in October 2018.
This app is now available in over 150 markets and 75 languages as of 2018 and allows users to create 15-second videos.
As of July 2018, it had more than 500 million global users spread across 150 countries.
The Ultimate Guide to Branding Businesses on TikTok
Enough with Tiktok and their birth history no?
Now let's see something that you need for your marketing campaign –
How to Make A Business Account On TikTok
The brands using TikTok have lots of benefits to building brand identity among target audiences with their products or services videos.
As the business accounts get special features like –
Exploration is limitless.
Discover the latest trends.
Learning guide to becoming a TikTok pro
Commercial Music Library and many more!
So with these features, any brand can do viral marketing on TikTok with their unique brand strategy.
Now let me tell you 3 simple steps to open a TikTok account for your business.
Step 1 – Join TikTok



TikTok can be downloaded from the Apple App Store or the Google Play Store.
Tap to open the app once it has been installed on your phone.
After that tap "Me" in the bottom menu bar, then "Sign Up" to sign up using your phone number, email address, or social media account.
Step 2 – Create a free Business Account
Click "…" on the top right of the "Me" page within the app, then "Manage Account" and select "Switch to Business Account."
Select the category that best fits your company to receive tailored content, events, and solutions.
Step 3 – Make and be discovered
So finally you're ready to go with your build a brand with the business account!
You can begin posting content and sharing information about your products and services by using TikTok's suite of creative tools.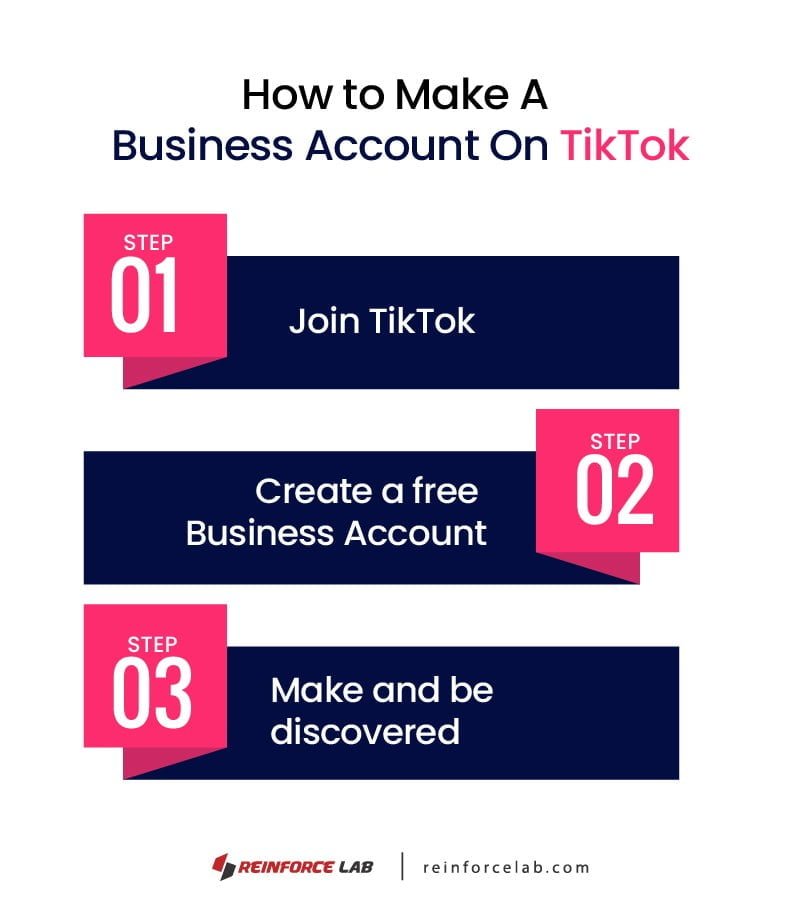 Easy enough to execute right?
Then why wait for?
Still, there are so many things left for you in our ultimate guide to branding with Tiktok so let's see then!
How to Promote Your Business On TikTok
Best brands on TikTok follow their own strategy to promote their business on this platform as most teenagers are using this right now.
So to create a brand perfectly I will talk about 6 simple steps that you may follow –
Create a Successful TikTok Strategy
Keep in mind that TikTok is its own beautiful, chaotic beast that necessitates a specific game strategy.
Gathering information is the first step in developing a game plan.
So familiarize yourself with TikTok, learn about the algorithm, and find out about the key players.
At the same time determine your target audience by examining your competitors and creating a content calendar.
Optimize your TikTok profile
You only have a few lines and one chance to share a link.
But your TikTok profile is essentially your digital storefront, so make the most of it.
Obviously, take care with your profile photo like big brands on TikTok.
Most importantly, keep your bio brief and to the point, and choose your URL wisely.
Make Content that People will Enjoy



There is no magic formula for creating a successful TikTok video, but there are some good guidelines to follow.
Make certain that your video looks good.
Use hashtags, look for how-to videos and tutorials because they are always popular, and if necessary, use a video editor.
Or else collaborate with other creators.
Engage your Audience and Expand Your Fan Base
Once followers are on board, the same rules apply as with any other social media platform in terms of keeping them interested and engaged.
Experiment with interactive live streams and polls and questions and remember to respond to comments and questions.
Comment on and like other TikTok accounts' content.
To stay on top of trending topics in your TikTok community, practice social listening.
Investigate and Monitor Analytics
After you've been experimenting with TikTok for a while, it's important to take a step back and evaluate how things are going.
How are your reach and engagement metrics performing? Are those tutorial videos really popular?
Analytics removes the guesswork from content strategy by proving what works — and what doesn't.
TikTok's in-platform analytics tool can provide you with some really interesting metrics to help you decide what to do next.
Explore TikTok's Advertising Options
Advertising isn't for everyone's social strategy, but if you're interested in paid reach, check out our TikTok ad guide here.
Is there a key takeaway?
Almost half (43%) of TikTok users are between the ages of 18 and 24.
Women in that age group account for nearly a quarter (24.7%) of TikTok's advertising audience.
TikTok advertising is a natural fit if you're marketing to younger adults, particularly women.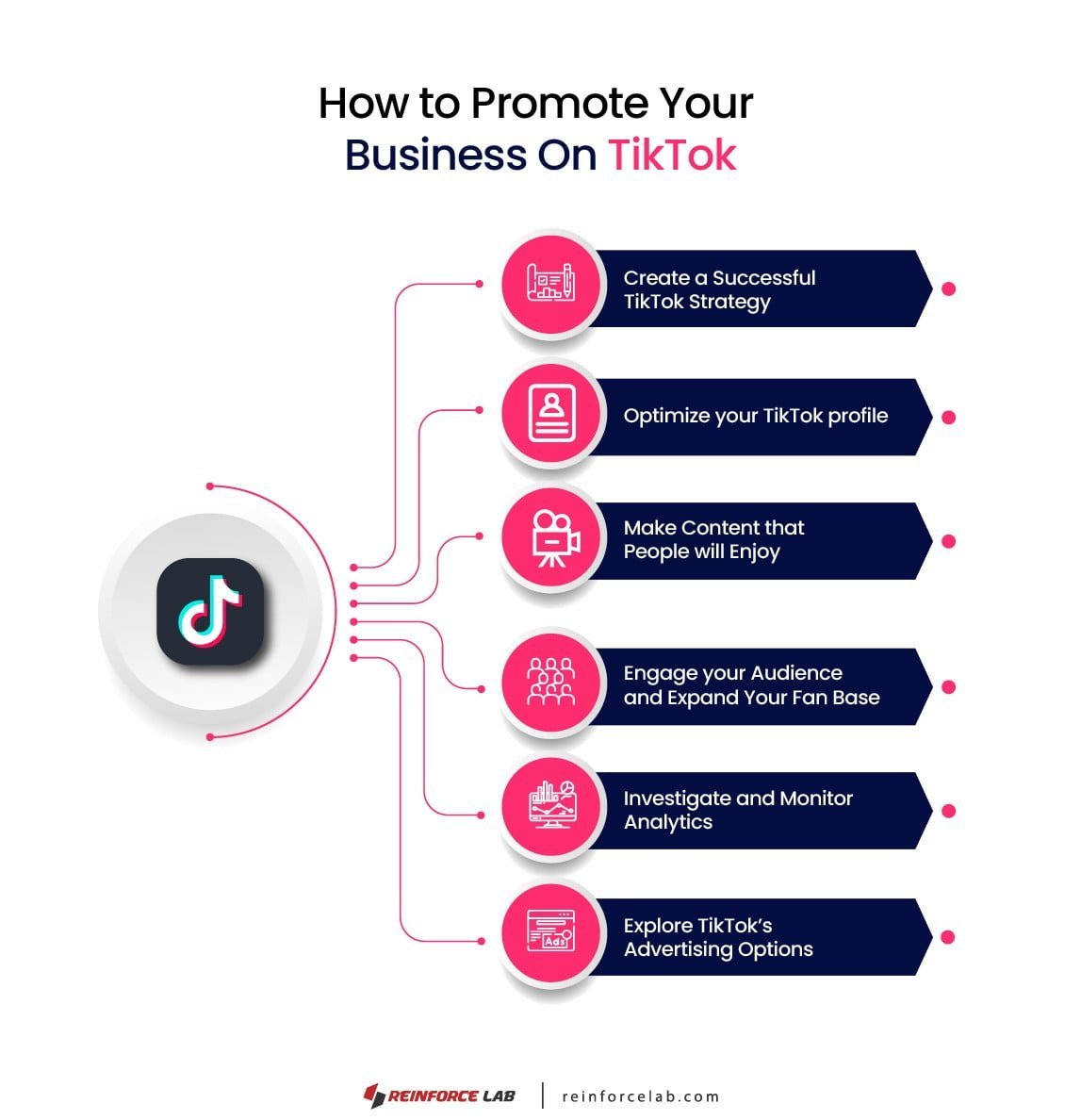 We are almost done with the ultimate guide to branding for any brands on TikTok.
Now see something that would really help you to create a strong brand image.
Which is –
How to Market On TikTok
All organizations and their products can be considered brands.
So do not just hesitate to call your business a brand no matter how much small business you are running tho, okay?
Now let's see the best 10 ideas for creating brand awareness that any TikTok marketing agencies follow!
01. Make More Enjoyable Content
Without making something enjoyable enough you can not think to get enough audiences right?
So do not ever forget to make things that are able to please your target customers.
Obviously, with authenticity and creativity, you have to mix everything.
02. Keep Making Your Own TikTok Content
As I already talked about authenticity in content so you may think about why need realism here in this case frequently.
The answer is that people like unique content always.
So when you can provide them faster than anyone else then the audience will remember you for sure!
03. Start A Hashtag Challenge
Hashtags are the best thing ever to grow with your content on the Tiktok platform.
As people searched for trending content by hashtags.
So if you can make content based on the trending hashtags then getting traffic will not be difficult enough.
04. Create TikTok Influencer-Created Content
Influencers play one of the biggest roles in this platform.
So you can easily take this advantage and share influencer-created content from your business profile.
Obviously, this is a paid promotional idea so if you can bear the cost of hiring an influencer then just go for it!
05. Use TikTok Advertising to Your Advantage
Like all other social media platforms' advertising features, Tiktok also has one.
And trust me this is really effective one as within a few seconds you can catch your target audience's attention.
As this is also a paid method so you might decide which amount is good for your advertising and apply that without any difficulties.
User-generated content outperforms branded content by 42% and has a whopping 6.9x higher engagement rate than your own branded posts.
It encourages more interaction with its users and more than doubles the likelihood that the content will be shared.
With the majority of consumers trusting UGC over brand-provided information, UGC can help brands build stronger relationships with their customers.
07. Make Use of Branded Lenses and Effects
By using branded lenses and effects you can easily promote your content to a large number of your target audiences.
Also, this concept can make you more unique from others.
So people will easily identify your content among thousands of the same kind of brands.
08. Consider Brand Takeovers
A brand takeover is a full-screen ad that appears when a user first launches Tik Tok.
The ad can be linked to a brand's landing page or a TikTok Hashtag Challenge.
While making your own videos is a good way to promote your company and raise brand awareness on TikTok, you can also use your customers' content.
A teaser is a short video designed to pique a viewer's interest and build anticipation for what comes next.
The main advantage of making a teaser video is that it can generate buzz and excitement among your target audience.
Giving them a taste of what's to come – without revealing the entire thing – is a great way to show them what's to come and build their anticipation.
10. Start or Join More Challenges
Any TikTok user, individual, or brand can initiate a TikTok challenge.
These typically require participants to complete a specific task and share their video with a challenge-specific hashtag.
While your challenge's hashtag should be relevant to it, the challenge itself should be focused on your product, brand, or niche.
Many TikTok challenges come and go, but only a few can be linked to specific brands.
As a result, as a brand, you can also join them in order to reach a larger audience!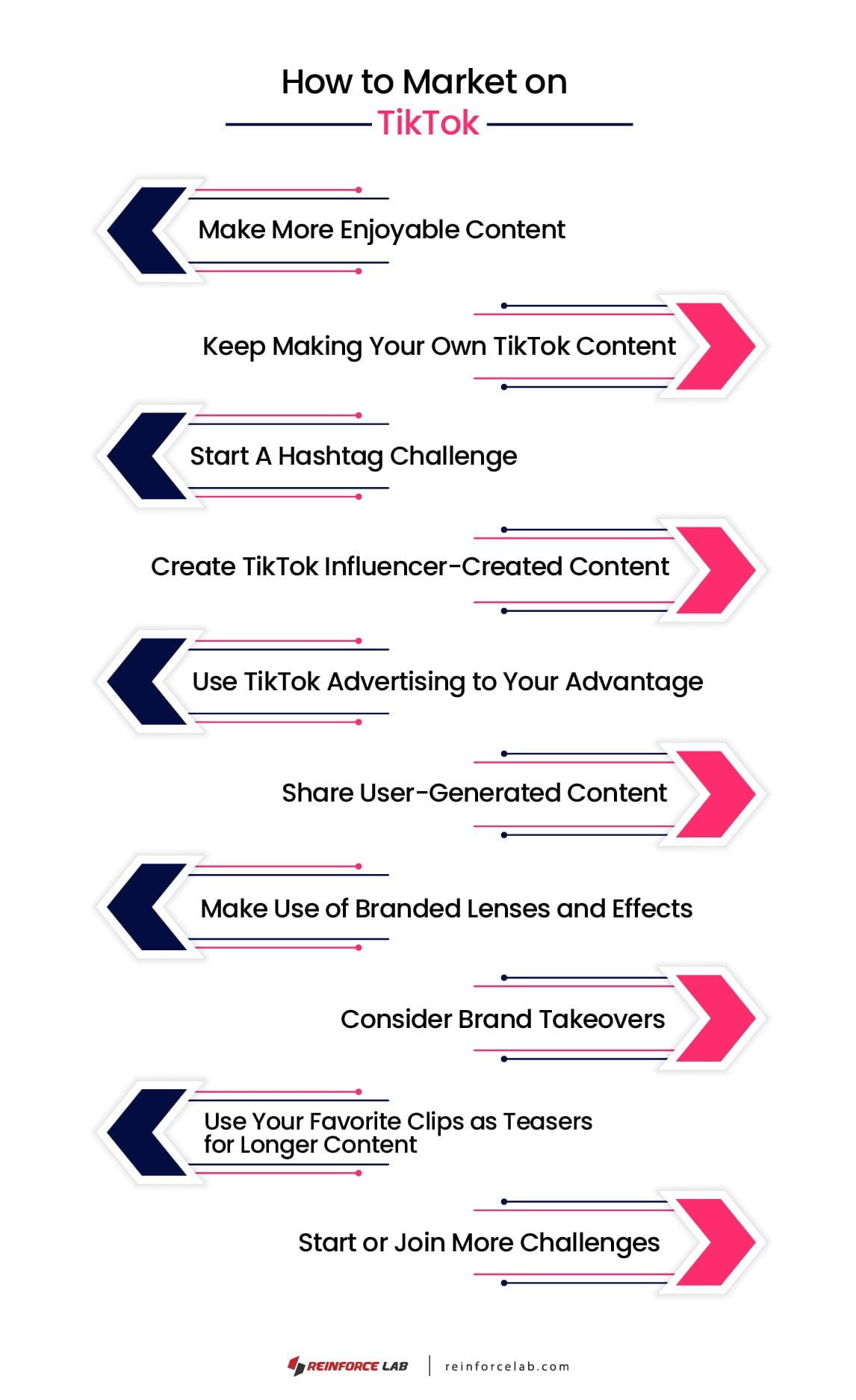 Got enough ideas about how to market your content from this ultimate guide to branding your business on Tiktok?
Then let's see something that might help you out!
Top TikTok TikTok Influencer Agency List for 2023
Here I will mention the 3 best TikTok media agencies that you can follow to see how they work with the TikTok influencer marketing platform.
And this will be the last one that you need to apply our ultimate guide to branding –
Viral Nation – One of the best TikTok Media Agency
Viral Nation is an award-winning full-service new media agency.
This TikTok media agency is specializing in Influencer Marketing, Creative, Performance, Strategy, and Integrated Marketing.
They develop the most viral, captivating, and ROI-focused social media influencer campaigns for brands all over the world.
As the platform was developed to be an enterprise solution the prices span from $3k to $10k per month.
So, if you need influencers for your brand, you can contact them without hesitation. Because they provide the best service you can imagine!
NeoReach – A well known TikTok Influencer Agency
Neoreach offers best-in-class search, data management, and tracking capabilities, as well as enterprise-grade analytics.
Create efficient data campaigns at a large scale. In terms of simplicity and effectiveness, NeoReach is the best option for an influencer marketing platform.
The results of my team's use of their services have been excellent. G2.com collected and hosted the review.
The TikTok media agency's pricing model begins at $399.00 per user, per month, and there is no free version available.
So if you are able to go for paid version with the budget then try it!
The Influencer Marketing Factory is an Influencer marketing agency that assists brands in realizing the full potential of Influencer marketing.
The agency is focused on meeting a brand's KPIs, assisting it in reaching its target audience and delivering solid ROI.
When a celebrity or industry expert shares content about a brand on social media, the brand they promote gains instant credibility.
Their influencer marketing campaigns begin with a $20,000 minimum budget, which includes our management fee.
So now you know what you need to do!
Wrapping Up – The Ultimate Guide to Branding Businesses on TikTok



Now you can imagine how important Tiktok is for brand management from this ultimate guide to branding with TikTok, right?
Hopefully, it is a yes.
With these basic ideas, you can help other folks seeking how can websites assemble with Tiktok easily.
You can inspire your readers to continue returning to your website and obtain more traffic by doing TikTok for your business.
Even you can take help from those mentioned TikTok media agency to build your profile more professionally.
Remember that business owners' main marketing tactic is word of mouth so not always the TikTok media agency that can result best.
If you can spread the word and show your authenticity, you can win the market quickly.
Undoubtedly this ultimate guide to branding can take your business another level up!
Another thing, creativity lies in you.
Create your content ideas and just ensure that they are all ready for Tiktok optimization.
But perfection comes from professionals, so go for the best always.
Now, I'd like to hear what kind of TikTok marketing you are applying for branding your business?
Can you tell me the ways that you have applied?
Could you share your thoughts with us?
Learn more about our  Social Media Marketing Services!
Read more from our blog.
You May Also Like:
If you think this post was interesting & you have gained some knowledge don't keep this accomplishment only with you. Allow your friends & family to stay the same intellect as you. In short, sharing is caring!