E-Commerce Retargeting Strategies to Boost Sales

13

min read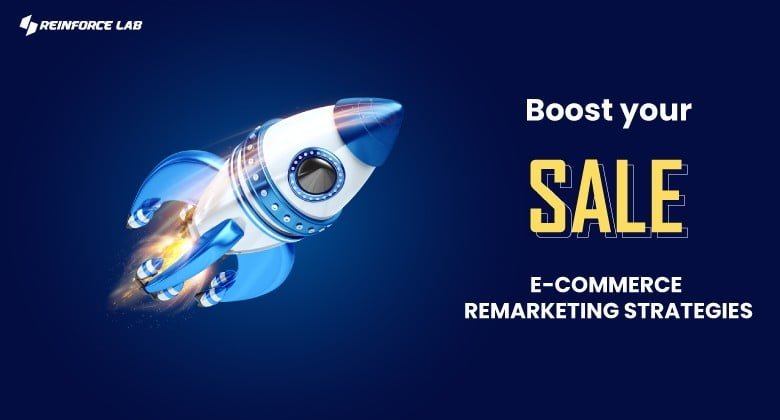 The CTR rate is 180.6% higher for retargeted users!
The ecommerce retargeting strategy and Facebook retargeting strategy are game-changing.
Retargeting works are 10 times better than a regular display ad campaign. (source: Wishpond)
Retargeting is the practice of advertising to lapsed consumers who have already made move but have not converted.
Facebook's remarketing strategy is also popular among remarketing agency services since consumers with previous intent are more likely to convert than new users.
Consider this scenario: a person has expressed interest in a product and still has your e-commerce app installed on their device.
But they haven't completed a purchase in over a month.
To urge this customer to return to your app and complete the transaction, you can retarget them.
You can do it through Facebook re You can do it with a special offer or promotional approach.
This marketing tactic, however, is already popular with e-commerce.
But here comes a question, Are remarketing and retargeting the same?
It sounds similar but there are some slight differences.
What is Retargeting? 
Retargeting is internet advertising that allows you to keep your brand in front of bounced visitors after they leave your site.
Retargeting is a type of paid advertising to re-engage audiences who have previously visited your website or social profiles.
Only 2% of web traffic converts on the first visit to most websites.
Retargeting is a marketing strategy that enables businesses to reach 98 percent of users who do not convert right away.
An Ecommerce Retargeting strategy can bring more sales than any other regular tactic.
Retargeting is all about attracting users back to your website so they can convert in terms of marketing goals.
Remember that the average PPC conversion rate is less than 4%.
But the best-performing campaigns can achieve conversion rates of up to 9%.
What is Remarketing? 
Remarketing is a type of email marketing to re-engage prior clients who have already done business with your company.
So converting your existing customer is the main goal of remarketing. However, most of the time marketers do not make distinctions between them.
But the remarketing and retargeting strategy should not be the same.
E-Commerce Retargeting Strategies to Boost Sales
There are so many statistics that are showing eCommerce retargeting strategies are one of the best techniques.
It can be helpful in any way.
So here we have explained how Ecommerce retargeting strategy can help you out.
How does Retargeting work?
Retargeting, when done correctly, can:
lowers the cost per impression.
Increase conversion rates to increase ROI.
Effectively position your brand at the forefront of people's minds. If your clients are aware that you exist, they will remember you the next time they are in the market for that product.
Retargeting can be done in a variety of ways. As like adverts, email marketing campaigns, SMS reminders, browser notifications, loyalty campaigns, and even influencer marketing.
Retargeting messages should preferably revolve around the following topics, regardless of the platform you use:
Customers are reminded of your brand/presence
Reminding a potential customer that they haven't checked out an item
Customers are being enticed to purchase by offering incentives.
Upselling, reselling, and cross-selling are all terms for the same thing.
promoting items of a similar sort that may be of interest to existing customers
Promoting to on-the-go customers to remind them that they may buy from anywhere
Sales will undoubtedly flood in if the correct remarketing plan is in place.
18 Best Ecommerce retargeting Strategies
1. Ads should be tailored to your eCommerce remarketing plan
Ad copy is what communicates with a user on your behalf.
The anchors that capture customers' attention in your ads are the visuals you use, whether it's product photography or graphic design.
Both the language and the images of your ads should be tailored to a specific target and linked with your remarketing strategy.
If you're retargeting non-converters, chasing users to raise brand awareness, or upselling to a converted consumer to enhance LTV, make sure your offer is adjusted accordingly.
2. Make use of responsive adverts
Most eCommerce websites have mobile-first web design as a default setting. As a result, all advertising materials should be included.
There's no reason why an eCommerce business owner would want to cut the success of a marketing effort in half by focusing solely on desktop exposure.
Not only has mobile traffic surpassed 50% of all traffic consumed in 2018, but it is also clearly on the rise since its inception.
3. Bid on lists with a higher conversion rate
It's exactly what it sounds like.
If a customer has shown a lot of interest in your goods it's a chance. It can be a shopping cart or even added a product.
Then abandoned it for some reason.
The chances of that customer returning to your business to finish the purchase are high.
If a customer has simply seen your home page and then left, their interest is low, and they should be targeted with low budgets and exposure frequency.
4. For Google Ads Remarketing Strategies, use RLSA
For a variety of reasons, Remarketing Lists for Search Ads, or RLSA, have shown to be beneficial to eCommerce businesses of all types.
We like to use them in two ways:
It is possible to collect data on clients with particular parameters, which you may set in the audience, using observation mode and a 0% rise on the bid.
For example, you could build an audience of visitors who viewed a specific page on your website.
Then attach it to an Ad group, and increase the regular bid by 0%. Then identify the audience as Observation.
Why?
In this situation, you can track users who have previously visited specific pages on your website.
You can always boost your bids for this group if you find their CPC rates and other metrics to be higher.
This is a great Facebook remarketing strategy as well.
How?
Admin — Property View — Audience Definition — Audiences — New audience in Google Analytics. Parameters are set. Ad Group in Google Ads —
Choose the appropriate ad group — Audiences — and select the one you made in Google Analytics — Observation.
The second method allows you to only retarget people who have taken a specific action on your website.
It is within a certain time frame and sends them a special message or increases their bid.
In this scenario, it's better to go with Targeting rather than observation.
The use of RLSA is not restricted to the tactics listed above.
This tool can help you lower your CPC by allowing you to use more generic keywords in your ads.
You already know you're only marketing to folks who have expressed an interest in your product.
When contemplating RLSA techniques, using rival keywords is another option to consider.
5. Change your ad for audience members who aren't converting
Your campaign's performance can be analyzed, monitored, predicted, and improved using segmentation.
The more detailed your segmentation, the greater sense you'll have of your potential clients' needs and desires.
One of the basic principles of retargeting to follow is to put non-converters into their category and send them a custom-made message.
Rather than more aggressive communications for individuals that abandoned your cart or spent time on your product pages, educational, awareness stage messages stressing the value of your business can be just the correct tone of voice in this scenario.
6. Performance Enhancement: Best Ecommerce retargeting strategy
It's recommended to pay special attention to the following parts of the retargeting process while refining your remarketing campaign to enhance KPIs:
Make certain you develop audiences so that your company can track all of the behavioral patterns and modify bidding properly.
Experiment and fine-tune your nascent eCommerce retargeting strategies. Create a custom audience for your niche.
At different stages of your business's development, as well as for different campaigns and audiences, manual, enhanced, or automatic bidding can all be beneficial.
Keep an eye on what produces the greatest results and continue to optimize your bidding on the many levels available in Google AdWords.
7. Consider your KPIs
you have two options: a limited budget with the best results or an unlimited budget with a predetermined KPI, such as a CPA.
If you're a beginner, it's a good idea to experiment with different tactics on a tight budget.
However, for a company that is ready to expand, an unlimited budget appears to be the best option – as long as the cost of the lead remains profitable.
Use the frequency capping feature: commercials are intrusive, and we've all wished for a skip button on a YouTube channel.
In the short term, keep ad frequency to a maximum of 5–7 times per day to avoid a bad branding effect and a higher CPC.
For a Facebook remarketing strategy that lasts longer than 30 days, it's recommended to lower the frequency of exposure as well as the cost per click.
Copy and image should both be tested in your adverts.
This is such a simple and routine task, but the improvement in CTR from simply changing the aesthetic aspect of the advertising may be astounding.
Make sure to run a sequence of AB tests, one for each campaign, that you know you'll use again and again.
The impact of professional product photography on conversion rates, of course, cannot be emphasized.
8. Facebook Retargeting Strategy: reclaim your customers
You just cannot ignore the possibilities of Facebook's Remarketing strategy as an E-Commerce business!
The Facebook Pixel is a clever approach to target customers who put items in their cart but did not complete the purchase.
Creating ads to do retargeting on Facebook by showing them interesting adverts using the Pixel code works well.
This can be accomplished by including Pixel code on each page for which you wish to remarket consumers who abandoned their cart on Facebook.
9. Google ads can help you establish your brand's presence
Why not use Google to directly target cart abandoners?
You may remarket your products to shoppers using Google display ads on a variety of high-traffic sites that enable you to post display advertisements.
As a result, your adverts will appear whenever your target person visits any of these sites (there are many).
10. SMS can be used to retarget cart abandoners
Because the mobile phone is such a convenient gadget, SMS can be the most effective way to reach out to your clients and remarket your items while on the go!
Brands use a variety of SMS retargeting tactics, however, only a few of them include-
You may raise brand awareness and re-engage cart abandoners by reminding them of the following:
 "You have one item left in your shopping cart."
Direct Browser Notifications for Remarketing
Shopping cart abandonment may be effectively tracked via web push notifications or browser alerts.
Users that sign up for your notification services may easily be added to your list of recipients and receive personalized reminders.
You must Keep in touch.
11. SMS remarketing to cart abandoners
You can send them personalized discount offers and advertise similar products directly to their desktop or mobile devices.
you can Provide a discount and it works well as an eCommerce Retargeting strategy.
Retargeting via landing pages and web push notifications works well also.
In Facebook remarketing strategy, you can send texts to the messenger.
12. Emails from abandoned carts promise a high conversion rate
Why should we let our customers go when we can send them reminder emails?
Various eCommerce firms utilize abandoned cart emails to remarket their products because they have a high success rate.
The following are some examples of common and effective emails addressed to cart abandoners:
a) Sending simple follow-up emails hours after a visitor has departed
b) The next day, follow-up emails were sent.
c) An email giving a discount on the product in the cart
d) Providing a discount in exchange for a deadline
e) An email reminding you of the deadline
13. Instagram: An Effective Ecommerce Remarketing Strategy
Instagram advertisements are one of the most effective company advertising platforms since they provide a superb visual place to exhibit your product.
You must use Facebook Pixel to track and generate your personalized Facebook ad audience.
You will then use personalized retargeting techniques on Instagram. Advertisements from well-known brands on Instagram work well.
A half-baked eCommerce retargeting strategy can be mistaken for a hard sell technique.
Irritating your clients by bombarding them with irrelevant remarketing advertising is a possibility.
As a result, the frequency and quality of your remarketing initiatives must be carefully considered.
14. Consider your field for Ecommerce retargeting strategies
If you're renting rental tuxedos, for example, retargeting campaign does the same prospects several months later is unlikely to be fruitful.
When generating interval retargeting ads, keep the average buying cycle in mind.
Make your E-Commerce website design unique and user-friendly.
It will protect your SEO efforts from zero-click searches.
15. Look for keywords that aren't on the regular keyword list
To target consumers who have not yet converted but are progressing through the sales funnel, add extra search terms (such as comparison or reviews).
When creating Facebook remarketing strategy, you need to focus on trends.
Before the adverts are displayed, each remarketing list requires 500 cookies visits.
A shopping cart abandonment campaign may not be successful if your site has limited traffic.
Take into account a larger readership.
It's important to remember that it's not always about the ultimate sale.
Making the bounce rate lower is significant too.
It's sometimes just as crucial to attract a visitor to join a loyalty club or sign up for product updates or news as it is to get them to buy something.
Conversion targets differ from one shop to the next.
You'll want to press for the sale if you don't have an email marketing list (which you should).
Look into it.
You'll want to press for the sale if you don't have an email marketing list (which you should).
17. Upsell a basic service or product to a premium or upgraded version via retargeting ads
A cloud computing company that offers basic free cloud computing, for example, can retarget its members to upsell to a higher price point for enhanced capability.
When a related product becomes available, show your ads to target customers who have previously purchased similar things.
When a film or book of a comparable genre or subject matter is released.
Facebook's remarketing strategy works well in that case.
18. Keep in mind that most customers are unaware of remarketing
The more frequently consumers see your commercials, the bigger they think your company is.
Create remarketing campaigns around local, national, and international events.
A business selling USA-branded clothing may increase its marketing efforts in the run-up to and during the Summer Olympics.
To draw a customer back to your site, use product-branded pictures.
Wrapping Up
What do you think now? Does E-Commerce retargeting strategy and Facebook remarketing strategy work?
With proper strategy, it will work.
Out of 1000 marketers surveyed by the Interactive Advertising Bureau (IAB), 92% found retargeting to perform the same as or better than search, 91% for email, and 92% for other display advertising.
As you can see, retargeting works.
So whenever you are making a social media marketing plan or remarketing agency services, grab the opportunity to convert.
For related services, you can take our E-Commerce Solution Service.