Zero-click searches, specifically zero-click google searches, are now an essential topic of debate.
Is it evil or good?
Is it taking all your SEO effort in vain?
Have a look at the statistic:
50.3 percent of all searches end without a click to other content. (source: Search Metrics)
Search Engine is developing its algorithm and ensuring that users get the best results for their searches.
But not all the development brings a good result for marketers, like zero-click searches.
So we have come up with the best strategies for the solution of zero-click searches.
We will discuss how you can get the best benefit from zero-click Searches instead of fighting with tech giant Google.
Before going to that part, first, look at the overview of zero-click searches.
What are Zero Click Searches?
This is a common term in SEO. When a user searches for something, usually google finds out the best-related content and sends the user to that third-party website.
But search engine results on page SERP always do not show the same result.
The case of come searches shows the result on the top.
For like, you search for 'What is the temperature in Dubai'? See the result page.
The answer is already there. You do not have to click on any website link in that case.
So the user finds the answer to his inquiry.
This makes the search engine convenient for the user. But is the website getting clicks or traffic?
No. In that case, you may think all your SEO efforts have no value anymore as you can not get the traffic to your website.
However, you may ask, is google zero-click search always wrong?
How does Zero Click Searches effects SEO?
The impact of zero-click searches is not relatively dispersed across industries: businesses in Google's competitors' industries.
It drastically affects online travel agencies or review platforms, losing more traffic than other commercial enterprises.
The overall number of searches has increased, suggesting additional chances for businesses that aren't directly competing with Google.
But it is not affecting all industries.
When you are targeting to create brand awareness, in that case, you do not have to be worried about your featured snippets.
So when you want to determine whether Zero clicks are affecting or not, think about the following questions. 
What is your Industry?
If you are not competing with Google, as we mentioned, travel agencies or review platforms, do not worry about how google zero-click searches affect you.
When your blog is in the featured snippet, it will increase your authority gradually.
It means that your content is good enough to be featured.
What is your target?
Your SEO strategy should be dependent on your target.
When you want to create awareness and put your customers in the sales funnel, your search engine optimization is generally for getting leads.
But when you write blogs and want to earn from AdSense, in this case, just appearing in the click search result is not enough.
It would help if you showed the ads to your audience.
So when you are in organic search results and yet not getting the clicks, you cannot get your expected revenue. 
In the case of affiliate marketing, it affects but not that much.
Because when a reader wants to buy a product by reading the detailed review, they do not leave by seeing the snippet features.
They will read the review if it is well-written and informative enough.
So it will not affect your SEO effort that much.
Instead, It will help you to raise your authority.
Is Zero Click Searches bad for users?
Well, for users, the SERP page containing the answer is convenient.
They can find the answer without spending much time.
No doubt we all have enjoyed the feature.
But zero-click searches are becoming a headache for SEO practitioners as it is a significant reason for the fall in traffic.
Because when a user finds the answer, they do not click.
However, becoming featured is sometimes a good sign.
That shows that your content is beneficial for the user.
The intent of the search is exactly matching with the content you are providing.
So your overall ranking goes up. It's not always bad. But yet, we have solutions to eliminate this "no click" trap.
Zero Click Searches: Evil or Good for SEO?
The rate of Zero click searches is gradually rising.
It is one of the latest SERP features to improve the user experience.
According to the statistics,  nearly 65% of Google searches ended without a click.
So it is time for you need to safeguard your SEO effort not to go in vain.
There are some on-page strategies and some technical ones as well.
With them, you can partially get rid of it.
But before that, let me share with you a basic concept.
That is- you cannot fight against google unless you are Meta.
Jokes apart, you need not fight against google.
There are so many practices to avoid it, and also you can use them.
Well, it still depends on you.
So if you ask, what are the best tactics and the best practice for zero-click searches?
It will always be Adjust
But how to adjust?
Well, using SEO tools will not help you in this case.
You have to create your strategy to solve the issue.
You have to adjust with the search engine.
Remember the famous saying, If you cannot beat them, join them. 
To determine whether you need to be worried about the zero-click issue or not, first think about a few things.
Is getting clicks your main concern? 
Are you losing traffic due to snippets?
Is it affecting your sales?
How Can Zero-Click Searches Benefit My Company?
Working to have your content appear in the zero-click featured snippet has one key benefit for your company.
Your brand will become more recognized and trusted if you constantly deliver the answers customers need.
Including your company in a featured snippet helps with your sales funnel's awareness and consideration stages.
Using Zero-Click Searches to Promote Your Business
Most of the time, only one featured snippet displays at the top of search results.
How do you get your firm to appear in the featured section as a business owner?
"Featured snippets come from web search listings," Google claims.
Google's automatic systems decide whether a page is suitable for highlighting as a featured snippet for a particular search query." Google s algorithms work like that.
This means that your website should provide material that responds to frequent search queries.
Two sorts of content that can assist your site in being listed in highlighted snippets are blogs and news stories.
You must not only have content, but you must also ensure that it is search engine optimized.
When it comes to content optimization, make sure your company's information is up to date, that you're utilizing relevant keywords, that you're linking internally, and that you're using text in your images.
Because more people are using voice search, it's even more crucial to make sure your website is correctly optimized.
Keep in mind that obtaining a featured snippet requires significant time and effort.
Getting your web pages on the first page of search results should be your primary priority.
Finally, Google uses its algorithm to evaluate which website best answers a question and highlight it.
Congratulations if you make it into a featured snippet!
How to Avoid Zero Click Searches? 
Zero click does not harm your SEO effort permanently.
If your answer to the questions is No, you do not have to worry about feature snippets.
But what is your answer Yes?
Is there any solution?
Yes, you can avoid the harmful effects of snippets through some ideas.
First, let's see some steps that you may follow.
Create good quality content because This is the simplest way to get rid of the google zero-click search.
You can optimize your content. But how?
Understand the User Intent before making Content
How do you do your keyword research? Is search volume your main concern?
Well, doing well-managed keyword research is sometimes one of the most important things.
Avoid terms like date of birth, numbers, weather, or the exchange rate, which may have short answers.
Definitions should be avoided because they frequently have a lower CTR.
Even if specific keywords have significant search traffic, Google will deliver a brief one-way answer from the knowledge panel when users search for them online.
For example, "Hitler birth date" is a keyword with nearly 8 thousand global volumes.
But see the result: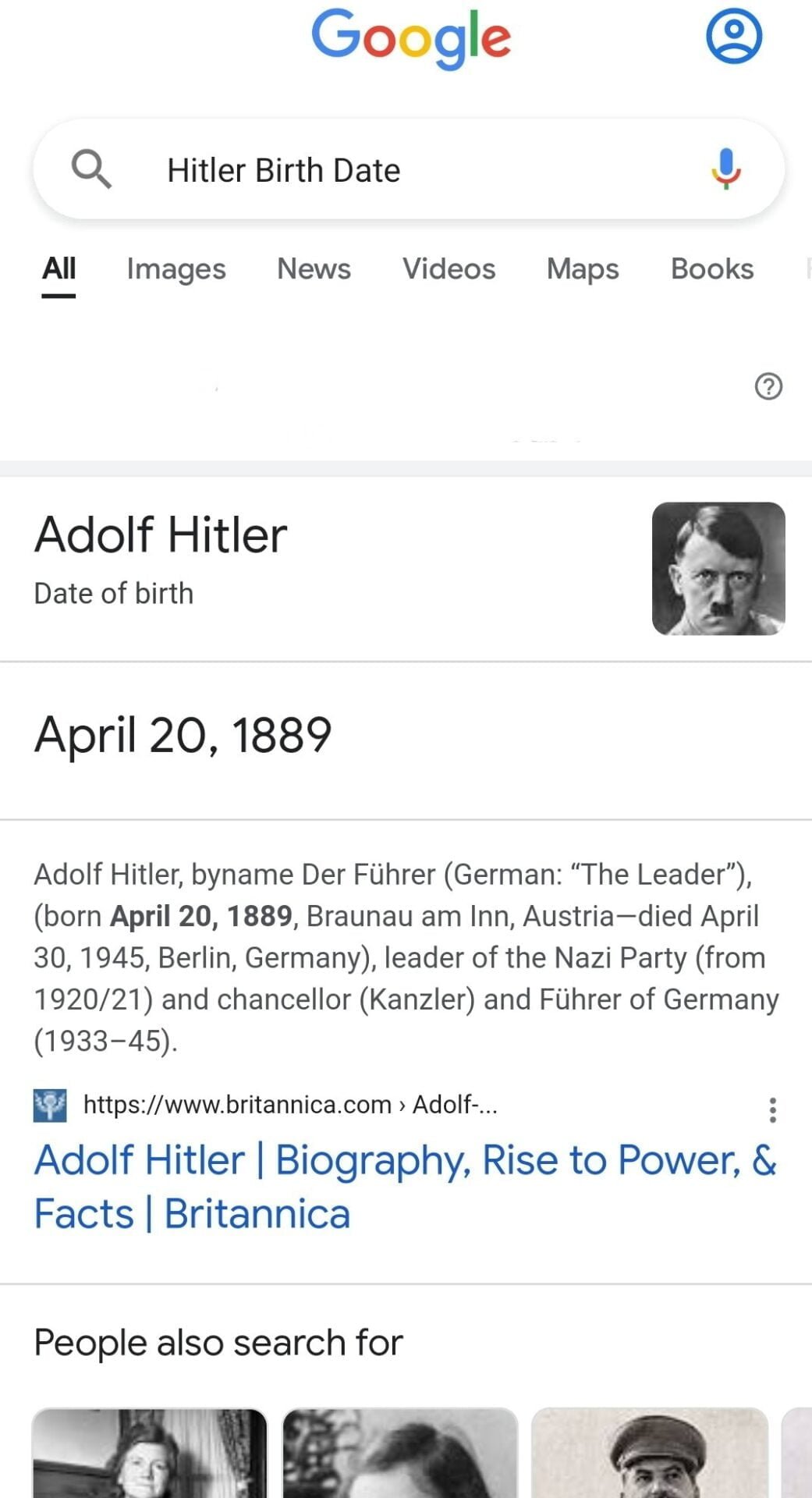 You cannot always expect to get clicked even if you are in the top result of google search or voice search.
Because the answer is already here.
There is an another issue.
When your content does not match the user intent, it usually results in no click, affecting the user experience.
So you have to understand the search queries before making any content.
When you write detailed, informative content, getting organic traffic is high.
Another factor to consider is Google's goal. Google, for example, wants to make money from paid ads while providing a great user experience.
As a result, terms with a higher monetary value are less likely to be featured snippets or have instant responses.
Make the most of your Google My Business listing 
Google presents business information in important parts of the SERPs.
If you've been working on local SEO with an in-house team or as part of the SEO services of an SEO firm, you must have verified your Google My Business (GMB) page.
If not, take advantage of Google's free local listing service.
To establish your trust and rank in Google Maps Local 3-Pack, claim and optimize your GMB listing.
Update your name, address, phone number, store hours, website, reviews, and even photographs – details that appear in special boxes in the SERPs, similar to the Google Knowledge Panel – to improve your visibility and conversion.
Long-tail Keywords are Better Option
To avoid zero-click searches, choose relevant terms where consumers want to learn more than what is provided in the search results.
Targeting long-tail keywords are one strategy.
Why?
People that use long-tail keywords to seek information are likely looking for complete solutions.
A featured snippet proposal will not be sufficient in this circumstance.
Take, for example, the term "digital marketing."
As you can see, despite being a broad and generic term, this keyword has a featured snippet recommendation.
Examine the outcomes of your search.
Our ultimate target is getting an audience. And after giving all the effort and ranking, we do not want to miss clicks.
Google zero-click Searches are now becoming a significant issue for many marketers.
With the statistics, we can see that the percentage rises every year.
No matter how much effort you put in, you can still miss your audience because of it.
So to safeguard your SEO effort, follow the suggestions of our digital marketing experts.
I hope this solution will help you to avoid zero-click searches.
Do not forget to share your result after applying the tips.