How Much Does It Cost To Advertise On Instagram?

12

min read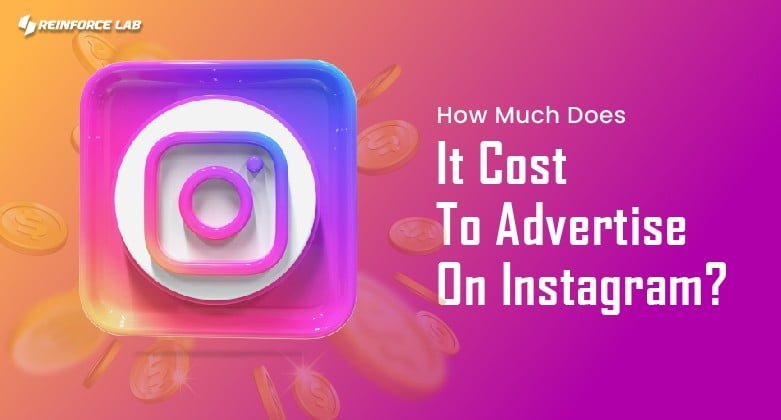 If you are thinking of running a advertise on Instagram and worried about the cost to advertise on Instagram, then this blog is for you.
In this guide, I will discuss all the vital topics of Instagram ads pricing or advertising on Instagram cost.
So, without any delay, let's start today's blog, "How Much Does It Cost To Advertise On Instagram."
According to research, 80% of Instagram users used to follow a business on it. [ dotNdot ]
That is why it has become so important to be active on Instagram and have a presence with your brand.
A great way to do that is to run ads on those platforms so your brand visibility increases and your target customer know more about your services or products.
Though running an ad campaign successfully on social media and getting the best output from that advertisement is quite unpredictable.
But if you gather all the knowledge about advertising on Instagram or any social media and follow the proper steps, this challenging task would seem much more manageable.
Before running any campaign on social media or any other platform, it is essential to know the pricing of that ad. This statement holds the same value for Instagram product ads.
I have come here to share all the information about ad prices for Instagram.
But before going to that, let us first discuss Instagram ads and their importance for your brand growth.
Advertising on Instagram 
Instagram advertising is an ad process that businesses follow to promote their products and goods.
Instagram advertising allows businesses to buy permission to post sponsored content on the Instagram platform to reach a larger and more targeted audience.
If you want to reach a new and targeted audience quickly, then you can not avoid social media marketing or advertising.
It is sad but true that getting organic traffic is hard. That's why sometimes it is important to have paid promotion.
With the help of a little Instagram ad boosting, your web traffic will increase.
I know switching from an organic marketing strategy to one involving financial investment is highly dangerous.
Because not all advertising tactics are successful every time, it is essential to know all about Instagram ad agency services and the cost to advertise on Instagram.
Let's start with knowing about Instagram ads. Then, I will discuss the factors determining the cost of advertising on Instagram.
How Make Ads On Instagram?
With 18 call-to-action buttons, Instagram ads offer a wide variety of options.
You can include a link to your website, let Instagram users download apps, or allow them to purchase items from your online store.
It's entirely acceptable if you don't have an Instagram account but want to run ads there.
You don't need to have an Instagram account. You only need a Facebook account to get started.
However, it is always preferable to have your own Instagram account so that you may become familiar with the content that best appeals to your target audience, complement your organic Instagram marketing efforts, and enhance them.
To set up an Instagram ad, go to the Facebook ads manager.
You will select your decided budget, ad placements, Schedule, optimization options, and others.
The ads will run in your selected time frame, place, and front of your targeted audience.
Isn't this super easy? Then why haven't you begun yet? I know you are thinking about the cost of advertising on Instagram.
I am heading to that topic. But before that, it is essential to the variables that affect the advertise on Instagram cost.
Here I am showing you the 5 elements that impact the Instagram ad cost calculator.
What Determines Instagram Advertising Costs?
Similar to the other platforms, the cost of advertising on Instagram is influenced by different variables.
Since Facebook is the parent company of Instagram so while determining the ad cost, Instagram employs the same rules as Facebook.
For your ease, I am showing you the 5 key factors that determine Instagram ads pricing.
1. Campaign Objectives
The campaign objective is the main factor that can determine the Instagram ads price directly.
Because the average cost to advertise on Instagram depends much on this.
For example, If you choose a brand awareness campaign, it will cost lower than conversions. Because conversion has a higher value objective.
Similarly, it will be less expensive to advertise to a larger, more arbitrary audience to raise brand awareness than to those at the bottom of the funnel.
They are prepared to take a higher value action since they are more familiar with your goods or services.
2. Bid Amount
It would help to decide how much you are prepared to spend on leads.
How much you spend on an Instagram advertising campaign depends on your bid price.
Due to the increased bid levels, be ready to pay extra for impressions and clicks on Instagram.
If your budget is $500 and your bid amount is $2 per click, your ad sets will receive 250 clicks.
Similarly, if you bid $0.50 with the same budget amount, you would be able to acquire more clicks.
In essence, your budget and the bid amount are interdependent. Which will ultimately impact how much it costs to advertise on Instagram per month.
3. Relevance Score
The relevancy score for Instagram advertising measures how relevant Instagram believes your ad is to users who will see it.
It will also impact your average cost of advertising. Instagram wants to show relevant content to its audience in its feed.
They do this by scoring advertising based on how viewers respond to them.
Your relevance score will rise if people respond favorably to your advertisement.
Clicking, leaving comments, liking, and other similar behaviors are included.
On the other side, behaviors like hiding the advertisement have a negative impact.
Your ad's performance will suffer as a result of getting a lower ad relevancy score.
High relevance scores are prioritized above low ones for displaying advertisements.
You'll spend less money if your advertisement is more pertinent. Your campaign will receive more clicks, and it will generate more leads.
4. Estimated Action Rates
Your Instagram advertising costs will also be influenced by the predicted action rates.
According to Instagram, this rate is based on the likelihood that people would respond to your advertisement.
They essentially want to determine how likely it is that your audience will interact with your advertisement.
These interactions involve behaviors like clicking and buying. Instagram aims to showcase advertisements encouraging users to interact and engage with your content.
Your Instagram ad cost will be determined by your expected action rate. Instagram will prioritize your ad if they think more users are likely to interact with it.
As a result, your bid amount will be cheaper, enabling you to generate more leads and conversions.
5. Competition
The competition will always influence your Instagram ad price.
When you're trying to reach a specific demographic of people, competitors will always try to get the same group.
The price of your Instagram advertising campaign may alter due to your competitors.
A bidding war may result if multiple parties compete to access the same audience.
For the top spot, businesses will need to outbid one another. As a result, your cost per click (CPC) may increase to outbid rivals.
Except for these 5 elements, other factors influence Instagram ad pricing. Like it depends on your business type.
If you are marketing for a B2B company, then your advertise on Instagram cost will increase compared to other company types.
Another factor is holidays. During holidays many companies compete to get valuable leads which increase the CPC.
So, if you are planning to run your ads during holidays, keep in mind that your Daily Budget for ads won't be enough.
I have talked about the factors that affect Instagram ad cost now, let's move on to today's main topic, which is "How Much Does It Cost For Advertising On Instagram?"
How Much Does It Cost To Advertise On Instagram?
People who are interested in running ads on Instagram have a common question how much it cost to advertise on Instagram? Or How Much Do Instagram Ads Cost? So, here I am to answer all your questions.
Instagram has become one of the most popular platforms, so it is no surprise that more than 50% of small businesses worldwide are using this to market their brand. That is why it becomes a little expensive sometimes.
Let's look at the average cost per click, cost per engagement, and cost per thousand impressions on Instagram.
Cost Per Click (CPC) for Instagram
Cost per click CPC, calculates how much it costs to get a click from an Instagram ad.
For all metrics, Instagram's cost per click in 2021 ranges between $0.40 and $0.70.
This covers link clicks, likes/reactions, comments, and shares. It also considers all clicks that occur on an advertisement.
Instagram's cost per click in 2021 for advertisements with destination URLs ranged from $0.50 to $0.95.
Cost Per Engagement (CPE) for Instagram
The CPE, or cost per Engagement, in this context, refers to the price you pay for any particular action you're tracking.
Such as messages, emails, or conversions.
Instagram cost per engagement in 2021 ranges from $0.01-0.05.
Cost Per Thousand Impressions (CPM) for Instagram
Your cost per thousand impressions, or CPM, is the price you pay to deliver your advertisement 1000 times.
In 2021, the cost per thousand impressions on Instagram for better-performing campaigns and their corresponding ad packs ranged from $2.50 to $3.00.
I know all these things are new to you so that it can seem messy to you at some points. That is why I am trying to tell you from scratch.
Just be patient and keep reading. I am sure you will get a proper Instagram advertising costs idea after finishing this blog.
Now let us talk about an interesting comparison between Facebook and Instagram ads cost.
Instagram Ads Vs Facebook Ads
Even though no other Instagram advertisements manager is Utilizing the same Ads Manager, Facebook and Instagram's respective advertising costs vary.
Instagram is slightly more expensive compare to Facebook in some cases because Facebook has been around longer, has more data, and has more ad places than Instagram.
Though Facebook offers a huge amount of advertising options, Facebook ad costs are less than Instagram.
But that doesn't mean you will stop learning more about this profitable and beneficial visual alternative in the Facebook network.
You might pay a little more to utilize Instagram because fewer ad places and more advertisers are competing for impression share.
Still, you might be surprised to find that the results you obtain with Instagram are considerably more cost-effective.
Is Instagram Ad Pricing Worth The Cost?
Instagram is one of the top social media sites for business promotion, mainly if you sell products online.
According to Hootsuite, more than 1.22 billion people use Instagram each month, which is near twice as many users as are logged into Facebook and YouTube.
So, if you are not taking this advantage, then you are missing out on a huge opportunity.
You should consider a few factors while evaluating whether this is worth it.
You will get the opportunity to use Facebook's advanced targeting audience.
Instagram stories are hugely popular, so you can create brand awareness using this popularity.
You can generate an audience based on your requirements using the custom audience option, which uses data from your app's activities and your website.
Instagram ads for followers deliver high conversion rates.
It has a great audience engagement rate.
Instagram prioritizes video ads as they perform better than other forms of ads.
I think you are clear why Instagram ads pricing varies from Facebook and others.
Many of you are still thinking about how to advertise on Instagram for free.
Well, there is no way of doing that. But I can surely help you with some tricks that might assist you in lowering the cost of advertising on Instagram.
How To Cut The Instagram Ads Cost 2023
As human beings, it is our common nature that we always try to find cheaper ways of advertising.
Here are a few excellent practices that will enable you to increase the effectiveness of your Instagram advertisements while minimizing their expense.
Automatic Bidding: It is better to use automatic bidding if you are new in this field. Until you have data to help you design your campaign, automatic bidding can help you determine the appropriate bid amount. It's a fantastic strategy to cut your Instagram marketing expenses.
Use Precise Targeting: You set up your Instagram ads to reach people interested in your products or services. Use precise targeting to connect with your targeted audience to achieve the best outcomes for your campaign.
Create Relevant Landing Pages: Relevant landing pages result in more conversions. Customers are more likely to buy when they are taken directly to the advertisement's featured goods. This helps in the recovery of your campaign-related expenses.
Remember that there are no shortcuts to doing a task and getting the desired best result. You must do a lot of research before starting any marketing or advertising strategy.
Wrapping up – How Much Does It Cost To Advertise On Instagram?
Running advertisements might be scary if you don't know what to anticipate or how those Instagram ads pricing are determined.
Set aside some time to sit down and brainstorm the precise goals you have for your advertisements.
All this effort will guarantee that your campaign is comprehensive, saving you money because it will appeal to your target audience and encourage them to purchase.
Keep in mind that modifications will be necessary over time, and that's completely natural.
Even the most effective tactics and advertisements require improvement.
I hope you have enjoyed reading my blog on how much it cost to the ad on Instagram and understand what does it cost to advertise on Instagram.
You may also like our blogs- 
If you think this post was exciting & you have gained some knowledge, don't keep this accomplishment only with you. Allow your friends & family to stay the same intellect as you. In short, sharing is caring!
Naurin Azad is an SEO content writer. She has a strong desire to assist others and hopes that her content will benefit users. Naurin enjoys discovering new information and taking unusual routes. She enjoys learning about new topics, studying them, and engaging in conversation with others. She also enjoys experimenting with search engine results pages. She believes that whatever you achieve in life is a direct outcome of your efforts.