How Can Companies Be Socially Responsible Marketers in 2023

12

min read
How can companies be socially responsible marketers is nowadays become a vital question for any firm especially for those who are interested to go for socially responsible marketing.
Even giant companies are now more on this social responsibility marketing concept to make their business better.
90% of the consumers surveyed are more likely to trust and be loyal to socially responsible businesses compared to companies that do not show these traits.
This is another big reason why companies are interested in socially responsible marketing.
The social responsibility marketing concept is also known as corporate social responsibility awareness.
Usually, corporate sectors use the term CSR as marketing strategy.
The underlying notion behind it is to seek alternative pro-social goals in addition to profit maximization.
CSR refers to corporate actions and statements that are meant to have a good impact on the planet or society.
So if you are thinking about your including social and environmental issues in your marketing plan as a part of any company.
Or looking for how can companies be socially responsible marketers then you are in the right place!
Here we will discuss things related to making socially responsible and ethical marketing decisions also many more things that you need to know.
So let's get started with –
Socially Responsible Marketing Definition
Social marketing is basically an environmentally friendly promotional strategy that is a part of CSR as well.
Ethical corporate marketing or green marketing are two examples of socially responsible marketing.
Some businesses use this sort of marketing to recognize the greater social and environmental consequences of their products and services.
Corporate Social Responsibility Definition 
Companies practice corporate social responsibility to improve the lives of people, participate in charitable activities, and generate good social value.
This is one sort of giving back to society and its people as they have got the chance to build their business via society's cooperation.
CSR can be done in various ways but the most common of all is well being of society.
There are four key aspects of social responsibility –
Ethical,
Legal,
Economic, and
Philanthropic.
Socially Responsible Marketers
The socially responsible marketers are the companies that are planning for doing CSR, implementing and monitoring them on time.
Here any particular role supervises all the things related to social marketing.
They mainly plan what they can offer to the society people after that they go for socially responsible marketing.
As social marketing helps to get brand awareness fast so their corporate social responsibility also gets highlighted.
These are the common points that socially responsible marketers follow to maintain a balance between their business and society.
As you have got to know about the definitions of Marketing Mix related to CSR and SRM now let's see something interesting!
Foundational Values that Any Companies Need for Their Ethical Marketing :
5 best values where consumers and CSR intersect to create a better marketing strategy for a company.
Honesty
Be honest with all the products or services that you are offering to society.
Responsibility
Must have to be responsible toward society and its elements.
Fairness
Try to give equal importance to everything that you find in society.
Respect
Do not ever forget to respect society as it helped to build your company and take you here.
Transparency
Whatever you do keep a record of them to be an appropriate presenter and transparent to society.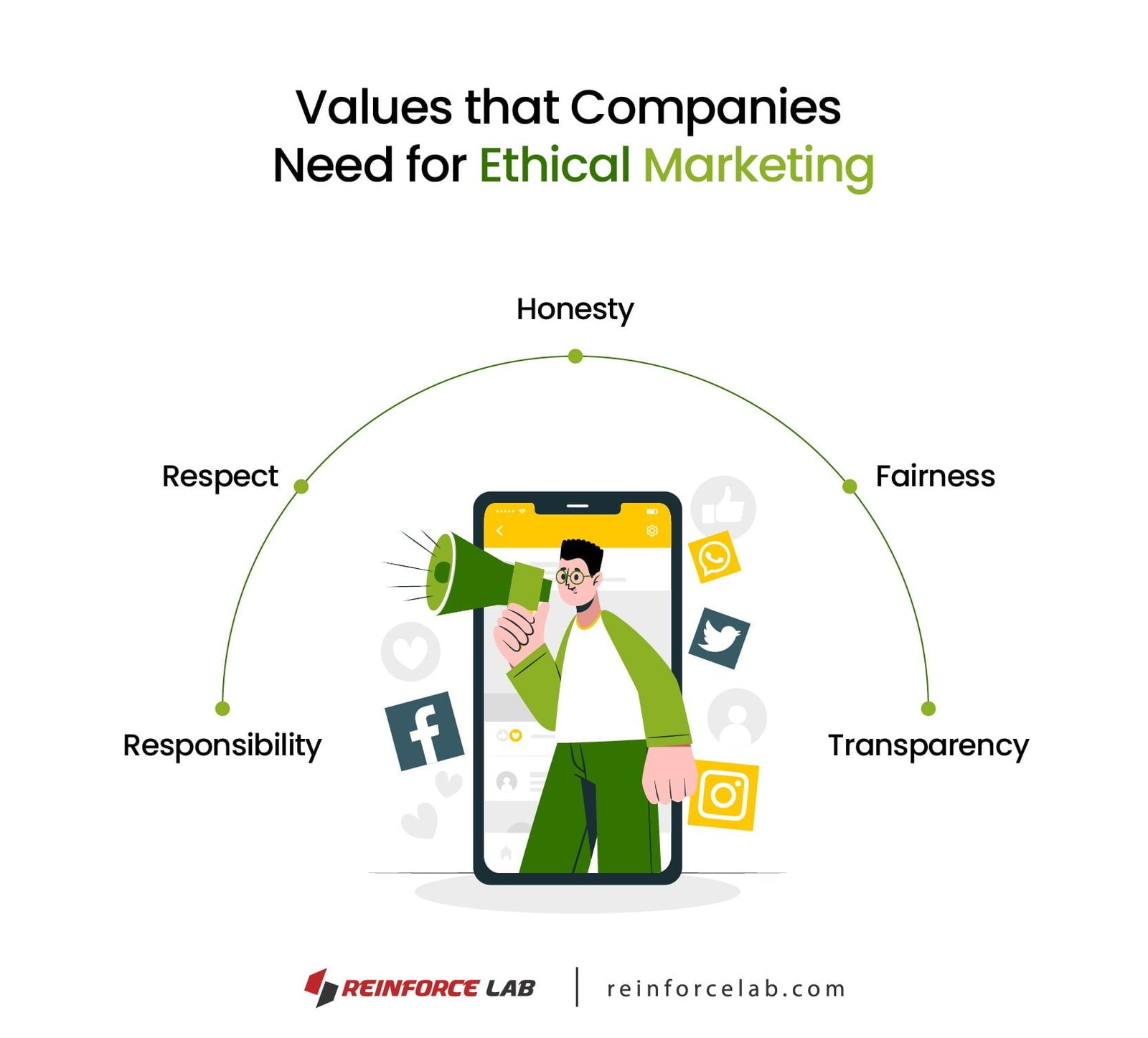 Without all these values it can be difficult for companies to do their social responsibility marketing as people will not believe so easily.
So if you are planning to do your marketing then follow the values to take your business another level up!
As you have already got to know about what values you must need to follow to be a socially responsible company then let's see,
What Corporate Marketing and Social Responsibility Practice Includes –
Here are the best 5 marketing practices that any company should adopt before diving into any ethics and social responsibility exercise.
1. In marketing communications, there should be an open standard of truth.
2. There must be a clear line between advertising and sensationalism.
3. Endorsements of what corporations do must be explicit and open.
4. Marketers must adhere to and implement government norms and regulations
5. Marketers must have to protect consumers' privacy at all times.
As a socially responsible marketer, these practices are not just one-time things to do.
Rather it is the process that you must follow for a lifetime to keep your business alive in people's minds.
Now you must be thinking is CSR or SRM really that much beneficial to grow your business?
To remove your confusion then let's get to know about,
The Importance of Social Responsibility and Ethics in Marketing as –
The importance of social responsibility in marketing is countless still I managed to mention some out of them and here they are.
Attract and Retain Top Employees
Through socially responsible marketing, you can easily attract a large audience.
Research shows that 84% of people would "tell friends and family" about a company's CSR efforts.
So if you can do the CSR properly then consumers would love to take services from you.
At the same time employees will also feel proud of being a part of a company that is doing good for society.
Adapting to Changing Consumer Behavior
If you ask about the importance of social responsibility in marketing, this can be the most suitable answer.
When as a company you search for what you can offer to society's people then you need to know about what your consumers are searching for right?
As a result, you can excellently find out your customers' desire for things they want.
So it became easier for any company to adapt to the changes in customer behavior and give the best output.
Maintain a Positive Brand Image
This can be the first place of importance of social responsibility in marketing as you can guess it from the title.
The more you contribute to society the more people will get to know about you.
Through rescue efforts, rescue operations, and rescue workers perfectly you can win everyone's mind.
At the end of the day, this will ultimately give your brand positive feedback and that's why firms go for CSR things.
Covering Legal Grounds
Corporate social responsibility helps in covering legal aspects as well.
By doing it businesses can follow the legal grounds which can make them a perfect business in the eve's of government as well.
That is why companies love to do CSR and promote it through social marketing.
Addressing Real-World Impact
By doing your social responsibility you can easily show people how your business is impacting society as well as the world.
Even you can show how your business is handling the problematic situations that arise within society.
So ultimately you are helping all to know about the impact that the world is facing now.
Building Trust and Reputation
With social responsibility maintain you are helping society and its people which is the main motive to do CSR.
When people get the solution to their problem from any business then they would love to take services from them for sure.
This is how CSR helps to build trust and reputation easily.
Done with the importance of social responsibility in marketing?
Interested to go with this social responsibility marketing concept then see the,
Steps you should take for building your CSR initiative from start to finish –
With the proper steps, you can easily build a suitable CSR project that will represent your company positively in front of the world.
But you can edit the steps as you want so here we go!
1. Start with Research thoroughly
2. Build support internally and externally
3. Develop an approach that you think is best suitable 
4. Execute a clear strategy before implementing
5. Ensure sustainability to work in the long term
6. Measure impact to do better in future
7. Communicate results and get suggestions to do better
Enough with the whole social responsibility marketing concept so I do not want to bother you anymore.
So let's dive into our most awaited topic,
How Can Companies Be Socially Responsible Marketers in 2023?
Know the Ways of doing Corporate Social Responsibility (CSR) for Company
Here I will talk about the 5 best ways of applying your social responsibility effectively to your society.
By Giving Grants
A grant is a sum of money given by an organization to an individual or another organization for a specific purpose, such as education or home improvements.
If any company goes for grants then it means they are concerned for the development of the society or maybe any parts of it.
So as a company if you are getting profits try to be socially responsible by giving grants.
People will know about your company with this at the same tie they will never forget your contribution that helped them!
Donations in Kind
In-kind donations are gifts of goods, services, or time rather than money.
Devices, books, automobiles, clothing, and necessary items are examples of tangible goods and intangibles including advertising, patent protection, and trademarks.
Things that are necessary for people can create the most value if your company can provide them on time.
This way social responsibility marketing concept can be applied successfully to any company.
Funds for Disaster and Crisis Assistance
Aid is provided in the event of a situation that creates an imminent risk of serious harm.
Occurs in order to the person's health or safety is referred to as disaster and crisis assistance funds.
When your company can provide necessary service or aid while needed so it will easily be a contribution to society.
Also, this works as one of the effective examples of social responsibility in marketing.
Financial Contributions and Sponsorships
Corporate sponsorship is a type of marketing in which a company pays a fee to be linked with a program or project.
Through this sort of contribution, the company gets huge credit.
That is why when you want to think to contribute to society apply this technique.
At the same time, you will be able to help people and marketing also will be done with this.
Fellowships and Scholarships
Fellowships and scholarships are types of grants given to students based on their academic performance in order to encourage them to do better.
It also refers to financial assistance given to individuals who wish to conduct additional research on a specific subject after passing the required exam.
As a result, the young generation will easily get to know about your company's contribution and they would admire it.
So try to follow these ways to make your company socially responsible.

Got enough ideas for contributing to society from your company?
Now let's see some examples of social responsibility marketing applying sectors that you can try.
Examples of Social Responsibility in Marketing
Here I will mention some responsible advertising examples that can make an environmental impact via your business strategy.
Carbon Footprint Reduction
As the most needed examples of social responsibility in marketing corporations can reduce their carbon footprints.
By installing energy-efficient lighting, adding insulation to buildings, or generating electricity using renewable energy sources.
Wind-generated electricity, for example, emits no direct carbon emissions.
Improving Workplace Policies
When issues arise, workplace policies and procedures help to provide a decision-making framework to ensure integrity and fairness are adhered to.
As well as assisting in the reduction of legal and safety risks for you and your company.
Working people must need this sort of thing for real.
Fairtrade Participation
Fairtrade is a certification system that aims to ensure that a set of standards are met in the production and distribution of a product or ingredient.
It means workers' rights, safer working conditions, and higher pay for farmers and workers and for customers, this means high-quality, ethically produced goods.
People wanted these most typical examples of social responsibility in marketing.
Inclusion, Fairness, and Diversity
EDI (Equality, Diversity, and Inclusion) ensures that everyone is treated fairly and has equal access to opportunities.
It seeks to eliminate prejudice and discrimination based on the protected characteristics of an individual or group of individuals.
The world really needs the most typical examples of social responsibility in marketing.
Global Charitable Giving
Global charitable giving is a non-profit organization that makes it simple and secure to donate to projects all over the world.
While also providing local organizations with the tools, training, and support they need to thrive.
The world can change with these sorts of examples of social responsibility in marketing.
Wrapping Up – How Can Companies Be Socially Responsible Marketers in 2023
Now you can imagine how important the social responsibility marketing concept is, right?
Hopefully, it is a yes.
With these basic ideas, you can help other folks seeking how can companies be socially responsible marketers.
You can inspire your readers to continue returning to your website and obtain more traffic by creating valuable content related to CSR.
Remember that business owners' main marketing tactic is word of mouth.
If you can spread the word and show your authenticity, you can win the market quickly.
And the social responsibility marketing concept can take your business to another level up!
Another thing, creativity lies in you.
You can create your content ideas and manage them as well.
But perfection comes from professionals, so go for the best always.
Now, I'd like to hear what you think about how can companies be socially responsible marketers?
Can you tell me the socially responsible marketing that you have applied?
Could you share your thoughts with us?
Read more from our blog.
You May Also Like:
If you think this post was interesting & you have gained some knowledge don't keep this accomplishment only with you. Allow your friends & family to stay the same intellect as you. In short, sharing is caring!
Maxilin Catherine Gomes is an undergraduate business student who enjoys experimenting with the world of marketing via her proficiency in SEO. She doesn't have to put in any additional work to conduct relevant topic research, analyze traffic and search rankings, or discover the most popular visited websites for her articles since she enjoys doing so. She has spent the past decade devouring thrillers, romances, and detective books. For her, the best thing to do is to learn something new. She believes that everything in the world works together to help you reach your goals.