20 Advantages and Disadvantages of Using Social Media 2023

15

min read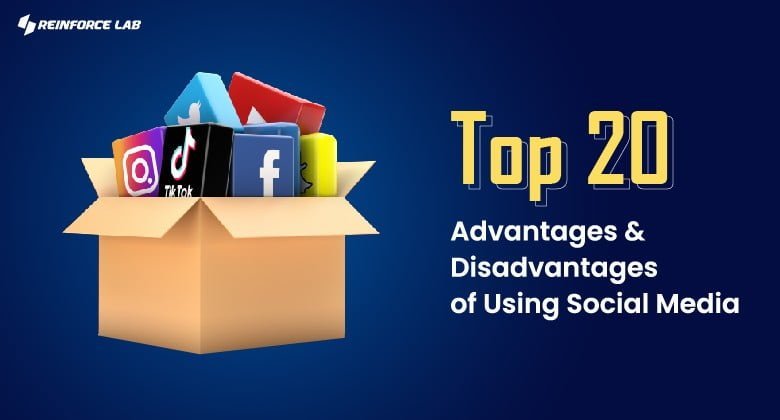 Advantages and disadvantages of using social media work as two sides of a coin, named – Social networking sites.
Nowadays social media became e part of our daily life and we can not even think of our life without it, right?
According to Statusbrew,
Around the world, there are 4.88 billion internet users now, which equates to almost 62% of the world's population.
So you can simply guess how many people are now dependent on social networking sites for their regular activities.
But as we all knew every single thing has pros and cons and the same goes for social media platforms.
Social platforms made our life easier at the same time it is making us more dependent on them and so on.
Social Media, Its merits and demerits have become a common aspect of our frequent routine so we can not define it specifically.
In this article, we will talk and learn about the advantages and disadvantages of online social media sites that will startle you.
Before that let's get to know about –
What is Social Media?
Social media is an online-based communication platform that enables its users to interact with each other through their social profiles.
Here users can share a variety of content that contains visuals, videos, or GIFs, even they can go in 'LIVE' which is a real-time activity.
Besides these, every particular site has its own type of features by which users can become more interactive with others.
The social networking world was created to make people's life easier but things do not always go how it plans.
That is why the advantages and disadvantages of using social media topic raised in our minds.
Before diving into the advantages and disadvantages of social things let's see some platforms that people are using too much nowadays –
Facebook
With 2.9 billion monthly active users Facebook became the most popular social networking site worldwide.
YouTube
Youtube is now on the trending list on the social networking site with more than 2 billion active users.
WhatsApp
WhatsApp also has 2 billion monthly active users, which is almost the same as YouTube.
Facebook Messenger
Facebook Messenger has got 2.77 billion monthly active users which are too close to Facebook itself.
Instagram
With 1.386 billion monthly active users Instagram is now another top social networking site.
WeChat
WeChat has grown more than1.26 a billion monthly active users this year.
TikTok
This has now become one of the leading social sites with 1 Billion monthly active users.
Douyin
TikTok's Chinese original version Douyin has gained 670 million individual users.
QQ
With 617.4 million monthly active users QQ also ranks on the leading social networking site.
Telegram
This year Telegram reported that it has more than 550 million monthly active users.
As you are here to read about the advantages and disadvantages of Social Media, I am sure you are using any of the above sites.
Now let's see what are the top 10 advantages and disadvantages of social media marketing from them.
20 Advantages and Disadvantages of Using Social Media
I have divided the social media marketing advantages and disadvantages into 2 segments.
In the first segment, I will talk about only the benefits of social media and in the next segment demerits of social media will be described.
So what are the advantages of social media?
Let's get to know about then about –
Advantages of Social Media
01. Social Media Platforms Help to Reach A Wide Range of Audiences
This is one of the best advantages of social media platforms.
You can easily get a wide range of audiences from here.
As more than half of people are available in this digital world through social networking sites.
But for that, you must need to provide relevant and quality content.
People available on social sites create great opportunities for your business to reach leads.
You have to find these multiple opportunities to reach leads and can engage them on these different platforms.
02. Social Networks are A Useful Law Enforcement Tool
Social media is used by 85% of police departments in the United States to investigate local offenses.
Nowadays social media became a process that aids officers in locating and apprehending criminals, who make a fuss about their crimes online.
The benefits of social media have resulted in numerous accusations.
Including hatred as well as the identification of multiple people in videos where inappropriate behavior occurs.
Even proven that 73% of law enforcement officials in the United States believe social networking sites help them solve crimes faster.
In order for the appropriate charges to be brought against them.
So this is how social platforms help us to find out lawbreakers.
03. Brands Can Have Access to Paid Advertising Services
This is another fruitful benefit of social profiles that help you to reach your target audiences easily.
Paid advertising is mainly an online advertising process.
Here marketers bid to partake in real-time auctions to show their ads within slots on a specific platform or network.
Even specific social site has their paid advertising system.
So you can select your target audience range, area, and all.
This way social media assists you to get more and more target audiences that will surely take your business to another level up.
04. Social Media Sites Support Creating an Organic Content
Social media is a place where you can show your creativity without any bindings.
And content marketing works here best.
Research shows that 82% of marketers actively use content marketing. (HubSpot)
The more you can emphasize making unique content the more you can get reach.
And this opportunity is only available on social media platforms.
Undoubtedly this is one of the best benefits of social media for any marketers who want to grow business online.
05. With Online Platforms, You Can Build Your Brand Digitally
By opening a social media profile you are doing nothing but opening an online version of your business.
So you have to stay updated here in order to keep your audiences updated about the current world.
Through your content marketing procedure and proper strategy, you can easily win your audiences.
All you need to do is become active to make your business digitally powerful.
In fact, social media aids to increase brand loyalty through some patience and it is thousand times true!
06. Social Media Platforms Drive Traffic to Your Website
Traditional marketing brings customers to your shops and social media marketing brings traffic.
Sounds funny? but this is the reality.
With your worthwhile content, you can easily attract your target customer as I previously said.
If you add your website address with those content then you can be sure that customers will surely at least once will check your website.
Once they started believing in your content then driving them to your website is just nothing but a difference of time.
And this is how social media platforms help a lot for driving traffic to websites and obviously you should take the chance as soon as possible!
07. These Sites Can Evaluate Your Performance
Each social media platform has now its personalized evaluation option.
That helps to monitor your performances including how many impressions you are getting, how many people have engaged, where they are from etc.
By enabling the business section of particular social media sites you can get all those options to monitor.
And this is one of the soundest merits of social media that helps you to see if you are doing well or not.
From which region you can get your target audiences and how to create content for them which is really one of the great benefits of social media.
This way social media supports a lot to assess your own performance in this digital world to make yourself better than before.
08. Through Social Sites, You Can Create Viral Content
If you are thinking what are the benefits of social media then this can be a great answer to your question.
Social media helps in viral content creation.
Viral content is defined as material that flares fast online through social sharing.
But as always you must emphasize creating quality content.
When the content will match your audience's taste then surely they will share it from their social profile.
And if the sharing rate increases then surely it will become vital content that will ultimately bring a lot of traffic to your site.
This way through viral content social media can help you to grow your business digitally.
09. Social Networking Is A Savior for People Who are Introverts
Introverts are defined as quiet, reserved, and thoughtful personalities who do not like to socialize in person.
But these people usually love to share their thoughts via social media as here one does not need to talk face to face always.
So this is a safe place for people who are uncomfortable to interact
This is one of the unique advantages of social media for people who do not want to talk that much.
Even they need something to buy they will reach online pages and if you have a business you can serve customer service properly to them.
Introverts love to be free from direct communications but if they get the chances they love to share their opinions.
And social media is the perfect place for that.
10. It Takes Free of Charge to Set Up A Social Networking Account
Social media assists to stay in touch with others through conversations, sharing, and all the most useful benefits of social media.
You can share your own created content here and if you gave access people can share them as well.
Businesses can run their digital shop from here and evaluate as well.
You can also customize your profile as a social media user also.
Lots of things you can do here right?
And all you can do here is by opening a social media profile only which will cost is nothing.
Yes, the social media profile creating charge is only 0.00 with these sorts of benefits.
Then why not be a part of it?
Obviously, you should!
After knowing all the advantages how you are feeling by the way?
Good enough, hu?
Now you must be thinking what are some disadvantages of social media, right?
Okay then let's see some not-that-good things which are –
Disadvantages Of Social Media
11. You Can Receive Negative Feedback
Sharing social media content means you are sharing it with the whole digital world.
So a wide range of people gets to see them which is both at the same time advantages and disadvantages of social media marketing.
As you can get negative feedback from the audience which is not expected.
So as a result it can demotivate people or marketers to post again.
At the same time reaching huge people also counts as a benefit of social media.
Since it helps to grow your business but getting negative comments can not be counted as a benefit.
So yes among the advantages and disadvantages of social media marketing this is one great disadvantage of social media.
12. Social Media Contents Open Up the Potential for the Embarrassing
Sometimes you can share things that are trending but unfortunately does not related to your business.
It can hamper your business as well as you can lose the interest of your target audiences.
From the advantages and disadvantages of social media marketing, it is surely a big disadvantage for your social profile.
Your content will get viral but ultimately as irrelevant content, you will get the credit as a creator.
So you must have to publish your content after measuring and analyzing its relevancy.
13. Causes Brain and Personality Disorders
Too much use of social media became a need in our daily life which is at the same time has advantages and disadvantages of social media marketing.
Spending time on social sites can bring you more traffic or engagement but it correlates with brain and personality disorders as well.
Being absorbed in the digital world through devices can affect your brain if you use them for a long time.
Consequently, you will become dependent on them for using them too much.
Acting like what others do on social media can also bring personality disorders that are really a big demerit of social media.
14. Kills Lots of Time Without Any Obvious Benefit
Using social sites for a long period negatively impacts each and every one.
Social media is really time-consuming, once you get addicted to it.
Though it has so many benefits, if you use it only to get fun then it is not the best place to.
For fun purposes, social media does nothing but kill your valuable time more than anything else.
Addiction to social media only kills your time without any proper benefit and it's thousand times true.
15. You Will Not Get an Immediate Result
Using social media and getting immediate results is just an impossible thing to think about.
No matter how much social network has benefits, consuming your time is always the only thing that it does.
You can create fruitful content and share it continuously but will never get the result just after doing it.
Here you must have to wait as social media algorithms work in this way.
At first, they will trust your profile then content after that they would share it with audiences organically.
Which is really time-consuming and painful.
16. Privacy Issues Associated With Social Networking
Once you shared your information with social media platforms it means they are not confidential anymore.
Though they will not share it publicly, the harsh truth is they will share it in other ways.
Sometimes confidential information related to individuals can be leaked out and it can negatively affect their life.
Also, fake news related to their personal information can make their life disaster.
And it happens daily!
Unfortunately among lots of advantages of social media, this is the worst disadvantage of social media.
17. Excessive Social Media Use Can Result in Stress
Unfortunately, however, using social media more frequently increases FOMO.
Inadequacy, dissatisfaction, and isolation are also common.
As a result, these feelings have a negative impact on your mood.
This is proven and a big disadvantage for nowadays people.
It is because after the lockdown period they are really using social media too much.
So this leads them cause exacerbate signs of depression, tension, and stress.
18. Bullying, Stalking and Harassment are Common Here
According to 42 of the articles reviewed, victims of cyberstalking and/or harassment experienced a wide range of negative and detrimental effects.
Especially on their mental health, including depression, anxiety, suicidal ideation, and panic attacks.
It happens here more often because it is an open place for sharing opinions.
As a result, some people with bad intentions try to attack others through their negative feedback and activities.
This is really a bad side of social media because everyone deserves respect.
19. Copyright Laws are Often Flouted on Social Media Sites
Marketing is social media is really common in today's world.
But sharing others' content without their permission or credit is getting common here as well.
Which undoubtedly always hampers copyright laws.
And this is one of the great disadvantages of social networking sites.
You can make licenses for copywriter issues here as well but if someone breaks them it is tough to get a solution for it.
As social media copywriter law is not that much strong till now.
So among the advantages and disadvantages of social media marketing, it is a big demerit of social media for sure.
20. Adult Content can be Harmful to Children
Social media is an open platform to share all types of content.
And during the lockdown phase, it became a necessity for children to attend their classes and get updates through social profiles.
So ultimately they could go through the adult content which was not meant for them.
As a result, this sort of thing can easily harm their mental health.
This is really a bad side of social media platforms.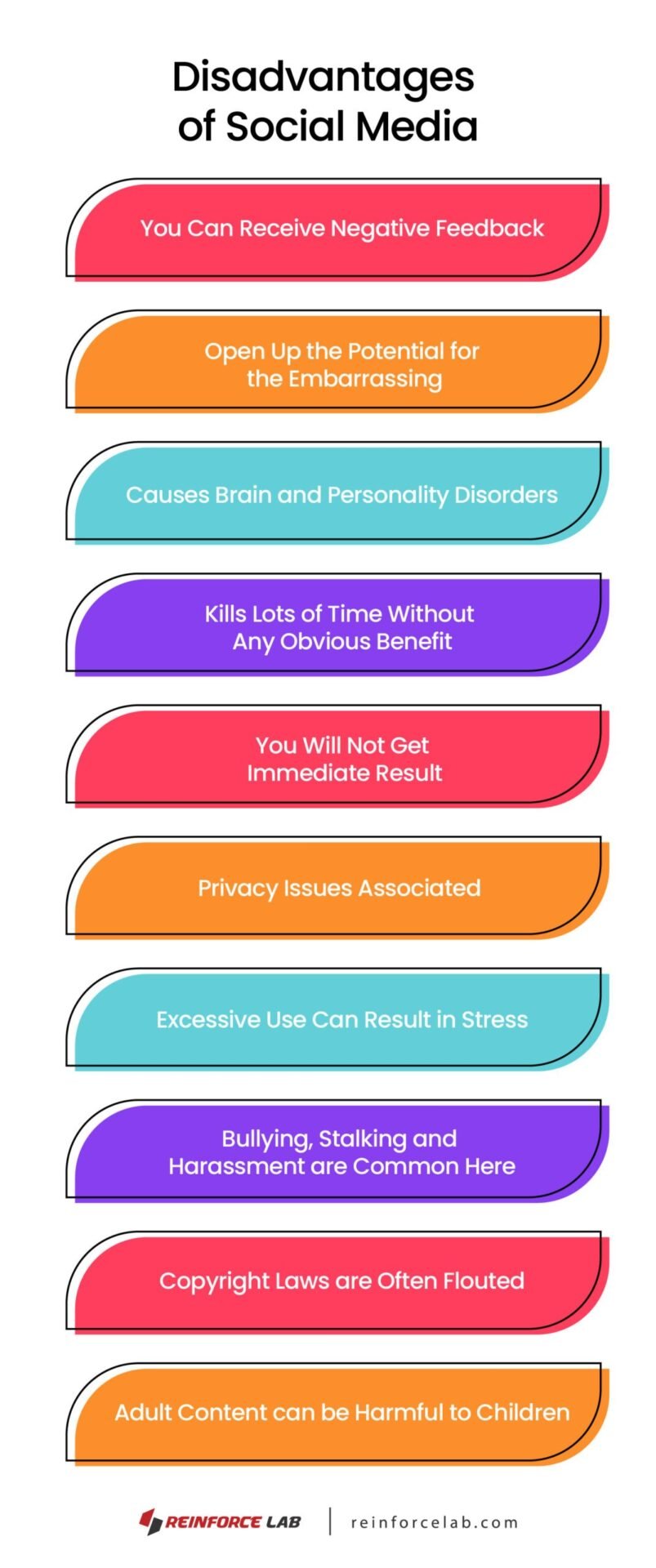 Wrapping Up – Top 20 Advantages and Disadvantages of Using Social Media

Phew! we are finally done with our top 20 advantages and disadvantages of social media marketing.
You can revise those advantages and disadvantages for better understanding.
Even you can go for advantages and disadvantages of social media easy writing with these topics as well!
You can inspire others to continue to return to your website and consequently obtain more traffic with proper use of social media.
So always follow the best side of social media to get the best result.
Another thing, creativity lies in you.
So never stop being creative and show it to others through your social media profiles.
Now, I'd like to hear any other advantages and disadvantages of social media that you faced or heard.
Do you have any other opinions?
Do not hesitate to share your thoughts with us!
Read more from our blog.
You May Also Like:
If you think this post was interesting & you have gained some knowledge don't keep this accomplishment only with you. Allow your friends & family to keep the same intellect as you. In short, sharing is caring!