What Is Martech? Why Need Digital Marketing Technology Stack?

12

min read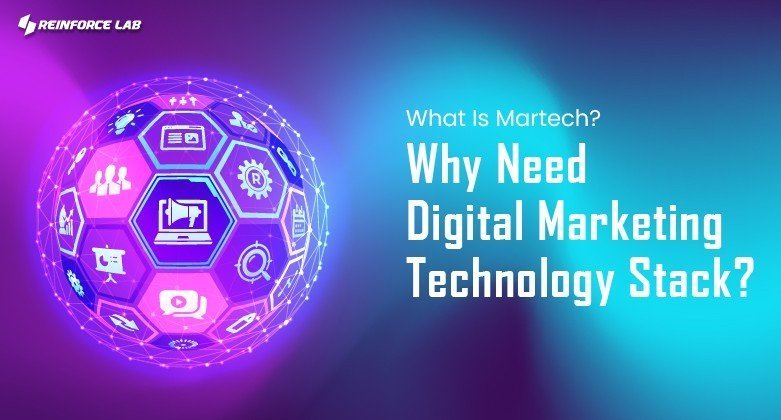 If you run a business, you may be familiar with Marketing Technology Stack or know What Martech Is.
And if you don't know but want to, this blog is for you.
I will walk you through the entire process to make technology and marketing strategy less complex for you.
Digital marketing technology stack is a process that every company owner has to follow when their business grows, and the company expands.
Because it becomes difficult to manage all the business operations and tasks at the same time.
Marketing Technology solutions or mar-tech allows you to maintain and manage all the company tasks and run the marketing campaigns smoothly.
When the team of your company and business scales, it is essential to have a Marketing Tech Stack that simplifies your daily operations.
According to ZDNET, the number of marketing professionals using AI martech grew 186% from 2018 to 2021.
Research from American Marketing Association shows that about 70% of sales-as-a-service (SaaS) and technology companies use integrated martech tools.
So, you may realize the value of this martech technology.
Imagine that this is your genie from Aladdin who will oversee all of the tasks if you want to expand your company in a better and more well-maintained manner.
In this blog, I will cover all you need about marketing technology (martech) and show you how to create a marketing technology stack that will grow with your company.
What Is Martech? Why Need Digital Marketing Technology Stack?
What is a martech stack? Or what does martech mean? Before knowing the answers, let's check if you see the definition of technology.
Technology is the application of scientific knowledge to improve and modify the human environment and way of living.
After answering the definition of technology, it is required to understand the value of technology and marketing strategy in our life and business.
In today's world, we are surrounded by technology. You can see technology everywhere.
Even we are unable to do any work on our own without the help of technology.
Because they have made our life easier and simpler. We can manage to complete multiple tasks with the help of tech products.
The same goes for the professional sector. The business field is no different from our daily life.
Martech marketing technology is the professional term for implementing software technology or AI in business and managing the official tasks by marketing and sales.
Marketing team uses numerous numbers of Marketing technology tools to save time, as these tools frequently automate and streamline operations.
They also help to analyze and track the success of their efforts.
Marketing tech tools like SEMRush for keyword research, CMS hub for content management, Hootsuite for social media marketing, Mediasmart for advertising, and many others.
Marketers use these technology and marketing strategies in order to make their tasks easy to complete and done perfectly.
The collection of these tools is called mar tech stack.
That means the collection of software technologies and martech platforms that marketers and sales teams use to maintain, track and optimize their marketing and information technology strategies and tactics is mar tech stack or marketing technology stack.
In the next topic, I will show you some marketing technology solutions that will help you to learn about martech software companies and martech industry.
Marketing Technology Examples
You have got the technology and marketing technology definition. Also, I have told you about the digital marketing technology stack.
Now, how about showing you the martech categories with martech products? You will get to know the tools and their usage from these examples.
So, let's go for it!
Martech tools of the digital marketing technology stack-
1. Management Tools
Company management covers a broad area with product management, content management, customer relationships management, team management, and many more.
So, it becomes difficult to handle all this management when a company expands.
Data management tools, data integration tools, data asset management, etc., and different martech tools are used to manage a company's data.
Companies also use SQL-based query tools to manage the customer database, where they gather and maintain all the information collected from their customers.
ClickUp, Wrike, monday.com, Smartsheet, and Teamwork, are the marketing tools that most companies use for their marketing-related tasks.
For example, If you want to manage marketing campaigns, documents and clients, then you can use ClickUp.
You can use Teamwork software if you want collaboration and budget management.
2. Social Media Management Tools
Modern martech stack includes different tools to manage, maintain and monitor social media posts and activities.
These tools help you schedule posts, record customers' responses and manage all the social media posts in one place.
Buffer, Hootsuite, sprout social, and agora pulse are some social media post-management tools.
These tools help simplify managing all the content on social media platforms and engaging the users.
You just need to prepare the content plan and structure then these tools will maintain the calendar.
3. Analytic tools
In today's world, organizations rely on analytic tools more than any other martech.
Because they won't be able to increase business growth until they research correctly.
So, this is the most critical and challenging task for a company. If this analysis is incorrect, no other technology and marketing strategy will work.
Google analytics, web analytics tools, customer analytics tools, etc., and different types of marketing technology solutions or tools are available to do the task for you.
Google analytic tool is a free website provided by Google. You can use this for tracking your audience.
You can Identify your website's visitors' origins, how they found you online, how long they stayed on your site, etc.
4. Automation Tools
With marketing automation solutions, you may gather helpful information that you can utilize to customize marketing efforts and boost conversion rates.
Streamlining their procedures, also supports businesses in becoming more efficient.
HubSpot, ManyChat, Omnisend, Marketo, Drip, etc., are some marketing automation tools.
Suppose you have an eCommerce website and want to offer powerful workflows with pre-built templates.
Omnisend will help you to handle multiple channels within the same automated workflow. SMS, Facebook messenger, push notifications, and others.
Omnisend employs templates and a user-friendly visual builder to make it simple and quick to create workflows, forms, landing pages, pop-ups, and emails.
5. Content Management Tools
The content martech landscape is expanding yearly. There are numerous tools for content marketing.
Some are cheap, and some are pretty inexpensive. These tools also fulfill a wide variety of needs, including content creation, promotion, and optimization.
Though content creation is not a job that tools can do only without humans.
But content technology marketing solutions can help you do the job more efficiently.
Semrush, Ahref, and Ubersuggest are some examples of content management tools. In today's world, creating only essential content won't work.
You have to do proper research before starting to write. You can take help from ahref.
It will provide you with complete keyword research on the specific topic you want to write on.
After seeing all these tools, I know you became perplexed and believed it would be simpler to create your business strategy plans and workflows and execute activities independently.
But if you try to get involved in every firm's management, it will get quite crowded.
Therefore, using these tools to manage things is always preferable.
Now let us move to our next topic so that you can learn how to market a tech company.
Technology And Marketing Strategy 
According to research, the number of martech solutions grew from 150 in 2011 to 9,500 in 2021 — a 6,000%+ increase.
From this data, you can guess how drastically the Martech stack is increasing daily. But why? Why are individuals using these tools so frequently?
Because they are familiar with how marketing technology martech completes all official responsibilities flawlessly and quickly.
They also monitor the development of martech marketing.
Do you know what role a CRM can play in an effective martech stack? In the Martech world, Customer Relationship Management (CRM) is a top-rated martech tool.
CRM is a martech software that is used to manage the relationship with the customer.
If you integrate with your crm software, then you will be able to locate your leads in the funnel.
This tool is very common in B2B martech stacks focusing on lead generation. Like this CRM software, there are many other martech solutions for different martech platforms.
These tools are also used to market tech companies. Let me explain this part a little more elaborately so you can understand it clearly.
5 Marketing strategies with martech tools to market a tech company-
1. Content marketing with CMS System
Tech companies usually produce products to solve the problems that people face in daily life. In this case, content is king.
From videos, podcasts to guides and blogs, content is the main ingredient that finds out people's pain points and solves them.
So, high quality content is a must thing for tech companies. To ensure the quality you can use a content management system (CMS).
CMS helps marketers to create, optimize, manage and update all types of content like web content, blog, email content, etc.
Even CMS also tests the content before and after publishing the content.
2. Email Marketing
It is one of the oldest marketing strategies that still works great for many companies.
It is a way of direct communication with both existing and new prospects and customers.
Email enables tech companies to reach clients directly and advertise new products or notify them of significant updates.
If you want to implement an email marketing strategy for your company or product then you can use ESP or an email service provider.
ESP will allow you to deliver email marketing campaigns to specific recipients.
3. Social Media Marketing
Facebook, Twitter, Instagram, and LinkedIn these social media networks have huge potential audiences and are completely free to use.
Building an audience, creating connections, and utilizing content from other platforms, like your website, are all possible here.
However, it is very challenging to perfectly maintain all of a company's social media sites and posts.
Because of this, the digital marketing technology stack includes tools for managing and keeping an eye on social media posts and activity.
4. Influencer marketing
Influencer marketing is a way of letting people know about your product or service through a public figure who they trust.
People like to follow these faces and take their advice before purchasing any product. So, it can help in generating more traffic and increase credibility.
To maintain this strategy more efficiently, you can use user-generated content (UGC) and customer relationship management (CRM) system to manage customers' information and data.
5. Pay-Per-Click (PPC) Ads
PPC is an advertising strategy that helps you to get a higher ranking in Google and other search engines.
Companies bids for specific keywords to generate more website visitors and clicks on their website or landing page.
If you want to apply this strategy to your business, ensure you have researched customers' needs properly.
For that, you need a tool that will test and analyze customers' behavior and help you to track the improvement in web traffic and clicks.
Marketing technology solutions there are various types of analytics tools that you can use for this task. Mixpanel is one of them.
This tool will help you track all the visitors' activities and keep a record of them.
I hope you will not suffer for choosing Technology Marketing Solutions anymore because you know what it is martech? What Is Martech Example? and also their applications.
Now, let's move to an exciting topic, and that is "What Is Adtech And Martech".
What Is Martech And Adtech
I have covered all most everything regarding martech tools, martech roles, technology platform definition, marketing technology platforms and others.
Now I will discuss martech and adtech. The difference between these terms lies in their names.
Martech means marketing technology and adtech means advertising technology.
Demand Side Platforms (DSP), Supply Side platforms (SSP), ad exchange, etc. are some examples of adtech.
With these tools help, companies can focus on a target audience. They are employed to influence consumer behavior by promoting offerings.
Martech or marketing technologies are used to execute a comprehensive digital marketing plan.
Martech refers to all of the technology used from lead acquisition through the sales funnel until conversion.
Some marketing technologies include email marketing tools, content marketing tools, web analytic tools, and social media management tools.
These tools are designed to help businesses understand their audience in a better manner.
You track sign-ups and conversions through multiple tools and then use that data to determine which topics are received better by your audience.
Though martech and adtech are both designed to make the work of digital marketers easier and more straightforward, they are two different things.
I will try to explain that to you shortly.
Martech Systems & Services
Marketing is relying more and more on technology. Because MarTech is getting more advanced and allows firms to keep up with the always-changing market nature, the marketing environment is constantly changing.
To put it briefly, marketing technology is crucial to developing contemporary marketing.
Marketing technology is crucial since it focuses on all aspects of execution demands.
It makes it possible for marketers to scale their campaigns holistically through technology.
Additionally, Marketing Technology Solutions are crucial since they enhance our ability to interact and communicate with colleagues and clients.
The relationships you develop with your customers will benefit from a good snowball effect as these B2B and B2C relationships improve.
Wrapping Up – What Is Martech? Why Need Digital Marketing Technology Stack?
If you understand the relationship between technology and marketing strategy, then the digital marketing technology stack will not be a complex thing for you.
While carefully and efficiently marketing your business might take time, MarTech solutions accelerate the process and increase the effectiveness of all marketing initiatives.
Marketing technology assists you in achieving marketing objectives in a more efficient, precise, and user-friendly manner at every stage, from strategy to creative execution and everything in between.
This approach is even more robust by martech stacks, which allow you to integrate your marketing tools in a linked and cooperative fashion.
Additionally, you may start automating your marketing to expand your business with the aid of Amazon Ads' solutions, such as our technology suite and Sizmek Ad Suite.
You may also like –
If you think this post was exciting & you have gained some knowledge, don't keep this accomplishment only with you. Allow your friends & family to stay the same intellect as you. In short, sharing is caring!
Naurin Azad is an SEO content writer. She has a strong desire to assist others and hopes that her content will benefit users. Naurin enjoys discovering new information and taking unusual routes. She enjoys learning about new topics, studying them, and engaging in conversation with others. She also enjoys experimenting with search engine results pages. She believes that whatever you achieve in life is a direct outcome of your efforts.