A Complete Guide to Social Media Management 2023

11

min read
Guide to social media management teaches to nudge potential clients, with a proper social media profile management strategy by social media manager or agency!
As more or fewer people are using social media accounts, managing them strictly is a general need for all.
According to Smart Insight, 57.6% of the world's population uses social media.
And out of them, 93% of marketers worldwide are using social media business!
This tells half of the population is now available on social media platforms.
Also, sensible marketers are now bringing their business to the digital world more than before.
Nowadays, markers are more into following proper social media profile management strategies.
In order to keep their own business unique from others.
So if you are new to this social media world to grow your business here
but struggling without an appropriate social media management strategy, then do not worry at all!
Because here, we will go for a detailed discussion about social media management service and all.
Now let's get started with our-
A Complete Guide to Social Media Management
We will start with our main topic, which is-
What Is Social Media Management?
Social media management is one of the easiest ways of achieving your business goals.
This is mainly a technique of creating, uploading, and monitoring content on social media platforms.
Such as Facebook, Instagram, LinkedIn, Twitter, and communicating with individuals on these platforms.
96% of small businesses say they use social media in their marketing strategy, says Fundera.
As a business owner, you can smoothly with free of cost create a social media account.
After that, by regular posting on time with valuable and relevant content, your social media marketing can be done as well.
But what about manage social networking sites and monitor them regularly?
If you do not checkup things on time, there are high chances that you will not meet your goal.
In the case of social media, this is also available as well.
You can regularly post from your social media platforms
If you did not observe the numbers of engagement or reach, then you can not make new strategies for your profile.
As people love to go with trends, you must think about it constantly, and without routine analysis, it's just impossible.
Ultimately without proper management, people will lose interest in your business, and you will lose your potential clients.
That is why proper social media management is becoming necessary for any business to cope with their clients.
Importance of guide to Social Media Management
Social media management offers much more benefits than you can ever imagine, including:
Social media is too much cost-effective
Through an ideal social media management strategy, you can increase brand awareness
With sound management techniques, you can reach a broad audience
Social media management bought brand loyalty
A suitable social media marketing strategy allows you to align your marketing initiatives with user behavior
You can get instant results from perfect social media management services
Social Channels You Can Use for Your Business –
Facebook: They have roughly 2.89 billion monthly active users worldwide as of the second quarter of 2021.
Instagram: Nearly 1.386 billion people are using Instagram worldwide.
WhatsApp: They have almost 1.6 billion active users.
YouTube: They ranked second this year, which has 2.3 billion users.
Tiktok: More than 1 billion people are now using Tiktok as a new social media site for business and all.
Pinterest: As of the second quarter of 2021, Pinterest had 454 million monthly active users worldwide.
Reddit: They measured in June 2021 approximately 1.7 billion visits to the online forum.
Quora: They have 300 million monthly active users.
To make your life more accessible, Reinforce Lab offers you the best social media management services!
For managing the social networking sites of your business, content management plays a significant role.
Without suitable content strategies and monitoring, social media management tools can not work in their best way.
Okay, then let's get to know about another essential topic of social media management which is –
What Is Social Media Content Management?
Social content management includes creating and publishing scheduling posts that change to cope with the current consumer taste.
Creating content calendar suits perfectly for social media content management services.
Before that, you need to observe what your target audiences are looking for and then make content according to their choice.
After publishing content, you must monitor and analyze regularly; based on that; you must update your content.
This is how the whole social media content management process works.
The more creatively you can offer your content, the better your social media content management system will succeed.
Professional social media management services include top-notch content management systems.
So before you go for any social media management service, check out their social media content management strategy and all.
And why should you prioritize it?
Because Content is KING!
Done with content management basics, now let's see the most awaited topic –
Social Media Management Services
Social management services simplify your life by frequently managing and updating your social media profiles.
We can be sure that about 4 billion users on social media.
And that figure will continue to expand every year, especially after the pandemic catastrophe.
It demonstrates that, regardless of the industry your business serves, your clients use social media regularly.
As a result, it is critical to keep people engaged and linked to your business.
So that for customers you can always be their first choice.
You can be their first choice easily by following any essential social media management service agency's segments.
Then let's check out what type of segments.
Social Media Marketing and Management Services include –
Taking a look at the current social media approach
Social media management service providers examine what is working and what is not in social media campaigns.
By looking at your current social media strategy and doing a complete social media audit.
Identifying the target market
A higher return on investment may be obtained by targeting potential viewers on their chosen platform (ROI).
As a result, addressing an appropriate variety of target audiences is essential.
Creating a suitable social media strategy
Without a suitable social media strategy, it is impossible to reach target audiences.
So social media management includes strategy creation by proper research and analysis.
Choosing the Best Social Media Platform
Among thousands of social media platforms, not each platform can suit any particular business.
So which platform works best for your business will be examined to get the best outcome.
Regularly monitoring social media management platforms
As a part of the social media profile management technique, it is essential to monitor each platform regularly.
Otherwise, it will not be possible to keep track of the audience's choices and needs.
Creating appropriate social media profiles
Social media profiles represent a whole business digitally, so perfection is a necessity and must be.
That is why appropriate profile creation is essential for social media management services.
Making adverts for social media
Ads in social media is a common term is it helps businesses reach a large number of people.
Engaging ads are highly required to attract target audiences, so it's an integral part of social media marketing and management services.
Creating social media content for a specific platform
Without suitable content, it is impossible to think that social media management strategy will work perfectly.
As a part of management, it's necessary to create variations in posts for different social media platforms.
Creating a content schedule for social media
Content is everything in the digital world, and for social media, it is the crucial thing.
After making content for social media posts, it's mandatory to schedule it; otherwise, it will be challenging to catch audiences.
Management of Social Media Content Monitoring
Social media profile monitoring is needed, but content monitoring also needs proper attention.
Without monitoring, it will not be possible to see how consumers react to content and how much update is needed.
Communicating with social media followers
To perfectly manage social networking sites communicating with followers in real-time is necessary.
As customers have so many options, delaying means almost losing.
That is why it is counted as a critical part of social media management strategy.
And this is how the whole social media management service process works for any business.
Now let's get to know how a social media manager can add value to your brand.
Hiring social media manager from an agency is needed because –
A social media manager can save your time
From an agency, you can get a social media expert
Experts will maintain a quality strategy
Social media managers will help you to achieve aggressive goals
Agency services assist in staying updated with trending contents
So many benefits to hiring a manager for social management service, right?
Now you must be thinking, how do the managers operate their activities?
Here are the answers for you –
What does a Social Media Manager do?
In a sense, what social media managers do is – Social Media Profile Management mainly refers to business profiles.
But profile media management is not a small thing to do.
It contains so many things to maintain perfectly.
Let's talk about therm then!
Brand Awareness
Social media managers increase brand awareness through their continuous quality posting and monitoring.
Here quality posting means the most acceptable content that matches the target audience's choice.
Drive Traffic
Social media profile managers drive traffic to your website with their marketing efforts.
Posting from specific platforms and creating relevant ads helps a lot to get more traffic.
Generate New Leads
Via social networks, social media managers generate new leads over time.
Here application of the most relevant social media management strategy works best.
Grow Revenue
Social media managers grow revenue for manage social networking sites by saving time.
They can do it through proper communication and by increasing signups or sales.
Brand Engagement
With the perfect social media management application, strategy managers boost brand engagement.
Brand engagement helps brands a lot to grow in the long term.
Build A Community
By proper communication methods, managers build a community around a particular business.
As a community managers, they do not fail to reach businesses within many target audiences.
Real-time Service
Managers provide real-time social customer service to retain them with one particular brand.
This way, consumers become comfortable with the brand, and they help build brand loyalty.
Increase Mentions
Managers give their best efforts in increasing mentions in the press with the help of team members.
That assists any business in brand awareness segmentation.
Social Listen
Social media managers listen to conversations about the brand through their social media skills.
This way, communicate with target audiences and create ads for their works in their best form.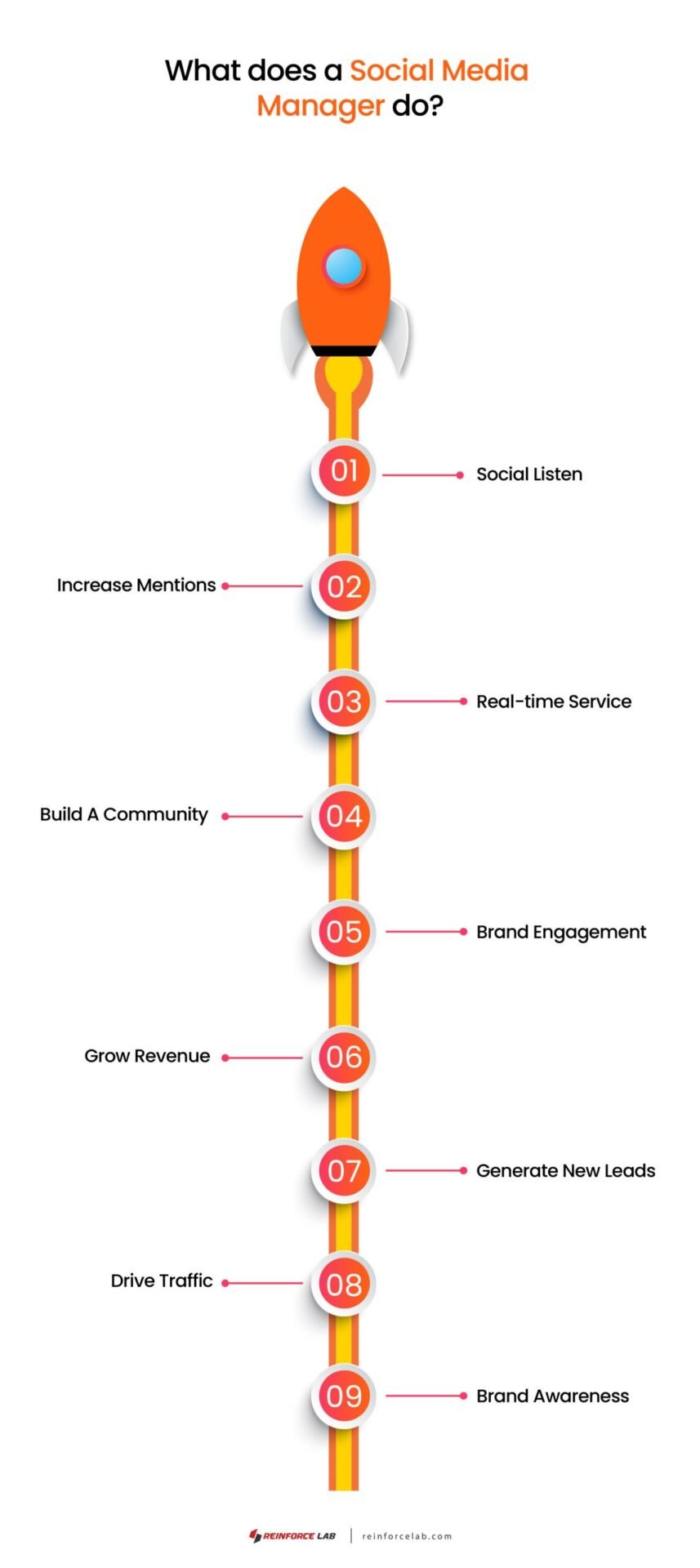 On average, businesses spend $4000 to $7000 per month on social media management services.
This investment includes creating and upkeep social media marketing and management services.
Advertising strategy, as well as a monthly ad budget and tool subscriptions.
Your social media management expenses may be more or lower depending on your sector.
You may, however, use this price range to set a reasonable budget for your social media marketing and advertising strategy.
Do you require a social media manager or an agency for your company?
Trust ReinforcLab, is a top social media management service provider with over two years of expertise and a 100% client satisfaction rate.
Start connecting with your target market by calling +880 1313450777 or requesting a free 30-minute consultation from Reinforce Lab.
Wrapping Up – A Complete Guide to Social Media Management
Now you can imagine how important social media management in your business life is, correct?
Hopefully, it is a yes.
With these basic ideas, you can help other folks seeking social media management earn your confidence very quickly.
You can inspire your readers to continue returning to your website and obtain more traffic by creating this valuable content.
Remember that business owners' main marketing tactic is word of mouth.
If you can spread the word and show your authenticity, you can win the market quickly.
Another thing, creativity lies in you.
You can create your content ideas and manage them as well.
But perfection comes from professionals, so go for the best always.
Now, I'd like to hear the best social media management services you have used for your business.
Can you tell me how they helped you grow your business in this digital world?
Could you share your thoughts with us?
Learn more about our  Social Media Marketing Services!
Read more from our blog.
You May Also Like:
If you think this post was interesting & you have gained some knowledge don't keep this accomplishment only with you. Allow your friends & family to stay the same intellect as you. In short, sharing is caring!