20 Creative Snapchat Content Ideas 2023

18

min read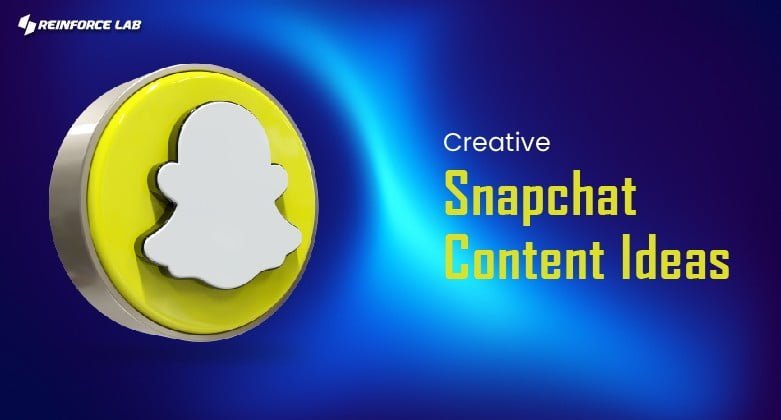 Snapchat has shown great staying power in the social media industry. These 20 creative Snapchat content ideas will be amazing for you to work on.
If you are not already creating regular streaks with Snapchat, you might have still heard about it.
With near about 493.7 million users worldwide, and 332 million daily active users, Snapchat is the fourth largest in follower counts amongst all of social media.
It has a follower count even larger than Twitter! That is something amazing, considering how swiftly it has grown.
What is Snapchat?
Snapchat is an instant messaging app developed by the American multimedia company Snap. Inc. Founded on September 16, 2011, it has since grown exponentially appealing to many regular users for its creativity.
Snapchat stories last only 24 hours before they vanish. So you need to develop some premium Snapchat content ideas for publishing.
In addition, you can say something you have access to for a very limited time becomes that much more wanted and attractive.
That is why Snapchat shines in its sector.
Many individuals have garnered a ton of following from their creative Snapchat stories and unique editing skills in-built in the app.
Observing these amazing, hilarious, and fun snaps can give you a lot of premium Snapchat ideas for marketing too.
With its instant messaging factors, streak system, amazing customization and drawing system, it is the best and most popular instant messaging app in the market.
What is a streak on snapchat?
Streak means the consecutive days two accounts have shared snaps between each other.
With that said, every day a snap is sent, the more the streak increases. With special stickers and emojis for longer streaks, it has a game like point based system, which can seem attractive.
Every picture is a story, and every clip has a voice that lets the audience know the state of the publisher. That is what Snapchat is doing for you.
Moreover, the amount of customization, creativity, and fun filters Snapchat allows is astounding.
You might not realize this, but Snapchat can be insanely profitable for your personal branding or business as well.
So what to post on Snapchat? Or what is a good content on Snapchat?
Any content which is short in length and impactful can be great for Snapchat.
If you have a clip of 10 seconds or less which is spectacular, or you have a powerful and informative short quote, that too can be a great Snapchat content idea.
As a Snapchat content creator, you should also be familiar with Snapchat content guidelines and Snapchat content restrictions. We will discuss more later on.
Although if you are looking for personal usage, you can already guess what kind of content you can post and use.
You can basically put anything you like from your surroundings without vulgarity and violence.
If it showcases your personal experience or faculties to cheer about, your snaps are getting hotter.
However, how do you do it for your business?
As a business owner, you might be asking how do you make Snapchat content? Or how do I make Snapchat better?
This will be answered for you down below.
How to Use Snapchat for Business?
Snapchat has been a platform solely dedicated to the younger generation. However, with over a decade of presence in the industry, it has grown tremendously.
Having some strong and bold Snapchat marketing ideas have worked magic for many influencers and industries.
As a result, both small and large businesses are trying to capitalize on this platform to attract more millennials along with those who are young at heart.
Business corporations nowadays also possess snapchat accounts with their own updated contents.
It does not matter whether the product or service at hand is for Gen Z or Gen Y. If you want to market it in a fun way, Snapchat can be the go to service for you.
Many industry insiders post regularly on Snapchat to cater to their audience.
So whether you are a Gen X, or Gen Z, or a millennial like me, Snapchat has a lot to offer you for your business and personal growth too.
Therefore, strategize on creating some amazing Snapchat marketing ideas.
If you can visualize it, you can create it. Believe that.
If you create an account now for your established business purpose, you can also see a gradual growth after a certain amount of time has passed.
Snapchat is not just a place where you turn on some filters and make funny faces any more. Snapchat for business can help you boost your reach to an extent you might not have expected.
Businesses are targeting Snapchat audience more and more because a large number of target audience from the major three generations reside there.
With that said, how do you make snapchat content? Or, what are some snap ideas?
To know this, you need to be a little bit more familiar with the app itself.
By roaming around the app, watching other snapchat marketing contents, getting introduced to some snapchat bloggers, you can flourish your business and personal brand through Snapchat really well.
With that said, lets look over these 20 amazing, creative, and premium Snapchat ideas we have for you down below.
20 Creative Snapchat Content Ideas
1. Add Multiple Filters and Experiment on a Single Snap
An instantly fun idea for stuff to post on Snapchat is having more than one filters added to your snaps.
For example, suppose you are marketing a product. You have taken an amazing photo and the angle is spectacular.
Now you can add a filter to make it look stunning.
However, what you might not have realized is that you can add another filter on top of that previous filter, and it can work magic for you.
After having a filter, just hold down on your screen with one finger, and you can keep scrolling with another to find more filters to add while keeping the previous filter.
Offer sneak peaks of your product with this trick, and voila! You have something spectacular to look at.
Those who view your stories will definitely be well informed and aware of your products and services from your Snapchat strategy.
2. Moving Stickers and Gifs
As we have previously mentioned, Snapchat is great for your creative drawing outlet as well.
What many people do not realize is that the moving gifs and stickers you have can contribute to a moving image in different ways.
Suppose you like the texture or surface of a gif or moving sticker.
You can drag it freely, and take the unnecessary portion out of the screen and make it look like a road or a hill on the background.
These can be excellent tools for your drawing skills as you make a scenic nature or urban landscape according to your personal or business demand.
Any professionals from your marketing team would also benefit from unique creative Snapchat ideas like these.
3. Add Music to Your Snaps
People may come for the snap clip or photo, but stay for the music if they like it so much.
Try to use a music that is not overused, yet goes with your photo, product, or service perfectly.
It provides you a great way to ensure people play and replay your snap, and your exposure and attention retention is boosted.
The music note icon will help you search for the music you would like to add. You can also try lip-syncing, storytelling, content reviewing, or product reviewing with background music feature added.
Done tastefully, this adds to a different layer of creativity.
4. Buy On-demand Geofilters!
On-demand geofilters are great ways to appeal to your local target audience.
Geofilters are not that much expensive, yet lets you become contemporary.
As a plus point, you can use snapchat geofilters for business strategically. In times of any recent events or at a location filled with your target audience, capitalizing on geofilters and promoting your products or services would be a brilliant thing to do.
Be wary that the people who you want using the geofilters has to be around 20,000 to 5,000,000 feet of your area, and it would only last for a month.
However, with a small expense, it can be your big marketing opportunity!
5. Re-Upload Your Snaps on Other Platforms As Well
Your snapchat app will be your place where you create your snaps.
However, it is not necessary that the piece of content you create need to be limited to just Snapchat!
Snapchat is best for unique filters, stickers, and effects.
Still, there are other apps with more features, more filters, more different customizable stickers and font styles.
So why not make a mix of all those for more creative snapchat content ideas?
A mix up of different apps potentials can be great for your snapchat content arsenal.
6. Go Behind the Scenes and Show Off Your Community
If you have a fun office space, why not show it off with all the crews vibing together?
The followers of your teammates, team members, or other crew members might also get added to your business due to the connectivity.
If you are having any fun party going on at the moment, that would add to the appeal of your company and business.
If your crew is playing table tennis or a small indoor game for fun in break time, try to capture the jolly spirit in a candid manner.
This will give you a more natural presence and authentic appeal through human connection. It is an important exposure tip among other Snapchat tips for exposure.
On top of that, if you wish to have a serious or more personal content, you can shoot a quick snap from the CEO with a few words of appreciation for the followers.
If you have any new furniture, decoration, or any new exciting stuff in your office worth snapping, it could be included in your Snapchat story ideas.
Additionally, if your office is changing place, that is also a happening reason to make a snap about it.
7. Host Q&A Sessions
As mentioned before, you can take the opinions from industry experts and create short clips of Q&A report and analysis.
Interviews or insights are so much helpful. And those who are industry aware would definitely appreciate your intention to inform in such a fun platform like Snapchat.
You can host the Q&A yourself, or you can let someone else takeover, and they will bring a unique twist to the Q&A.
This is another big way to engage your audience and gain feedback from them. So Q&As are interactive and a big addition for your Snapchat marketing ideas or Snapchat business ideas.
8. Feature Your Blog Posts in Snapchat Stories
Another on of your amazing Snapchat story ideas is to feature the links to your blogs in your Snapchat.
The trick is to make the caption catchy so that people immediately feel interested to click on your blog link and enter your blog post.
Do not share a large link on your Snapchat story though.
Instead, use a thematically pleasing background, stylize the caption text accordingly, then move on towards posting a shortened link of your blog if the link is too long.
You can use bit.ly or other similar link shorteners for this.
Featuring your blog links with catchy headlines or captions is one of the best ideas for Snapchat.
9. Create a Layered Snap Story
Layered snapchat story ideas are amazing to let the target audience show your creativity.
There are multiple stickers, texts, filters, and styles for your texts and stickers in Snapchat.
All of these can be used amazingly for your snapchat story ideas.
Experiment with them. Try to find out what works best. Resize and reshape accordingly
A snap with multiple layers showcases craftsmanship, and can be one of the most creative snapchat ideas you can use.
10. Host a Contest or Giveaway
Another great way to engage your audience is through contests and giveaways you arrange.
This gives your audience a direct motivation to create content for you which is a great Snapchat marketing idea itself.
Drawing contents, unique filters, and funny filters gain the most amount of attraction in this segment.
Often times companies ask followers to create doodles, then they choose the best ones and host giveaways.
Overall, contest and giveaways garner a lot of attention, and is one of the best Snap stories ideas.
11. 'Try With a Friend' Filter
Singular camera filters have been used to death. Try to switch it up with filters where two or more persons fit in.
You can use it with your colleagues, teammates, or co-workers too.
It is a hilarious portion of Snapchat content for any snapchat content creator.
Hence, you should definitely keep it in mind as it is really one of the most fun and premium Snapchat marketing ideas.
12. Inanimate Object Filter
Inanimate object filter is another easy and fun option for you to get into.
Any inanimate object resembling two eyes, a nose, and a face could be swapped faces with.
So if you have any such posters, structures, or objects in your office, perhaps it could be a funny Snapchat content idea. it will reveal your business's human side.
Maybe even draw something in your office that resembles a face, and the face swap would work amazingly.
It is undoubtedly one of the most premium Snapchat ideas because of how creative and hilarious it can be.
13. Get Familiar with Drawing Tools
Drawing is undoubtedly one of the most premium Snapchat ideas for your Snapchat stories.
Drawing can be noted down as the first expression of creativity, even when language was not prominent amongst humans.
So for your Snapchat story ideas, drawing is a must.
The more you use Snapchat, the more familiar you will be with which icon represents what tool and what not.
Among all the tools, the drawing tools and its many extensions can give you an amazing set of creative Snapchat ideas.
The drawing tools mostly consist of all the contents of paint tools.
In addition, there are different color palettes you can access as well.
Choose amongst the multiple brush, stroke, and color options and add more to your snaps instantly.
14. Get Familiar with the Search Bar
Perhaps you have barely scratched the surface of the contents already available on Snapchat for you.
On the search bar, you can type nearly anything you are feeling like or desiring, and there will be a relevant gif, sticker, emoji, or filter waiting for you.
So know how you can capitalize from this vast library and create more content ideas for Snapchat.
15. Your Bitmoji Can Be Your Own Content!
Bitmojis are fun extensions of your own avatar, and you can make them do a lot of fun stuff for work.
In your work environment, make your Bitmojis dance a bit.
Share your Bitmoji avatars with your colleagues.
Have your Bitmojis featured together by combining your snaps and adding collaborative stickers.
Having Bitmojis in your story either as a still image or 3D moving avatar is amazing for your Snapchat story ideas.
Who said workplace and business can not be fun!
16. Check for New Lenses Regularly
Lenses are the masks or filters which have made Snapchat so famous and popular.
With its amazing number of snap filters and lenses, looking out for newer ones is always a plus.
Often times there are limited time or sponsored lenses according to different locations.
These lenses can provide you with some premium Snapchat content ideas.
Lenses are also immensely popular in snapchat stories. So integrate them for your Snapchat story ideas too.
So depending on where you are, do not forget to look for new lenses while you travel.
17. Draw with Emojis
Learning to draw with Emojis can give you some of the best results Snapchat can offer.
One of the greatest showcases of creativity is in drawing.
In addition, drawing with emojis is becoming an insanely popular artform amongst the youth and old.
So it is one of the most premium Snapchat ideas amongst all your Snapchat story ideas.
You can literally write and design anything with the tons of emojis available on your keyboard.
Amazing eye-catchy designs can work as amazing content for you.
18. Create immersive experiences with AR/VR Lenses
AR/VR lenses are great new additions for business products as it can give you the owner's POV.
For example, if you have an automobiles business, you can showcase one of your cars through this VR augmented reality stories on Snapchat.
As a result, those who are interested in your car or vehicle will be able to see the bike like its just in front of them without even leaving their own house.
So you can clearly realize why AR/VR lenses can be considered one of the most premium Snapchat ideas.
Having Snapchat story ideas for VR/AR would definitely make your company feel like it has come to the market with awesome, authentic, and premium quality Snapchat marketing ideas.
19. Create Your Own Sticker
Among all the things to post on Snapchat story, one of the unique ones you can post is by creating your own sticker.
This is one of the most premium Snapchat ideas.
Snapchat gives you the advantage to draw an outline and cut out your own object from a snap, which you can even save and reuse as a sticker as you wish to.
This can be a great form of Snapchat marketing as you will be able to feature your products and services in unexpected places.
You can make memes out of it, or even make something epic and hilarious which can boost your brand value and business exposure.
20. Use Snaps to Feature in Snapchat Ads
Just like Instagram's story ads, Snapchat ads are 10 seconds long videos which help you feature your products or services.
Snapchat features shoppable e-commerce ads for businesses.
So you can directly take advantage of this and increase your sales. It is one of the best Snapchat marketing ideas.
Use the 10 second snap video to engage your audience quickly and inform about your services or feature your product.
Include a call to action "Shop Now", "Buy Now", or "Order Now" button as well at the bottom.
This will lead your viewers directly to your product options.
Needless to say, it is one of the best Snapchat marketing ideas.
Creative Snapchat Content Ideas- Wrapping Up!
With all these 20 amazing ways, you can no doubt create a regular stream of content for Snapchat and garner a regular following with increased followers.
Now you know what Snapchat ideas to post and how Snapchat content can increase your content exposure.
Snapchat is a place of fun where you can let your creative content ideas flow.
You can be as innovative as you want as there are tons of options to develop your Snapchat story ideas.
It is an easy to use platform where you do not need to design long contents.
It is meant for short bursts of joy and excitement, so your snapchat marketing ideas are ideas that flow with your persona as easily as possible.
Just a reminder, ideas for Snapchat content include knowing about the filters, search bars, stickers, gifs, tools, and other extensions you can use.
Geofilters, Snapchat Ads, Bitmojis are also great features you should definitely include in your Snapchat Posts ideas.
Your Snapchat post ideas should also include contest, giveaways, Q&As, interviews, tips and tricks you discuss about your business, industry, products, and services. These are must have creative Snapchat ideas.
Save some of your mostly reusable and repost-worthy snaps in your camera roll.
If you have already been a personal snapchat account holder asking "how do I make my snaps better?", this article will also help you to figure out what are the filters, lenses, drawings, and other creative tactics you can integrate.
However, make sure to look over the guide to Snapchat. Do not post anything vulgar, full of nudity or violence, promoting drugs, or copyrighted content.
Make sure you know how to block inappropriate content on Snapchat.
Make sure to interact and engage your audiences regularly.
Overall, your Snapchat marketing strategy is sure to see a success after a certain amount of time with these creative Snapchat content ideas.
Like what you read? There's more to be learned!
Read more from our blog.
You May Also Like:
If you think this post was exciting & you have gained some knowledge, don't keep this accomplishment only with you. Allow your friends & family to stay the same intellect as you. In short, sharing is caring!
Inan Al Banna is a sophisticated content writer with a vast field of interest in SEO and content creation. With a comprehensive study of English and Digital Marketing, it is his passion to tackle different sources of knowledge to grow along with his readers. He delves in the realm of culture, art, technology, business, and psychology. His mission is to encourage empathy, courage, and enthusiasm amongst everyone he comes across.