Why You Need to Start a Podcast for Business Development in 2023

23

min read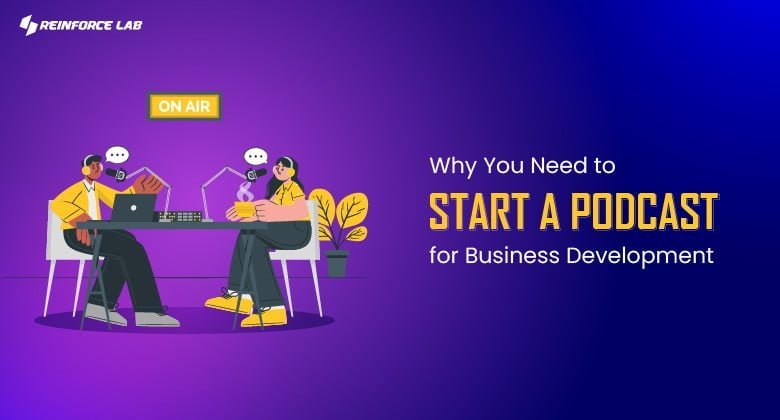 As people have evolved, so has the medium of entertainment.
There was a time when radio shows were popular among people.
While radio shows still exist, podcasts are the new popular mode of audio entertainment.
Podcasts are a convenient and effective way to reach a large audience.
Therefore, you will be missing out if you don't take advantage of this opportunity, especially for your business.
Start a podcast about business for business growth, building reputation, targeting customers, and building authority in the market.
Let's look at how a podcast can help your business grow.
Why Podcast for Business?
If you want to grow your business, you should always think about new ways to promote your business.
Different social media platforms like Facebook, Twitter, and Instagram are great for business growth.
However, don't underestimate the power of podcasts.
Podcast for business development has great potential.
According to Buzzsprout Podcast listeners as a group have grown 29.5% in the last three years.
So why not take advantage of this opportunity to grow your business?
In the 21'st century, a podcast for business development is crucial as it helps connect with people worldwide.
If you ever wondered why are podcasts good for business?
Then this article is for you.
You also might be thinking, what is the meaning of podcast?
Therefore, the following parts will answer all of your questions about starting a podcast and why it is good for business.
8 Reasons Why Need to Start a Podcast for Business Development in 2023
1. Brand Growth
Business growth is essential for a company to stay relevant in the market.
In the 21st century, traditional marketing means are insufficient to attract customers.
Business owners opt for new media marketing to create brand awareness and loyal customers.
As we all know, blogging is a popular way of attracting customers.
Similarly, like blogs, podcast helps you to share your knowledge, expertise, and experience.
As a result, podcasts can help build brand credibility.
Moreover, you can build a loyal community and showcase your knowledge through a podcast.
By sharing work advice, industry insights, and tips, you can establish your authority in the market.
In addition, a podcast can help you drive traffic to your website and help grow your business.
A podcast about business can attract listeners interested in business-related topics.
This way, podcasting for business can help with brand development.
Next, follow the below steps to grow your business through podcasting:
Effective Ways to Use Podcasts for Business Growth
Share Expert Advice
Sharing expert tips can raise your company profile.
Listeners and potential customers want to feel valued.
Sharing expert advice is a great way to make listeners feel valued.
You can share your business expertise with worldwide listeners when you start a podcast.
Hence, listeners will know your brand name and trust you when you showcase your expertise.
By gaining trust, you can increase customer loyalty and grow your business.
You can effectively share your expert tips, add value to potential customers, and grow your business through a podcast channel.
As a result, when customers need an expert, your brand name will come to their mind first.
Gaining trust is a great way to build a personal relationship with customers.
What better way to accomplish that than to share your expertise through a podcast?
Build a Community
A community unites people. It creates a sense of belonging among people.
According to Convince and Convert, 27.3 customers visit an online community for researching and buying a product.
After establishing yourself as an expert, your business growth still depends on sharing current events and issues.
By talking about new relevant topics, you will be able to keep your listeners hooked.
This way, your listeners will come back for more advice.
As a result, you can use your podcast for business development.
In addition, your podcast can engage listeners and potential customers by building a solid community.
Thus, you can build a strong community through a dedicated comment section, forums, Reddit, Discord, Slack, chat rooms, and other platforms.
Moreover, you can also use different social media platforms like Twitter, Instagram, and Facebook to build your podcast community.
A strong community helps each other grow and educate new and current users.
So, when you build a strong community, you can effectively use your podcast for business development.
Ultimately, when listeners grow through your community, your business will grow.
Guest Interviews
A great way to educate listeners and keep them engaged is by bringing a guest to your show.
Not only can you bring in a guest, but you can also become one and educate listeners.
Guests' interviews can benefit your show and grow your business by sharing a new perspective, expert opinion, and new ideas.
On the other hand, a guest interview is an effective way to establish new business connections.
Meanwhile, when you do guest interviews, you can share your expertise with listeners and gain followers.
By being an informative guest and educating listeners, you can get business leads.
Sponsorship
When you deliver quality content and add value to listeners, you will become a valuable member of a podcast community.
Do you know sponsorship helps to grow your business and generates goodwill?
As you become a valuable member of a podcast community, other brands will start noticing your show.
Companies will want to do business with you as you grow your podcast and gain popularity.
As a result, your show will get more sponsorship and recognition.
Sponsorship from other brands helps you to build business connections and earn money.
It also shows listeners that you are a trusted brand.
When you gain listeners' trust, you can grow your podcast about business.
Therefore, through effective podcast strategies, you will get sponsorship benefits and grow your business in the long run.
Remember, to keep your reputation intact; it is crucial to find the perfect sponsor for your show.
You can find prospective sponsors by doing market research.
After that, you need to email prospective sponsors your detailed pitch and work sample.
2. Brand Awareness 
The phrase "brand awareness" refers to how quickly and easily buyers recognize a product by its name.
Creating brand awareness in the 21st has become more accessible and more cost-effective.
Brand awareness helps to attract customers and promote new products.
You can create awareness for your brand through different modern media marketing techniques.
One of the most popular marketing techniques is to start a podcast about business.
Brand awareness is crucial for promoting new products and reviving old products.
Thus, a podcast about business does wonders for your brand awareness and development.
Furthermore, do you know that a podcast is a great way to distinguish yourself from the competition?
Thus, by distinguishing yourself, you can create awareness for your brand among the target audience.
Effective Podcasting Techniques for Increasing Brand Awareness
Educate listeners about your product.
Make your show fun and entertaining while still providing value to users.
Make podcasts for listeners, not for business.
Provide solutions to listeners' problems and show how your business can help them.
Boost your company's credibility by sharing your knowledge.
Share your success rate but don't overdo it.
Get credible sponsors for your show and sponsor quality brands.
3. Build a Personal Connection
Podcasting is an effective way to build a personal connection with your listeners.
Listeners are more attracted to shows with whom they can relate personally.
In the podcast business, you can gain loyal followers by genuinely caring and sharing expert advice.
The benefit of building a personal connection with listeners is abundant.
Effective Ways to Connect With Your Podcast Listeners
Create engaging content for listeners.
Don't compromise quality for money.
Build a podcast community where your listeners can grow.
Share relevant and new information.
Talk in a compassionate, warm tone that listeners can connect to.
Practice storytelling to engage listeners.
Genuinely create a podcast for the benefit of listeners.
Create trust among listeners by delivering relevant and informational content.
Do not share misinformation or incorrect data.
Do not scam listeners to gain popularity.
Engage listeners by playing games.
Increase satisfaction by rewarding listeners with prizes.
Offer special discounts and services for your listeners to make them feel special while promoting your business.
4. Reach Potential Customers
Finding your target audience and successfully engaging them can make or break your business.
If you aren't able to reach your target audience through your podcast, then all your troubles will go in vain.
Therefore, find your target audience by analyzing your customer base.
Doing market research and studying competitors' podcast shows can also help you find your target audience.
After that, deliver your content to your target audience to gain popularity and recognition in the podcast community.
Your shows can end up trending in the right niche if you market your podcast wisely.
How to Find Target Audiences For Your Podcast
Research your audience: Find out current trends and listeners' interests.
Identify market gaps: Study and find out what your listeners want by giving them what is missing in the market.
By providing what is lacking in the market, you can learn what your listeners demand.
Use appropriate hashtags: Use relevant hashtags to target the right audience on social media platforms.
Also, research hashtags related to your field to know what the audience engages in.
Promote on social media platforms: Create dedicated social media accounts for your podcast and promote different aspects of your show.
Send newsletters: Create a list of potential listeners.
Send frequent updates about new show announcements, features, coupons, information, and tips through email.
Cross-promotion: To find your target audience, cross-promote with other shows related to your field.
Expert tip: Do some digging on the best business podcasts to know their strengths and weakness
5. Engage Young Audiences
We have all heard the saying that young people are the future?
Well, they are.
If you want your business to stay relevant and survive in the future, you should market to young people.
Young people bring social change, advancement, and economic development.
Additionally, young people give businesses a new outlook by sharing their unique perspectives.
Younger audiences tend to listen to podcasts more.
Therefore, you'd be a fool not to take advantage of this opportunity to expand your business.
By engaging young audiences through your podcast, you can keep your business relevant while serving a wide range of customers.
As a result, you can keep running your business for a long time.
Sometimes it can be tricky engaging young customers with your podcast about business.
However, if you fail to do that, you won't be able to use your podcast for business development.
Tips for Attracting Young Listeners to Your Podcast
Use different podcast apps
Young people tend to use different apps for different purposes.
Hosting on different podcast publishing platforms can help you reach a wider audience.
Keep it fresh
Young people like fresh, relevant news. So, give them just that through your podcast.
Don't bore them with irrelevant topics and difficult topics.
Keep Podcast Fun and Relevant
Young people like to have fun. Therefore, introduce new exciting topics for engaging young listeners.
Furthermore, trending subjects attract young people. So, try to discuss trending topics on your show.
Expert tip: To retain young listeners' attention for a longer time, make challenging business topics easy and entertaining.
6. Drive Traffic to Your Website
Podcasts are a great way to drive traffic to your website.
You can build a loyal listeners community.
Loyal listeners always want to stay updated and engage with the host.
Therefore, listeners will visit your website to learn about new shows, episode release dates, and other events.
As a result, you can turn loyal listeners into customers.
This way, podcast listeners can help drive traffic to your site.
The more traffic you receive, the greater your brand exposure and recognition.
7. An Easy and Effective Marketing Tool
Business owners always try to market their products to their target audience.
As reaching niche targeted customers helps them to grow their business.
What better way to reach target audiences than a podcast?
Moreover, podcasts allow brands to market their product effectively anywhere.
Podcasts are convenient for people as it allows them to multitask.
People can listen to their favorite show even while cleaning.
Thus, marketers can promote their items without causing clients any trouble.
By engaging listeners in your podcast, you can create excellent market value for your brand.
As a result, you will have more business to expand your brand.
Therefore, do not underestimate the potential of a podcast for business development.
8. Increase your Brand's Authority
A Podcast about business can help you increase your brand authority.
It doesn't matter if you are a startup company or an established one.
Giving expert advice to your listeners in your field is a simple way to increase brand authority.
You can create value for listeners by giving expert advice.
Your company will become a reliable name by creating value, and people will reach out to you more for expert advice.
Thus, a podcast is a great way to increase brand authority.
How to Create a Podcast?
Now that you understand the importance of starting a podcast about business.
The next thing you might wonder is, how do I start a podcast for my business?
Well, we got that part covered for you.
To start a podcast about business; follow the steps below:
Step 1:  Create your Podcast
Select a Topic
Before starting anything, it's important to select your topic.
The first step of creating your podcast is selecting your topic.
Our advice is to choose something you are passionate about and expert in.
If you are thinking about starting a business podcast, you need to identify your target audience and interests.
First, decide what you want to talk about and what knowledge you want to share.
Make sure you have enough knowledge and skill about that topic to talk to listeners about it.
You can't expect people to listen to you if you don't have a decent knowledge about the topic yourself, would you?
Most importantly, how that knowledge can help other people while growing your business.
Our advice is to find a niche market where you can share your business expertise.
Listen and research your competitors' podcasts on different podcast apps.
After researching, find out what they are lacking, what topic they haven't covered, and cover that topic.
Most importantly, choosing a topic depends on how well you know the subject.
If you are confident that you can cover a tricky topic, then go for it.
Make sure to get your facts and data reviewed by an expert.
Especially for business podcasts, you need to get your facts and data right.
Remember to choose a topic you are genuinely interested in so that you can passionately educate your listeners.
When choosing your topic, don't forget to keep your podcast goal in mind.
Choose a Podcast Name
Choosing a podcast name is the most important part of your podcast.
Your podcast name will probably be forever.
A lot is riding on your podcast name.
So, it would be best if you chose a unique name for your podcast.
A name that will showcase your brand, motive, and attract listeners.
Tips for choosing the perfect podcast name:
Keep it short.
Check grammar and spelling.
Do keyword research.
Do not add characters, abbreviations, and punctuations
Check if your podcast name is available.
Say it out loud to check whether you like it or not.
Check whether you want it by saying it out loud.
Prepare your Script
It's always a good idea to prepare a script before you start speaking.
Moreover, you should have a clear idea about what you want to talk about and the topics you want to cover.
It's best to keep your script easy to read and conversational.
Remember, for producing a podcast about business; you need to pay attention to details.
Common podcast script elements are:
Intro Music
Intro Tag
Intro Monologue
Guest Intro
Topic 1: Duration
Topic 2: Duration
Closing remarks
Sponsor music
Closing sound effect
Creating your podcast script earlier helps keep your show organized and deliver your message clearly while staying on track.
Create a Podcast Cover Art
The first thing listeners notice about your podcast is the cover art.
Podcast art is the first impression users get about your show.
The first impression of your podcast comes from the cover art.
Based on your cover art, listeners will decide whether to listen to your show or skip it.
Therefore, you should create eye-catching cover art to attract listeners.
Tips for creating a podcast cover art:
Make the image high resolution.
Keep it clear.
You can include your logo or face.
Make your subject clear.
Avoid adult-themed or sexual images.
Check your art on different apps and adjust accordingly.
Don't overcrowd with words and numbers.
Create a Publishing Schedule
A podcast schedule will help to keep your episodes organized and on track.
Moreover, a publishing schedule helps you to maintain consistency.
You can either have a weekly podcast publishing schedule or daily.
Therefore, make a publishing schedule that best suits your working hours and publishing strategy.
Step 2: Gather Essential Equipment
For starting your podcast, you need to have the right equipment.
Microphone
The most important equipment for recording is a good microphone.
Don't rely on your computer, phone, or headphones microphone.
If you want to deliver your listeners quality audio, you need to invest in a quality microphone.
Otherwise, your microphone will pick up background noise and surrounding noises.
Pop Filter
Basically, a pop filter works as a noise filter for microphones.
Pop filter helps to deliver clear sound by filtering out popping sound.
For clear and better sound quality choose a good filter to record your show.
Mic Stand
You need a microphone stands to position and hold the microphone correctly.
A microphone stand helps to keep your mic secure and steady to help you record sound without any disturbance.
As this is essential equipment, you need to look at durability, design, style, and materials.
Computer
You first need a good computer for editing and storing your audio files.
You can easily edit your audio files on your computer.
Moreover, you can keep your audio files organized in a specific folder on your computer.
Headphone
For recording your podcast, you'll need a nice pair of headphones.
A good pair of noise-canceling headphones allow you to listen to your recording while monitoring audio quality.
Listening to your recording through headphones allows you to adjust distance and speaking manners.
Therefore, you should buy good quality noise-canceling headphones to focus on your recording fully.
Noise-canceling headphones are best for your podcast because it helps you stay focused and avoid being distracted by background noise.
Step 3: Install Essential Software
Having essential software right by your side can help you edit and record your audio for your podcast.
It is vital to have the right software every step of the way.
Mainly you will need good editing and recording software.
Step 4: Record Your Podcast  
Recording a podcast is the trickiest part of your podcast journey.
Pay special attention to your recording studio and surrounding environment.
Follow the steps below to record your podcast: 
Set up your recording station.

Prepare and finalize your script.

Create your episode outline for smooth and organized delivery.

Record in a quiet space to avoid sound quality issues.

Set up your equipment, for instance, mic, mic stand, pop filter, computer, and other essential equipment.

Set up essential software for recording.

Stay close to the mic while recording.

Record a test episode to ensure everything is working correctly.

Once you're satisfied with everything, record your podcast episode.
Step 6: Edit Your Podcast
For a beginner, editing a podcast can be a daunting task.
You can fix background noises, add music, adjust audio volume, and fix other audio quality issues at the editing stage.
When editing your audio, selecting the right software is essential.
According to our experts, the best podcast editing software is:
Audacity – Free editing software
Adobe Audition- For advanced editing.
GarageBand- For creating a project from scratch.
Auphonic- Best for audio optimization.
If you're a beginner, we suggest using Audacity as it has all the essential features.
After you choose your software, start editing your audio.
Follow the below steps to edit your podcast:
Upload your audio to the software.
Remove background noises.
Remove unwanted material.
Add essential music, for instance, intro music or sound effects.
Merge your audio files.
Organize audio files in the correct order.
Adjust your audio volume.
After you've finished editing, save your audio file.
Step 5: Publish Your Podcast
Publishing your podcast is a crucial step in your podcast journey.
After editing and recording your podcast, the next thing you might wonder is where to publish podcasts?
Without a doubt, you should always go for a reliable and well-known host for publishing your podcast.
According to Podcast Insights, below are the best podcast hosting companies since May 2023:
Buzzsprout

Captivate

Transistor

Castos

Rss.com

Podbean

Resonate
How to Publish a Podcast
Publishing your podcast is an easy task.
You don't have to be a rocket scientist to publish your podcast.
Well, you can be, but you don't need to be.
Follow the steps below to publish your podcast:
Choose a reliable host.
Create an account in your chosen host to start a podcast.
After that, fill in the title and description of your podcast and submit.
Depending on your host, you will have the option to choose your hosting plan.
Next, upload your podcast episodes.
After uploading your episode, you have to list your
Add additional information like podcast art, category, time zone, language, and other essential information.
After completion, an RSS feed will be generated.
List your podcast on popular podcast streaming apps or directories.
Depending on your host, you can list your podcast from their website or
Follow the steps below to list your podcast:
Create an account on the app of your choice.
Add your RSS feed.
To confirm your show, enter the verification code sent to your email.
Fill in essential information like podcast art, description, category, website link, language, and so on.
If everything appears to be in order, submit your podcast.
After submission, wait a few days for it to appear on the app.
How Much Does It Cost to Publish a Podcast?
The total cost of publishing a podcast varies from person to person.
Podcast hosting price depends on the company you choose.
Hosting your podcast can cost anywhere from $5 to $60 per month.
Although, you might ask, can I host my podcast for free?
You certainly can!
However, free podcast hosting comes with limitations.
Limitations include bandwidth limitation, playback speeds, upload limitation, and storage limitations.
If you want to start a podcast as a hobby, you can go for the free hosting option.
Nevertheless, If you plan to start a podcast about business, we suggest you go for a paid host.
Step 6: Promote Your Podcast
The final step of your podcast cycle is promotion.
Promoting your podcast is essential for growth and recognition.
You can promote your podcast through different social media platforms.
Also, you can tell your listeners to subscribe, share and write reviews.
Business Podcast: The Importance, Demand, and Queries
Business leaders today understand the importance of podcasts for business development.
Especially for small businesses, a podcast is an excellent tool for reaching target customers.
In the beginning, small businesses have difficulty reaching their target audience.
Do you know that brands promoting their products and services on business podcasts see a 14 % increase in purchase intent?
At this point, you might have some questions about using podcasts to grow your business.
The following section will address some important questions regarding starting a podcast for business development.
Do You Need a Business License for a Podcast? 
You generally don't need a license to start a podcast.
However, in some cases, a license is necessary.
If you want to register your podcast as a limited liability company, you will need a license for the podcast.
Registering your podcast as a limited liability company can help you protect your assets.
In case your company gets sued, then your assets will be protected.
Moreover, podcasters need a Synchronization License to use any copyrighted music in their show.
A synchronization license is a contract between a music user and the owner of a copyrighted composition.
The license allows the songs to be synced with any visual media.
However, according to the law, podcasts must get a sync license to use any copyrighted music.
We suggest reading the article by ICSTD Do You Need A Business License For Podcast?
Are Podcasts Good for Business?
In today's world, running a business has become easier.
On the other hand, market competition has increased.
As a result, attracting customers in the modern world has become more challenging.
In order to survive, business leaders constantly have to come up with new ideas to promote their products.
Podcasting is an excellent way to expand your business and reach out to new clients.
A well-designed business podcast can:
Help you find target customers.

Become a source of income.

A free marketing tool for business.

Can improve social media visibility.

Build connections with business leaders.

Gain authority in the business industry.

Help you build a personal relationship with listeners.

Connect with more qualified leads.

Bring in more high-quality clients and customers.
Podcast Launch Checklist
Starting and launching a podcast can be a challenging task.
You might forget some important things.
Thus, check the below list to make sure you have covered everything for launching your podcast.
Give a unique name.
Make a podcast cover art.
Write a podcast description.
Gather essential equipment and software.
Record and edit your show.
Prepare show script.
Create a publishing schedule for episodes.
Choose a host.
Submit to podcast directories.
Promote your podcast on social media.
Wrapping Up: Why You Need to Start a Podcast for Business Development
Podcasts are a powerful medium to gain authority in the market.
Remember to provide value to users through your podcast.
To start a podcast about business, try to provide listeners with business insights.
Moreover, provide tips and tricks from business leaders.
Remember to give your podcast a unique name and pick a topic you are knowledgeable in.
Discuss the challenges of starting and running a small business.
Share marketing ideas even better if you share your marketing strategies, tips, and insights.
In addition, maintain a podcast publishing schedule.
Remember, there are different types of podcasts, and choose your podcast category wisely.
Make sure to go through our checklist for starting a podcast.
Don't sit back and wait for your podcast to become popular.
Take matters into your own hands and promote your podcast on various social media platforms.
Read more from our blog.
You May Also Like:
If you enjoyed reading this article and learned something new, don't keep this achievement to yourself. Share this post with your family and friends so they can also gain new knowledge. In short, sharing is caring!
Fariha Anika is a content creator. She is passionate about helping people and wants to provide value to users through her content. Anika loves nature and technology and strives to strike a healthy balance between the two. She believes kindness is never out of fashion, and it enhances a person's beauty. Another passion of her life is conducting research and gaining new knowledge through her research findings.