Social media marketing trends or social media technology trends help to target your marketing efforts and tailor your products to fit a shifting landscape.
Following top social media marketing trends can assist you in getting more organic reach and increasing brand awareness.
According to, Smart insights 4.62 billion people around the world now use social media. 
If you can follow the current social media marketing trends and stay updated, it is easier to find your potential consumers from this amount, right?
Of course, it is!
If you are not fully aware of social media technology trends for this year, you're at the right place!
Here I will discuss 10 new trends in social media marketing that will surely help you reach your goal faster.
Before diving into our main topic, let's know about something that you need to know as a marketer.
Why need Social Media Marketing?
Social media marketing assists marketers in forming alliances with prospective partners.
It also assists in effectively communicating their visions and goals to the outside world.
This, in turn, helps them establish a good reputation in the market, which attracts more customers.
Aside from that, any marketer who wants to compete in today's world must understand the significance of social media marketing.
Here I will talk about 5 most beneficial sides of using social platforms like social media marketers –
Social Media Helps to Raise Brand Awareness
With millions of people using social media worldwide, it is easy to see why it is one of the best platforms for promoting any brand.
The social media platform is an excellent way to raise awareness of your company and highlight your products or services.
Many brands use social media to share news, product updates and launches, and other information.
The more people you can reach with this content, the better.
In addition to your website, social media is one of the best ways to do so in this technology-driven world.
Increased Revenue From a Specific Audience
This is related to brand awareness, and the more people who learn about your company, the greater your chances of expanding your customer base.
Depending on what you're offering and the type of content you post on social media, several social media platforms allow you to earn money directly.
Social media can sell products, book appointments, and collect customer leads.
Although organic social media posts may generate more revenue, investing in paid campaigns can take your social media marketing to the next level.
Even a tiny budget allows you to reach hundreds (or thousands) of people interested in purchasing your products or booking your services.
Social Media Users Can Improve SEO
Always remember, as a marketer, that SEO is heavily reliant on high-quality backlinks.
On the other hand, social media is an excellent platform for showcasing your best content, and compelling content are what gets shared.
So the more viral something becomes, the more often your company's website is linked.
Which can significantly boost your domain authority.
Although it can take some time for great content to snowball into something widely shared, social media is a great place to start.
Social Advertising Retargeting Possibilities
As previously stated, social media marketers can broaden their audience reach by investing in paid campaigns.
However, social media is an excellent platform for retargeting ads in particular.
Reach individuals who are more likely to convert to paying customers by displaying social media ads.
That targets those who have previously visited your website and viewed specific product or service pages.
Even people who have previously used your service can find you again through your content and advertisements.
If your service meets their needs, this is how social media works for business growth.
Ensure Better Customer Service
Brands, large and small, rely on excellent customer service to thrive.
Whether it's to ask a question, get more information, or troubleshoot an issue, most businesses now provide multiple ways for customers to contact them.
Customers used to contact businesses via phone, email, and even live chat, but now many are using social media as their primary point of contact.
By incorporating augmented reality into social media, businesses have a better opportunity to interact with customers.
Also by typically improves response time, resulting in a better overall customer service experience.
Do you have enough ideas on how social media marketing can help you grow your business?
Then let's get into our next topic –
What Are Social Media Marketing Trends
Trends or a trending topic has a surge in popularity on one or more social media platforms for a short period.
By copping up with that one specific trending topic, it is easier to get attention from many target audiences.
Live Streaming
Video Content
Short Content
User-Generated Content
Paid Advertising
Mobile Optimization
These are some current social media marketing trends, especially for this year.
Why You Need to Follow The Trend of Social Media
Social media is a must-have marketing channel.
Taking advantage of the most popular trends on various social platforms is thus an excellent way.
Especially for marketers to reach target audiences and increase brand awareness among new audiences.
The more your company understands the social trends affecting your community and industry,
the better you'll be able to target your marketing efforts and tailor your products to fit a changing landscape.
As the trend spreads, it raises public awareness of the various company products and services developed for customer satisfaction.
Following trends will help you make better forecasts.
Where forecasting is a daily task for every entrepreneur, so if you understand trends, you will be able to make better and easier predictions.
When you can see and predict the future, your life as an entrepreneur will be much easier!
Here I'm mentioning 5 significant reasons why you need to follow the social media trending topics for your business –
Following Trends Will Assist You in Making Better Forecasts
The Trends Below Will Assist You in Becoming a Leader, Not a Follower.
Trends Will Assist You in Developing Better Business Concepts
If you pay attention to trends, you will be able to identify the most crucial early warning signs.
Trends Will Inform You of What You Need to Improve in Your Business
We are done with our basics for social media marketing, its trend, and many more now, let's get into our main topic, which is –
Top 10 Social Media Marketing Trends for 2023
If you are tired of searching for what's trending on social media, just follow them below!
01. The Creator Economy Will Develop
With over 50 million independent content creators, curators, and community builders fueling this new trend.
This generation of micro-entrepreneurs is currently valued at $20 billion, with projections of a $104.2 billion market in 2023.
Creators are having a big moment right now, mainly because of the higher use of social media platforms.
According to a recent report on the creator economy, more than 50 million people worldwide identify as creators.
Creators aren't limited to social media networks but those who contribute to the $13.8 billion influencer industry.
As the creator economy matures, more strategies become available to brands.
YouTube, Snapchat, Instagram, and TikTok have all put money into their versions of a creator fund.
Micro-influencers with fewer than 15k followers have higher engagement rates on Instagram, YouTube, and TikTok, allowing smaller brands to expand their presence.
02. Demand for Social Selling Will Rise
According to the most recent Sprout Social IndexTM, 90% of consumers will buy from a brand they follow on social media.
Your followers are also more likely to choose your brand over a competitor, visit your physical store, and take other actions that increase sales.
Social media platforms have worked hard to develop native shopping experiences in recent years.
And all that allows users to buy products without ever leaving their platforms.
Consider Instagram's Shoppable Stories, which allow you to purchase a product sticker without leaving the app.
Other platforms have invested in native advertising to provide users with a seamless experience.
TikTok, for example, developed the Spark Ads advertising format, which allows brands to raise the profile of existing organic content.
As we approach 2023, more brands will use social selling to reach users whenever and wherever they are ready to buy.
Why not allow your Facebook And Instagram followers to purchase your products?
03. Short-form Videos Will Be More Valuable
Short-form video content marketing will be more popular than ever before, with more than 70% of marketers utilizing it.
Sanders believes that short-form videos provide creators with an innovative way to showcase their content.
"As social media grows in popularity, the human attention span becomes shorter and shorter," he says.
So, leveraging the power of short-form content will give you an advantage over your competition and help engage your audience.
Short-form video content is more important than ever before to keep people's attention before moving on.
Another reason why short-form video content is so important is that it is consumed repeatedly.
If a video is only 8 seconds long, it is effortless for someone to watch it multiple times.
Short-form video content is the future of social media technology trends, not long-form video content.
According to new research, less is more when it comes to video marketing.
We have the research to prove that video is here to stay.
Audiences are increasingly consuming short-form video content.
04. Influencer Marketing Will Reach its Peak
Influencer marketing will be one of the major social media technology trends in 2023 and beyond.
This year's key trends include the growing popularity of micro and nano influencers, brands seeking ongoing partnerships, various types of social media platforms, more performance-based deals, and more.
According to Influencer Marketing Hub Influencer, the marketing industry will be worth $16.4 billion by 2023.
Working with influencers ranging from YouTube vloggers to the Instagram elite has become a go-to marketing strategy for brands.
They are gaining a significant presence in the marketing sector. Influencer marketing broadens your market reach and positioning.
Users on social media can learn more about your brand, your story, and the products or services you provide.
One of the most noticeable advantages of social media marketing influencers' role in increasing brand awareness.
According to 80% of marketers, influencer marketing is effective, and it works just as well as other marketing channels, according to 89%.
According to 71% of marketers, the quality of customers and traffic from influencer marketing is superior to other sources.
So, by following the trend and getting the best results, you can take your business to the next level.
05. TikTok Will Rule the Social Media World
The most unbelievable SMM Trends that we even counted 2 years ago as any marketing platform, right?
But undoubtedly, Tiktok has now reached a level of business that marketers are now more into to catch their target audiences.
TikTok's growth has been undeniably rapid.
The term 'TikTok' saw a 61 percent year-over-year increase in mentions at the start of 2021,
and it was the first non-Facebook app to reach 3 million global downloads.
While Instagram remains the clear favorite, TikTok is climbing the ranks.
Furthermore, as short-form video content becomes more popular, TikTok is the ideal platform to use in 2023.
TikTok has also launched several useful tools, such as ads and business profiles, explicitly aimed at businesses over the last two years.
As a result, it is no longer just a platform for young creators to show off their dance moves.
TikTok has been supercharged. With the platform's rapid growth, brands can't afford to ignore its potential.
It will help brands connect with a younger, more creative demographic, with an audience dominated by Millennials and Gen Z, tech-savvy generations demanding innovation, creativity, personalization, and transparency.
Overall, it is poised to become one of the primary platforms through which brands can reach millions of people.
06. Paid Advertising Will Become Unavoidable
According to Hootsuite, the decline in organic reach and the need to spend more on paid advertising were the biggest challenges for more than 40% of respondents.
As a result, it stands to reason that paid advertising will become necessary.
Google plans to phase out cookie tracking by 2023; the "death of the third party cookie" will begin in the coming year.
Requires many marketers to pivot their existing strategies as social advertising evolves.
Fortunately, there are many highly effective advertising options that do not necessitate the use of third-party cookies.
User-generated content, targeted and personalized ads across social media platforms, email marketing, and search engine retargeting campaigns are examples of user-generated content.
This is an excellent opportunity to develop a data-driven strategy rather than relying on third-party cookies to define your advertising strategy.
Which is based on metrics to understand your users' interests and preferences better.
07. Video Content Will Prevail More this Year
If you're thinking video is a trend in marketing on social media, you can get the answer from here.
This is another most used and comfortable form of content is video content.
That can help businesses to reach their audiences with more sensory systems.
Video content continues to be one of the most engaging types of content.
According to a Cisco study, video content will account for 82% of all online content by 2023.
This clearly demonstrates how critical it is to begin utilizing video content in order to remain relevant in the social media domain.
If you are not already producing videos, it's time to incorporate them into your content strategy.
Video content is 1200% more successful than other types of content.
According to LearnHub, videos generate more shares and likes than text and image content combined.
Video marketing is growing in popularity because video content has been shown to generate significantly more engagement than other types of content when shared via social media and other digital platforms.
It is understandable at the same time video is simple to consume.
It is no secret that videos are now the most popular form of content consumption.
As a result, it is safe to say that video content is one of the most effective social media technology trends that your company can adopt.
08. A Social Audio Strategy Will Develop by Brands
Social audio is one of the particularly effective and important marketing strategies.
As it provides a level of contextual understanding that text cannot match.
When you hear someone's voice, for example, your understanding of what they're saying is influenced by their intonation.
Consumers have driven the trend toward the spoken word, and businesses have followed suit-
the popularity of voice-led content has resulted in the emergence of a voice economy.
Companies of all sizes have realized that audio and video content are excellent ways to reach out to customers.
Facebook will follow suit in June 2021, when it will officially launch its Live Audio Rooms and podcasts in the United States.
And brands are paying attention to social networks in this way.
According to Hootsuite's 2023 Social Media Trends survey, more than 74% of businesses intend to invest in audio-only content in the coming year.
According to the same survey, the most popular strategy was hosting an audio live stream as a thought leader.
Having said that, the trend has not yet captured the attention of smaller businesses.
Especially given that it is not the most cost-effective form of content marketing.
Although it is only an audio clip, creating audio content requires a significant amount of time and expertise.
09. Companies Will Hire More Social Media Specialists
Nowadays more businesses know about how has social media affected trends in marketing.
For this reason, they are focusing more on social hirings than before.
A dedicated social media hire can solve the problem of perfectly managing social sites with unique content and assist organizations in growing platforms.
They can also monitor social analytics and participate in industry-specific discussions.
Furthermore, try out new platforms and trends, all of which contribute to a stronger brand and more leads for your company.
So, just in case Consider hiring a social media community manager to help you build and engage with your online audiences if you have not already.
These executives set the tone, voice, and conversations for your brand.
So it is worthwhile if your target audience is eager to interact with your brand via social media.
Even Having a manager overseeing all of your social media efforts can help you improve your current campaign.
A social media manager, on the other hand, can keep your brand agile by switching objectives, and creatives.
Or content if your current efforts are not performing as well as they could so be a part of this one of the best social media technology trends from now!
10. Social Commerce Will Continue to Grow in Popularity
By being exactly where your customers spend their time online, social commerce provides a convenient buying journey for them.
Social commerce makes it simple for customers to find your products and complete their purchases, reducing any friction leading to purchase abandonment.
Social media is evolving, and this year's explosive growth in e-commerce will provide more opportunities for brands to create social commerce experiences.
Brands can use social commerce to create frictionless shopping experiences and reach consumers in the places that matter.
Wherever there are eyes, there is money.
The battle between social media and search is being won.
Meanwhile, the pandemic has wreaked havoc on the brick-and-mortar retail industry.
The end result will be an explosion of social commerce in 2021.
Brands are using social media to reach out to customers and raise awareness.
By 2025, the opportunity for social commerce will nearly triple.
Global social commerce sales are expected to reach $492 billion in 2021.
The social commerce opportunity will reach $1.2 trillion by 202516, growing at a CAGR of 26 percent.
This accounts for 16.7 percent of the total e-commerce spend of $7 trillion.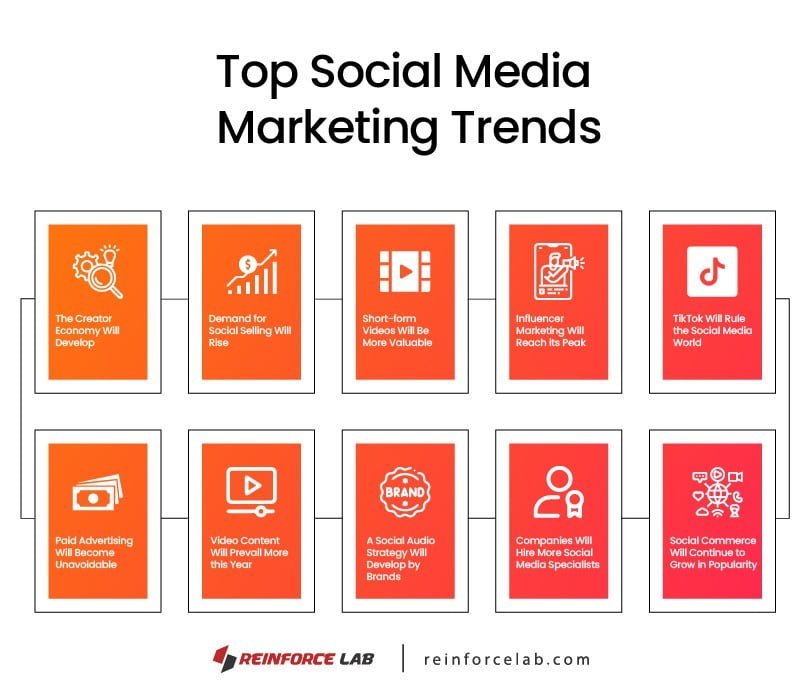 Here are another 10 social media technology trends that you may check out for your business –
The sophistication of social advertising will increase
Use of Social Media for Customer Service is Growing
Ecommerce will be transformed by Livestream shopping
Reaching out to new audiences will become a top priority
Snackable Content Will Be in High Demand Among Consumers
Businesses will invest more in content and live audio chat rooms
Augmented Reality will become the preferred method for consumers
B2B companies will increase their investments in Instagram and Twitter
The purchase decision will include considerations for sustainability
A Bigger Demand For Authenticity
Wrapping Up – Top 10 Social Media Marketing Trends for 2023



Now you can imagine how important social media technology trends are, right?
Hopefully, it is a yes.
With these basic ideas and strategies, you can help other folks seeking which approach they can apply to their business.
You can even inspire your readers to continue returning to your website and obtain more traffic by applying the perfect strategy for social media technology trends.
Remember that business owners' main marketing tactic is word of mouth.
If you can spread the word and show your authenticity, you can win the market quickly.
And the suitable social media technology trends, you can take your business to another level up!
Another thing, creativity lies in you.
Create your social media strategies in your market plan and ensure that they are all ready for applying to your target audiences.
But perfection comes from professionals, so go for the best always.
Now, I'd like to hear about social media marketing trends you plan to apply?
Can you tell me the ways that you have applied?
Could you share your thoughts with us?
Learn more about our  Social Media Marketing Services!
Read more from our blog.
You May Also Like:
If you think this post was exciting & you have gained some knowledge, don't keep this accomplishment only with you. Allow your friends & family to stay the same intellect as you. In short, sharing is caring!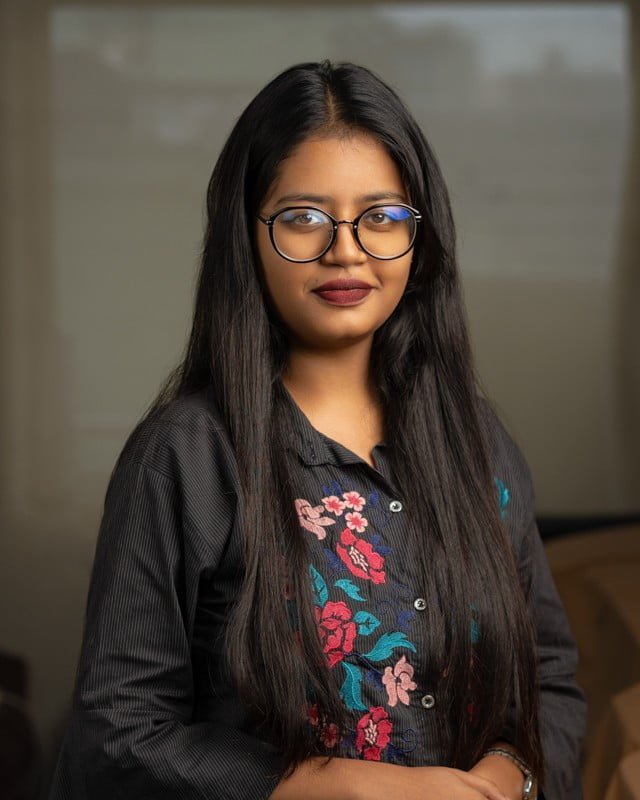 Maxilin Catherine Gomes is an undergraduate business student who enjoys experimenting with the world of marketing via her proficiency in SEO. She doesn't have to put in any additional work to conduct relevant topic research, analyze traffic and search rankings, or discover the most popular visited websites for her articles since she enjoys doing so. She has spent the past decade devouring thrillers, romances, and detective books. For her, the best thing to do is to learn something new. She believes that everything in the world works together to help you reach your goals.