How to Make A Website with Liquid Web WordPress Hosting: A Step by Step Guide

14

min read
Liquid Web is well-known for its managed VPS hosting, managed cloud hosting, & dedicated server hosting.
Liquid Web WordPress hosting options include staging sites, automatic updates, an intuitive dashboard, and many more to manage all your sites.
It already owns five state-of-the-art data centers in the US and Europe.
The Liquid Web hosting servers ensure speed, performance, and security for your site and provide hassle-free hosting solutions.
Their customer service is great as they have been providing good hosting services.
That's why, top companies like Red Bull, ESPN, Audi, & FedEx use Liquid Web.
Unfortunately, their web hosting services are not suitable for small businesses.
Most of its plans are prepared for big enterprises, so beginners may not find them budget-friendly.
However, their managed hosting plans are most appropriate for premium businesses.
Liquid Web's managed hosting plans are worth checking if you own a big agency or business.
The company has a good customer base, hosting services to more than 30,000 organizations and has hosted over 500,000 websites.
This guide is created to help anyone interested in trying Liquid Web to host their website.
Let's get into the details and find out more about this.
What is Liquid Web Hosting?
If you have gone through any liquid web reviews, you will notice that most of their services are for big companies.
Only professionals can find them beneficial for hosting their websites.
Liquid Web offers advanced features and configurations to help you professionally host your site.
Unfortunately, Liquid Web WordPress hosting service is not budget-friendly for beginners.
However, its 'Heroic Support' is excellent according to most customers.
Its performance is overall good in terms of performance & reliability.
Liquid Web Features
Liquid Web offers premium services with compelling hosting features, professional customer support, and a 99.999% uptime guarantee.
Most of its features efficiently provide dynamic hosting solutions to impact your site significantly.
There are so many other features out there, but we will cover some of its productive features that make Liquid Web worth trying.
Let's take a look at some of the Liquid Web features:
1. Automated Server Administration
This feature helps you manage your site applications and does automated setup updates. This is a user-friendly interface designed for convenient use.
2. WordPress Toolkit
This toolkit has everything to let you manage your WordPress account smoothly. It lets you do quick installation and allows system-level control over your server.
3. Developer Toolkit
The developer toolkit includes MSSSQL support, Tomcat, PostgreSQL, and many other advanced tools to help conveniently develop a site.
4. Premium Email Antivirus
The antivirus system protects your email account against viruses, trojans, and worms. This is a great feature every site owner needs.
5. Mobile Manager
The mobile manager feature gives you total control over your server.
You can access most administrative functions of your site from anywhere by connecting via iOS or Android devices.
Liquid Web Hosting Features Include:
It offers single- and dual-processor servers with self-managed plans
The team providing 24/7 support
in-house solutions
Custom configurations and instant provisioning
Auto-migrations and backups
load balancer add-ons
100% Uptime Guarantee
With high-powered SSDs
the Heroic Support team
RAID-protected SSD storage
incredible SLAs
popular control panels and API access
custom functionalities
High-speed hosting that's faster than AWS, Rackspace, and Digital Ocean
FREE backups, CDN, and DDoS protection
Up to 16 processors with all-SSD storage
 cPanel, Plesk, or InterWorx
Real-time monitoring
Fast load times
100% uptime
Now, let's see some of the Liquid Web Alternatives that are giving neck to neck competition with Liquid Web.
Best Liquid Web Alternatives To Host Your Website In 2023
There are so many alternatives to Liquid Web hosting providers that are doing great in the market.
Depending on your business budget and marketing needs, you can try other hosting providers to see what best suits you.
Here are some of the popular alternatives to Liquid Web hosting:
Hostinger: strong features and affordable plans
Bluehost: world-class hosting services
WP Engine: offers high-quality managed hosting solutions with an excellent uptime
Siteground: top-notch customer service and reliable hosting plans
Flywheel: provides extensive hosting  tools for freelancers, agencies, and developers
Kinsta: excellent hosting features and scalability
Cloudways: flexible cloud hosting plans and best security features
It's important to note that the best alternative for you will depend on your specific needs and requirements.
For example, if you're looking for a managed WordPress hosting solution, WP Engine and Kinsta would be good options to consider.
On the other hand, if you're looking for a budget-friendly option, A2 Hosting would be worth considering.
It's important to carefully evaluate each provider to determine which one is the best fit for you.
Liquid Web WordPress Hosting: Is Liquid Web hosting good?
Liquid Web is considered a good hosting provider by many people and businesses.
They offer a range of hosting services, including dedicated, VPS, cloud, and managed WordPress hosting, and are known for their high level of performance, reliability, and customer support.
Additionally, Liquid Web is a popular choice for businesses and websites that require a higher level of control, security, and customization.
Here are some of the strong USP that Liquid Web Hosting provides:
1. Speedy Hosting
Liquid Web's hosting plans are optimized for quick page loads. The customer reviews will tell you how fast their hosting is.
2. No Plugin Limits
Unlike other managed WordPress hosting providers, Liquid Web doesn't ban plugin usage. You can use any WordPress plugins you want on your site.
3. Guaranteed Uptime
Liquid Web promises an incredible 100% uptime and will offer you 1000% credit for any downtime.
4. Heroic Support
Liquid Web's claim to fame is its stellar support. Customers rave about how friendly, helpful, and skilled the support staff is.
Easy staging: You can create a staging site for testing your codes before moving it to the live site.
However, as with any hosting provider, the suitability of Liquid Web for your specific needs will depend on your unique requirements.
So it's always a good idea to carefully evaluate the features, pricing, and support offered by any hosting provider before making a decision.
Liquid Web Pricing: How much does Liquid server cost?
Liquid Web offers various subscription plans for services ranging from dedicated Cloud servers and eCommerce to the enterprise.
It doesn't matter if you have a small or large organization; you can find suitable plans from Liquid Web that will best fit your needs.
See below what Liquid Web has to offer in terms of hosting plans.
Liquid Web Managed Hosting Pricing & Plans Includes:
Managed VPS Hosting:  $59.00 / month
Cloud Dedicated Servers:  $149.00 / month
Managed Dedicated Server Hosting:– $199.00 / month
HIPAA Compliant Hosting: $384.00 / month
Private Cloud Powered by VMware and NetApp: $510.00 / month
Now, let's get into the details on how you can host your website with Liquid Web WordPress hosting.
How to Make A Website with Liquid Web WordPress Hosting: A Step-by-Step Guide
What type of hosting service is perfect for you will depend on the type of business you own.
You may need a specific hosting plan for your blog site or prefer another one for your e-commerce site.
Today, our topic of discussion will be Liquid Web WordPress hosting and how you can host a website following some basic steps.
To create a new website with Liquid Web WordPress hosting provider, follow these simple steps: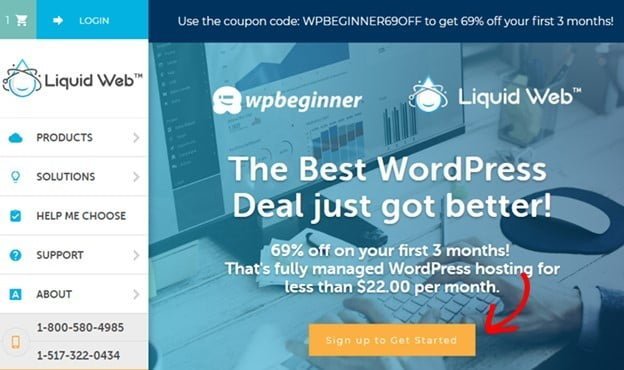 Step 1: Install a Server Software
After creating an account with Liquid Web, you must install server software to set up your account.
If you are already a user of Liquid Web, then you can access the Softaculous tool.
Softaculous will help install WordPress for your site.
You must enter your username, password, and a valid email address to complete your installation process.
With WordPress, you can create an appealing website that is easy to navigate.
Liquid Web offers shared hosting via its subsidiary called, Nexcess.
It specializes in managed VPS hosting and dedicated servers.
The four nameservers of Liquid Web:
ns.liquidweb.com
ns1.liquidweb.com
ns.sourcedns.com
Ns1.sourcedns.com
Step 2: Install WordPress on Liquid Web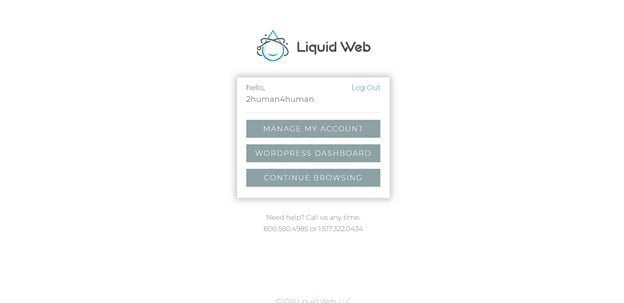 1. Go to the WordPress Dashboard to install WordPress.
2. Put a website name & an email address to create your WordPress website.
Later on, Liquid Web will send you a mail with your WordPress login details.
To automatically set up your website, click on to 'Add Your First Site' button.
From there, you will be directed to the Managed WordPress portal. The WordPress installation will take three to five minutes to complete.
3. You'll receive a mail with your login details and a link to the WordPress admin dashboard. You will be asked to set your password for your WordPress account.
Once you successfully log in to your account, you can start building your website.
Step 3: Connecting a Domain on Liquid Web
You may register your domain name for the first time through Liquid Web.
Signing up for a new site account will take only a few minutes.
If you have an existing account with any domain name, you can purchase a new one.
Registering a domain name for a new site doesn't involve a complicated follow-up process.
If you use either a VPS hosting server, dedicated server, or cloud dedicated server, you can easily set up multiple domain accounts with the help of your server's software.
Connecting your domain with Liquid Web is a lengthy process compared to other hosts.
Beginners may need some assistance to install a domain on Liquid Web.
Follow the steps to install a domain on the Liquid Web platform:
1. If your domain is registered elsewhere, you need to update your nameservers to Liquid Web.
2. Create a new DNS zone with the help of your domain and the IP address provided by the Liquid Web dashboard.
3. Next, log into your Liquid Web account dashboard. Go to the 'Domains' section in the left-hand navigation menu and click the DNS tab.
You will find the entire list of DNS records there to choose from.
4. Select the 'Add New Record' button. Input the value of 3600 in the TTL option. Then go to the 'Type' option and set this to A.
Next, enter the 'Data' option and enter the IP address. Finally, click on the green box (with a tick sign) to create a new record.
5. Go back to your managed WordPress dashboard and update your domain. You can see your new domain displayed in the Primary Domain field.
You can now log in to your WordPress website with that URL.
Step 4: Activate Cloudflare CDN for Your Liquid Web Domain
You can set up the Cloudflare CDN using the management dashboard from Liquidweb.
Follow the steps to activate Cloudflare CDN: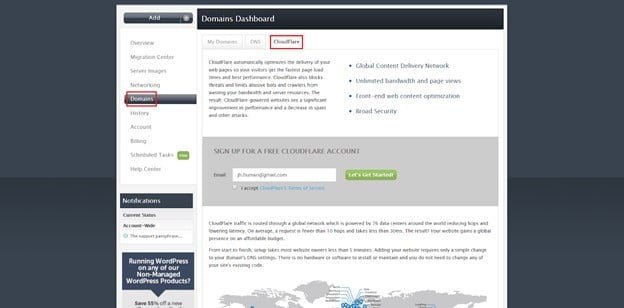 1. First, sign up for a Cloudflare account. You may choose the free plan or purchase the premium plan for your website.
Go to the Account Management dashboard and click the 'CloudFlare' tab.
Then click on the 'Add a Site' button and enter your domain.
Moving your DNS to Cloudflare will give you the advantage of better loading speeds.
Select any Cloudflare plans from the provided list.
Click the 'Activate Service' button to install Cloudflare on your website.
2. Go to the DNS settings to make any changes to your DNS records. You have to change your DNS records manually. The Cloudflare CDN will take effect after that.
3. Within your 'Domains Dashboard', go back to the DNS tab to create a new record like before.
Fill up the necessary information required. It may take time to go through this process if you don't know how to approach it.
In that case, you can contact the support team to guide you correctly. Finally, setting up your Liquid Web hosting is done.
Step 5: Creating a Website in Managed WordPress & Managed Woo Commerce Hosting
Managed WordPress and Managed Woo Commerce hosting panels are instrumental in managing your websites.
If you want to create a new website, then follow these steps—
Log into your Managed WordPress and Managed Woo Commerce portal
Click 'Create/Import New Site' at the upper right-hand corner of the page
Put the site nickname and the email address
Click on 'Create Site' to start building your site
Enter the 'Manage Site' to see the site details from your Managed WordPress and Managed Woo Commerce home page
Your site is ready to work on.
After creating your site, migrate it to your Managed WordPress and Managed Woo Commerce hosting platform.
Follow this two-step process to start boosting traffic for your new site –
1. Change the DNS in your Liquid Web account
2. Update your domain name
Step 6: Choose Any Liquid Web Hosting Plan
Liquid Web's Managed WordPress hosting comes in three forms: Personal, Professional, and Agency.
All plans include the following:
pre-installed WordPress
automatic WordPress updates
automatic system for backups
one-click staging sites (available with the WordPress dashboard only)
SSL certificates (no cost included)
free migration
Get to know more about their hosting plans from Liquid Web Hosting Plans.
Finally, you can proceed with your newly created website and start going live.
You can switch to any plan later on as per your business requirements.
Author's Note: Liquid Web WordPress Hosting Review
Liquid Web is recommended by most of its users for its dynamic hosting solutions and security features.
There are so many reasons why you should go for this hosting provider.
With every managed WordPress hosting plan, you can get access to a custom control panel for better managing multiple WordPress sites.
You can choose whatever Liquid Web hosting plan you choose by using either cPanel, WHM, or Plesk.
However, Liquid Web is a bit expensive compared to other traditional hosting platforms.
Yet, it is still preferred by most businesses that need managed web hosting.
The extra cost is still worth it, as Liquid Web's managed web hosting delivers reasonable solutions.
Also, Liquid Web automatically updates your plugins to save your site from unknown threats.
This ensures excellent protection for your site, and you can enjoy more such security features only with Liquid Web.
There are many such reasons why businesses must choose Liquid Web.
Hence, it is unsurprising that Liquid Web is still a popular choice for many site owners.
Wrapping Up: How to Make A Website with Liquid Web WordPress Hosting: A Step-by-Step Guide
Building a custom website takes a lot of time and effort.
Choosing a good hosting service is essential in building a professional website.
Go to any liquid web hosting review, and you will find positive feedback from people who have enjoyed using it.
The setup process is a bit lengthy for creating a site with Liquid Web WordPress hosting.
The hosting service mainly focuses on business clients, so beginners may not find it suitable.
People I.T. professionals mostly use this platform, especially the liquid web WordPress managed hosting has been tremendously helpful for them.
It is highly suitable for those who want more control over their DNS records for technical matters.
With Liquid Web, you will get easy access to the industry-leading CDN.
If you want advanced features and reliable technical support, then Liquid Web should be your choice.
FAQs
1. Liquid Web is suitable for what type of users?
Liquid Web is suitable mainly for those looking for VPS or dedicated managed hosting solutions for their WordPress sites or e-commerce stores.
2. Who owns Liquid Web?
The owner of Liquid Web is Madison Dearborn Partners, which belongs to a Chicago-based private equity investment firm.
It is known for providing high-end web hosting services, founded in 1997 by Matthew Hill.
3. Is Liquid Web Reliable?
Liquid Web is a highly reliable hosting provider known for providing dynamic hosting services and a reliable Cloud infrastructure with a rock-solid SLA.
4. Does Liquid Web have free hosting?
Liquid Web does not offer free web hosting solutions.
However, users can get free access to its 30-day money-back guarantee trial on Cloud VPS, Cloud Dedicated Hosting, or Private VPS Parent plans.
5. Where can you find Liquid Web's server locations?
Liquid Web owns its core data centers and operates from there. Their data centers are located in three different places –
+US-central: Lansing, MI
+US-west: Phoenix, AZ
+EU-central: Amsterdam, Netherlands
You May Also Like –
1. How To Build A Website with Kamatera Managed Hosting 
2. How To Build A Website with StableHost Managed Hosting 
3. How To Build A Website with A2 WordPress Hosting
4. How To Build A Website with Bluehost WordPress Hosting
5. How To Build A Website with DreamHost WordPress Hosting
6. How To Build A Website with Nexcess WordPress Hosting
7. How To Build A Website with DigitalOcean Managed Hosting
8. How To Build A Website with Kinsta WordPress Hosting
9 . How To Create A Website with Namecheap WordPress Hosting
If you enjoyed reading this article and learned something new, don't keep this achievement to yourself. Share this post with your family and friends so they can also gain new knowledge.
In short, sharing is caring!
Fovia is a passionate writer and a nature enthusiast by heart. She enjoys reading fiction in her spare time and loves to write on different genres of subjects. Her profession has given her the joy of sharing knowledge with her readers. Perseverance and kindness are the keywords that best describe her persona. For her, the writing field is like an opportunity to explore a wide variety of topics that will inspire her to learn and grow better as a writer.