How to Make a Website with DigitalOcean Managed Hosting – A Step by Step Guide

14

min read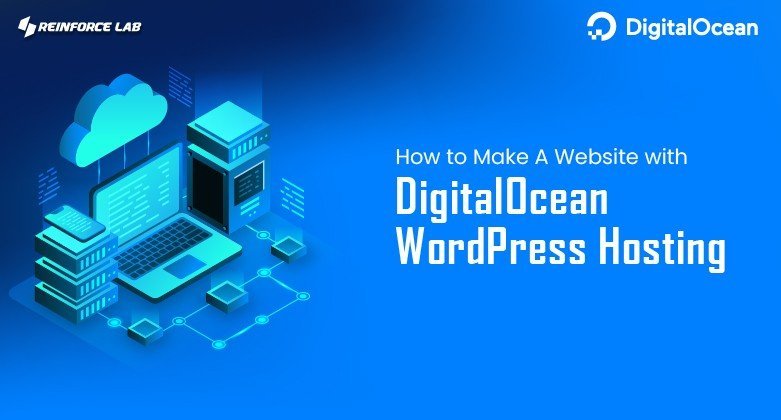 Building a website can be a daunting task, especially if you're unfamiliar with web hosting. Fortunately, DigitalOcean Web Hosting makes it easy to get started.
With DigitalOcean Web Hosting's comprehensive and user-friendly interface, you can get your website up and running with no prior experience in web hosting.
DigitalOcean WordPress hosting is an incredibly cost-effective option for those who are seeking a reliable cloud web hosting provider.
Not only reliable, DigitalOcean web hosting is one of the most affordable ones compared to the other cloud hosting services.
Although developers are the main audience for DigitalOcean's cloud service, anyone can use it because it is a high-performance, publicly accessible service that is offered worldwide.
Statistics from W3Techs say DigitalOcean Web Hosting is used as a web hosting provider by 1.7% of all websites.
So, you can imagine how vastly it is being used worldwide.
This complete guide will walk you through every step, from setting up your account to launching your website.
With DigitalOcean, you can create a website that's tailored to your needs, whether you're a small business, a blog, or a personal portfolio. With DigitalOcean web hosting, you can be sure that your website is hosted securely and reliably.
So let's get started!
What Is DigitalOcean Web Hosting?
DigitalOcean Website Hosting is a cloud-based service that provides developers, startups, and small businesses with a fast, flexible, and reliable way to host their sites or apps.
With DigitalOcean Website Hosting, you can spin up a server in minutes with the click of a button, and scale up or down as needed.
DigitalOcean Website Hosting provides a wide range of features, including solid-state drives, automated backups, cloud firewalls, and more.
But their best-selling item is a virtual machine called a "Droplet," which you can use to host any kind of program or, I suppose, perform any kind of cloud computing.
However, many individuals utilize this to host WordPress websites as well as other websites utilizing DigitalOcean Pricing plans WordPress.
A variety of Linux and Unix servers are available through the DigitalOcean cloud, which has 15 data centers.
With those servers, you get the solid-state drive (SSD)-based storage, a number of configuration options, and a selection of services like X hosting have SPF, which is Sender Policy Framework.
It records lists of email servers or mail servers that are authorized to send an email on behalf of your domain.
The majority of these are offered at no extra cost.
The configuration possibilities range from one to 32 virtual CPUs. There is an additional fee for load balancers, which costs $20 per month.
You can also see from the reviews of DigitalOcean web hosting that this is one of the best hosting solutions you can take without any confusion.
Features of a DigitalOcean Pricing Plans
DigitalOcean is a cloud infrastructure provider that offers a range of features for developers and businesses, including:
Simple and user: friendly interface – easy to set up and manage cloud resources.
SSD-based storage: fast and reliable storage for applications.
Flexible pricing: pay only for what you use, with a range of DigitalOcean Pricing plans and options available.
Global footprint: data centers located around the world for fast and low-latency access.
Built-in scaling: easily scale your resources as your traffic and usage grows.
Automated backups: schedule regular backups to protect your data.
One-click apps: quickly deploy popular applications and software stacks with a single click.
Managed databases: host and manage databases with DigitalOcean's managed database service.
Docker support: easily run and manage containers with DigitalOcean's Docker support.
Community support: access to a large and active community of developers for support and resources.
These are some of the key features of DigitalOcean, a cloud infrastructure provider. The exact features will depend on the specific plan and services you choose.
These were only a few of the features of this DigitalOcean pricing plans.
If you want to check the other cloud hosting services as well, you can see the next section. I have named a few of them for your convenience.
DigitalOcean Alternatives: Best Web Hosting Providers You Must Know
If you're looking for the best dedicated server hosting providers, you'll be pleased to know that you have plenty of options. From shared hosting to managed hosting, there are providers out there that can offer the perfect solution for your business's needs.
When selecting a dedicated server hosting provider, you'll want to look for one that has a good reputation, provides excellent customer service, and offers features that are tailored to your specific needs.
Here are some popular alternatives to DigitalOcean for web hosting:
Bluehost – a well-known web hosting provider offering a range of plans at competitive prices.
SiteGround – known for its exceptional customer support and fast hosting speed.
A2 Hosting – offers a variety of hosting options including shared, VPS, and dedicated hosting.
InMotion Hosting – offers a range of plans with unlimited bandwidth and storage.
DreamHost – offers affordable shared and managed WordPress hosting.
GreenGeeks – an eco-friendly hosting provider with a focus on fast and secure hosting.
WP Engine – a premium managed WordPress hosting provider with top-notch security features.
HostGator – a well-known web hosting provider with a range of plans to choose from.
These are just a few of the top web hosting providers you may consider as alternatives to DigitalOcean. Your choice will depend on your specific needs, budget, and preferred features.
Each of these providers offer a wide range of features and pricing options, so you can find the perfect fit for your business.
In this blog, I will try to cover the whole DigitalOcean web hosting review and Installation, starting from DigitalOcean login to creating a website.
Is DigitalOcean good for website hosting?
Choosing the right WordPress hosting provider is not an easy task.
So, before heading to the installation of any CMS with a hosting, You should better do your homework properly about that hosting service.
In the field of cloud hosting providers, the name DigitalOcean has made a name for itself.
DigitalOcean Pricing plans provide affordable prices, simple usability, dependable infrastructure, and durable character are the causes of its booming success.
DigitalOcean email hosting service is really commendable. It helps you to grow with a global community.
DigitalOcean host is an American cloud-hosting firm that was created with the needs and demands of developers in mind.
Unique Benefits of Using DigitalOcean WordPress Hosting
Here are some unique benefits of using DigitalOcean for WordPress hosting:
High performance DigitalOcean's infrastructure is optimized for fast and reliable performance, delivering fast load times for your WordPress site.
Flexible scaling DigitalOcean's infrastructure is built for easy scaling, allowing you to quickly adjust your resources as your traffic and usage grows.
Simple setupDigitalOcean's one-click WordPress installation makes it easy to set up and launch your WordPress site in minutes.
Cost-effectiveDigitalOcean's pay-as-you-go pricing model makes it an affordable option for hosting your WordPress site.
Customizable environmentDigitalOcean's virtual servers offer a high degree of customization, allowing you to configure your environment to meet your specific needs.
Advanced security featuresDigitalOcean provides built-in security features and a secure infrastructure to protect your WordPress site.
Expert supportDigitalOcean's community of developers and support team are available to help you with any questions or issues you may encounter while using their services.
These are just a few of the unique benefits of using DigitalOcean for WordPress hosting. Whether you're a beginner or an experienced developer, DigitalOcean provides a high-performance and cost-effective option for hosting your WordPress site.
DigitalOcean Pricing has different types of hosting plans with different website builder CMSs.
All these features and benefits make DigitalOcean one of the best web hosting providers available. So if you're looking for a reliable and affordable hosting solution, you can't go wrong with DigitalOcean.
Let's see the Pricings of the DigitalOcean pricing plans with their prices.
DigitalOcean Pricing: How Much Does DigitalOcean Managed Hosting Costs?
The DigitalOcean cloud hosting company has only gotten bigger and bigger every year since launching its first server in 2011.
It currently has a sizable customer base. It has been built for all types of CMS systems.
The best thing about this hosting is that DigitalOcean website hosting gives you the option of increasing your droplet size or space anytime you want.
Isn't it amazing? Now after hearing this, you must be thinking, how much are DigitalOcean pricing plans? or which services require extra charges?
To give the answers with a proper DigitalOcean cloud hosting review, here I am sharing their hosting plans with the prices.
11 Types Of DigitalOceean Pricing Plans With Renewal Prices:
1. Droplets
Deploy Droplets (cloud VMs) in seconds, run any workload, CPU-optimized, memory, and storage-optimized intensive apps to low-traffic sites. The cost starts from $4 per month.
2. Kubernetes
Scale with 99.95% high availability service level agreement, free control plane, and inexpensive bandwidth for CNCF Certified Kubernetes. The cost starts from $12 per month.
3. Aps
PlatformBuild, deploy, and scale apps quickly using a simple, fully managed solution. The cost starts from $0 per month.
4. Function
Focus on your code, scale instantly with confidence, and save costs by eliminating the need to maintain servers. The cost starts from $0 per month.
5. Database
Managed MongoDB, Redis, PostgreSQL, and MySQL database engines to give your application the performance it needs. The cost starts from $15 per month.
6. Spaces Built-in
content delivery network (CDN) to store, serve, back up, and archive any amount of web content, images, media, and static files for your web apps. The cost starts from $5 per month.
7. Volumes
Pay with monthly caps and flat pricing across all data centers. The cost starts from $10 per month.
8. Load Balancers
Spread traffic across your compute resources to improve availability, performance, and scalability. The cost starts from $12 per month.
9. Container Registry
Easily store and manage private container images with a registry that integrates directly. The cost starts from $0 per month.
10. Support Plans
Access to troubleshooting tips, support articles, and DigitalOcean experts when you need it the most. The cost starts from $0 per month.
11. Uptime
Automatically check one endpoint and be alerted of slowdowns for free each month and $1 per check per month thereafter. The cost starts from $0 per month.
If you have the proper knowledge of Linux and if you can manage VPS and SSH keys, then DigitalOcean would be the best choice for you.
Want to know why? you will understand that when you will start setting up this hosting.
How to Make A Website with DigitalOcean WordPress Hosting: A Step-by-Step Guide
If you are convinced enough and want to know the process of building a website using DigitalOcean, then here I am with a guide where you will learn that step by step.
Here I will start with the DigitalOcean login process and end with the procedure of building a website.
DigitalOcean uses device verification to protect your new DigitalOcean account when you sign up with your email address and password.
So, you don't need to worry about the security of your personal information.
Step 01:  Buy a Domain Name
As DigitalOcean does not sell domains, you have to buy a domain from another hosting company.
You can buy from Namecheap, Bluehost, or any other hosting company that sells domains.
You just have to pick a suitable domain name from the server and follow some necessary steps to buy it.
While buying the domain name, try to find a name that suits your business niche.
Step 02: Select a Hosting Package
You can buy hosting from the same web server, or you can also buy them from another hosting provider.
Just connect the domain name with the hosting after buying it.
It doesn't matter where you have bought the hosting.
In fact, it is the best practice to buy a domain and hosting from two different hosting providers.
It will be more secure and also easy at the time of migration.
Step 03: Install WordPress
Installing wordpress is not like creating software. Installing wordpress on DigitalOcean is very simple and it needs only three steps.
Create a WordPress Droplet
Go to the 1-Click WordPress app page in the DigitalOcean Marketplace, and click "Create WordPress Droplet".

Choose an image, Select a plan that works best for you, but keep in mind that WordPress needs at least 1GB RAM to run.

Add SSD-based block storage to expand storage capacity.
Choose the data center closest to your user base.

Name your WordPress Droplet.
Click on Create Droplet. Make a copy of your Droplet's IP address because you are going to need that further.
Access the Droplet via SSH to Enable Configuration
Now connect to the Droplet via SSH.

Use the following command in a terminal on your computer to log into your Droplet as root via SSH, substituting "droplet.ip.address" with your Droplet's IP address.
Configure WordPress
Go to the Droplet's IP address in a web browser.
Follow the on-screen prompts to complete your WordPress installation's initial configuration, log in as the administrative user you just created, and continue to set up your site by configuring your domain name.
Step 04: Build your Website
I hope now you can create your own website very easily by following these simple steps. If you face any problems just add a comment in the comment section and let me know.
Now let's move on to the DigitalOcean WordPress hosting review.
Author Note: DigitalOcean Hosting Review
The primary audience for DigitalOcean pricing plans is developers.
DigitalOcean cloud hosting is not for you if you require straightforward web hosting without paying too much attention to the technological nuances.
I advise you to look at HostPapa, Cloudways, WP Engine, SiteGround, HostArmada, GreenGeeks, 10 Web hosting, or some other reasonably priced WordPress website hosting companies in this situation.
For developers who require flexibility and more precise server control, DigitalOcean WordPress hosting is recommended.
Independent developers that enjoy conducting their own research and operating their own servers are most suited for this company.
Conclusion! – How to Make a Website with DigitalOcean Managed Hosting – A Step by Step Guide
DigitalOcean web hosting offers cloud computing if that's all you actually need.
Although you do need to be familiar with your OS, no extra training is required to set it up and utilize it.
Additionally, the cost of the DigitalOcean website hosting is not just fair; it is very low.
There are features that some people could deem vital missing from DigitalOcean's cloud.
Despite having excellent support for developers, Microsoft Windows Server and other Microsoft products are conspicuously absent from Digital Ocean.
There are few options for additional applications and apps as well.
But that's part of the reason why using those DigitalOcean Droplets is so simple and why it seems so organized and straightforward.
And you can see from the reviews of DigitalOcean web hosting that simplicity has a lot to recommend it.
FAQs
1. How much traffic can DigitalOcean handle?
Ans: The amount of traffic that DigitalOcean can handle depends on several factors, including the hardware configuration of the server and the type of traffic.
DigitalOcean provides various options for choosing the hardware configuration of your server, and the performance will vary based on the resources available on the server.
2. Is DigitalOcean good for hosting?
Ans: Yes, DigitalOcean is a good option for hosting.
DigitalOcean is a popular cloud hosting provider that offers reliable, scalable, and cost-effective solutions for hosting websites and applications.
They provide a wide range of services, including virtual private servers (VPS), storage solutions, and managed databases.
3. Does DigitalOcean have SSL?
Ans: Each managed database comes with an SSL certificate.
You can easily install and configure one on your server. SSL (Secure Socket Layer) certificates are used to encrypt the data transmitted between a website and its visitors, ensuring that sensitive information is protected during transmission.
4. Is DigitalOcean scalable?
Ans: Yes, DigitalOcean is scalable.
DigitalOcean provides scalable cloud hosting solutions that allow you to easily increase or decrease the resources allocated to your server as needed.
This means that you can easily upgrade your server to handle more traffic, store more data, or run more complex applications without having to migrate to a new server.
5. Does DigitalOcean have a firewall?
Ans: Yes, DigitalOcean provides a firewall service called "Cloud Firewalls."
DigitalOcean's Cloud Firewalls allow you to control inbound and outbound traffic to your server, helping you secure your infrastructure and prevent unauthorized access.
You May Also Like –
1. How To Build A Website with Kamatera Managed Hosting 
2. How To Build A Website with StableHost Managed Hosting 
3. How To Build A Website with A2 WordPress Hosting
4. How To Build A Website with Bluehost WordPress Hosting
5. How To Build A Website with DreamHost WordPress Hosting
6. How To Build A Website with Nexcess WordPress Hosting
7. How To Build A Website with Kinsta WordPress Hosting
8. How To Build A Website with LiquidWeb WordPress Hosting
9 . How To Create A Website with Namecheap WordPress Hosting
Naurin Azad is an SEO content writer. She has a strong desire to assist others and hopes that her content will benefit users. Naurin enjoys discovering new information and taking unusual routes. She enjoys learning about new topics, studying them, and engaging in conversation with others. She also enjoys experimenting with search engine results pages. She believes that whatever you achieve in life is a direct outcome of your efforts.