Know A to Z of Conversational Marketing to Increase Your Sales

13

min read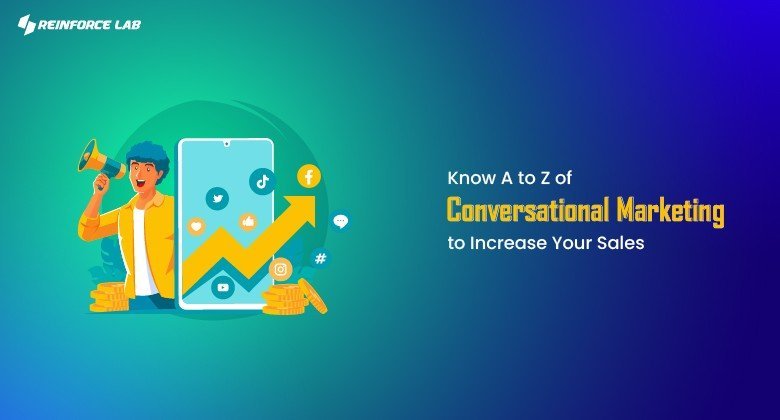 Conversational marketing chatbot or conversion marketing whatever you say has now taken a huge part in the online marketing sector by creating noteworthy examples of conversational marketing!
WPforms says that companies automating lead management see a 10% increase in revenue after 6-9 months!
Conversational marketing chatbots also now getting the best responses than marketers even thought about it before.
As people finish conversational forms 3.5 minutes faster on mobile or any of their devices.
So as a marketer you also want to embrace new technology that can help your business to grow more with fewer efforts right?
For helping you in this case and increasing conversions here we will talk about every single thing that we follow as a conversion marketing agency.
Conversational media plays a big role for any particular business to grow faster that's why a conversational marketing strategy is vital for inbound marketing.
Do not worry as here we will broadly discuss why are conversations important in an inbound strategy as well!
Now without any further delay let's start with –
What Is Conversational Marketing or What Is Conversion In Marketing?
If you talk about conversation creation marketing definition it is a new, more customized way of doing business online.
This marketing strategy proceeds buyers via marketing and sales funnels by asking one question at a time, much like a real-time conversation.
It's a conversation with your website's visitors that is automated and you can respond to their questions to learn more about them.
Conversation marketing is effective because it fosters customer relationships through the experience of a conversation.
One of the successful methods of using marketing is to increase user engagement, grow your customer base, develop loyal customers, and increase your revenue.
So, by making it easier for people to interact with your company, you can convert more of the right leads more quickly.
Now, let's see something that is directly related to this marketing method!
Chatbot Conversational Marketing
Chatbots and marketing are two essential parts of this whole conversational marketing chatbot process.
Mainly chatbots are software programs or messaging apps that are artificially intelligent and they converse using natural language and pre-programmed replies.
They accomplish this through the use of conditional logic, which you can configure and control.
Ai ChatBot for Website is quickly gaining popularity as the most effective way to use conversational marketing.
These chatbots do not necessitate anyone actually responding to the user.
That is why using chatbot automation is such a low-cost way to get started especially for customer support or customer services.
Got enough basic ideas for chatbot conversational marketing? Now let me present you something to amaze you!
Why you Need Conversion In Social Media Marketing
A solid conversational marketing strategy is crucial for firms to remain ahead in competition connected and digital environment.
Conversational marketing, particularly chatbots, is quickly becoming an important component of any marketing plan.
Whether it is for generating new leads, satisfying consumer requirements and expectations, or enhancing customer engagement.
So here I will talk about 6 important aspects that remind us why marketers need conversion in social media marketing.
Personalization is ineffective in traditional marketing
Traditional marketing is perceived as obtrusive and has a poor image by the vast majority of consumers.
Particularly interruption marketing, which is extremely intrusive.
It interrupts the work to deliver an advertising message.
In this case, conversational marketing works best as it knows what is customer's demand is.
So with this marketing strategy marketers can easily interact with consumers via social sites especially.
Which brings positive effects only for any marketers.
Conversational marketing places a greater emphasis on the client
Marketing must place the customer's needs at the center of the equation if it is to reclaim its attraction.
The consumer must be made to feel appreciated, heard, and understood.
In an ideal world, the customer would have requested its content, which would be completely tailored.
As a result, he would have already consented to receive a certain form of advertisement.
Permission marketing is the term used to describe this type of marketing.
Enables interaction and understanding of the customer's urgent need
The majority of content customization methods are not permissive.
They are based on the usage of cookies, which are trackers that record the surfing activities of individuals.
One method to solve this issue is through conversation.
Each response from the customer is a sign of permission in the data exchange.
So each message must be relevant enough to entice the customer to contact again.
Furthermore, communication enables the discovery of the user's current preferences.
As a result, the suggestions are based on current and live data rather than on previous, obsolete data.
Humans are distinguished from many other species by their social awareness and desire to communicate.
The skilled marketer understands the flow of information.
Comprehension of the customer's demands will help them to create a trusting environment favorable to closing a sale.
With the use of conversational marketing, the customer is asked to give data to make the interaction more relevant.
If the dialogue is well-structured, the user's confidence rises, as does their tacit permission to provide personal information.
A well-crafted one-on-one connection can result in a transaction that's why conversational marketing is a must.
Aids in the development of a strong brand ambassador community
Communication through a participatory marketing approach allows for the formation of a community.
That especially wants to express itself and share similar ideals.
This is critical for comprehending customer expectations.
Respond in real-time to their needs and expectations, and cultivate a sense of intimacy and trust. It has improved the brand's image.
By establishing a strong sense of belonging in a group the community and the brand are in the same boat.
As both have a strong sense of duty via this conversion in social media marketing.
Some fan communities may even tattoo the company emblem to express their loyalty to the brand.
Encourage sharing and word-of-mouth, the community becomes a brand advocate.
Improve customer engagement
Businesses may dramatically improve consumer engagement by adopting real-time automated chatbots on their different communication platforms.
Customers are more inclined to start a discussion with chatbots than to write an email to customer care,
which may take many hours or days to respond to.
Customers like tinkering with the chatbot, and you can give your conversational chatbot a personality that truly reflects the spirit of your company.
The chatbots ask your audience questions and then guesses what you're thinking about based on your replies.
So engaging your target audiences via conversational marketing is easy enough.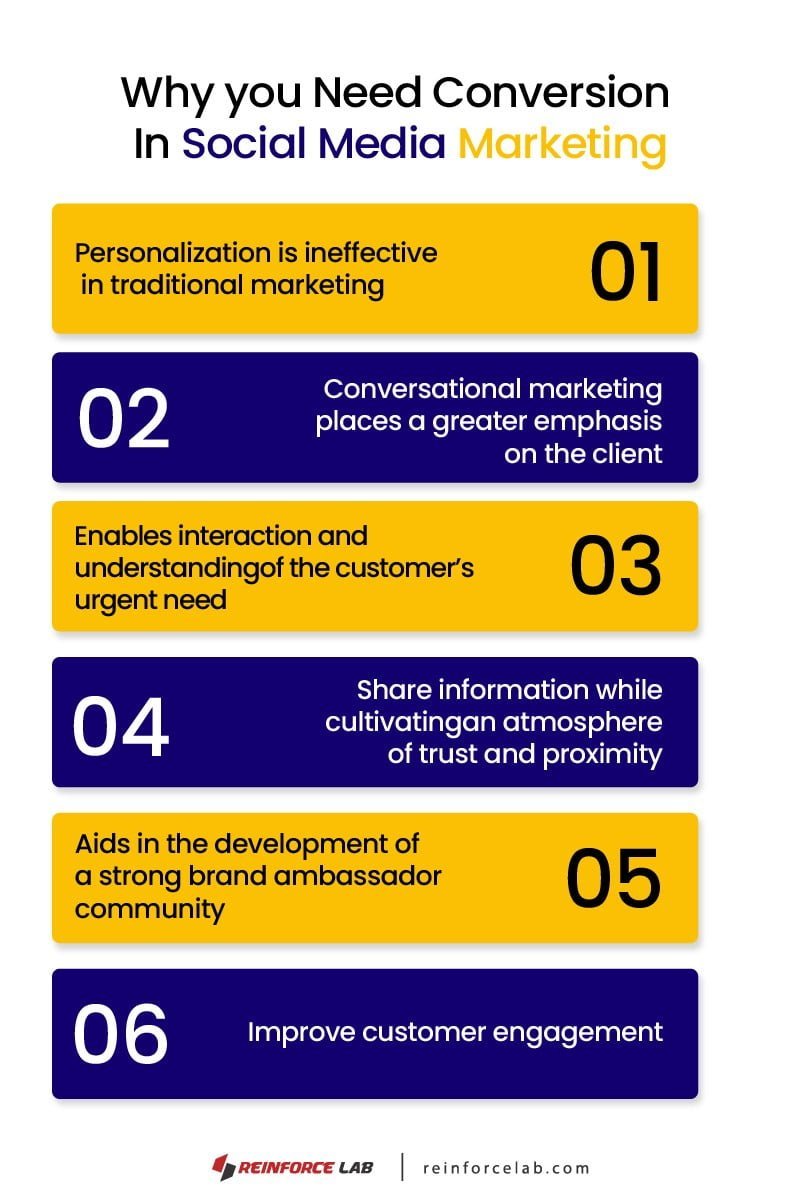 Conversational Marketing Statistics
Conversational Marketing Helps 50.7% Of Companies Respond Quicker
According to Drift's report, more than half of companies (50.7 percent) use conversational marketing.
Because it allows them to respond to potential customers' questions more quickly.
Not only that, but more than one-third of them (36.2 percent) believe they can provide more human and genuine responses for a more authentic experience.
Users' Expectation of Immediate Responses Is on the Rise
According to the report, over the last two years alone, an increasing number of customers have begun to expect brands to respond to their inquiries immediately.
Whether using chatbots or online live chat tools, the percentage of users expecting prompt responses rank higher in local search engines since 2019.
This means that having 2-way conversation options available to users is important for online visibility or for creating a better local customer experience.
But so the sales team has to be able to respond to them quickly with the live chat or marketing chatbots.
Its desired action can also be accomplished through the use of automated chatbots with pre-programmed message templates.
Live Chat Support Boosts Repeat Purchases
Conversational marketing not only facilitates interaction and improves a buyer's experience with a brand, but also helps a business drive sales.
The numbers in this case are extremely potent.
According to Kayako conversational marketing statistics, nearly 8 out of 10 businesses (79 percent) report positive growth in sales, revenue, and customer loyalty as a result of their live chat services (Kayako, 2021).
In fact, up to 38% of consumers say they're more likely to buy from a company that offers live chat support than one that doesn't.
Purchases from repeat customers are also important – 51% of consumers say they would return and buy from a brand if they had live chat support.
Consumers Are Most Frustrated by Poor User Experience on Live Chat Tools
If you're serious about conversational marketing, you should pay close attention to this statistic.
A poor user experience has irritated 38% of consumers who have used live chat tools in the past (Kayako, 2021).
Although this is not the majority, it is significant enough for brands to begin working on a better solution.
Some of the most common user complaints include the unavailability of live chat support despite indications that it is available,
being disconnected in the middle of a chat, and the significant barriers involved in initiating a chat (such as having to fill in pre-chat forms).
Chatbots Can Help Save Time
When you use chatbots as part of your conversational marketing strategy, you're essentially saving your agents a lot of time.
Whether you offer live chat through an AI chatbot created by your IT team or through the WhatsApp Business API,
automated messages can be set up to save time and provide faster responses.
If you want to learn more, check out our post on How To Build A WhatsApp Chatbot?
Because of advancements in natural language AI, chatbots can understand and respond to up to 80% of routine user questions (Invesp, 2021).
This frees up a lot of time for your agents to handle more complex cases that require human intervention.
I hope you have now got enough reasons to go for conversational marketing no?
So let's move into our next topic,
Conversational Marketing Examples
Conversational Marketing is a much more human way of gathering information from website visitors with local SEO.
By going for google my business listing you can easily be an Example Of Conversational Marketing also.
But for that, you must have to optimize your GMB listing, especially as a local business.
This way your SEO marketing will be done and search results will be able to highly recommend you only with google my business optimization service.
And examples are starting to appear all over the internet.
This is due to the fact that many businesses are already using this personal experience strategy to collect information.
Consider the following three best conversational marketing examples:
MonsterInsights
WPForms Conversational Forms Addon is used by MonsterInsights.
In this case, it's being used to create a survey form in WordPress
And as an example of conversational marketing service providers, they take the responses and use them to expand their brand.
The conversational forms used by MonsterInsights demonstrate why WPForms is the best Typeform alternative.
Domino's
Text messages are used by Domino's as they follow conversion in social media marketing.
They are working as the ideal example of conversational marketing.
In their conversion in social media marketing with a simple pizza emoji, they hope to entice previous customers to order again.
It does not get any easier than this for any social media marketer.
1-800-Flowers
They are the perfect example of conversational marketing in the case of conversion in social media marketing.
1-800-Flowers sells their merchandise via Facebook Messenger.
As an example of conversational marketing service providers, they also use bots to guide customers through the sales cycle from beginning to end.
But they are more into how to create conversion in social media marketing than that one!
I hope now you got the ideas on how conversational marketing actually works.
Now let's dive into something that you really need as a marketer!
Best Practices of Conversational Marketing
Conversion Marketing Agency follows 
Conversational marketing is generating a lot of buzz which is why now you can find out a good number of conversion marketing agencies.
These conversion marketing agencies can make your life easier in this digital marketing sector.
So, when getting started, it's critical to adhere to the following conversational marketing best practices:
Choose the appropriate locations
Concentrate on the most popular aspects of your company.
In this way, it will be easier for your company to grow for a specific type of audience.
Keep your old marketing materials
Conventional methods continue to be effective so make use of both traditional and conversational marketing methods.
Otherwise, you will miss out on a segment to apply for an effective marketing method.
Make Proper Plan
Create a customer journey map and build around it.
Without a sound plan, you will never how you can meet your goal so never forget to make plans.
Be a person for understands
Talk to your customers rather than to them.
Without direct interaction, it is not possible to know their demand or objections so do not ever miss this opportunity to be close with them.
Consider the visitor
Your goal should be to make your customers' lives easier and more enjoyable.
As customers are the main subject that you want to achieve right? So go for it anyhow.
Keep things simple
Keep in mind that visitors expect a simple and quick process.
So do not ever think about how to make things more complicated instead make it easier to understand.
Experiment Must be done before Execution
Everything should be tested and tweaked as needed.
Without proper experiments never think of bringing out it in public then it can create a huge mess than imagination.
Follow-up is a must
Even if you use marketing automation software, always route people to a live person.
So never forget to follow things for upgrades or corrections otherwise things can break the rule easily.
As a successful conversion marketing agency, you can also reach us anytime!
We also provide GMB optimization service, GMB SEO optimization service, and GMB SEO services so that businesses can grow faster.

Trust me you will not regret it.
Wrapping Up – A to Z of Conversational Marketing to Increase Your Sales



Now you can imagine how important conversational marketing is, right?
Hopefully, it is a yes.
With these basic ideas and strategies, you can help other folks seeking which approach they can apply to their business.
Even you can inspire your readers to continue returning to your website and obtain more traffic by applying the perfect strategy indeed.
Remember that business owners' main marketing tactic is word of mouth.
If you can spread the word and show your authenticity, you can win the market quickly.
And a suitable conversion marketing agency can take your business another level up!
Another thing, creativity lies in you.
Create your digital conversion strategies and ensure that they are all ready for mobile optimization.
But perfection comes from professionals, so go for the best always.
Now, I'd like to hear about conversion marketing ideas or strategies that you have applied or planning to do?
Can you tell me the ways that you have applied?
Could you share your thoughts with us?
Learn more about our  Social Media Marketing Services!
Read more from our blog.
You May Also Like:
If you think this post was interesting & you have gained some knowledge, don't keep this accomplishment only with you. Allow your friends & family to stay the same intellect as you. In short, sharing is caring!