10 Best Ways of Using Content Marketing for Brand Awareness 2023

11

min read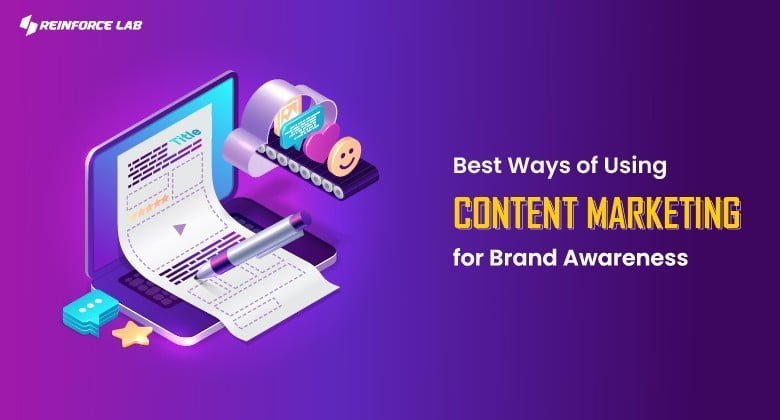 Content marketing for brand awareness helps to gather potential customers via quality content creation for a particular brand.
We can use content marketing to increase brand awareness in many ways.
According to HubSpot, 82% of marketers actively use content marketing for their business.
So you can see how much marketers are now depending on the content marketing sector.
If you are thinking about how content marketing works for any brand building then trust me you have come to the right place.
Here we will talk about how one can use content marketing to increase brand awareness with some easy steps.
But before diving into the main topic let's start with some basic where first comes –
What Is Brand Awareness?
Brand awareness is the level of knowledge that consumers have with your brand even if you do not always communicate with them.
People do not come to you because they know your logo or because they enjoy your content.
Instead, they come because they recognize your brand and what it stands for.
Once you gain brand awareness consumers will be far more inclined to buy from you as they recognize and trust you.
This only happens when your brand is well-known so ultimately it helps to secure your place in your sector.
A perfect brand awareness example can be 'Apple' and yes I know you also knew them.
So how do you know them?
Just because of their logo?
Not at all its more than that and it is their service, their quality also their uniqueness, and many more.
And this is how brand awareness works.
Now you must be thinking you need brand awareness to get more and more clients those trust your business only?
And the answer is here for your inquiry on
Why Brand Awareness Is Important?
Now here I will mention 2 too much important factors that you need to know for growing your business surely.
Besides to build brand awareness they are the main things that are why people go for them –
First, come, an increase in market share and sales
When people trust any brand then they never try to go for their newly launched products just like their interest in the previous one.
Even when they found the products are good enough to their expectations they also suggest others to buy the same.
This is only possible when businesses emphasize building awareness marketing.
As a result, it increases their sales at the same time it gives them a bigger market share than the business that does not focus on building brand presence.
Another reason for Brand Recognition is it drive repeat sales
For this reason, people do not go to other brands for the same products.
So ultimately as a business, you can get the idea for improving a product that people are buying continuously from you.
Also, satisfy them with your services, and all these are only possible for promoting your brand with proper brand awareness.
So brand exposure marketing or awareness marketing whatever you say is really important for your any business growth.
Now let's get to know about another important element of this article which is –
Content Marketing Definition
Content marketing is a marketing strategy that focuses on distributing valuable, relevant, and consistent content after creating.
So that they can attract and retain the target audience then ultimately, drive profitable customer action via them.
There is a saying that 'Content is KING' so if you can use the king efficiently then CHECKMATE is yours.
This means marketing winning is just a matter of time!
Now let's get to see some –
Types Of Content
Here are some types of content but remember that they are just some variation of content –
Blogging
Longform Content
Case Studies
White Papers
Ebooks
Infographics
Template & Checklist Downloads
Video
Visual Content
So we are done with our basics almost now without any further delay let's dive into our most awaited topic –
10 Best Ways of Using Content Marketing for Brand Awareness
Here I will take about Content Marketing to Increase Brand Awareness in different 10 ways so go ahead!
01. Create Podcasts with Industry Experts
Podcast Insights reported that 51% of Americans reported listening to a podcast
Almost half of the population it says.
So why not take it as a chance to grow the brand awareness of your business?
Nowadays people like this type of podcast content more than before, especially after the pandemic situation.
People listen to podcasts while they do something else as through it they can know so many things from the same place.
Take this opportunity and start making podcasts from your niche-based experts.
This way audience can trust your business easily also this sort of content marketing to increase brand awareness can help a lot!
02. Make Use of Social Media to Advertise your Company
Social media has created a big space in the whole digital marketing sector.
As of 2019 and 2020, the average daily social media usage of internet users worldwide amounted to 145 minutes per day.
Can you imagine how much time people are spending here?
A lot in one word and trust me content marketing works here the best.
The more unique content you can make and huge brand awareness can be created.
Through the social media sharing option users can easily reach your business if you are offering them in the best way.
So start planning for social media content from today and stand ahead of your competitors.
03. Distribute Email Newsletters
Email newsletters are a type of email marketing procedure that informs your audience about your business.
It can be the most recent news, tips, or updates regarding your product or company.
The latest statistics show that as many as 87 percent of marketers use email marketing to disseminate their content.
You can guess how effective email marketing is that's why marketers like to use it.
Email marketing is one of the best ways to keep your customers updated about your business services.
This way people can remind you easily when they need services related to your business.
Small Businesses can grow easily through this sort of content marketing technique and stay in the market with long-term benefits.
04. Participate in the Community Dialogue
If you are worried about how to use content marketing to increase brand awareness then trust me this is one of the best ways.
Community dialogues are an engaging collaborative system of communication.
Here people or groups of people share information in order to reach a common understanding and workable solution.
By listening and communicating with your target audience you can easily apply your brand messaging.
But you must have to be ready with your content so that whenever the audience will mention anything related to your business you can present it.
And this is how content marketing helps to recognize any brand with some simple techniques that are much effective obviously.
05. Make Use of your Company's Blog
Writing blogs from your business website or page can be the finest content marketing strategy.
With blogs, you can easily create brand awareness as your blogs will teach them about things that they should know before buying.
In fact, if you can write SEO-based blogs then there's a chance to find out your business in search results.
When people will find you out on Google then trust me they will surely going to believe in your business.
As Google is believed to share authentic results but you must have to learn SEO for that.
And it is not that tough okay?
So start learning and use content marketing to increase brand awareness for your own business!
06. Make the Most of Influencer Marketing
Influencer Marketing is another part of content marketing that is getting huge responses nowadays.
Here content is created by influencers mainly but as an owner, you can direct them as well.
So that they can attractively offer your services to the target audiences.
Brand Awareness Campaigns work at their best with influencer marketing methods.
It is a marketing process in which businesses collaborate with credible and trustworthy experts to promote their products or services.
According to Digital Marketing Institute, 49% of Consumers Depend on Influencer Recommendations.
As they usually go for honest reviews it helps audiences to get to know about any product authentically before buying.
You can share your assigned influencer's content from your business site.
That will easily give you more leads, brand awareness will increase as well!
07. Allow Data to Drive Your Content
Another easy but effective content strategy to promote your business site.
People are continuously searching for data and when you can help them in this case you can easily get what will happen.
You do not always need to share content related to your business.
Rather you can share interesting facts that people would like.
This way when the audience will find out your marketing process is unique and authentic they would love to trust you.
And data is the easiest way of gathering trust so start gathering data from today and see the magic!
With this content marketing technique, you can surely grow awareness day by day.
08. Provide Freemium Content
Freemium, a combination of the words "free" and "premium,"
It is a strategy for companies that provides users with the basic features of a product or service at no cost.
By using those products or taking services people will determine should they go back to you again or not.
Ultimately you are representing your brand via those products or services.
So great content must have to be there otherwise it will not be possible to attract your consumers right?
It is necessary to keep your best content in the freemium sector or else things will not work properly.
With your best service or content, you can get your consumers for sure.
Besides, it is going to increase your brand recognition without any doubt.
09. Use Social Listening Tools
A social media listening tool is a process that monitors and analyzes online discussions about one brand.
By using the social listening tool you can simply find out what your competitors are doing.
If rivals are not doing that good then see how you can solve the problem and if they are doing good then do your best.
Through social listening increasing brand is one of the easiest things to do.
Even you can do some experience to see how audiences are taking your policies.
For example, you can do any referral program and after that monitor how people have taken it.
If the result is positive then your brand awareness will grow automatically and if not then do something else.
10. Go for Unbranded Content
Friends and Family are the best options to know about the unbranded conversation.
Unbranded content is defined as topic-led marketing communications produced by brands but without any explicit mention of who they are.
So it can easily give you ideas about how you should play on the market right?
You do not always need to share content with your business identity else you can share content just for your audiences.
To observe how they are reacting to the content.
Based on their reaction decide what you should do and this is how content marketing works actually.
Somehow it manages to grow your business through what?
Yes of course it is brand awareness!
Wrapping Up – 10 Best Ways of Using Content Marketing for Brand Awareness
Revise those ideas to create the perfect content for your business and increase brand awareness.
Following these ways of using content marketing to increase brand awareness, not just your present customers
but other folks who could be seeking a new brand like yours that emphasizes content marketing will earn your confidence very quickly.
You can inspire your readers to continue to return to your website and consequently.
To obtain more traffic and get awareness by creating unique as well as effective content.
Remember that business owners' main marketing tactic is word of mouth.
If you can spread the word and show your authenticity, you can win the market quickly.
Another thing, creativity lies in you.
So you do not need to follow only those ideas for your industry.
Instead, you can create your content ideas.
.Now, I would like to hear the best ideas of content marketing to increase brand awareness that you have used or using for your business.
Do you have any other ideas about using content marketing for brand recognition?
Please share your ideas with us!
Learn more about us!
Read more from our blog.
You May Also Like:
If you think this post was exciting & you have gained some knowledge, don't keep this accomplishment only with you. Allow your friends & family to stay the same intellect as you. In short, sharing is caring!