How to Make A Website with Flywheel WordPress Hosting: A Step by Step Guide

17

min read
Are you looking to create a professional and high-performing website? Look no further than Flywheel WordPress Hosting.
Flywheel web hosting is a user-friendly platform that offers a range of features and tools to help you easily build and manage your website.
It's a powerful, reliable, and secure hosting solution that will make it easy to design, launch, and manage your website.
With Flywheel web hosting, you can create a website that looks professional and works well on any device, all without any coding or design skills.
Whether you're creating a blog, an e-commerce store, or just a basic website, Flywheel can help you get your business online and running quickly.
Plus, with Flywheel's intuitive platform and comprehensive support options, you can quickly and easily create a website that looks great, functions perfectly, and meets all of your needs.
In this guide, we'll walk you through the step-by-step process of making a website with Flywheel, from choosing a domain name and installing WordPress to customizing your site and publishing your first post.
Whether you're a beginner or an experienced web designer, Flywheel web hosting makes it easy to create a website that meets your needs and exceeds your expectations.
So, let's get started!
What is Flywheel WordPress Hosting?
Flywheel WordPress Hosting is an innovative platform for hosting websites specifically for WordPress websites.
It is a managed WordPress hosting provider that offers an easy-to-use, powerful WordPress-optimized server stack, a stable and secure hosting environment for your WordPress website.
Flywheel is designed to simplify the process of setting up and managing a WordPress website, allowing you to focus on creating content and developing your business.
Flywheel's managed WordPress hosting platform provides an intuitive control panel and powerful tools to help you manage and optimize your WordPress website.
Additionally, Flywheel WordPress Hosting provides a range of scalability options, allowing you to easily adjust your hosting plan to fit your website's needs.
With Flywheel WordPress Hosting, you can rest assured that your WordPress website is in safe hands.
Features of Flywheel Web Hosting Packages
Flywheel web hosting company offers several features for website hosting, including:
Staging sites are available on all plans.
Free site migrations.
Free CDN (content delivery network)
Auto-healing technology provides instant fixes.
Nightly backups.
Ability to white label services.
Blueprints, which package commonly used themes and plugins.
Ability to close current sites.
SSH Gateway & Third-Party SSL Certificates
Plugin Security Alerts
10 StudioPress Themes
Free Migrations
However, these features below help you get the biggest bang for your buck, and each one is included with every Flywheel hosting plan.
Best Flywheel Alternatives You Need To Know
Finding a good Flywheel alternative can be a daunting task, as the industry is full of options, and it can be difficult to narrow down the choices.
However, there are some excellent alternatives available that offer features that are just as good, if not better, than Flywheel web hosting.
One of the best Flywheel alternatives is WP Engine. WP Engine offers a wide range of features, such as a custom-built hosting platform, automatic backups, and a managed WordPress environment.
WP Engine also offers a wide range of plugins and themes, as well as 24/7 customer support.
Another great Flywheel alternative is Kinsta. Kinsta offers a powerful hosting platform, automated backups, and the latest technology to keep your site running smoothly.
Kinsta also offers a wide selection of plugins and themes and 24/7 customer support.
DigitalOcean is a great option for those who need more control and flexibility than Flywheel's shared hosting plans.
It offers a wide range of VPS and dedicated hosting plans, as well as access to a wide range of features and applications.
If you're looking for an alternative to Flywheel web hosting, these are some of the best options.
All of these services offer reliable, secure, and scalable cloud computing services, as well as access to a wide range of applications and features.
Plus, they all have great customer service and an intuitive user interface. So, take the time to explore each of these Flywheel alternatives to find the one that best fits your needs.
In the next section, I'll explain why Flywheel Web Hosting is worthy and where it's making a difference.
So, let's dig deeper into it.
Is Flywheel Good for Hosting?
Flywheel WordPress Hosting is an excellent choice for those who are looking for a reliable and secure hosting solution.
It provides a comprehensive set of features that are designed to make hosting easier and more efficient.
Its simple and user-friendly interface allows for easy administration, allowing for the creation of multiple sites with ease.
It also comes with a variety of useful tools, such as the ability to create backups, manage databases, and manage content.
Additionally, it offers a range of advanced features such as automated backups, content delivery networks, and SSL certificates.
Here's an overview of Flywheel Managed WordPress Hosting:
Managed WordPress Hosting
Flywheel offers managed WordPress hosting, meaning it takes care of technical tasks such as backups, security, and software updates.
Flywheel web hosting allows users to create a staging site for testing and development purposes, which can then be easily pushed to the live site.
Flywheel provides a user-friendly dashboard for managing multiple websites, making it easy for users to manage their sites and clients.
Flywheel uses a custom caching system and server-side optimization techniques to deliver fast loading times for websites.
Flywheel provides 24/7 support via phone, email, and live chat, as well as a knowledge base with articles and tutorials.
Flywheel web hosting includes tools to allow team members and clients to collaborate on a website, including custom user roles and client reporting.
Flywheel automatically backs up all websites daily, ensuring that data is protected in the event of a problem.
All of these features make Flywheel WordPress Hosting an excellent choice for those who are looking for a reliable and secure hosting solution.
Flywheel Pricing: Are the Prices Justified?
Flywheel is a popular WordPress hosting provider that offers a wide range of features and plans at competitive prices.
With Flywheel, customers can get access to reliable hosting, powerful tools, and expert support at a great price. But, are the flywheel pricing plans justified?
At Flywheel, customers can choose from four Flywheel pricing plans – Tiny, Starter, Freelance, and Agency.
Tiny
This plan offers you 1 WordPress website, monthly 5000 visitors, 5GB storage, and 20GB bandwidth. This plan is suitable for small and simple installations. It is also good for portfolio websites.
Starter
This is the most popular single-site flywheel hosting plan. It provides one WordPress website, monthly 25,000 visits, 10 GB storage, and 50GB bandwidth. This plan is best for freelancers, small sites, and personal blogs.
Freelance
If you want a good amount of visits per month is a cheap rate, then this plan is for you. This plan provides up to 10 websites, monthly 100000 visits, 20GB storage, and 200GB bandwidth. Also, The "freelance" plan is best for online stores.
Agency
The Agency WordPress hosting plan can support up to 30 sites. It provides monthly 400000 visits, 50GB storage, and 500GB bandwidth.
This is a pretty strong deal for the next level-businesses, also for the established eCommerce sites.
If you can't choose any of these deals for your deals, you actually don't need to worry. Because Flywheel also offers you an option to customize your plans which is "Get a custom-built plan."
You can customize your plan according to the support you need for your website. Overall, Flywheel's pricing is justified given the features and support offered.
The Starter plan is great for those who are just starting out and need a basic plan.
The Freelance and Agency plans offer more features and are perfect for those who need more storage and bandwidth.
Additionally, all plans come with expert support that can help customers with any issues they may have.
So, customers can rest assured that they're getting a great deal at Flywheel pricing.
Now, you have a clear idea about Flywheel Pricing Plans. So, let's deep dive into creating a website with Flywheel.
How To Make A Website With Flywheel WordPress Hosting From Scratch? – A Step by Step Guide
Choosing Flywheel as your hosting provider will make your website building easy. There are some steps that you have to maintain to make a website on Flywheel.
The steps to make a WordPress website on Flywheel are explained below:
Step 1: Buy a Domain Name
For building up a website, first, you need to have a domain name.
So, our first step is to buy a domain name.
There are certain steps to buying a domain name.
Those Steps are:
1. Find a domain name
First, go to a domain name hosting site, type a suitable name, and find out if it's available or not. If the name you searched for is not available, then the server will give you a number of options. You can select one from there.
2. Add to Cart
After choosing a suitable name, add it to the cart. After adding the name to the card, you will see some options which will help you to secure your domain name.
Settings like for how many years you want to register your domain, setting domain privacy, SSL certificate, VPN, etc.
3. Payment option
After setting everything, you will get the option to pay for your Domain name. You can pay by your card, or can choose other options also like: PayPal.
Now, enter your payment details and continue the buying process.
4. Review Order
Now, you will be able to overview your order. Then finally you can make your purchase. After waiting for a while, finally, your Domain name will be ready.
Step 2: Select a hosting package on Flywheel
Now, Go to the Flywheel web page.

At the top of the page, you will find an option named "Get Started", click on it.
Then it will take you to the Flywheel Pricing page.
There you will find four different hosting plans. The plans are: "Tiny", "Starter", "Freelance" and "Agency".You can choose any of these, according to the support you need for your website.
Select your package and click on "Get Started".
Now, a page will appear where you will have to put your information to create a new account.

Read carefully and type your information. Then click "Sign Up".
Now you will see a payment form.
If you scroll down, you will find an option "+Add Payment Method".
Click on that and a wizard will appear where you will find two different options for making your payment.
You can pay by using your credit card or you can pay by using PayPal.
After adding your payment information, set your billing address and check your billing summary.
Then click on "Checkout".

Now, on the new page, you will see two options at the top.
There you will find out that your buying hosting package is complete.
Your Flywheel Dashboard is also ready. Now, it's time to create your WordPress Website on Flywheel.
Step 3: Create your site on Flywheel
On the top of your Flywheel dashboard, you will find an option to create your site. Click on that.

On that page, you will see two different options.The first option is "Who will be the owner of the site?"It will give you two options, "Me" or "Organization".If you are the owner select "Me" or if you are building the site for an organization, then select "Organization".
Next, the second option is to set up your WordPress website. Click on that.

There you will see some options to enter your site details. Like: site name, temporary domain, etc.
Then you will find an option to create your WordPress website directly.
There enter your WordPress username, set your password, and confirm that.
After that Flywheel will give you an option of whether you want to start with a Blueprint or not. Blueprint helps you to create a base site, which will help you in the future whenever you want to create a new website.
If you want to start with Blueprint then select it and then Click on "Create Site".Now wait for a while. Flywheel is processing and setting up your site.
Once your website is ready you will get a confirmation email. In that email, you will find a link to verify your information.Click on that and Flywheel will verify your Infos.Then finally your WordPress site will be ready.
Now, on the Flywheel dashboard, you will see a privacy mode.
If the privacy mode is on people won't find your site on the internet.
To turn the privacy mood off, scroll down your recent page and you will see the option "Privacy Mode".
Click on that and the privacy mode will be turned off.
Step 4: Customize Your WordPress site
When your WordPress site is ready, now you can customize your site.
You can install the theme and set it however you want to see your website.
So, for setting up a theme go to the WordPress dashboard and go to the option named "Appearance".
There you will find the theme option to set, click on that. You will find a lot of options. Select any of them.
Now, customize your page the way you want.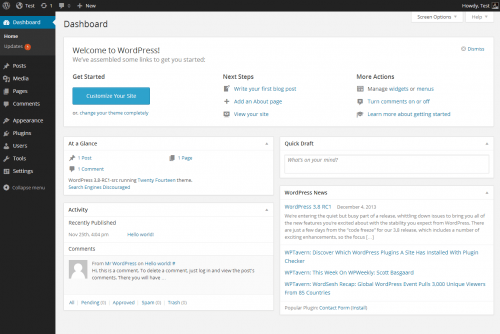 Step 5: Find the DNS record and connect your Domain
Now, it's time to find your website's DNS record.So, for this, you have to go to that domain registrar page from where you bought your domain earlier.
There you will find an option named "DNS", click on that.

On that page, you will find a few DNS records.
Now get back to your Flywheel Dashboard, there you will find an option to set your Domain.
Click on that, set your Domain, and set that as your primary domain.

After adding your domain you will see a red sign which will tell you that it's not yet connected with your Domain registrar.
Now scroll a little down there you will find your IP Address, copy that.
Then go to the domain registrar site again and click on "Add a record" and a wizard will appear.

In that wizard, you will have to type your hostname and next paste the IP address you copied earlier.
Then click on "Add Record".
Now, again go back to your Flywheel Dashboard and go for checking the DNS status.
Wait for a few minutes and then you will find that your DNS status has been updated.
Step 6: Add SSL
The final step is to add an SSL certificate for our website security.
On the Flywheel dashboard, you will find an option named "Enable SSL", click on that.A page will appear, and there you will find that Free SSL certificate on Flywheel.
Now set your website domain and click on "Complete SSL setup". After waiting for a couple of minutes you will see that an SSL certificate has been enabled on your website.

Finally, your WordPress website with Flywheel is ready.
Author Note: Flywheel Hosting Review
Flywheel is an excellent WordPress hosting provider. In this Flywheel Hosting Review, I will shortly discuss how effective Flywheel Web hosting is for your WordPress website.
Flywheel hosting provides all the necessary support that a proper WordPress website needs to be run. The Flywheel Hosting login takes you directly to the option to create your WordPress website. WordPress Flywheel site is quite user-friendly.
WordPress installation on Flywheel is easy and free. Flywheel web hosting is flexible with traffic handling, which means they place no limit on your page visit.
In distributing your content worldwide, Flywheel cdn plays a very important role. Flywheel security helps to keep your WordPress website safe.
Also, Flywheel hosting helps you with building free demo sites. You can modify your Website easily by using Flywheel staging sites.
The Flywheel Price of the hosting plans is quite reasonable. They also provide 24/7 customer support, so that if you face any problem at any time, you can solve them instantly.
But there are some bad sides of Flywheel too. On Flywheel, domain hosting is not available. Also, Flywheel doesn't include email hosting.
But overall, Flywheel Hosting Review is good because Flywheel concentrates more on the WordPress hosting environment.
After analyzing all the good and bad aspects of  Flywheel Web Hosting, I will definitely recommend it as your WordPress Website host because they offer the best facilities for building your WordPress Website.
Wrapping Up! – How to Make A Website with Flywheel WordPress Hosting
A well-designed WordPress website hosting provider with a lovely front-end and back-end user experience is Flywheel Hosting.
If you manage too many websites at a time, you need to have a well-labeled, easy-to-access, user-friendly dashboard. The Flywheel Dashboard is quite user-friendly.
Based on Flywheel Hosting Review, all the features are well-assembled and easy to access.
Again, security is an important factor to be considered. Flywheel supports your website with all the facilities to ensure your website's security.
Their allover support quality and prices are quite similar to the Web host like Kinsta, and WP Engine. More information is attached in the Flywheel hosting reviews section.
So, in the end, we can say, Any web designer, developer, or WordPress user searching for a dependable web hosting provider that is focused on WordPress would receive our highest recommendation for Flywheel web hosting.
FAQs
1. Can I force SSL on my site?
Ans: Yes, you can force SSL on your website hosted with Flywheel by using an SSL certificate.
Flywheel offers free Let's Encrypt SSL certificates for all of their sites, which can be easily installed in the Flywheel dashboard. If you require a custom SSL certificate, Flywheel also offers the option to purchase and install one through their platform.
2. Is Flywheel Fast?
Ans: Yes, Flywheel is known for providing fast and reliable hosting for websites.
Their hosting platform uses high-performance server infrastructure and caching technology to ensure fast loading times for websites.
Additionally, Flywheel's managed hosting options provide expert support and optimization to help keep your website running at peak performance.
However, the exact speed of a website hosted on Flywheel can vary depending on various factors such as the size and complexity of the website, traffic, and other resources being used.
3. Is Flywheel secure?
Ans: Yes, Flywheel is a secure hosting platform that takes several measures to protect websites hosted on its platform.
Some of the security features provided by Flywheel include:
Regular security updates for server software and WordPress
Automatic backups and disaster recovery options
Strict firewall configurations to prevent unauthorized access
Automatic malware scanning to detect and remove malicious code
DDoS protection to prevent attacks on your website
However, it's important to note that website security is a shared responsibility and website owners should also take steps to secure their own sites, such as using strong passwords and regularly updating plugins and themes.
4. Will Flywheel customer support help me?
Ans: Yes, Flywheel provides customer support to help their clients with any issues or questions they may have.
Flywheel offers 24/7 support via live chat, email, and phone, and their support team is knowledgeable and experienced in working with their platform.
Whether you need help with technical issues, website troubleshooting, or have questions about your account, Flywheel's support team is available to assist you.
Additionally, Flywheel also provides an extensive knowledge base and tutorial articles to help you get the most out of their platform.
You May Also Like –
Maxilin Catherine Gomes is an undergraduate business student who enjoys experimenting with the world of marketing via her proficiency in SEO. She doesn't have to put in any additional work to conduct relevant topic research, analyze traffic and search rankings, or discover the most popular visited websites for her articles since she enjoys doing so. She has spent the past decade devouring thrillers, romances, and detective books. For her, the best thing to do is to learn something new. She believes that everything in the world works together to help you reach your goals.